The best individual episodes of television that aired in 2011.
---
#50 "Finale," Smallville
A fitting end to the superhero drama's 10-year run, Clark Kent finally became Superman, putting on the cape and tights and flying up, up and away one last time.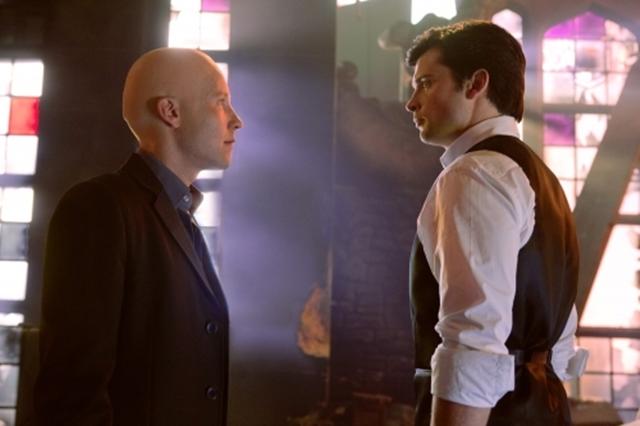 ---
#49 "Holidays of Future Passed," The Simpsons
Even after 23 seasons, The Simpsons can still find creative new ways to be funny, like this Christmas episode that jumped several years into the future. Bart is a dead-beat dad, Lisa doesn't get along with her daughter, and Maggie gave birth. The various glimpses of how all the other characters have changed during the time jump was a cavalcade of comedy moments.
---
#48 "Stasis," Boss
This Shakespearean drama took an extremely dark turn when dying mayor Tom Kane sold out his daughter to the cops in order to save his own career, and in the process brought his opponents to their knees, literally. Kelsey Grammer's terrifying performance finally shed any remaining shreds of Frasier Crane.
---
#47 "Teacher Schooled/Affair Remembered," Life Unexpected
This charming family drama ended on a high note as all of the show's secrets were exposed and, in a sweet epilogue that flashed forward to Lux's high school graduation, we saw what would eventually happen to everyone.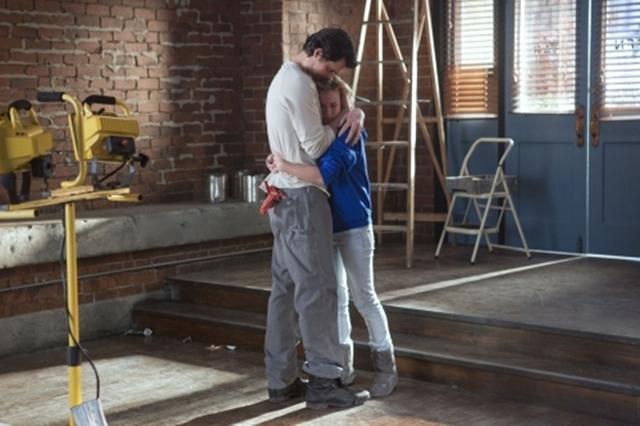 ---
#46 "E Malama (To Protect)," Hawaii Five-0
This episode had everything you want from Hawaii Five-0. Every character got a chance to shine and kick some butt, but the best was Danny, who went on a one-man rampage after his ex-wife and daughter were carjacked. You don't mess with Danno's family.
---
#45 "In Sickness," The Good Wife
Julianna Margulies was never better than when she discovered that Peter had an affair with Kalinda. As she struggled with a life or death case, this betrayal by her husband and closest friend pushed her ever-closer to Will.
---
#44 "Bloody Harlan," Justified
The season 2 finale brought closure to the Mags Bennett storyline as another one of her sons was killed and she downed a glass of her poisonous Apple Pie, making for a perfect bookend to the season.
---
#43 "Song Beneath the Song," Grey's Anatomy
This big, splashy musical episode may have been ridiculous, but Sara Ramirez's powerful voice made it all worth it. If you're willing to embrace the soapy, sappy nature of Grey's, then this is the best kind of episode.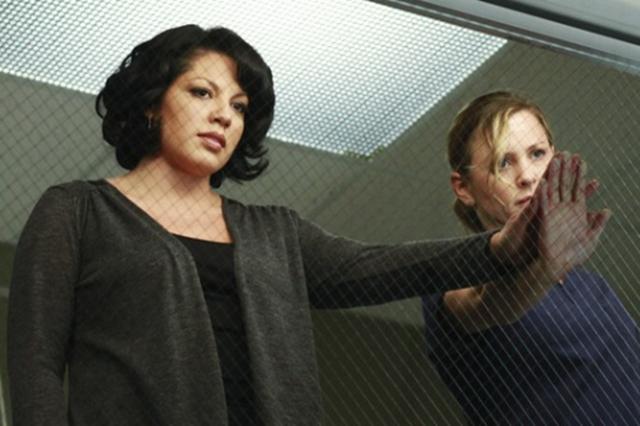 ---
#42 "Don't Vote for This Episode," Raising Hope
This season-ending flashback masterpiece showed what happened before Hope came into town and helped establish how everyone came to be who they are.
---
#41 "Homecoming," The Vampire Diaries
This show knows how to do twists, and when the plot to kill Klaus was implemented, all hell broke loose as Damon and Elena grew closer, Klaus killed his father and Stefan turned on Klaus.
---
#40 "Chuck vs. the Cliffhanger," Chuck
This was a great conclusion to a great season. Chuck raced to save Sarah, marry her and topple Vivian Volkoff's schemes by revealing the truth about her father. It all came to a head with a fantastic ending that set the stage for a much bigger mystery and resulted in Morgan getting the Intersect.
---
#39 "Tricks of the Trade," Suits
The best example of how entertaining this legal procedural can be came when Harvey and Mike decided to help the woman they were working against as they looked into insider trading.
---
#38 "Pandora's Box," Switched at Birth
The intense drama between the two families came to a head in this great episode where Regina finally came clean about how she knew the girls were switched at birth all along, causing even more friction.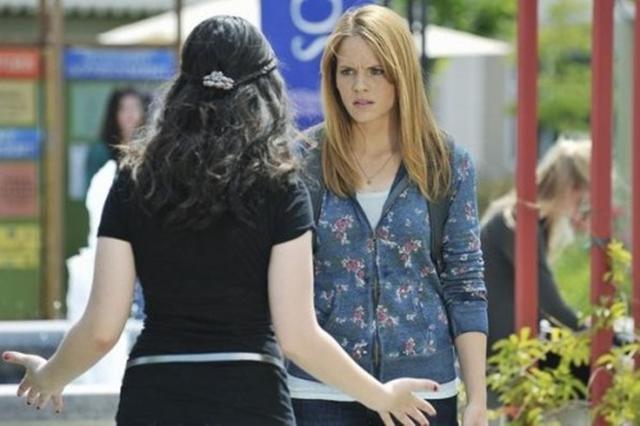 ---
#37 "Mother's Day," Modern Family
The comedy and sincerity came through in this sweet episode as everyone learned to appreciate their mothers. Esspecially Jay, who was hilariously brought to tears when he came across an old present he gave his mom.
---
#36 "A Fistful of Paintballs," Community
The return of the show's epic paintball game came with a pitch-perfect parody of Westerns. The guest appearance by Lost's Josh Holloway was icing on the cake.
---
#35 "Last Words," How I Met Your Mother
After the sudden death of Marshall's father, HIMYM gave us a touching and funny episode as the gang attempted to make Marshall feel better while he listened to the last words his father ever said to him.
---
#34 "Do You See What I See?," Eureka
A wonderfully silly Christmas special, the residents of Eureka got animated in various styles, and it felt truly magical, just like the holiday season. It's an episode I look forward to seeing every Christmastime on Syfy.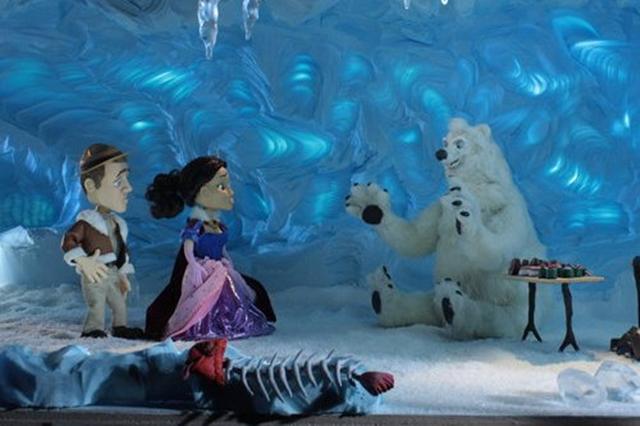 ---
#33 "Andy and April's Fancy Party," Parks and Recreation
Surprise! April and Andy got married! That was one of those moments that seemed totally absurd yet completely reasonable for these characters.
---
#32 "Magic Bullet," Teen Wolf
This fun teen drama went from guilty pleasure to just plain pleasure with this episode that introduced Allison's werewolf-hunting aunt, had Stiles and Derek bond over Derek's bullet wound, and featured the most awkward dinner ever as Scott was interrogated by Allison's family.
---
#31 "Pilot," New Girl
The funniest new show of 2011 came out strong with a great pilot that introduced the characters and instantly made us all fall for Jess. Her total inability to flirt with guys and her male roommates' douche jar were just a few of the many reasons we instantly fell in love with New Girl.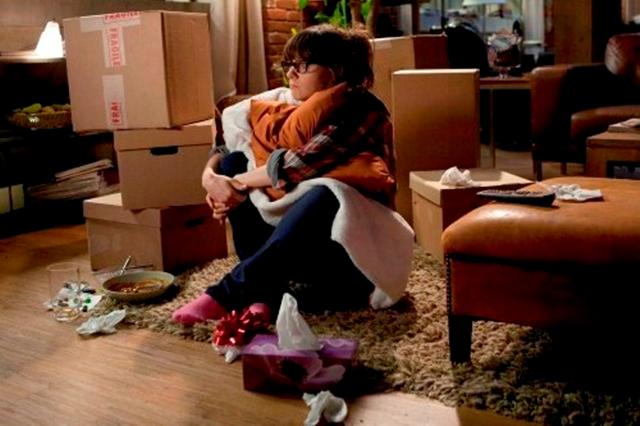 ---
#30 "Two Stories," House
The show's brilliant ability to tell stories in unique ways took center stage once again as House talked to a group of kids at school and we saw several storylines play out in various timelines.
---
#29 "Ashes," Rescue Me
The bittersweet series finale saw the firefighters mourn Lou, but it couldn't without a little comedy, especially the very awkward scene where Lou's ashes exploded on everyone in the car after a vortex was formed by opening the window.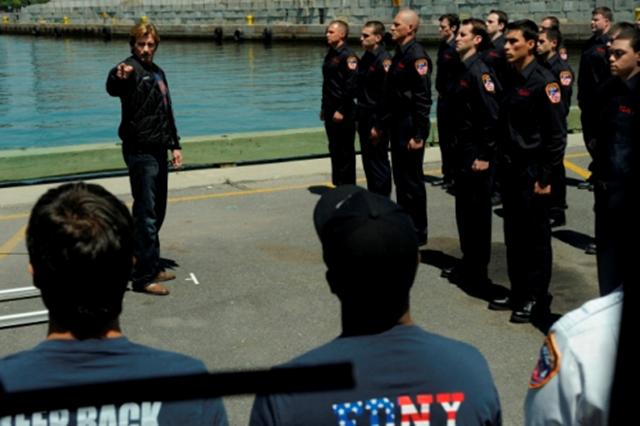 ---
#28 "Guilt," Revenge
Emily's plans started to spin out of control as Lydia was thrown off a building, but the real star of this episode was Madeleine Stowe. Her dastardly warning to her former best friend Lydia was the kind of soapy, over-the-top dialogue that makes this show so much fun to watch.
---
#27 "Bummer/Blueberries," Louie
My two favorite vignettes of the second season came in this episode. First, after witnessing a horrific death, Louie became deep and thoughtful, all leading to a great punchline as he tried to use it to score a date with a woman who previously had no interest in him. Meanwhile, the second half of the episode involved a disturbing blueberry sexual fetish that was wrong and funny on so many levels.
---
#26 "Larry vs. Michael J. Fox," Curb Your Enthusiasm
Larry David's unflinching antisocial behavior was on full display as he got into a feud with Michael J. Fox, accusing him of using his Parkinson's for evil. It was the kind of outrageously inappropriate stuff only Larry could get away with, although he'll have to get away with it in another state since the Fox fiasco got him booted for New York.
---
#25 "Knockout," Castle
The season finale brought some closure to Beckett's case as she learned Captain Montgomery was involved in the investigation of her mother's death. That twist by itself was enough to make the episode great, but ending with a sniper shooting Beckett was easily the best cliffhanger of the year.
---
#24 "The Weekend," Homeland
This terrorism thriller had a ton of twists and turns, but not was more shocking and exciting than Carrie and Brody's cabin getaway. A weekend of passionate lovemaking was ruined when Brody realized Carrie had been spying on him and suspected he was a terrorist. This led to a frank and wonderfully acted interrogation where many of the shows secrets finally came out. It was unexpected but very satisfying and launched the show into a whole new direction.
---
#23 "Face Off," Breaking Bad
Walter won in a big way in the season 4 finale as he successfully took out Gus, and revealing himself to be the master manipulator who set everything in motion by tricking Jesse. It was a perfect ending to the show's best season yet.
---
#22 "You're Getting Old," South Park
A pointed satire on the staleness of comedy, this episode about Stan's birthday led him to view everything in the world as crap. His deep cynicism turned the final moments into a surprisingly thoughtful and hilariously melodramatic montage.
---
#21 "Pretty Much Dead Already," The Walking Dead
The mid-season finale pushed the story forward, particularly the explosive last scene as the barn was opened, the zombies got shot and we realized that Sophia had been dead the whole time.
---
#20 "The Van Gogh Job," Leverage
A search for a missing painting was told with beautiful flashbacks as the team took on different roles in a touching story that put Hardison and Parker's relationship center stage and gave both actors a chance to shine.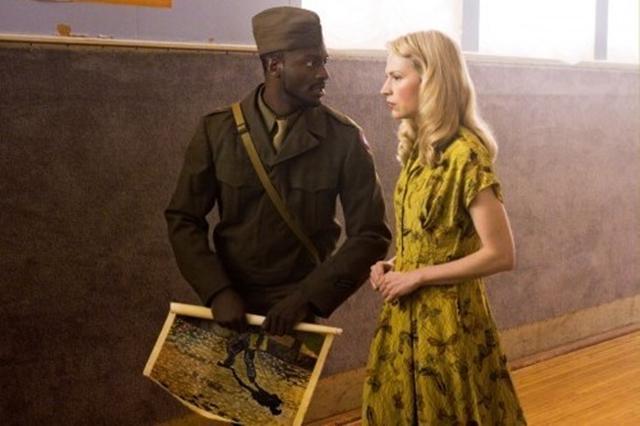 ---
#19 "Garage Sale," The Office
Michael's farewell began with this episode as he proposed to Holly in an over-the-top, cheesy, romantic and wonderfully Michael Scott way. The proposal surrounded by a ton of candles was great, but the kicker was that it set off the fire sprinklers.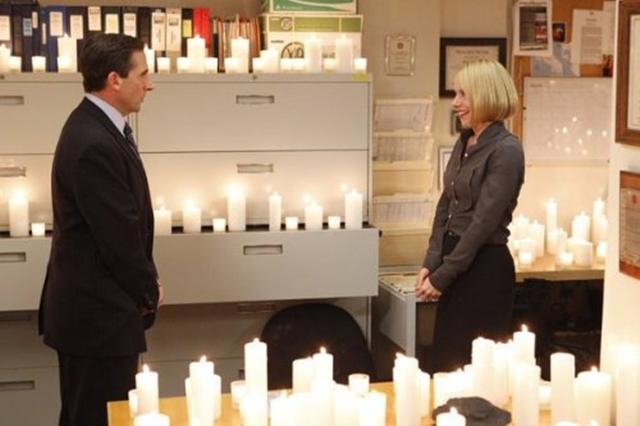 ---
#18 "Bombshells," House
The show took a strange turn with a series of surreal dream sequences that spanned genres from musicals to zombie thrillers, all of which lead to the big break-up of House and Cuddy.
---
#17 "Regional Holiday Music," Community
A perfect Glee parody, the Christmas special turned dark with an Invasion of the Body Snatchers-style story that had each member of the study group recruited by the diabolical glee club leader (a great performance by Saturday Night Live's Taran Killam) and featured some of the best original songs TV has heard in a long time.
---
#16 "Missing," The Killing
If you only watched this AMC show for the investigation of Rosie Larsen's murder, this was not the episode for you. A standalone showcase for stars Mireille Enos and Joel Kinnaman, it featured the two tracking down Linden's missing son. It was a brave departure from what was expected and proved that the acting is so good that the show is not just about who killed the girl, it's about the characters.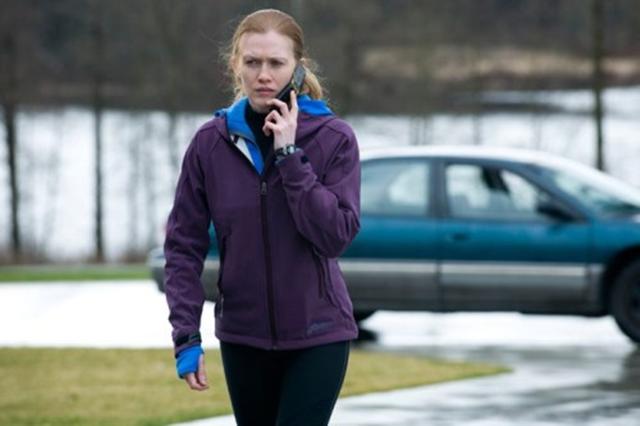 ---
#15 "The Herb Garden Germification," The Big Bang Theory
In an episode all about gossip, Sheldon and Amy hilariously experimented on their friends by saying they'd had sex, then studied how long it took for the piece of gossip to spread through the circle. The fact that they then stepped it up by claiming she was pregnant only made it funnier.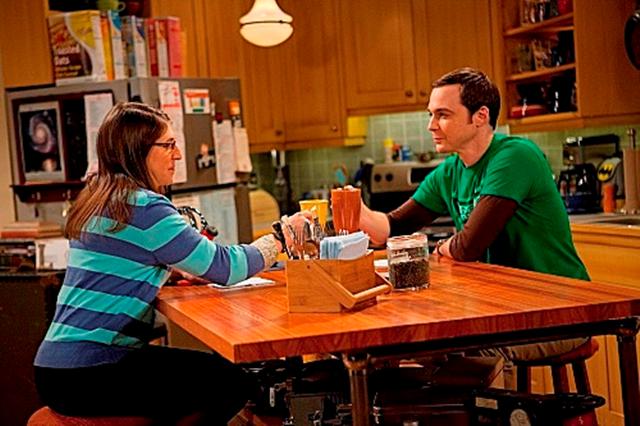 ---
#14 "Baelor," Game of Thrones
I've seen enough TV to know that when it looks like the main character is about to be killed, they ALWAYS get a last-minute reprieve. Game of Thrones, however, turned that rule upside-down as Ned Star was actually beheaded in this shocking and game-changing episode.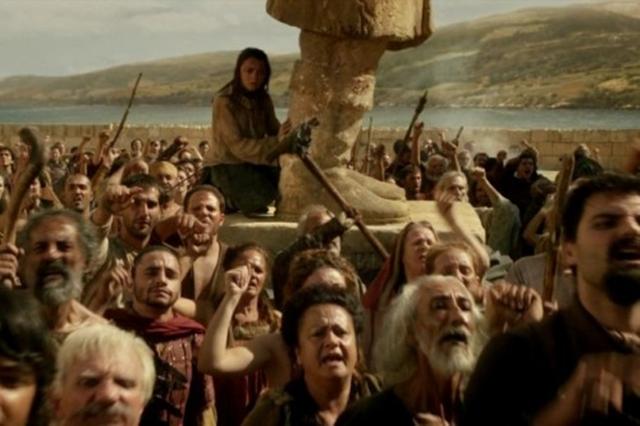 ---
#13 "Knockdown," Castle
The investigation into Beckett's mom's death heated up as a key informant was murdered, Beckett and Castle shared their first kiss to distract some bad guys and, in a great scene, supporting detectives Ryan and Esposito proved how strong they are by not breaking while being tortured.
---
#12 "Remedial Chaos Theory," Community
A simple role of the dice created seven alternate timelines in this mind-bending episode that was touching, funny and deadly as we saw what a huge difference the tiniest of details can make.
---
#11 "Last Night Gus," Psych
Hangover parodies are a dime a dozen, but this one from Psych was a rollercoaster of comedy as Shawn, Gus, Lassiter and Woody the coroner retraced their insane steps to catch a killer.
---
#10 "The Hole in the Heart," Bones
The sniper storyline came to an end as Booth finally got Broadsky, but not before a truly tragic ending for our favorite squintern, Vincent Nigel-Murray.
---
#9 "The Fight," Parks and Recreation
A party for Tom's new alcohol beverage, Snake Juice, turned into a drunken wonderland as Ron endorsed it, Leslie and Ann fought over possibly working together and, best of all, April and Andy did a little role-playing as Janet Snakehole and FBI Agent Burt Macklin.
---
#8 "A Good Man Goes to War," Doctor Who
In this mid-season finale, the Doctor came to Amy Pond's rescue and showed just how truly terrifying he can be when you mess with his friends. His speech to Colonel Runaway and the reveal of River Song's true identity made this a powerful episode.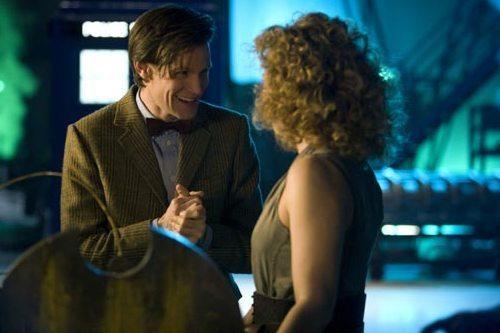 ---
#7 "Brother's Keeper," Justified
As Mags Bennett celebrated her win, Raylan's battle reached a pivotal moment when he killed her son Coover. It was a great moment that brought all of the season's drama to a boil.
---
#6 "Paradigms of Human Memory," Community
Yes, this is the fourth episode of Community on the list, but the show is so damn clever when it comes to individual episodes that we couldn't resist. When is a clip show not a clip show? When it's Community, and this surreal episode saw the characters flashback to some of their wacky misadventures, all of which were done in clip show format even though they were all new.
---
#5 "Hands," Sons of Anarchy
Clay's hit on Tara was executed and botched in this gripping episode that saw Tara's hands get crushed during the kidnapping attempt, Gemma confront Clay about his involvement (which got her beaten severely) and a gripping final scene where Gemma vowed that Clay would have to die at the hands of the son.
---
#4 "The French Mistake," Supernatural
In this ultimate meta episode, Sam and Dean were transported to a world where they were Jared Padalecki and Jensen Ackles, actors on a TV show called Supernatural. The absurd level of inside jokes like the YouTube clip of Jensen on Days of Our Lives and the brilliant way they actually killed off co-star Misha Collins and creator Eric Kripke, among others, was perfectly zany.
---
#3 "Chuck vs. the Push Mix," Chuck
Intended to be a season finale, this episode had everything as Chuck and his team took down Alexei Voloff (Timothy Dalton in one of the best guest performances of the year), Ellie gave birth and Chuck proposed to Sarah. It combined everything we love about this show into a single fantastic hour of television.
---
#2 "Box Cutter," Breaking Bad
Season 4 began with a tense and visceral episode that highlighted how much the show can do with very little dialogue. Jesse said almost nothing the entire hour following the brutal murder of Gale and, in the most brilliant scene of the year, Gus quietly and methodically murdered one of his employee's in front of Walter.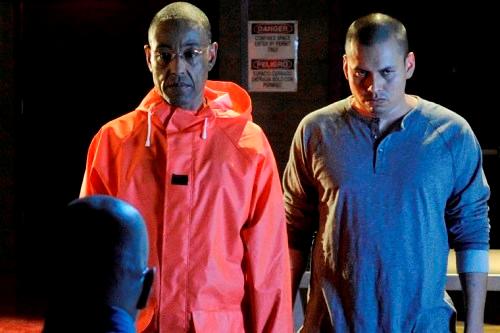 ---
#1 "Always," Friday Night Lights
I couldn't have asked for a more perfect send-off for this amazing series. Every scene was full of rich, emotional moments. The Lions won State and in a perfect epilogue, we found out what happened to all of the major characters. It was so beautiful that my eyes were far from clear when it was all over.