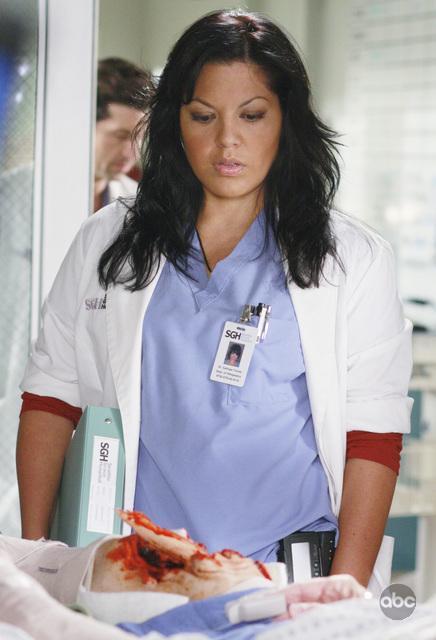 DATE OF BIRTH
August 31, 1975
BIOGRAPHY
Sara Ramirez was born on August 31, 1976, in Mazatlan, Sinaloa, Mexico. At the age of eight, she and her mother relocated to Tierrasanta, San Diego, California, where she attended the San Diego School of Performing Arts and acquired her vocal training from the Julliard School in New York City.
She started her acting career by playing Wahzinak on the Broadway show, The Capeman. She was then cast in Gershwin's Fascinating Rhythm in 1999, and her performance earned her an Outer Critics Circle Award nomination. Her other stage credits include A Class Act, Dreamgirls, The Vagina Monologues, The Game, Piano, and Barrio Babies. On the small screen, Ramirez was known as Hannah on the popular soap opera, As the World Turns, and also made appearances in shows like NYPD Blue, Baseball Wives, Law & Order: SVU, Welcome to New York, Star Patrol, Third Watch, Spin City and Talk to Me.
In 2005, she garnered a Tony Award for Best Performance by a Featured Actress in a Musical and an Outer Critics Circle Award for Outstanding Featured Actress in a Musical for her performance in Monty Python's Spamalot. Her work in Spamalot also caught the eye of the ABC network, and they were so impressed with Ramirez that they asked her to join any ABC show of her choice.
Having been an avid follower of Grey's Anatomy, she eagerly asked to be cast in the medical drama, where she was given the role of Dr. Calliope "Callie" Torres. As a cast member, she was able to share in the show's glory when it won the 2007 SAG award for Outstanding Performance by an Ensemble in a Drama Series.
Ramirez has also made appearances in some blockbuster hits, such as the romantic comedy You've Got Mail and the film adaptation of Stan Lee's Spider-Man.
PLACE OF BIRTH
Mazatlan, Sinaloa, Mexico
BIRTH NAME
Sara Ramirez
GENDER
Female
FUN FACTS
– She won the 2005 Featured Actress in a Musical Tony for her role as The Lady of the Lake in Monty Python's "Spamalot".
AWARDS
– Tony Award, Best Featured Actress in a Musical, 2005 (for Spamalot)
– Outer Critics Circle Award, Outstanding Featured Actress in a Musical, 2005 (for Spamalot)
– Screen Actors Guild Award, Outstanding Performance by an Ensemble in a Drama Series, 2007 (for Grey's Anatomy)
FILMOGRAPHY
FILM:
– You've Got Mail (1998)
– Spider-Man (2002)
– Washington Heights (2002)
– Chicago (2002)
TELEVISION:
– Grey's Anatomy (regular, 2006-present)
NICKNAME
None
HEIGHT
5'9″
QUOTES
"Nobody from the show said I was too heavy. Instead, they wanted me to dance in my underwear."