Now that the 2012-2013 TV season is over, we're looking back at the best in comedy. Here are my 15 favorite supporting actresses in a comedy series.
---
#15 Jane Krakowski, 30 Rock
Jenna's vanity reached new levels in the final season as she became the focal point of the presidential election, and Krakowski went out with a bang.
---
#14 Casey Wilson, Happy Endings
Penny's romantic woes continued in the third (and sadly final) season as an engagement turned sour, and her crazy levels of happiness and utter misery were equally hilarious.
---
#13 Mayim Bialik, The Big Bang Theory
The Sheldon-loving awkward girl continues to blossom (see what I did there?) and solidify herself as the funniest part of this show with her overly aggressive sexual energy pushing Sheldon closer and closer to humanity.
---
#12 Carly Chaikin, Suburgatory
The dead-eyed spoiled rich girl Dalia continues to be one of the most entertaining parts of this series, and her Psy-inspired music video for her maid ("You Missed a Spot") was a masterstroke.
---
#11 Aubrey Plaza, Parks and Recreation
April's tough exterior was softened ever-so-slightly as she began to actually care about things and found her true calling to help animals.
---
#10 Naya Rivera, Glee
Some of the best musical performances of the season came from Santana ("Mine," "Girl on Fire") and it wasn't until she showed up in New York with Rachel and Kurt that the storyline actually became funny. Naya makes everything better.
---
The impossibly dumb blonde got back with Dave and proved to be a Keyser Soze-level mastermind during the group's prank wars.
---
On a show filled with some truly hilarious, over-the-top characters (Cam, Gloria, Phil), Claire is grounded in reality, yet still so funny.
---
Her not-so-subtle obsession with Jeff was a great opportunity for Brie to show off just how great she can be, even in a subpar season.
---
#6 Eden Sher, The Middle
The overly-enthusiastic, always optimistic daughter is a never-ending storm of comedy, from her romance with one of her brother's friends to her desperate attempts to get her driver's license.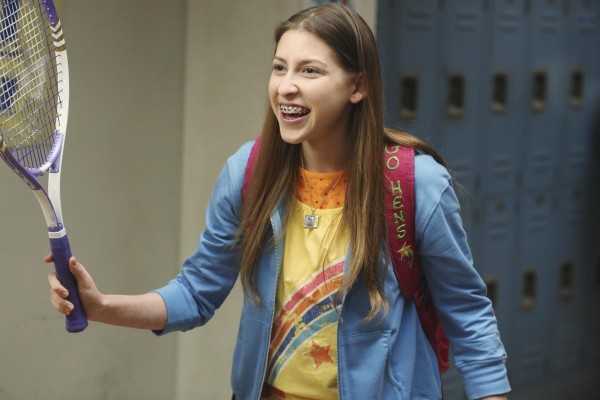 ---
#5 Jessica Walter, Arrested Development and Archer
The return of icy matriarch Lucille Bluth was a joy to watch as Walter slid comfortably back into the role, but she deserves bonus points for lending her incredible voice to Sterling Archer's alcoholic, manipulative mother on the brilliant FX animated series.
---
Jane's need to control everything and her absurdly sweet relationship with Brad were two of the many reasons this comedy was so darn great.
---
#3 Sofia Vergara, Modern Family
Becoming a new mother was very good to Gloria as Vergara got to play a pregnant woman desperately trying to maintain her sexiness and a new mom balancing her two children.
---
#2 Julie White, Go On
It's a shame this show was cancelled, because White's performance as an angry lesbian coping with the death of her partner was one of the highlights of the new season, and her surprisingly rich friendship with Ryan provided a backbone for the series.
---
As Jackie Joyner-Kersee, the alien mom desperate to experience all that humanity has to offer, Olagundoye (an actress who is half-Nigerian and half-Norwegian) is the heart and soul of this new comedy. The way she fights back against her husband's supremacy to live her own life and the caring way she ingratiates herself into the hearts of her human neighbors is what turns this alien comedy from potential trash to genuinely funny.