Marvel's "M.O.D.O.K." is an animated series based on the original Marvel comics. The show follows a supervillain named M.O.D.O.K., which stands for Mental Organism Designed Only for Killing. Originally, "M.O.D.O.K." was announced as part of a four-show Marvel series for Hulu. However, in 2020, it was announced that only two of those series would move forward: "M.O.D.O.K." and "Hit-Monkey." The first season of "M.O.D.O.K." has gotten good reviews for its animation, writing, voice acting, and references to other Marvel settings and characters.
Whether you've binged the entire "M.O.D.O.K." TV series or are just getting ready to dive into episode one, BuddyTV is here to keep you up to date with all the latest and greatest information about the show, the "M.O.D.O.K." cast, and the characters you love.
Marvel's M.O.D.O.K. - Sneak Peek Clip • A Hulu Original
---
About Marvel's New "M.O.D.O.K." (TV Series)
M.O.D.O.K. is known for his large head and small body, as well as his ability to send energy beams from his forehead. The chair he gets around in is also outfitted with several weapons. As the head of the evil organization A.I.M., M.O.D.O.K. has yet to succeed in achieving his goal — defeating the heroes of earth and ruling the world — and now A.I.M. has gone bankrupt and been sold to a rival company. Even after M.O.D.O.K. is fired as the leader of the organization, he still has obstacles to overcome — but this time, the battle is at home. His marriage and family are on the brink and he is about to go through a midlife crisis of his own.
Related: How "M.O.D.O.K." Fits in the Marvel Cinematic Universe
While definitely part of the Marvel Studios franchise, "M.O.D.O.K." exists somewhere else inside the Marvel multiverse. "M.O.D.O.K." is set on what they call Earth-1226, unlike most of the Marvel movies and the Disney Plus series, like "What If" and "Loki," which are on Earth-199999.
What this means for the average viewer is that the show will take place on Earth — but not one where you are likely to see the mainstream characters you know and love, like the Avengers (with one notable exception due to a guest appearance from Iron Man).
When Was Marvel's "M.O.D.O.K." (TV Series) Released?
Marvel's "M.O.D.O.K." was released as an adult comedy series on May 21, 2021. The first season included 10 episodes, which are all available to stream. With season one complete, fans are now wondering when they can expect to hear about a release date for season two of "M.O.D.O.K.," especially after season one left them with a bit of a cliffhanger.
Unfortunately, Hulu hasn't yet renewed the series for a second season, although it sounds like plans are moving forward. Even if the show was renewed and production began today, though, the show's co-creator Patton Oswalt has indicated it might take a while for the season to become available. "M.O.D.O.K." is done in a stop-motion clay animation style. It takes a while longer to produce a show using that style.
Who Are the Main Cast and Characters of Marvel's "M.O.D.O.K." (TV Series)?
Marvel's "M.O.D.O.K." exists within the multiverse but outside of the traditional MCU characters. That means watching the show will introduce you to several characters who've never appeared outside the comic book series. Have no fear, though. The main characters have an outstanding voice cast that includes:
---
M.O.D.O.K. (George Tarleton)
played by Patton Oswalt:
The main character, an egomaniacal supervillain, thinks he's better than the other heroes and villains out there. He's ambitious and wants to have it all: a happy life, a good family, and world domination.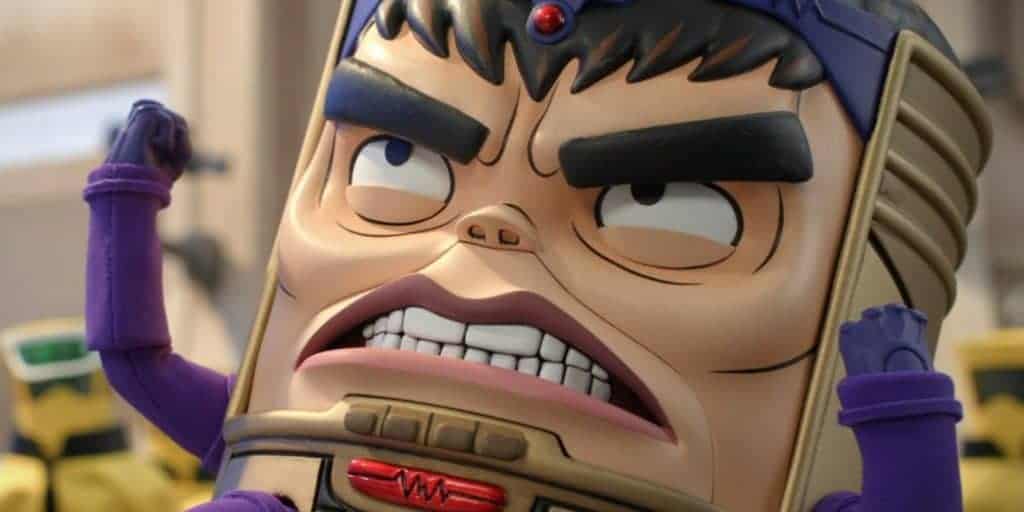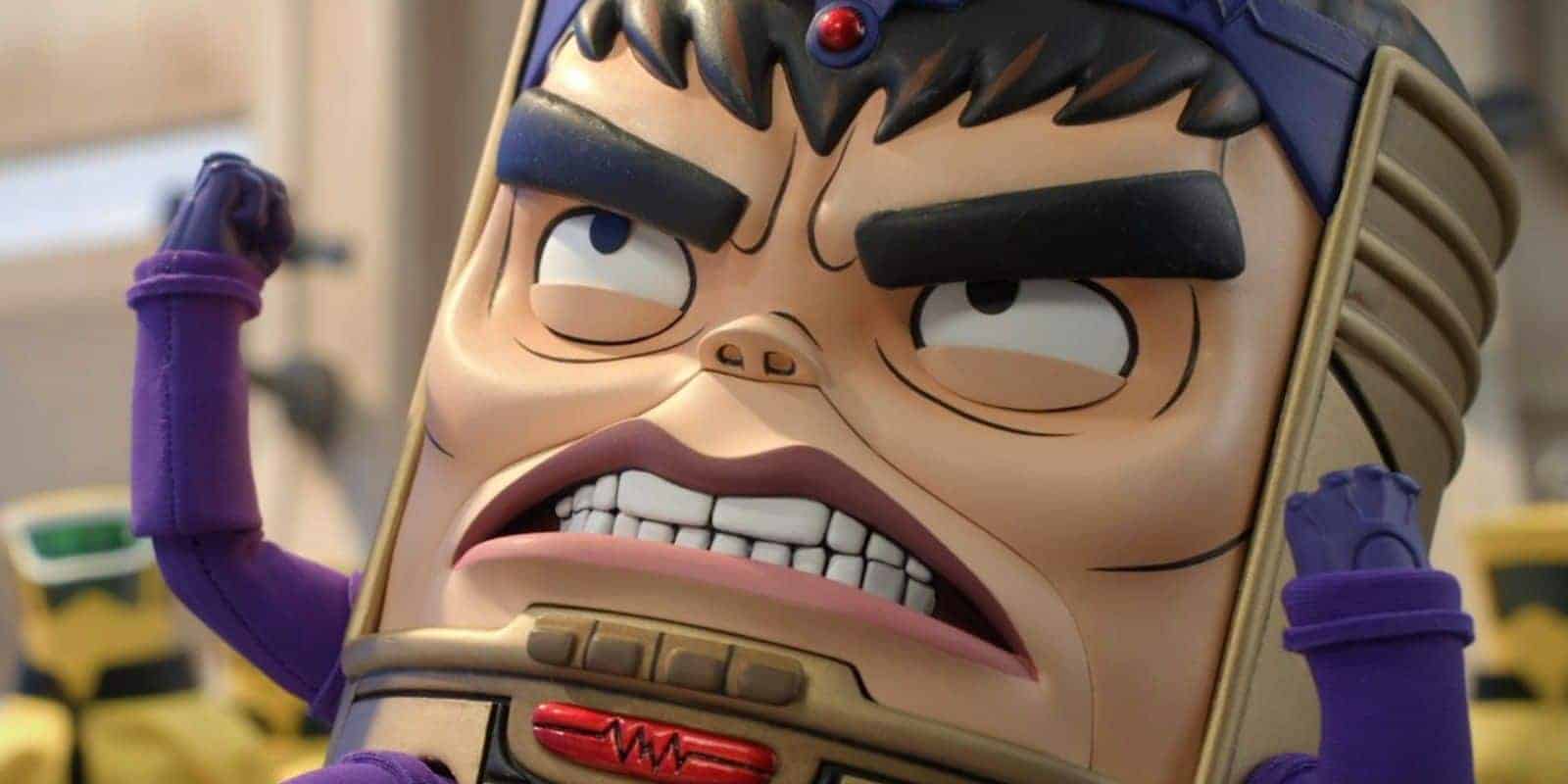 ---
Jodie Ramirez-Tarleton (M.O.D.O.K.'s wife)
played by Aimee Garcia:
M.O.D.O.K.'s wife not only questions his life's work as a supervillain but also pursues her own career with a mom blog and, eventually, becomes a villain in her own right.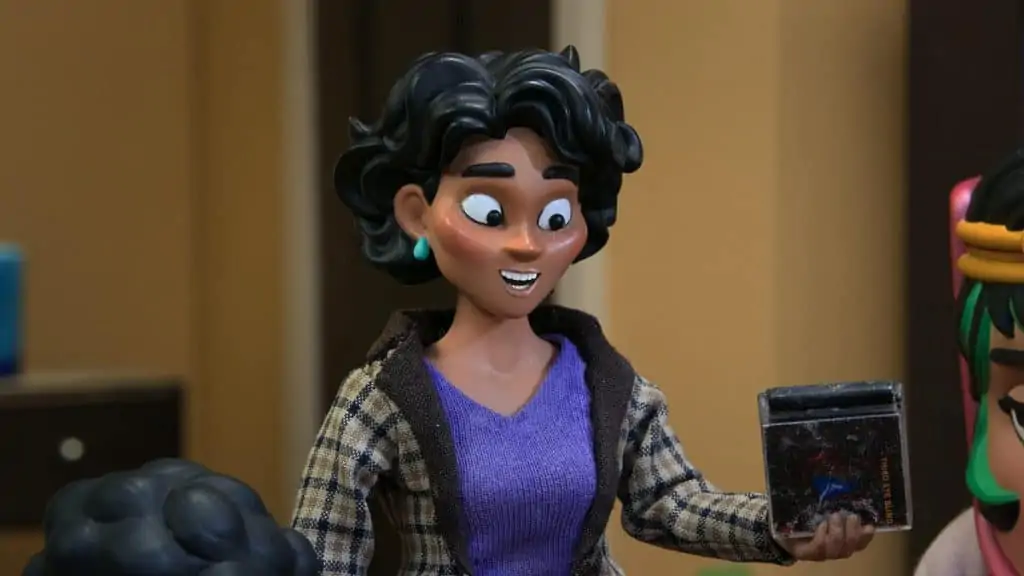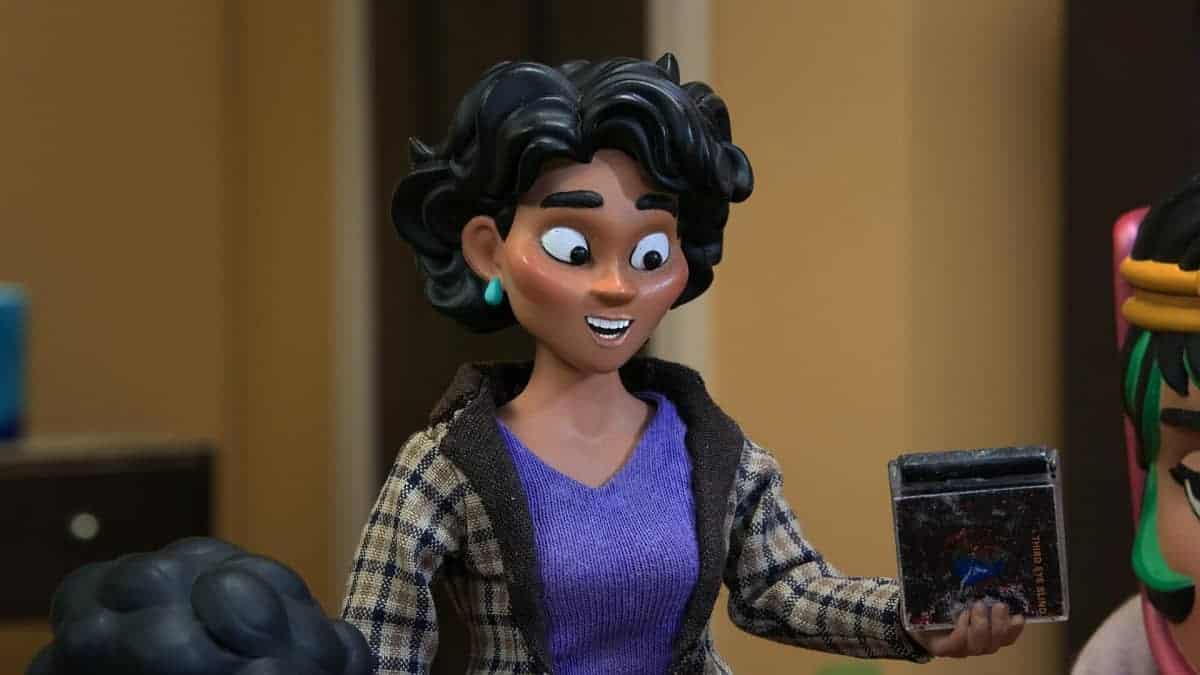 ---
Louis "Lou" Tarleton (M.O.D.O.K.'s son)
played by Ben Schwartz:
Schwartz also voices Lou Tarleton's robot adopted twin brother, and together they are called "the Lous." Lou always wears a blue sweatshirt and is portrayed as a carefree pre-teenager. He claims his name stands for "Lanky Organism Undeniably Irresistible and Syphilitic."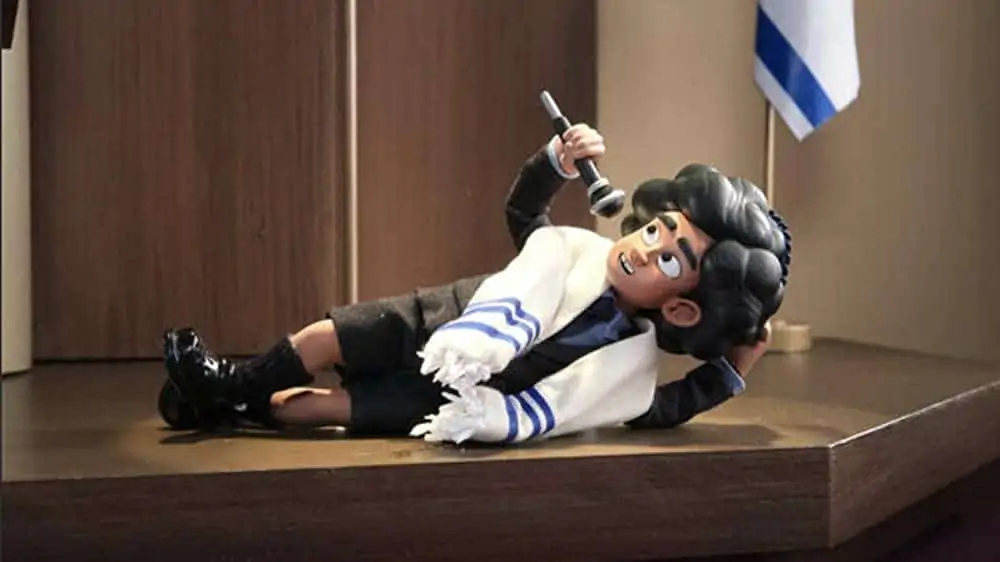 ---
Melissa Tarleton (M.O.D.O.K.'s daughter)
played by Melissa Fumero:
A popular teenager, she's looking for approval as a villain herself. She is a bisexual character who claims her name stands for "Mental Entity Living to Induce Seriously Sinister Anarchy," but according to M.O.D.O.K., she's named after Melissa Etheridge.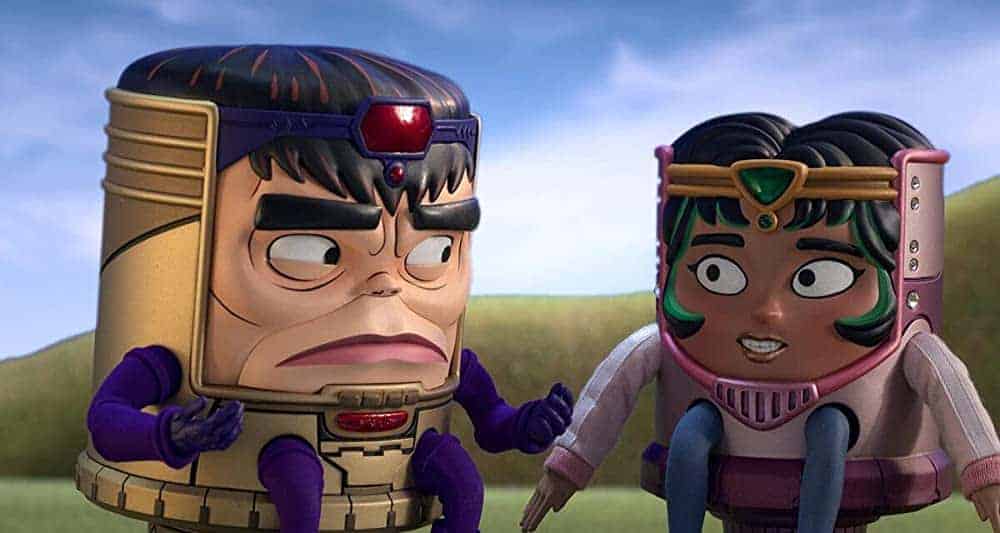 ---
Monica Rappaccini (M.O.D.O.K.'s nemesis)
played by Wendi McLendon-Covey:
She is the Scientist Supreme, and M.O.D.O.K. is forced to work with her at A.I.M.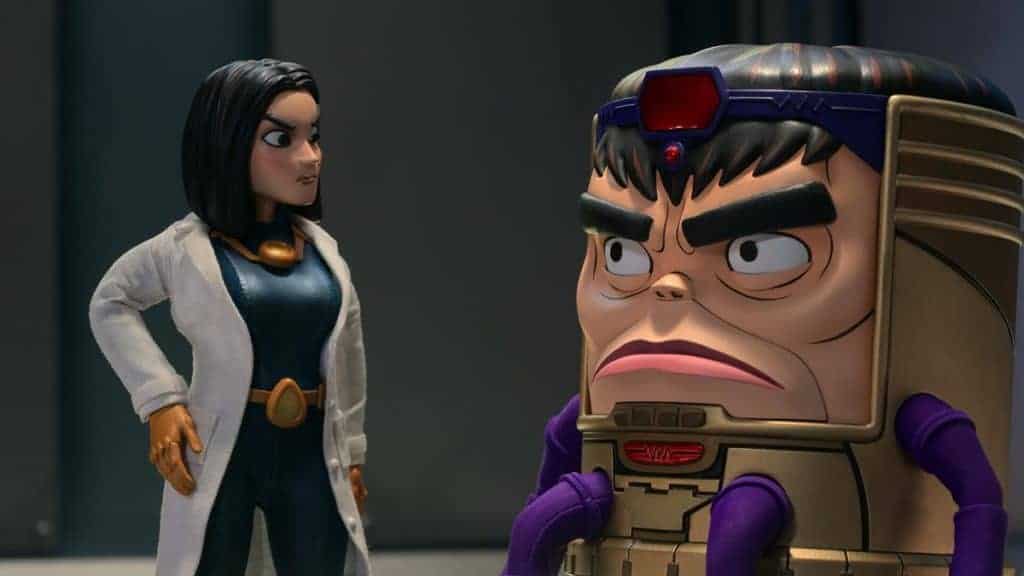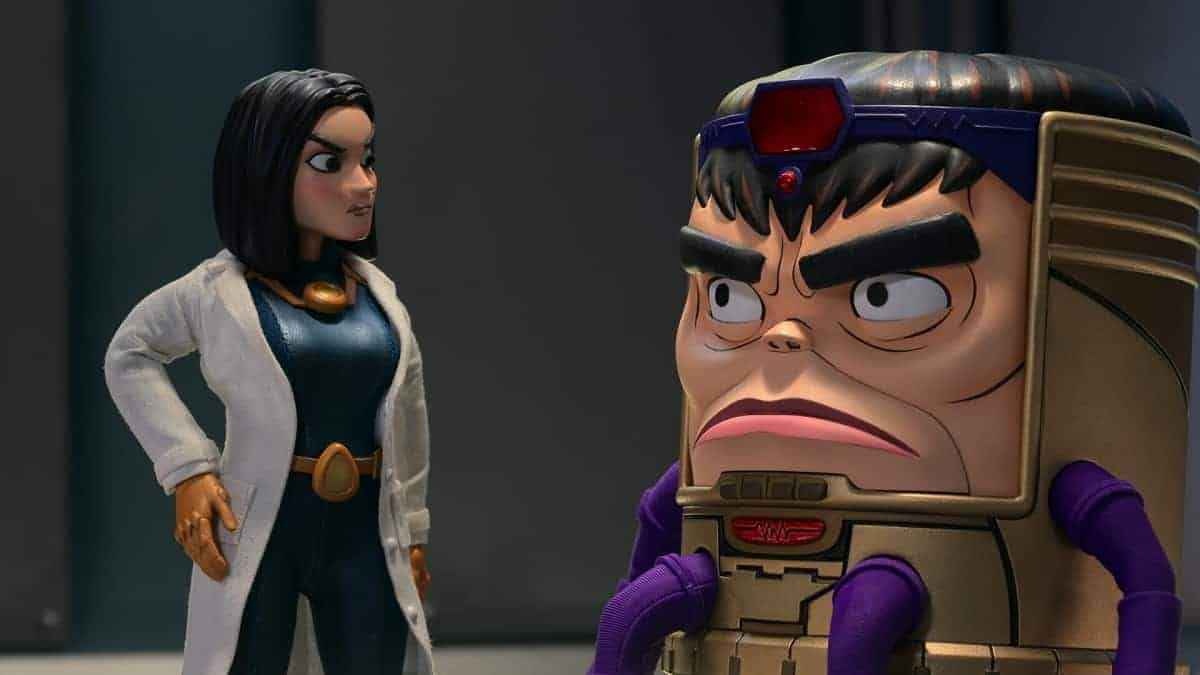 ---
Austin Van Der Sleet (M.O.D.O.K.'s boss)
played by Beck Bennett:
As the new boss at A.I.M., Van Der Sleet is young and hails from GRUMBL, the tech company that's invested in and taken control of A.I.M.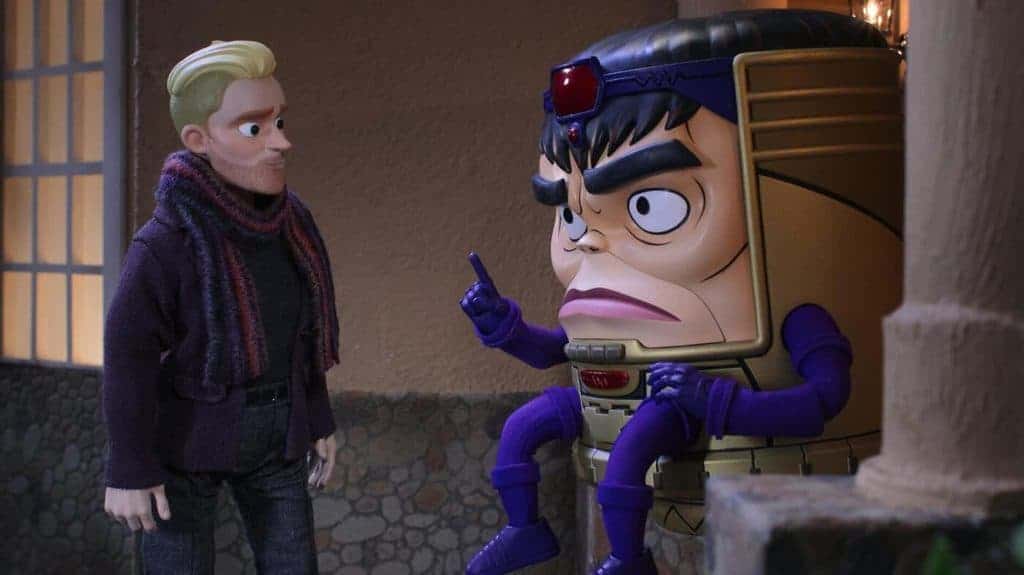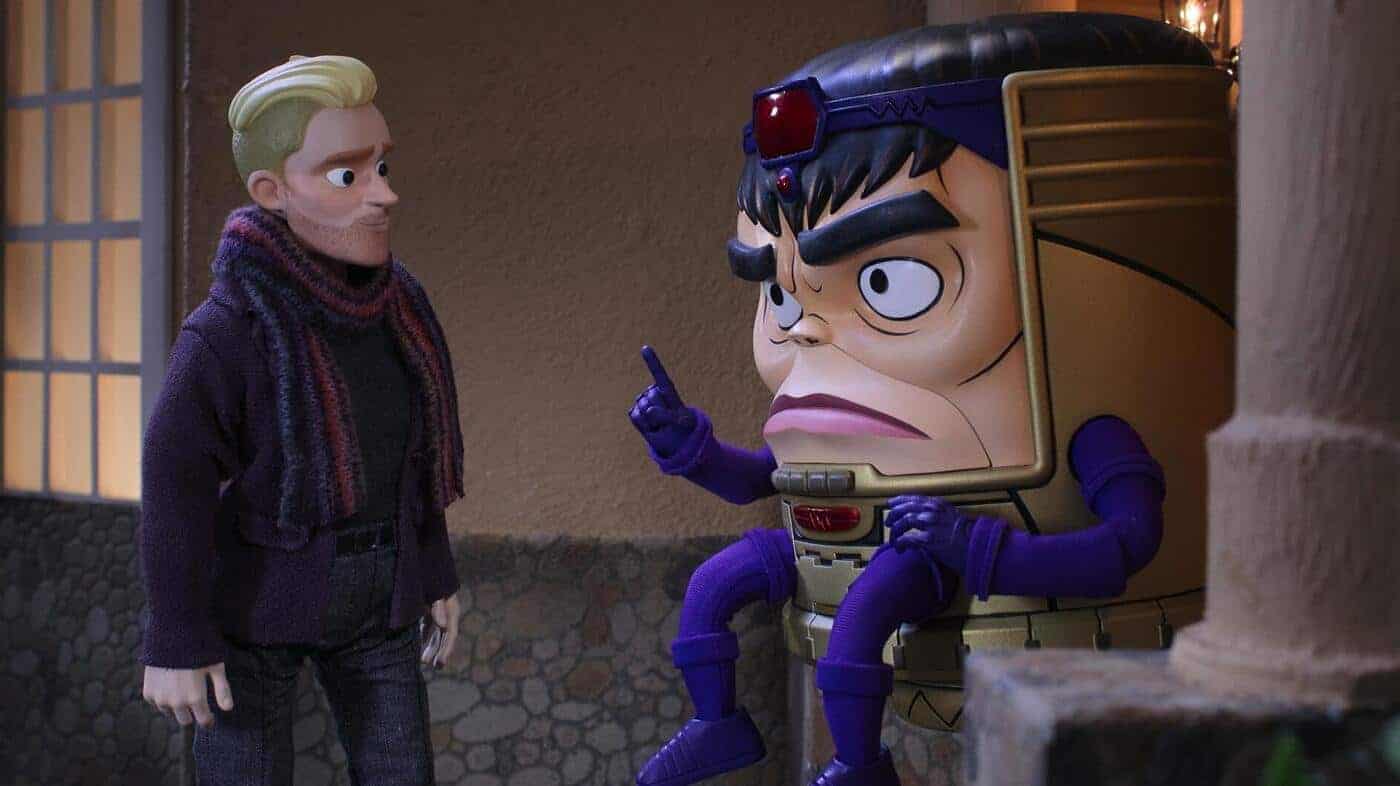 ---
Super-Adaptoid (M.O.D.O.K.'s enslaved robot servant)
played by Jon Daly:
Super-Adaptoid aspires to be an artist and hates his role serving M.O.D.O.K. Even when he has betrayed the family, though, they only reset him — and often forget about him entirely.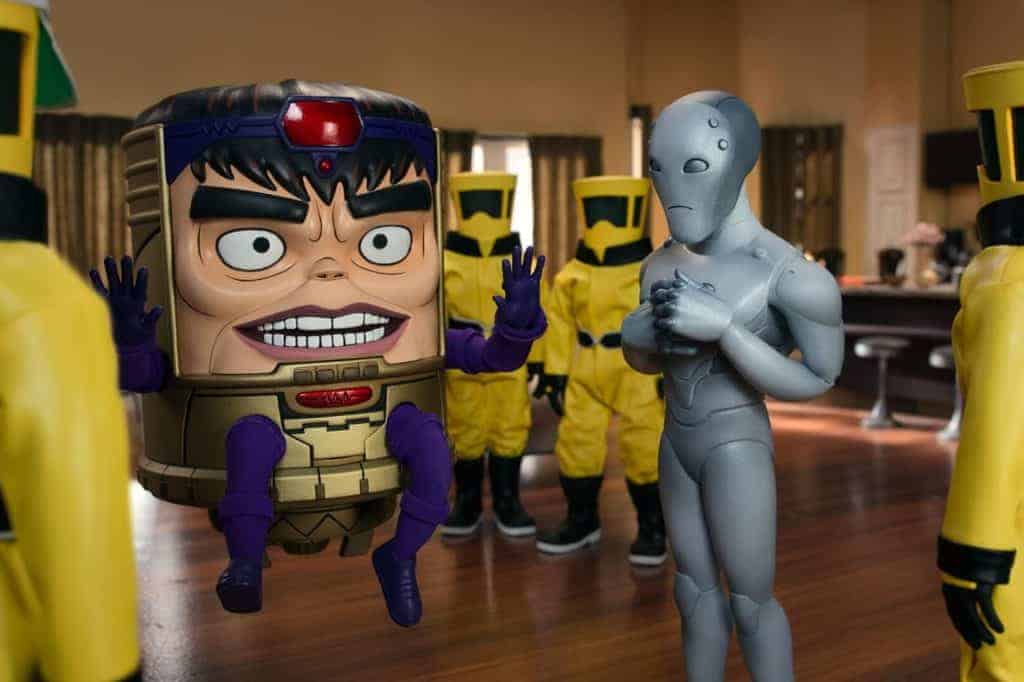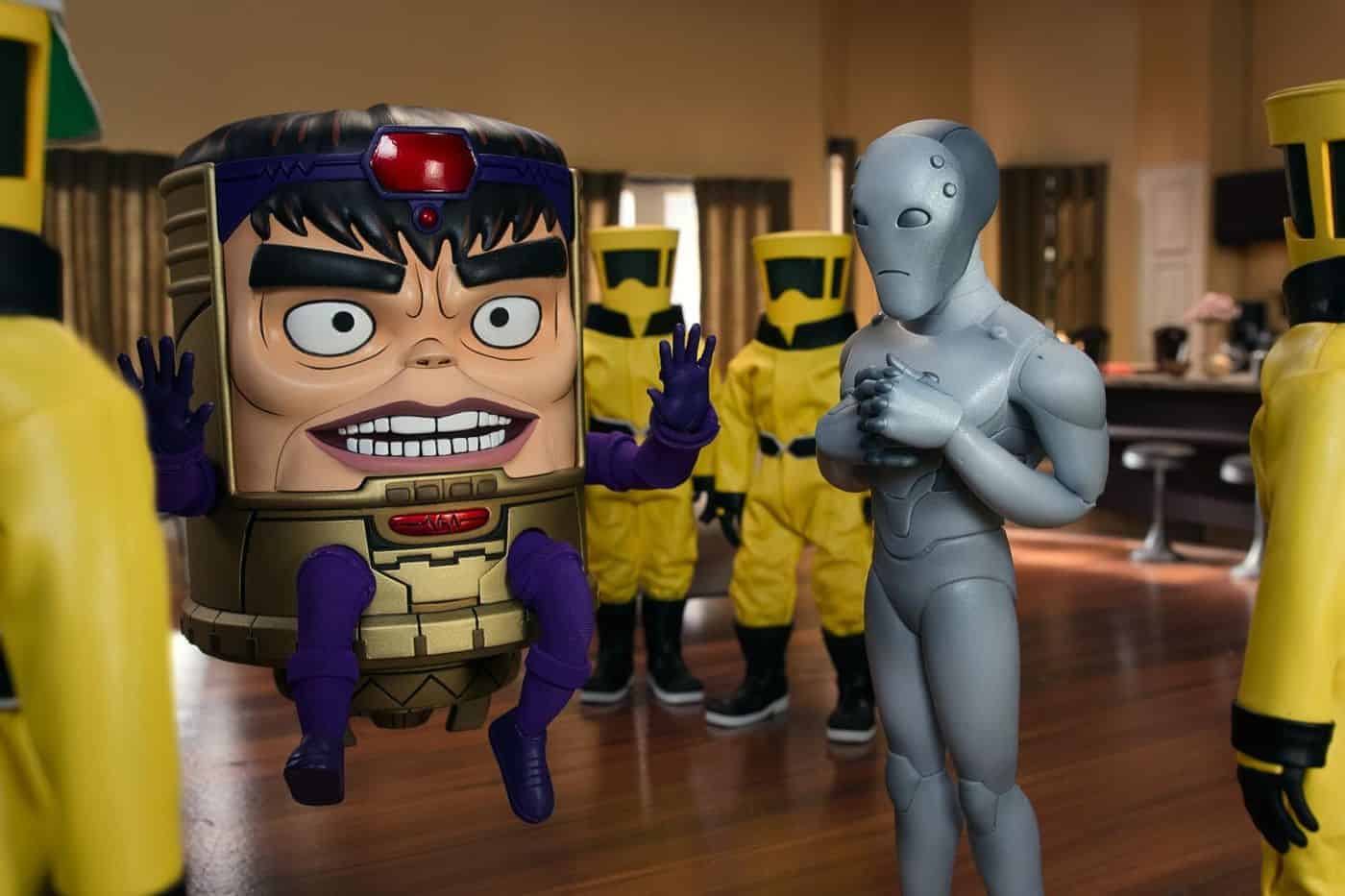 ---
Garfield "Gary" Garoldson (M.O.D.O.K.'s henchman)
played by Sam Richardson:
An eternally optimistic henchman, he is married to a trucker named Big Mike.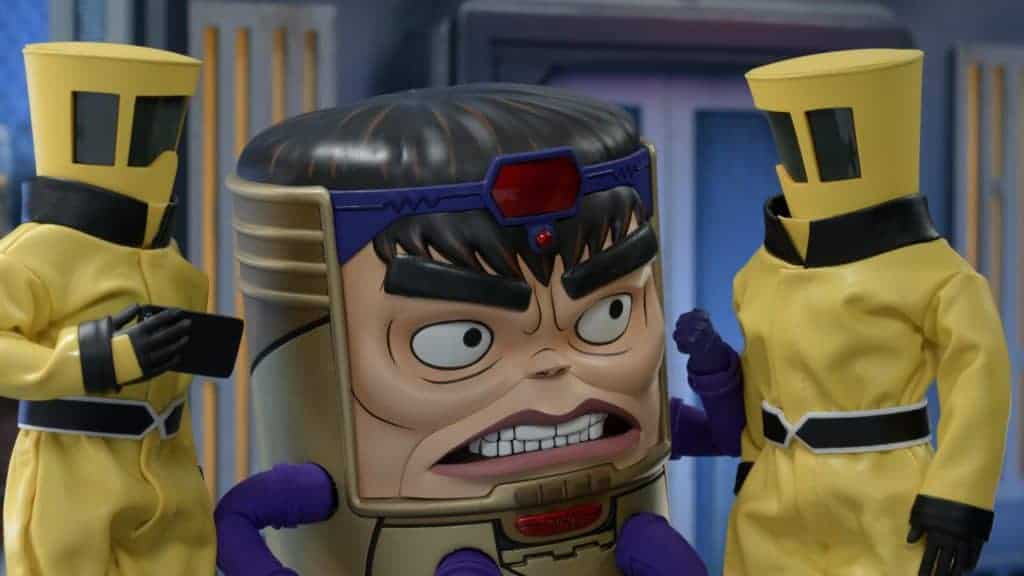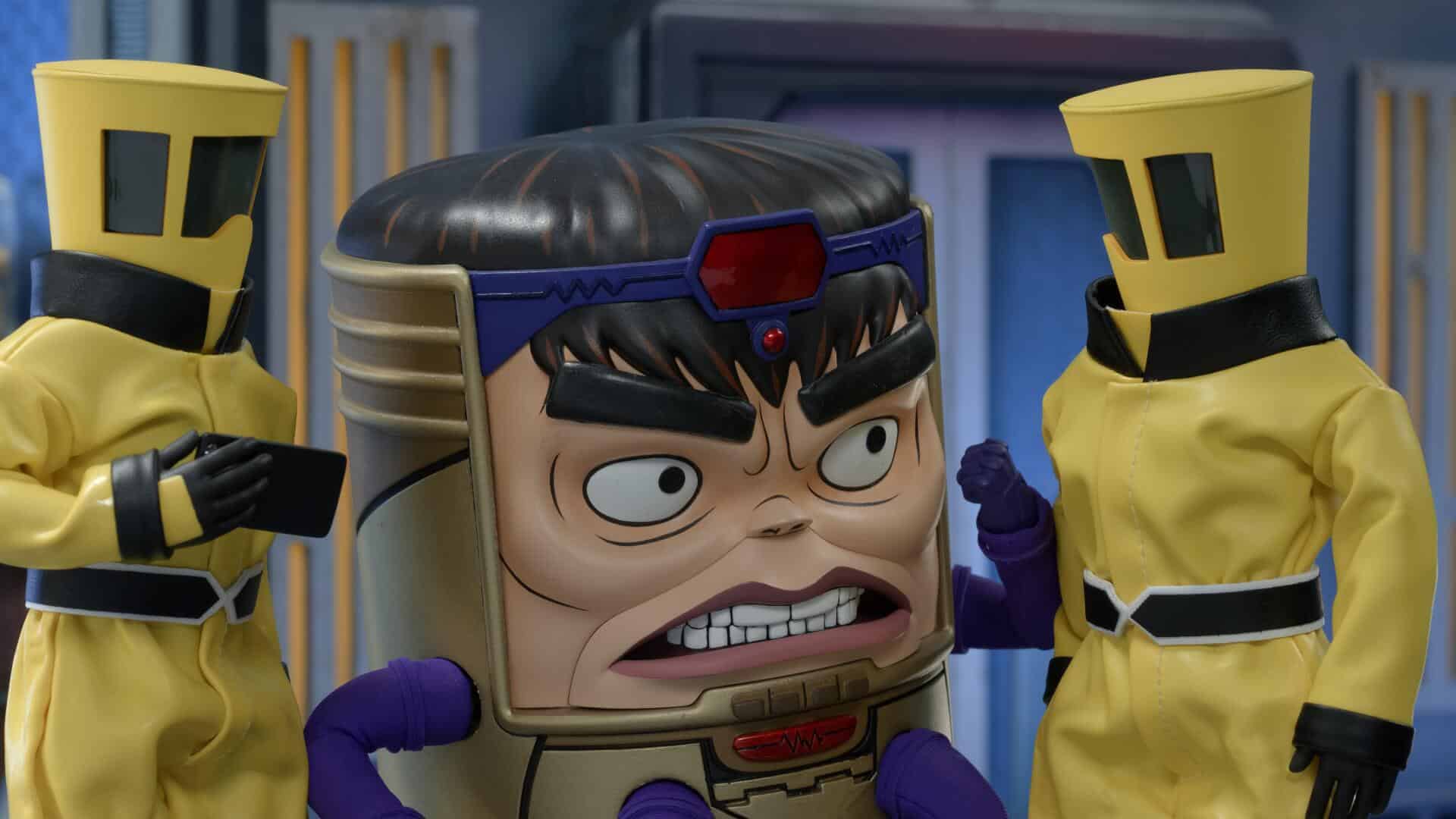 ---
You'll also want to pay attention to some of the star-studded guest voice actor appearances throughout the season, including Jon Hamm as Tony Stark/Iron Man, Nathan Fillion as Simon Williams/Wonder Man, Bill Hader as The Leader and Angar the Screamer, Whoopi Goldberg as Poundcakes, and Alan Tudyk as Arcade.
Who Voices "M.O.D.O.K." in the New TV Series?
The voice of M.O.D.O.K. is Patton Oswalt, who also is the co-creator of the series along with Jordan Blum. Oswalt also voices Anomaly in the series. Anomaly is a younger M.O.D.O.K. who is displaced in the timeline and wants to take out his future family for his world domination plans to succeed.
Oswalt is an actor, comedian, and screenwriter originally from Virginia. His career began with stand-up comedy, but he is not new to the Marvel franchise (he once guest-starred in "Agents of S.H.I.E.L.D."). He began his on-screen career in an episode of "Seinfeld" and has been in a number of television shows since, including "Parks and Recreation," "Community," "Drunk History," "Veep," and "Archer."
He also hosted his own Netflix comedy show special, "Patton Oswalt: Talking for Clapping." His big-screen career includes "Ratatouille," "Zoolander," "Blade: Trinity," and "The Circle." He has also released several books like "Zombie Spaceship Wasteland," which was released in 2011.
Where Can You Watch Episodes of Marvel's "M.O.D.O.K."?
The answer to this question really depends on where you live. You might be surprised to find that the show isn't on Disney Plus. Marvel's "M.O.D.O.K." series was developed as a Hulu original series and all season one episodes are available to stream now. However, in the UK, New Zealand, Canada, Australia, and Ireland, it was released on Disney Plus as a Star original and an episode was released each week rather than the entire season at once.
Learn More About Marvel's "M.O.D.O.K." on BuddyTV
The season one finale left fans with a lot of questions, including if there would be a season two and when it would launch. BuddyTV will stay on top of the newest developments so you don't have to. Keep checking back with BuddyTV for all the latest news and updates.