What are comic book supervillains like in their personal lives? The stop-motion animated series "M.O.D.O.K." follows one of Marvel's most iconic and weird supervillains as he deals with marital problems, aging, and his own massive ego — all while trying to maintain some semblance of control of his evil organization, Advanced Idea Mechanics (A.I.M.), which he sold to a competing corporation after running the company into bankruptcy.
Related: The Cast and Characters of Marvel's "M.O.D.O.K."
If the premise sounds convoluted, that's because it is, hilariously so. In this article, we'll go over everything you need to know about the adult animated show and tell you whether it fits into the wider Marvel Cinematic Universe.
Who Is M.O.D.O.K.?
The character M.O.D.O.K. was created by comic book legend Jack Kirby. In the Marvel comics, M.O.D.O.K.'s real name is George Tarleton. He works as an engineer for the crime organization A.I.M. In an effort to create a human supercomputer, A.I.M. performs experiments on Tarleton.
While the experiments give Tarleton super mental powers, they also horrifically disfigured him. His head becomes so enormous that he needs the assistance of the floating "Doomsday Chair" to move, and his body becomes basically useless.
Mental Organism Designed Only for Computing (M.O.D.O.C.) is born. After murdering the scientists who had been working on him, M.O.D.O.C. renames himself Mental Organism Designed Only for Killing (M.O.D.O.K.) and takes control of A.I.M.
M.O.D.O.K. has superhuman intellect, the ability to communicate with people and control them with his mind, and he can create extremely strong force fields. He wears a headpiece that allows him to fire powerful beams of mental energy.
His one dream is for world domination. M.O.D.O.K. was initially introduced in the Captain America comics. Still, he's fought several other Marvel heroes over the years, like Iron Man, Namor, and The Hulk.
About the "M.O.D.O.K." TV Series
The stop-motion animated series "M.O.D.O.K" was created by Patton Oswalt and showrunner Jordan Blum. While parts of M.O.D.O.K.'s backstory are altered in the show, the character still has the same powers and aspirations.
M.O.D.O.K.'s answer to every problem is blasting it away with mind beams. His evil technology company, A.I.M., has been hemorrhaging money to invent weapons for world domination but has had very little success due to the Avengers thwarting its plans. Because of this, M.O.D.O.K. has become sort of a joke in the supervillain world.
Despite his intelligence, M.O.D.O.K. barely realizes he's run A.I.M. into bankruptcy. He's forced to sell the company to GRUMBL, a Silicon Valley technology corporation. Although M.O.D.O.K. initially thinks he'll maintain control of the company, he soon sees that's not the case.
Apart from his super-villainy, M.O.D.O.K. lives a suburban lifestyle with his wife, Jodie, and two children, Lou and Melissa. Around the same time, M.O.D.O.K loses his company, his wife kicks him out of the home, and files for divorce.
The series revolves around M.O.D.O.K. trying to regain control of his company, reconnect with his family, and regain his reputation as a respected supervillain. The show features several familiar Marvel tropes, like time travel, clones, aliens, and cameos from many Marvel characters, like Mister Sinister, Arcade, and The Leader.
Who Are the Main Characters of Marvel's "M.O.D.O.K."?
M.O.D.O.K. has a variety of interesting characters. Here's a list of some main characters in the show and their voice actors:
---
M.O.D.O.K.:
On the surface, M.O.D.O.K. seems like your typical, egotistical, odd-looking supervillain bent on world domination. As the show progresses, though, we see that M.O.D.O.K. is an insecure, awkward guy who's willing to do whatever it takes to get his family back, no matter how misguided his attempts are. Comedian and actor Patton Oswalt is perfectly cast in the role of the title character.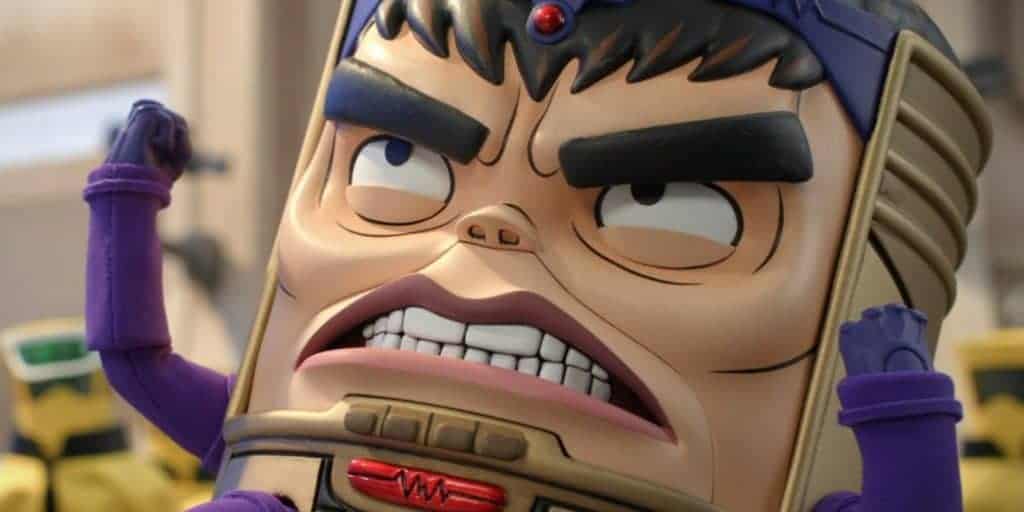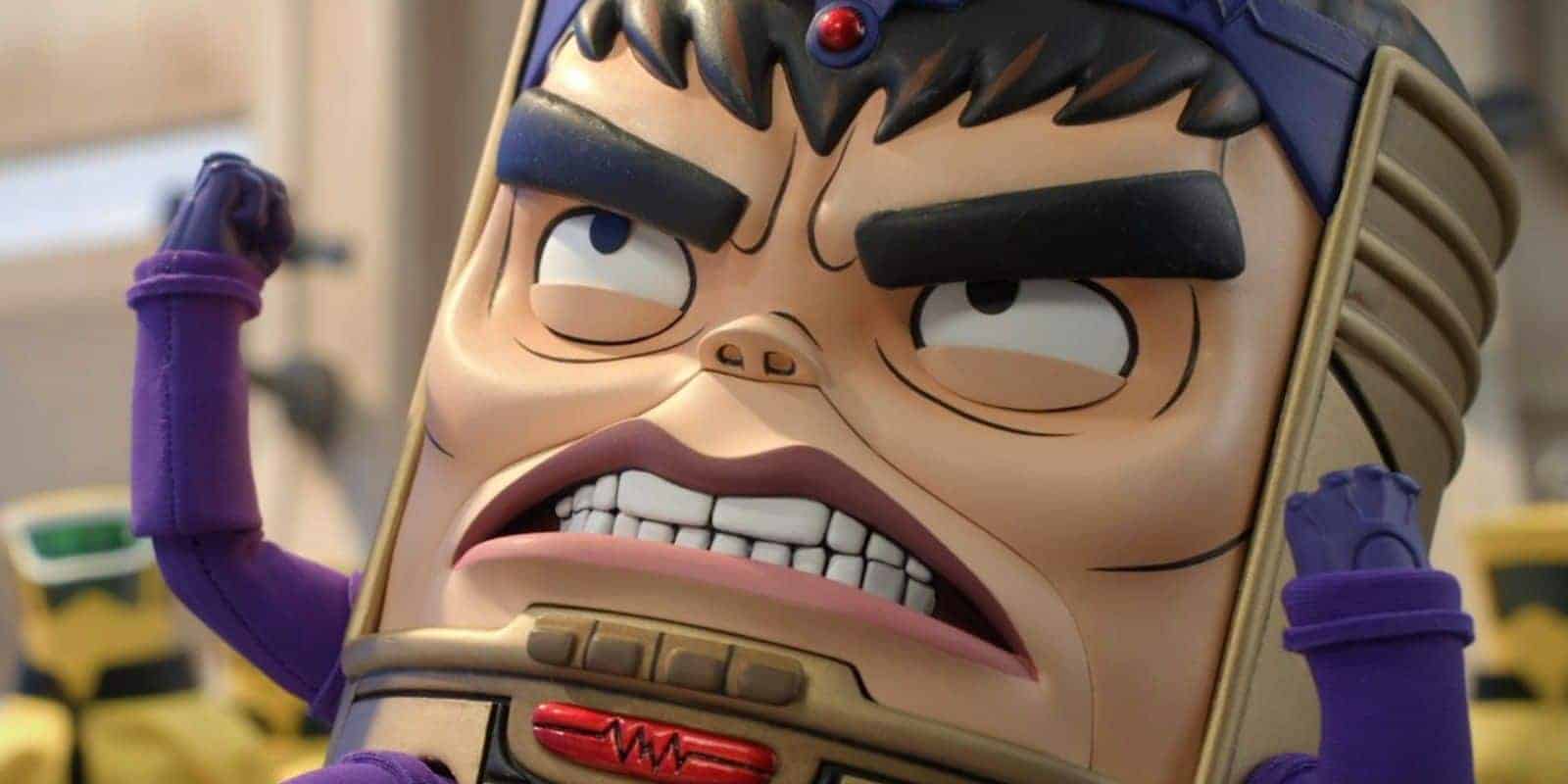 ---
Jodie Ramirez-Tarleton:
M.O.D.O.K.'s wife works as a self-help vlogger and author. She leaves M.O.D.O.K. because he's too obsessed with taking over the world, but she often shows similar ambition in her quest to be recognized as a famous author. Jodie is voiced by Aimee Garcia, who's been featured in shows like "George Lopez" and "Dexter."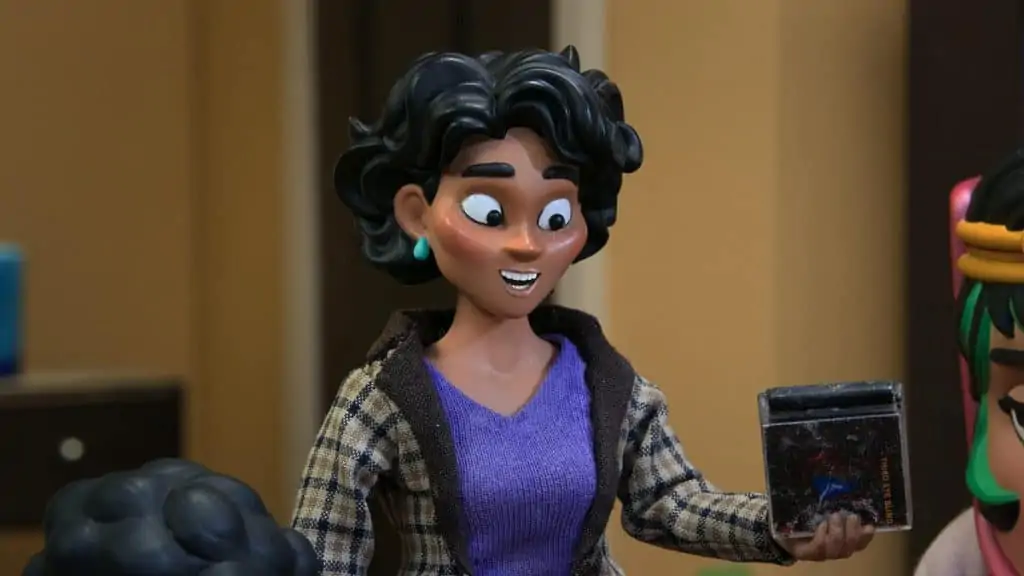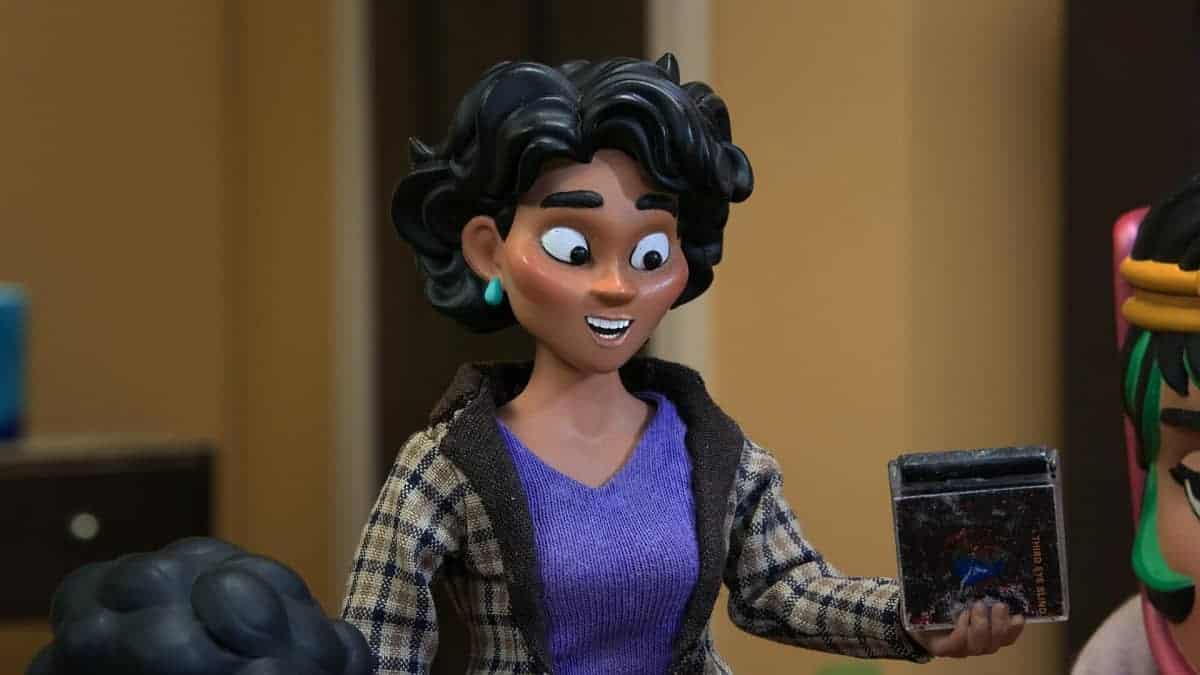 ---
Lou Tarleton:
M.O.D.O.K's youngest is an eccentric and easily excitable 12-year-old boy. Lou is extremely naive and loves magic. Like his father, he creates an acronym for his own name: Lanky Organism Undeniably Irresistible and Syphilitic. He doesn't know what syphilitic means but thinks the word sounds cool. Lou is voiced by Ben Schwartz, who voiced the title character in "Sonic the Hedgehog" and other characters on shows like the new "DuckTales."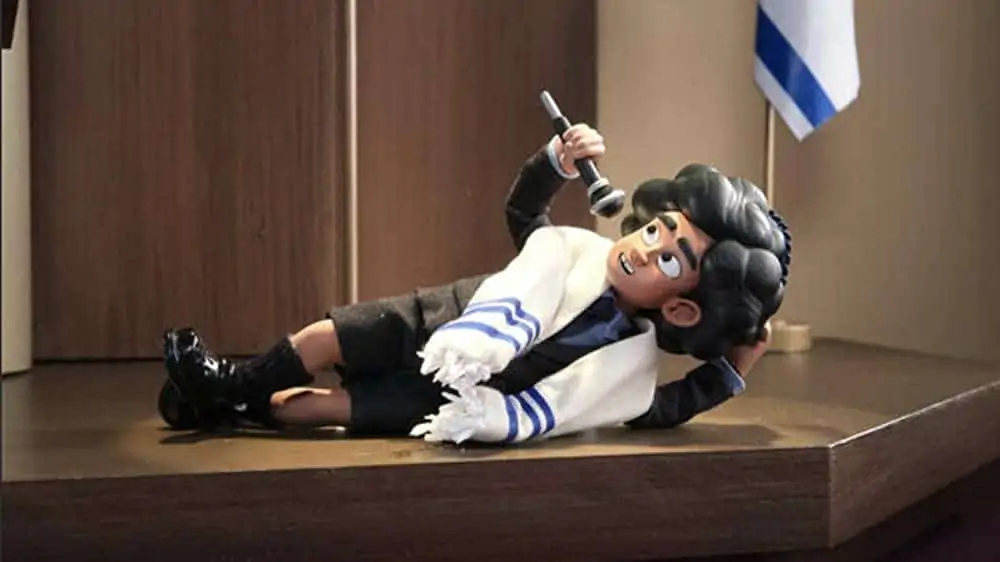 ---
Melissa Tarleton:
M.O.D.O.K.'s 17-year-old daughter takes after her father in that she has a giant head and rides around in her own floating chair. She's also obsessed with power like her father. She wants to rule her high school, where she's very popular. Her self-made acronym is: Mental Entity Living to Induce Seriously Sinister Anarchy. Melissa is voiced by Melissa Fumero from "Brooklyn Nine-Nine" and "One Life to Live."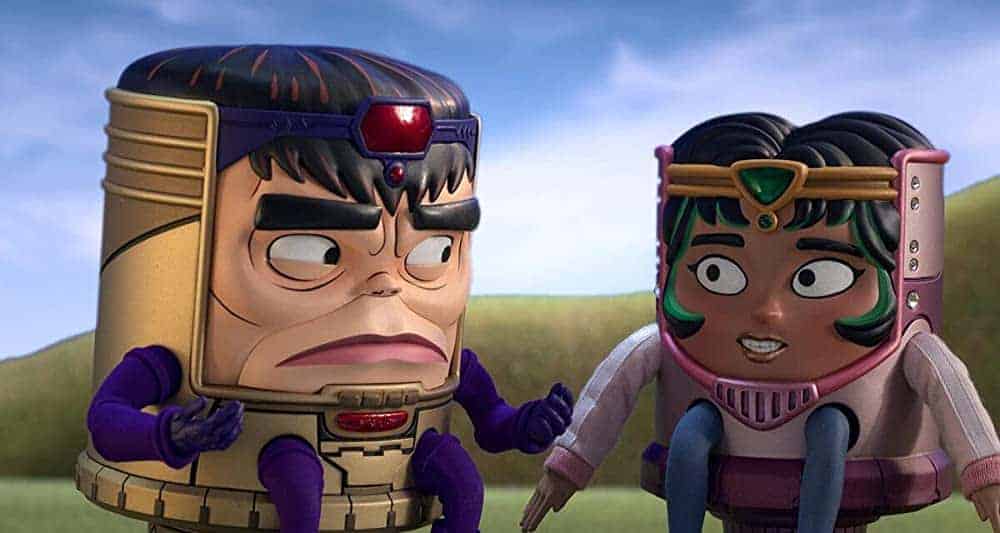 ---
Monica Rappaccini:
M.O.D.O.K.'s second-in-command at A.I.M was once his biggest fan. Now she's become increasingly irritated with the direction he's taken the company. An evil genius herself, she believes she should be in charge and is ready to take matters into her own hands. Monica is voiced by Wendi McLendon-Covey from "Reno 911!" and "The Goldbergs."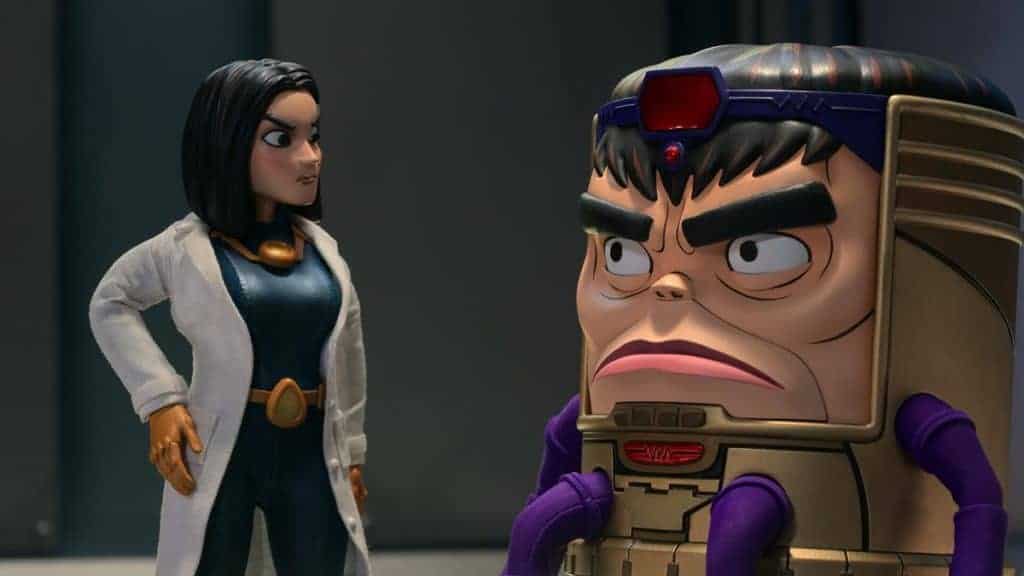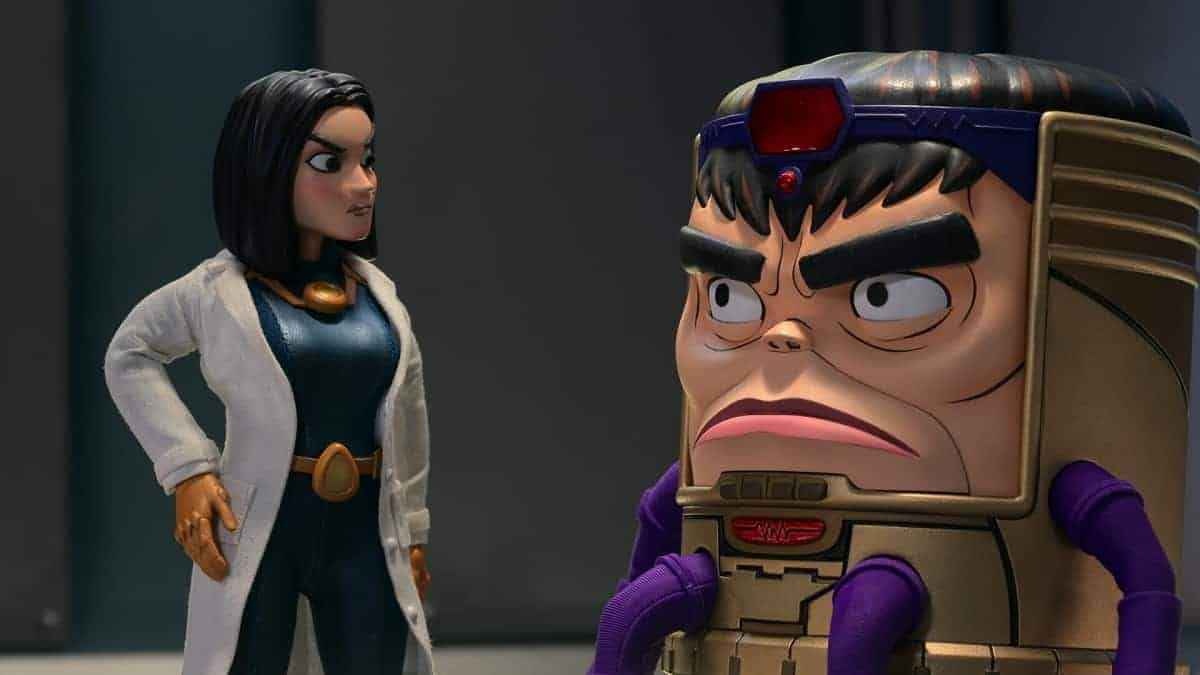 ---
Austin Van Der Sleet:
Van Der Sleet is the hip, twenty-something CEO of GRUMBL. Despite secretly working for the evil organization Hexus, he's extremely friendly and loves his rescue labradoodle, Sherlock. Van Der Sleet is voiced by Beck Bennet from "Saturday Night Live" and "The Mitchells vs. the Machines."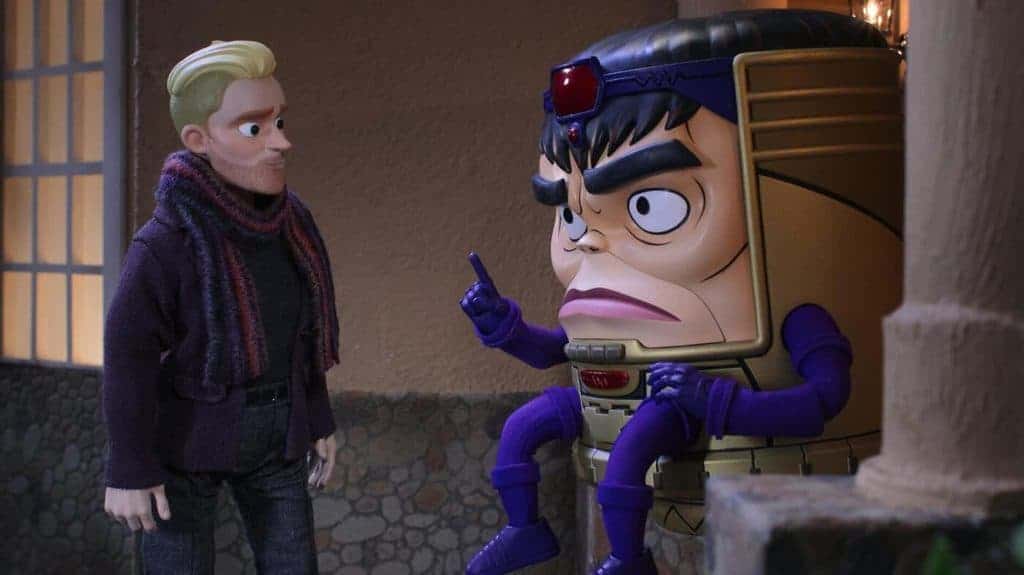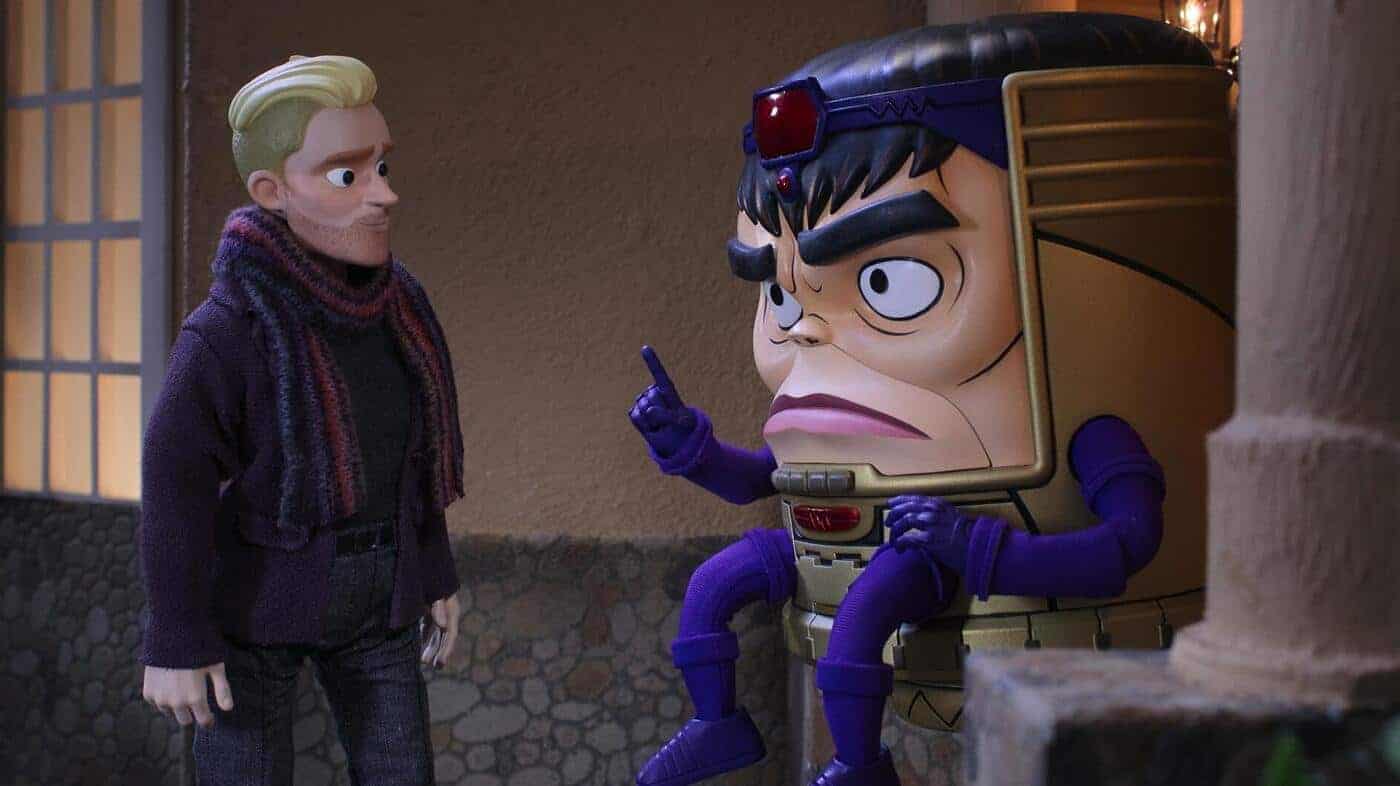 ---
Super-Adaptoid:
M.O.D.O.K.'s self-aware, sarcastic, robot servant dreams of being an artist and hates working for the demanding family. He can transform into anything M.O.D.O.K. needs at the time, like a ladder or a truck. The entire family knows that Super-Adaptoid is extremely disloyal and simply resets his memory each time he betrays them. Super-Adaptoid is voiced by Jon Daly from "Big Mouth" and the "Kroll Show."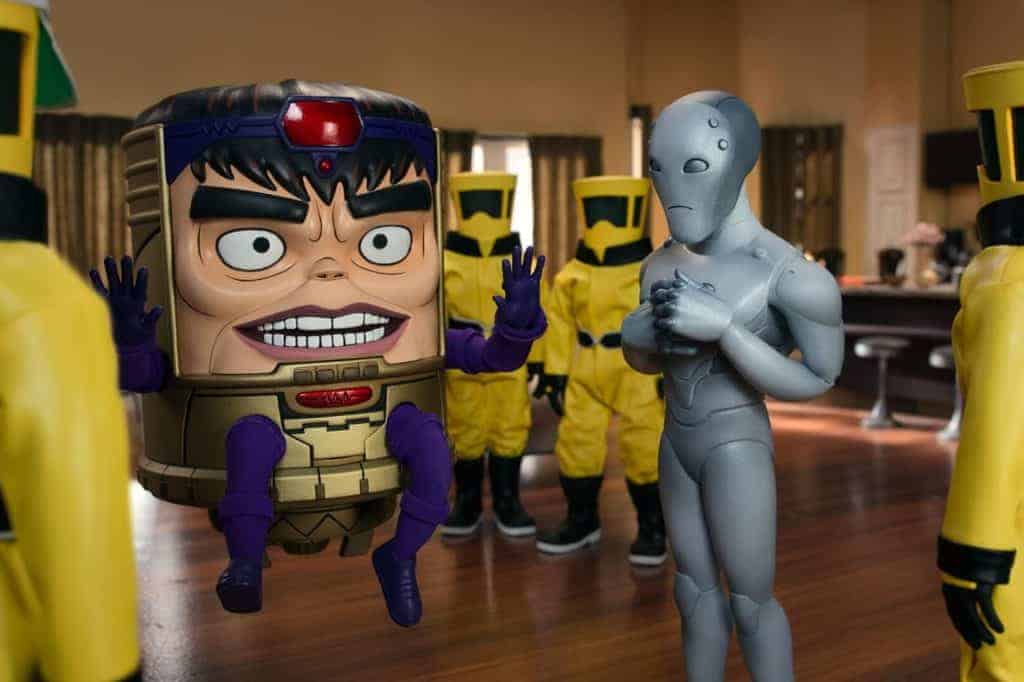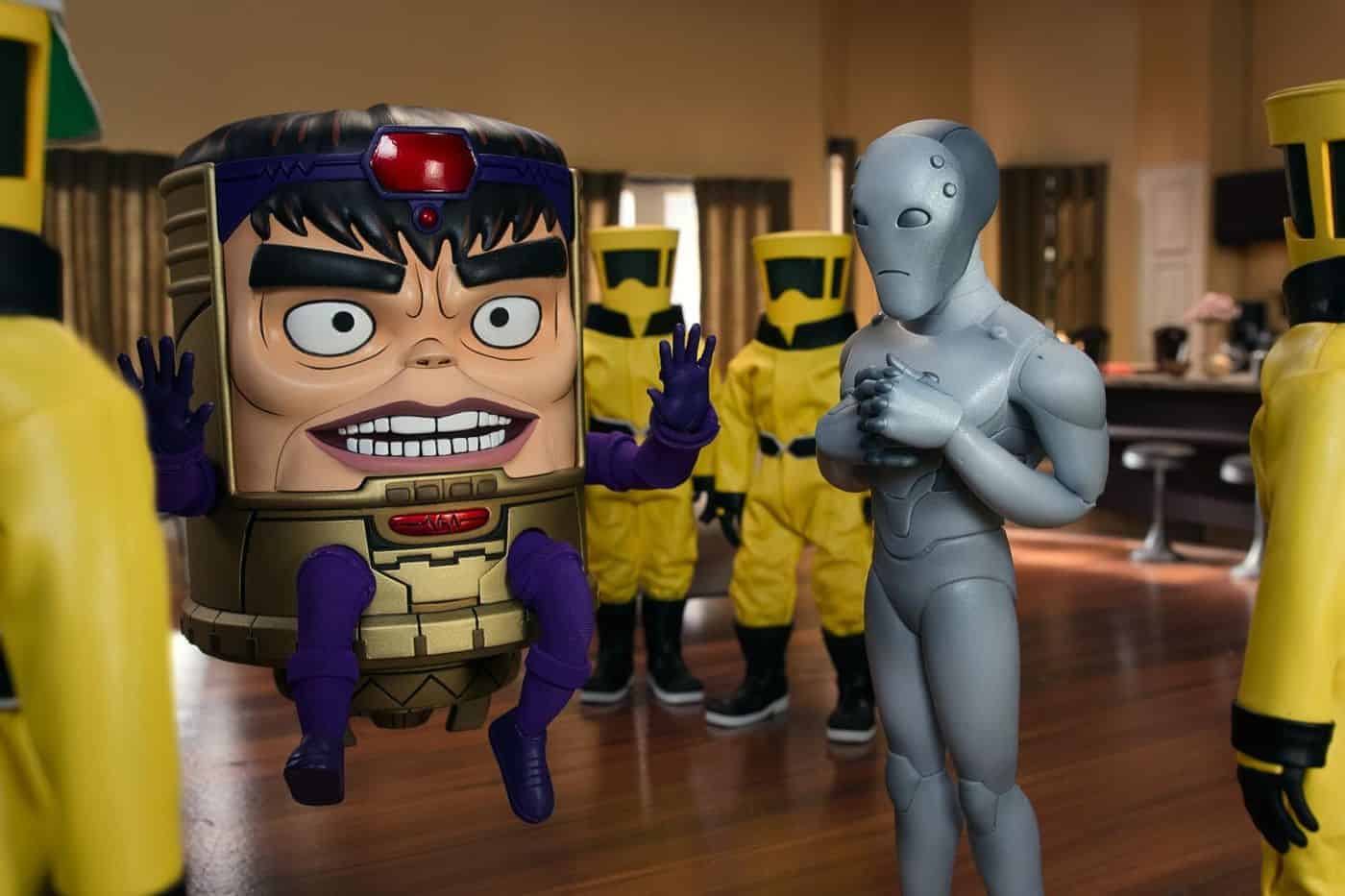 ---
Gary Garoldson:
Gary is a super faithful, cheerful henchman, even though M.O.D.O.K. blew off his arm with an energy beam in a fit of rage. Gary puts his job above all else, which causes strain in his relationship with his husband, Big Mike. Gary is voiced by Sam Richardson from "Veep" and "Detroiters."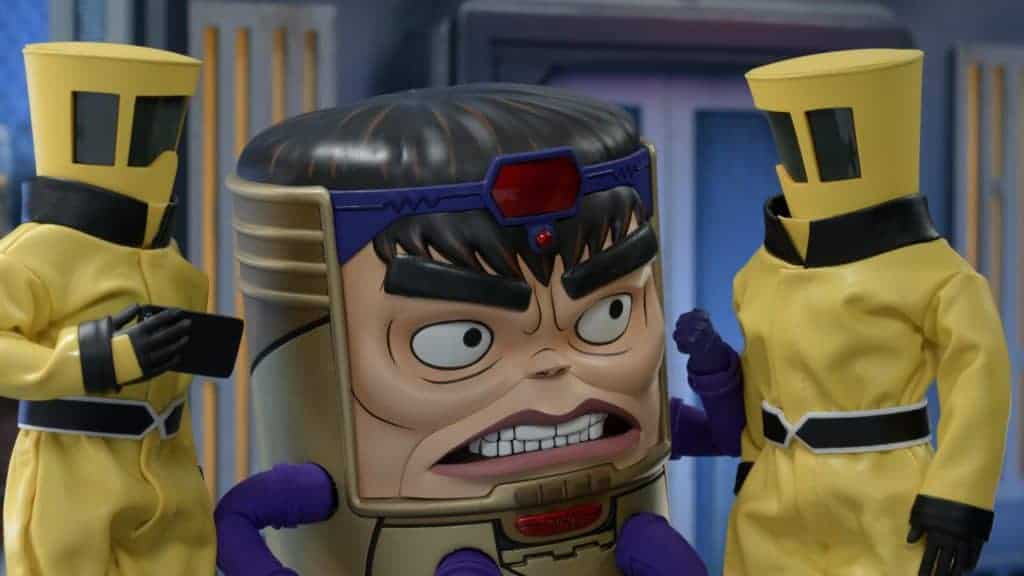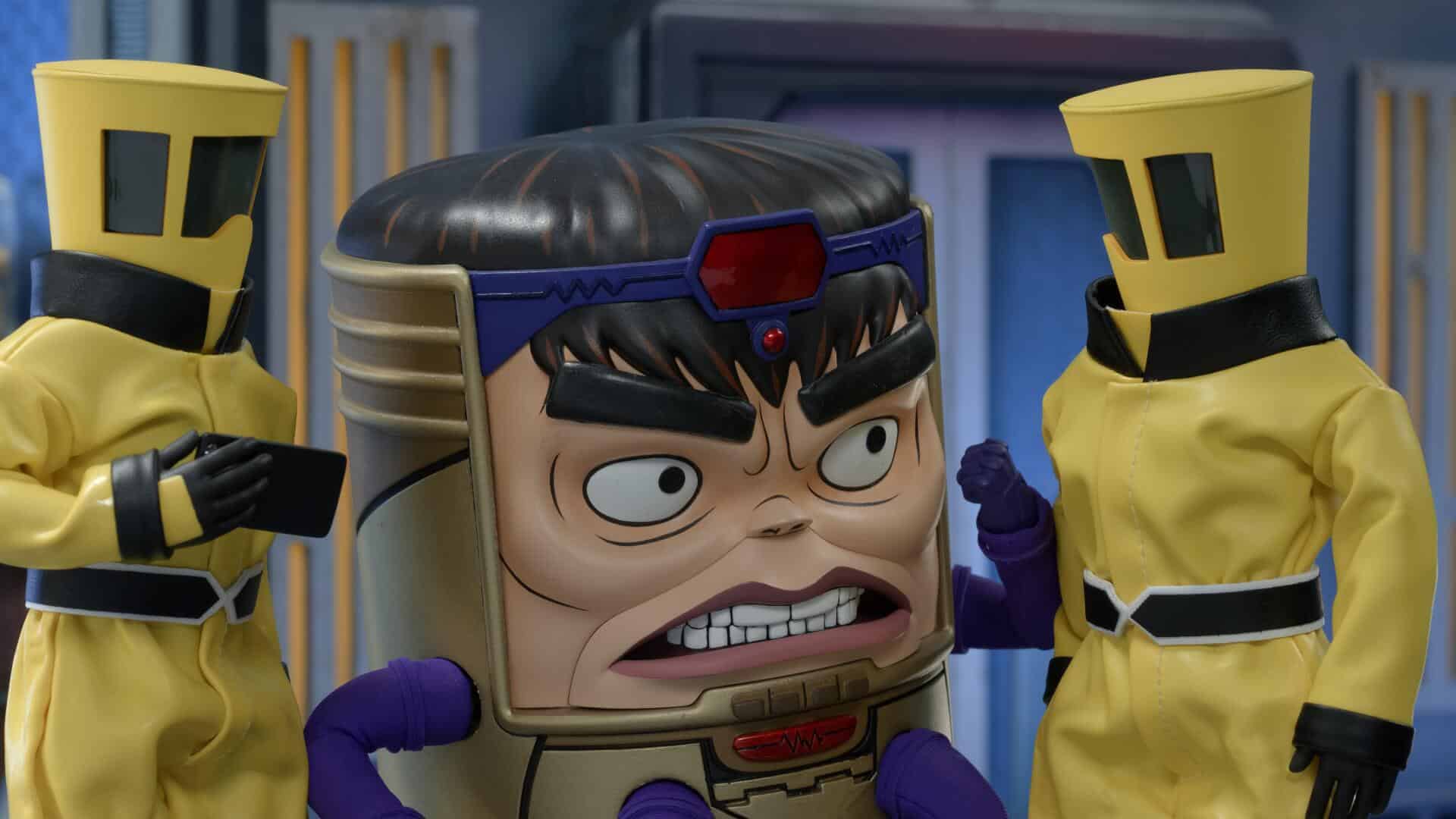 ---
The show has great supporting talent, as well. For example, Jon Hamm voices Iron Man, and Nathan Fillion voices Wonder Man. There are also Marvel easter eggs littered throughout the episodes.
When Did Marvel's "M.O.D.O.K." Premiere?
All 10 episodes of the first season of "M.O.D.O.K" premiered on Hulu on May 21, 2021.
Is "M.O.D.O.K." Part of the Marvel Cinematic Universe?
While the character is a Marvel property, "M.O.D.O.K." is not part of the Marvel Cinematic Universe. There are several universes within the Marvel Multiverse. The main Marvel universe featured in the comics is Earth-616. The events of the live-action MCU films like "Black Widow" and "Avengers: Endgame" take place on Earth-199999. "M.O.D.O.K." takes place primarily on Earth-1226.
Where Can You Watch Marvel's "M.O.D.O.K."?
Marvel's "M.O.D.O.K" is available for streaming exclusively on Hulu.
Learn More About Your Favorite Marvel Shows and Characters on BuddyTV
If you can't get enough of Marvel's action-packed films and TV shows, you're in luck. There are a number of great series like "WandaVision," "What If…," "Loki," "Hawkeye," and "Agents of S.H.I.E.l.D." available on or coming to streaming platforms like Hulu, Netflix, and Disney Plus. Visit BuddyTV to keep up with all the great Marvel shows you're most excited about.