#10 Pam Beasley
Actress: Jenna Fischer
Show: The Office
Occupation: Receptionist
Pros: Cute, funny, kind, smart.
Cons: Is a receptionist in Scranton, PA. No big future plans. Would be forced to attend Dunder-Mifflin company events from time to time.
Pam is, realistically, probably a reach for this list, but I just like her so damn much. She's just an interesting, subtle and lovable character. You can't go wrong with Pam.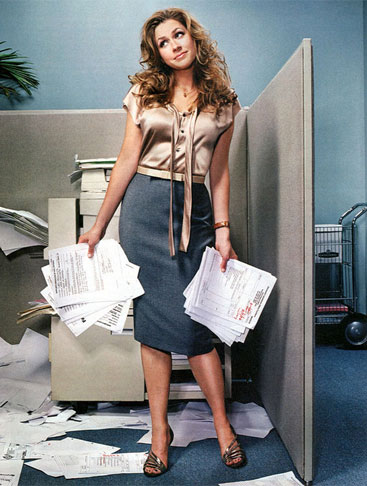 #9 Denise Bauer
Actress: Julie Bowen
Show: Boston Legal
Occupation: Attorney
Pros: Attractive, intelligent, driven, and intense. You'd get to hang out a little with Denny Crane. Boston isn't a bad place to live. Attorney's tend to make lots of money.
Cons: She's a lawyer, so long hours and occasionally shaky morals.
Being a high-profile lawyer in Boston has got be a pretty sweet gig. I think one of the biggest perks with Denise is your access to Denny Crane, the legend. How much time would you try to spend with that man if given the chance?
#8 Dr. Meredith
Actress: Ellen Pompeo
Show: Grey's Anatomy
Occupation: Surgical Intern
Pros: She's a hot doctor whose going to be a surgeon, which is probably rare. Surgeons tend to make a lot of money. Obviously, she's somewhat intelligent. People seem to like her.
Cons: In the past, has been a bit of a…(ahem)…floosy. Indecisive. Doctors work very long hours. Also, constantly stressed out. Has crazy, neurotic friends. Squints a lot.
Meredith Grey is the focal point of the number one show in America, so there must be something about her that's special. And, she adds "Mc" to the beginning of words, which is, you know, cool…I guess.
#7 Melinda Gordon
Actress: Jennifer Love Hewitt
Show: Ghost Whisperer
Occupation: Ghost Whisperer
Pros: Looks like Jennifer Love Hewitt. Interesting career. Intelligent. Even if you die you can still talk with her.
Cons: Talks to dead people on a regular basis. Helps dead people with unresolved business, which is way more important than anything you'll ever accomplish.
I really can't tell you how I'd feel if I were to date a Ghost Whisperer. Actually, I can tell you this: Ghost Whisperers are totally out of the question for me, unless they look remarkably similar to Jenifer Love Hewitt.
#6 Jordan McDeere
Actress: Amanda Peet
Show: Studio 60 on the Sunset Strip
Occupation: President of a TV Network
Pros: Is the president of a major TV network, so has money. Smart. Extremely good-looking. Confident and ballsy.
Cons: Is neurotic. Always very busy. A little bit insane. Drinks excessively from time to time. Has a good chance of being fired at some point through no fault of her own.
Jordan McDeere is interesting, beautiful and intelligent. She also runs a network. Think of all the Hollywood stuff you'd get to witness as Jordan's significant other. All the people you'd meet, the behind-the-scenes access.
#5 Summer Roberts
Actress: Rachel Bilson
Show: The OC
Occupation: College Student
Pros: Hot, funny, a delight to hang around, deceptively intelligent. Only heiress to her father's accumulation of plastic surgery wealth.
Cons: Acts far dumber than she is. Materialistic and occasionally shallow.
Summer Roberts is quirky. She is unique. You want to hang out with her. And, you know, just look at her.
#4 Samantha Marquez
Actress: Vanessa Marcil
Show: Las Vegas
Occupation: Casino Host
Pros: Preposterously good-looking. Vegas, baby! Lives in a suite at the Montecito Hotel. Has an exciting, well-paying job.
Cons: Vegas, for more than a weekend at a time. Constantly gets hit on by every dude in the casino. Boss is an intimidating James Caan look-a-like.
It's hard to argue with living in the suite of a major casino on the Las Vegas strip.
#3 Rory Gilmore
Show: Gilmore Girls
Occupation: College Student
Pros: Uniquely beautiful. Ivy League smart. Quick wit, often hysterically funny. Has a cool mom.
Cons: Talks really, really fast and, as a result, can talk herself into or out of anything. Family life is, well, bizarre. Family may be intimidating.
The daughter of Lorelai Gilmore and current student at Yale, Rory Gilmore is a quirky girl who is a personal favorite of mine. Whether you enjoy Gilmore Girls or not, you have to agree that Rory has an infectious personality.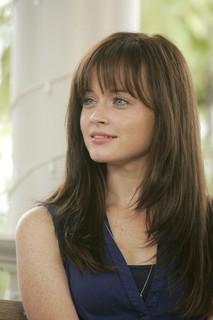 #2 Robin Scherbatsky
Actress: Cobie Smulders
Show: How I Met Your Mother
Occupation: News Reporter
Pros: Lives in New York. Job is a relatively easy one. Has no problem drinking beer with the boys. Remarkably good-looking.
Cons: Lives in New York (yep, its a pro and a con). Being a news reporter, every time you go out in public with her, people yell "Hey! It's the lady from the news!" Doesn't like "Field of Dreams".
I've only recently been introduced to Robin, but, from what I've seen, I'm already a big fan. However, do I want to live in New York? Do I want to put up with the occasionally crazy hours of a news reporter? Other than that, she's pretty much the total package.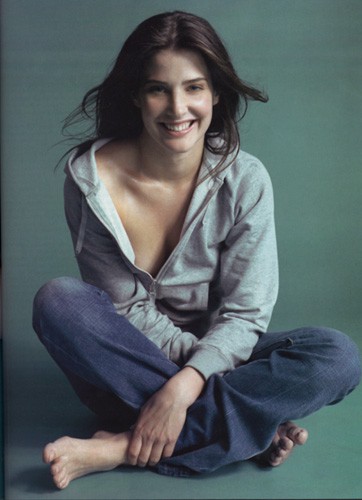 #1 Dr. Izzie Stevens
Actress: Katherine Heigl
Show: Grey's Anatomy
Occupation: Surgical Intern
Pros: Strikingly attractive, talented, motivated, intelligent. Emotional and passionate. In possession of a large inheritance.
Cons: Too emotional at times. Has some serious personal baggage.
I'd be lying if I said this didn't have anything to do with the $8.7 million dollar inheritance she received earlier this season. How could that not be a factor? Maybe she wouldn't be the top pick without the money, but Izzie would certainly make the top ten. She's a doctor (or was, or will eventually be) and she's gorgeous. What else do you want?