I thought I'd seen it all.  When Supernatural actually made a reference to slash fan fiction in last season's "The Monster at the End of This Book": ("as in Sam/Dean…together"), I figured Supernatural had gone as far as it would on the subject.  Boy was I wrong.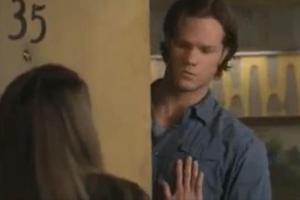 The Supernatural season 5 premiere introduced us all to Becky, an excitable Supernatural fan girl who uses the screenname SamLicker81 to act as web mistress forMoreThanBrothers.net (which, thankfully or sadly, is not a real site). When we first saw her, she was in her room writing her latest work, opening with the now immortal line "Sam caressed Dean's clavicle."
This is wrong, and I don't mean the Wincest.  Don't misunderstand, I love that the Supernatural team clearly loves its fans more than any other show on TV, and I love that they are actually using the obsessive fan culture as part of the story.  I'm also on record as saying "The Monster at the End of This Book" is my favorite Supernatural episode ever (not the best, but my favorite).
However, there has to be a line, and I'm afraid the writers may have crossed it by getting a little too into the slash subculture.  You the fans, however, seem to be split.  I asked what you thought about the slash fanfic, and it's essentially a tie between "Funny" and "Disturbing."
To me, it feels like the Supernatural writers room latched onto a joke, and it worked well enough for a single reference, but then they tried to keep it going, and actually showing a girl writing slash is about as disturbing as it can get.  What's next, a fantasy dream sequence?
This is not the first time the Supernatural writers have taken a joke too far.  When they somehow got the episode title "Criss Angel is a Douchebag" approved, it opened the floodgates and, since then, I believe the word "douche" (or some variation, such as "douchenozzle" or "douchiness") has appeared in almost every episode, including the season 5 premiere.
I love "douchebag" as much as the next guy, but at some point it stops being edgy and starts being silly.  Supernatural has a tradition of doing some silly things, from the Ghostfacers to a suicidal teddy bear.  But, somehow, that fits naturally into the story.  But for some reason, slash just doesn't for me.
I'm no prude, and I want it to be clear my objection has nothing to do with puritanical values or modesty or a general dislike of slash.  If that's how you get your jollies, more power to you.  But I want Supernatural to be all it can be, and for me, Becky was an amusing distraction that could've been used in a later episode in a slightly edited form.
As Dean said in Becky's story, "This is wrong," but unlike Sam, I would like for Supernatural to stay right.
-John Kubicek, BuddyTV Senior Writer
(Image courtesy of the CW)