Over the weekend, the cast and crew of Supernatural gathered in Vancouver for a party to celebrate reaching the show's 100th episode.  Sadly, Eric Kripke wasn't able to attend due to a last minute conflict, but the night was still full of Supernatural love.  Jensen Ackles, Jared Padalecki, Jim Beaver, Misha Collins, Robert Singer, Sera Gamble and Ben Edlund are just a few of the attendees, along with CW president Dawn Ostroff.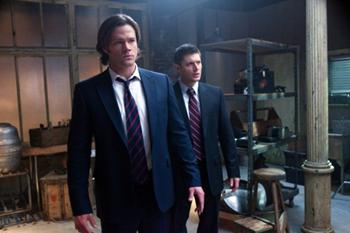 During the next few weeks and months leading up to the big 100th episode, titled "Point of No Return" scheduled to air April 15, we'll bring you our exclusive interviews with the stars as they talk about everything from the best pranks to the 100th episode to a possible season 6.
Speaking of that last one, while nothing official was confirmed, I would definitely say that I am more confident that Supernatural will be back for a sixth season after talking to the cast and crew.  It sounded to me like the writers and producers are ready, willing and able to tackle the challenge of continuing the Winchester saga.
There will be a lot more news and interviews from the event, but for now, here is a quick preview of some of the stuff you'll be seeing in the weeks to come.
-Jared Padalecki talking sweetly about his recent engagement to former co-star Genevieve Cortese.
–Jensen Ackles telling a cool story of one of the final pranks the late, great Kim Manners pulled on him.
–Misha Collins explaining his rollercoaster relationship with Castiel's infamous trenchcoat.
-Writer Sera Gamble talking about the 100th episode and what season 6 might be like.
-Writer Ben Edlund describing the awesomely grotesque and messed up stuff he wrote for next week's "My Bloody Valentine."
So stay tuned for all this and much more as Supernatural gets ready for its 100th episode.
(Image courtesy of the CW)