One of the most anticipated new series in the Marvel Cinematic Universe is "Ms. Marvel," a streaming series on Disney Plus created by Bisha K. Ali. It's the latest MCU show created for Disney Plus, following a slew of successful Marvel shows, including "WandaVision," "Loki," and "The Falcon and the Winter Soldier," "What If…," and upcoming Marvel shows "Hawkeye," "She-Hulk," and "Moon Knight."
Related: How "Ms. Marvel" Fits Into the Marvel Cinematic Universe
"Ms. Marvel" focuses on the superhero character of Kamala Khan, also known as Ms. Marvel, a protege of Captain Marvel. What makes this project extra exciting is that it features Marvel Studio's first-ever, on-screen Muslim character.
This article will discuss everything you need to know about the show and its characters and share some interesting facts about the series. 
When Will Marvel's "Ms. Marvel" TV Show Be Released?
Disney shareholders got a first look at the exciting new show during a December 2020 Investor Day meeting. Filming was affected by the COVID-19 pandemic, though, and production — which kicked off in Georgia — eventually wrapped up in May 2021, after shifting the filming location to Thailand.
Originally set to air in late 2021, the release date for "Ms. Marvel" has been pushed back. There's been plenty of speculation about when this much-anticipated show might air. Although Marvel hasn't made an official announcement about a specific updated release date, rumors are that the series will launch in February 2022. 
The six-episode first season is a tie-in with the upcoming "The Marvels" film (originally billed as "Captain Marvel 2") featuring the superheroines Captain Marvel, Monica Rambeau, and Ms. Marvel. Both "The Marvels" film — which will be out Nov. 11, 2022 — and the "Ms. Marvel" TV show star Iman Vellani as Khan/Ms. Marvel.
What Is Marvel's "Ms. Marvel" About?
Writer and comedian Bisha K. Ali, who is also a writer on the Hulu adaptation of "Four Weddings and a Funeral," created "Ms. Marvel" for the MCU. Directors for the show's first season include Sharmeen Obaid-Chinoy, Adil El Arbi, Bilall Fallah, and Meera Menon.
The series centers on an Avengers teen superfan — and the franchise's first Muslim superhero — whose latent Inhuman powers are unexpectedly unleashed. She decides to use them to do good and make her city a better place.
Who Is Ms. Marvel?
The show "Ms. Marvel" centers on Kamala Khan, a Pakistani-American teen from New Jersey who transforms into the superhero Ms. Marvel after her latent Inhuman powers are activated by the Terrigen Bomb. The Black Bolt — the Inhuman king — released the bomb, which emitted the Terrigen Mist that unleashed Khan's powers and the powers of several others. After this exposure, she underwent Terrigenesis, turning into a polymorph or shapeshifter, which allows her to stretch her body, alter her appearance and size, and emit a yellow glow.
Khan refers to her ability to enlarge herself as her "embiggen" power. The term "embiggen," which originated from "The Simpsons," is known as Ms. Marvel's catchphrase, at least in the comic books. It became so popular because of the teen hero that the word was added to the Merriam-Webster dictionary in 2018.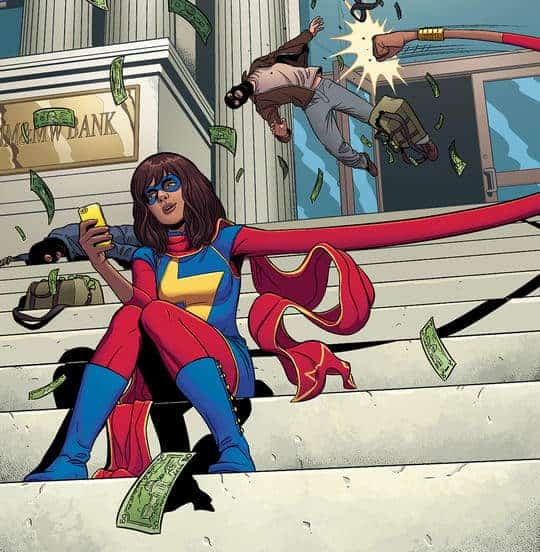 Ms. Marvel, as a character, has been around for decades. Carol Danvers, aka Captain Marvel (played by Brie Larson in the MCU films), is Khan's idol and mentor and the first person to adopt the Ms. Marvel moniker. Since then, two others — Sharon Ventura and Karla Sofen — have used the superhero pseudonym in the Marvel comics before Khan, now the fourth Ms. Marvel. The live-action television series will focus on the Jersey City teen.
Before her powers were activated, Khan faced many typical teenage girl problems. As a Muslim American, though, there were additional layers to her world as she tried to balance her family's beliefs with fitting into American life.
When she acquired her Inhuman abilities, it was a dream come true for the girl — an idealist who dreams of making the world a better place. She decided to use her powers to clean up Jersey City.
Before becoming Ms. Marvel, 16-year-old Khan was an Avengers super fan who loved to show off her encyclopedic knowledge of the superheroes. She especially idolized her favorite Avenger — and eventual mentor — Captain Marvel.
As she crafted her superhero identity, she chose to follow in Captain Marvel's footsteps, carrying on her legacy and adopting the name — Ms. Marvel — that Danvers once used herself. 
Who Are the Heroes of Marvel's "Ms. Marvel"?
In "Ms. Marvel," Kamala Khan/Ms. Marvel has a group of friends — both Inhumans and humans — who help her fight crime and keep Jersey City safe. Here are some of the Marvel series' heroes:
Kamala Khan/Ms. Marvel: Iman Vellani plays the show's titular character, Kamala Khan-turned-Inhuman-crime-fighter-Ms. Marvel.
Kareem/Red Dagger: The Red Dagger, whose real name is Kareem, is portrayed by Aramis Knight. Based in Pakistan, his character is a longtime friend of the Khan family, and he makes his MCU debut in "Ms. Marvel." Although he doesn't have special powers, he's skilled at throwing daggers. Also, look for a potential romantic connection with Khan.
Bruno Carrelli: "The Walking Dead's" Matt Lintz takes on the role of Khan's best friend, a super genius and one of few people she allows to know about her secret identity.
Nakia Bahadir: Also a best friend of Khan, this role is portrayed by Yasmeen Fletcher. She's also one of the few people who knows that Khan is Ms. Marvel.
Zoe Zimmer: Laurel Marsden takes on the role of Khan's frenemy. Zimmer — a popular girl who initially bullied Khan but later befriended her — is one of the first people Ms. Marvel saves.
Other characters include Khan's protective older brother Amir Khan (Saagar Shaikh), Uncle Rasheed (Iyad Hajjaj), and her parents Muneeba Khan (Zenobia Shroff) and Yusuf Khan (Mohan Kapoor).
Who Are the Villains of Marvel's "Ms. Marvel"?
What is any good superhero show without its villains? In the upcoming "Ms. Marvel" TV series, Kamran seems to be the only villain of note in the cast listings.
The character of Kamran, played by Rish Shah, has been described as a morally corrupt Inhuman. This longtime family friend, who Khan has known since childhood, serves as a potential love interest for her.
It's uncertain how this will play out on screen, but in the comics, she's double-crossed by him. He kidnaps Khan and introduces her to the Inhuman terrorist group leader, Lineage, hoping she'll join them in their attempt to overthrow Queen Medusa.
In the comics, she has numerous enemies, although it's not clear if any others will appear on the show, either in the first season or down the road. Some of the villains to appear in the pages of Khan's comic book series include:
The Inventor: This character came to exist when an attempt to clone Thomas Edison went wrong.
Kaboom: Also a member of the Inhuman terrorist group, she worked with Kamran to manipulate Khan.
Roxxon Energy Corporation: This company has long been an enemy of Marvel's young heroes as it works to convince the government to ban them.
Stormranger: This Ms. Marvel doppelganger, a Nanosuit that develops a mind of its own, is even more powerful than Khan.
Doc. X: This sentient computer virus blackmailed Khan and threatened to reveal her alter ego.
Where Can You Watch Marvel's "Ms. Marvel"?
Once it's released, "Ms. Marvel" is one of the many Marvel Cinematic Universe offerings on Disney Plus. It's the only streaming service that will exclusively offer this and other Marvel TV programs, as well as favorite MCU movie titles, including various "Thor" films, "Shang-Chi and the Legend of Ten Rings," "Black Panther," "Black Widow," and the upcoming "Eternals."
Stay Up to Date With the Latest on "Ms. Marvel" From BuddyTV
If you're a Marvel fan, you won't want to miss the latest news and updates about your favorite MCU shows and films. There's always something exciting going on in the Marvel Cinematic Universe, and BuddyTV can keep you up to date on the franchise's latest superhero offerings, including the new "Ms. Marvel" show. As "Miss Marvel" airs, check back with BuddyTV for everything you need to know about each episode and its characters.
Contributing Writer, BuddyTV