Hollywood Week begins this week, and American Idol's executive producers are giving us a sneak peek of what to expect from the round that's usually filled with plenty of drama. Also in today's Roundup, listen to David Archuleta's new single. And Colton Dixon tops the rest of the Idols on the Billboard 200.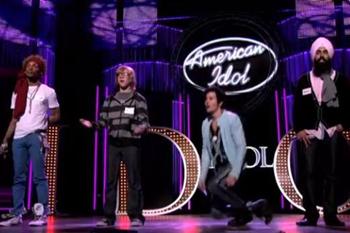 Lythgoe and Warwick Preview Hollywood Week
Season 12 auditions have come to a close, and now it's time to move on to the grueling and drama-filled Hollywood Week. Executive Producers Nigel Lythgoe and Ken Warwick talked to Entertainment Weekly about what viewers can expect from the contestants, how the producers get involved and what changes we'll see this year.
Part of the drama in prior seasons during this round has been when contestants are tasked with creating their own groups for one of the performances. That can create havoc for some. But they won't have the advantage this time around of pairing up with the friends they've made. Lythgoe says, "Voices — we [arranged the groups] with voices. We did it with the keys that they were in. There's one couple who share a room, and the big guy snores, and the little guy didn't get any sleep — so we made sure we put them together." It sounds like a good idea that they're creating the groups based on how well their voices mesh with each other. And once those decisions have been made, every group gets to choose from a list of 20 songs.
Once the remaining singers make it to the solo round, the producers gave strict advice to them: don't be late showing up, make sure you iron out any issues or worries with your vocal coaches beforehand so you're as prepared as possible on stage and, as Warwick yelled out to the guys, "Pick the right bloody key!" Also, it's becoming more common for contestants to play instruments on the show. But Lythgoe and Warwick warn that just because you're allowed to doesn't mean you should. Only take it on if "it's second nature to you."
"There are kids who were not in the audition shows who are turning out to be fabulous," Warwick continues. "We're going back and telling the producers, 'Find out where this kid was standing in the line. Find out where they were in the auditorium, in the football stadium. Dig up that footage. Let's find out … what they're about, what's their story, is there a story? Is there not a story?" The EPs explain that the judges had a tough time deciding who to cut among the girls because they've all got "very strong voices. With the boys, there were real standouts." Isn't this what happens every year, though? The girls tend to be stronger, yet it's the standouts from the guys that end up winning.
Finally, the groups aren't the only thing Lythgoe and Warwick are taking a hands-on role with. Whenever there's a tie among the judges over a certain singer, Lythgoe will step in and try to persuade the judges to keep them — if they've got a "big story," that is.
Listen to David Archuleta's New Single "Don't Run Away"
Some of you might be thinking, wait a minute, isn't David Archuleta currently in South America serving on a Mormon mission? Yes, that's right. But he must have recorded an endless array of songs before he left because not only did he release a covers album last year, his label, Entertainment One, is about to release another record. No Matter How Far is scheduled for a March 26 release date, and will include new songs plus previous tunes that never made it on his other albums. And the first single, "Don't Run Away," is now online to listen to for free:
The pop sound and style are very much in keeping with his self-titled debut and The Other Side of Down. If "Don't Run Away" is any indication of what we can expect, then No Matter How Far is sure to be a solid and catchy album.
The Top Idol Album Sales
Ever since Phillip Phillips' album came out last year, he's been riding high over the two biggest winners, Kelly Clarkson and Carrie Underwood. Now it's Phillip's fellow season 11 finalist Colton Dixon who's coming out strong. Colton's debut album, A Messenger, was released last week, and it debuts at #15 on the Billboard 200. Considering his genre isn't mainstream, this is fantastic news. (He also made it to the top of the Contemporary Christian chart.) Take a look at all the latest Idol album sales, courtesy of USA Today:
Colton Dixon's A Messenger at #15, Selling 22,000 units (Debut)
Phillip Phillips' The World from the Side of the Moon at #26, Selling 16,000 units (Total Sales: 679,000)
Carrie Underwood's Blown Away at #34, Selling 13,000 units (Total: 1.271 million)
Kelly Clarkson's Greatest Hits — Chapter One at #49, Selling 9,000 units (Total: 258,000)
Kelly Clarkson's Stronger at #180, Selling 3,000 units (Total: 1.019 million)
Want to add American Idol to your very own watch-list?
(Image courtesy of FOX)