Funny girl Amy Schumer may not have the most experience, but she advanced a lot further than most seasoned comedians could ever dream of on NBC's Last Comic Standing.  She had the judges in the palm of her hand from the minute she brought up her CATS the musical sweatshirt and quickly advanced through the show.  Schumer shined in the challenges and never found herself to be a target, forming solid friendships with her fellow comics.  She made it far, placing fourth, and many doors are opening for the young comedian these days.  Amy takes some time to talk to BuddyTV about her time on Last Comic Standing and her upcoming national tour.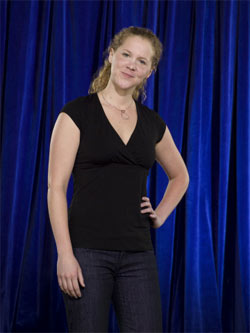 Hey, this is Gina from BuddyTV and I'm talking to Amy Schumer from Last Comic Standing. Amy, how you doing today?
Good, thanks for having me Gina.

Were you surprised you went or were you more surprised how far you made it?
Definitely more surprised how far I made it. But you know, once I made the final five I thought I had a chance, I really did. But yeah, all those doors I thought maybe would be closed if I didn't win, but they definitely didn't and it's cool because I got to sort of form a relationship with these people, with NBC, so I don't know, things are looking good.
That's great. And you only stared doing comedy three years ago, is that right?
Yeah, June 1 three years ago.
I love that you know the date. Tell me how you got started and what that experience was like for you.
Oh God, it was actually pretty painless because I wasn't expecting very much from myself. Some friends are there, and my mom, so it was kind of like there was nowhere to go but up. But I still have that tape, and it's really, REALLY painful to watch. But it was good, it was a good first experience to have on stage and actually Gotham Comedy Club was the first place I was ever on stage. So much has happened there, I got to shoot my first Comedy Central show there. And my audition for Last Comic was there. So Gotham is something past and present in my stand-up life.
How you done any theater beforehand? Did you grow up performing at all?
Yeah, I've always been an actor and I've done a bunch of theater, so I think that kind of gave me a little bit of an edge. It wasn't my first time being on stage in front of people. Some people find comedy and they've been in insurance sales their whole life, so that's a little bit of a tougher transition. So the fact that I had a theater background I think made it a little bit easier.
Which part of being on the show did you find to be the most difficult or the most stressful?
Having it be all boys the last couple weeks was a little difficult, but I got so close to these guys. Especially Doug Benson, Matt [Kirshen] and Gerry [Dee], they become like your good friends. But I'm always a fan of having more estrogen around, so I was not happy to see the girls go at all. They were like, "Oh, it's so cool that you're the last girl" and I'm like, "Trust me, I would trade it to have Debra [DiGiovanni] or Gina [Yashere] here right now."

When we interviewed Doug he actually spoke really highly of you and thought you had a great chance of winning. You guys formed a nice relationship together?
Yeah, we did. I was just following him around like a puppy dog at first, always making him sit next to me on the bus and stuff, just because I really like funny people and people that can make me laugh, and Doug is just the funniest guy you're gonna meet. I had so much fun. Hanging out with him was probably my favorite part of the whole experience.

Had you been around a lot of seasoned and experienced comics before coming on the show?
Yeah, actually one of the reasons I evolved kind of quickly in comedy is that the pros especially in New York really reach out. Comics can be the most insecure people, but they can also be the nicest people and really stick their necks out for you. So a lot of the big names in New York were really nice to me and would take me out on the road with them. Jessica Kirson, who was on a couple seasons ago on Last Comic, she right away was really nice to me and let me open for her all over. Everywhere from Italian social clubs to temples, so you learn how to bomb, first of all. Then just getting to perform in all those different rooms with the comedians there I most respect, that definitely moved things along, I get to do shows with my idols in New York. This past month, I guess Chris Rock's working on a special or something, but I've gone up right before him or right after him. And I get to work with Dave Attell…and I just got to work with Wendy Liebman.

Oh, that's awesome.
She is like my favorite, so it's just really cool.

Yeah, I was gonna ask you what comics are out there now that you really look up to and that you'd like to work with?

I love female comics. Like, I love Judy Gold and Jess Kirson. I love Wendy Liebman, Sarah Silverman, Margaret Cho. I just found out that my favorite comedienne, who happens to be Ellen DeGeneres, I get to do her show on Tuesday so I am just freaking out. I'm mid-freak out right now.
That's amazing,
Isn't it? She saw the show and she brought my name up, which is like, that just made my life. That feels like the best thing that's happened so far.
I lot of comics have been really great at reaching out to their fans. Do you have a MySpace or web page where your fans can talk to you?
Yeah, my MySpace page is just myspace.com/amyschumer and I do my best to write back. I mean, at first it was easy, because it was just my brother or my friends e-mailing me. But now it's a little more difficult. But I love making new friends on MySpace.

And you guys are gearing up now for the Last Comic Standing tour?
Yep, we sure are. It starts in like a week and a half, and we'll be running around for three months so I'm excited for that to start.

Well I want to wish you good luck, Amy. Have fun on the tour.
– Gina Scarpa, BuddyTV Staff Writer
(Image courtesy of NBC)