It's Harley Quinn season. She's become a mega draw for Hollywood and a huge part of the DC fandom, mostly because of Margot Robbie's portrayal of the character in "The Suicide Squad" (the 2021 version, let's forget about the original, shall we?) and "Birds of Prey."
But Harley Quinn has been an integral part of the DC universe since her introduction in the now legendary "Batman: The Animated Series."
In fact, she's quickly become an absolute fan favorite, taking part in multiple DC projects. However, despite her growing fame, it wasn't until 2019 that she finally deserved her standalone TV project – the "Harley Quinn" animated series.
This Harley Quinn animated series follows the character as she tries to step out of the Joker's shadow and make a name for herself. In this article, we'll clue you in on what you can expect from this racy and critically acclaimed cartoon series and who some of the people behind the scenes are.
And as season 3 just had its premiere on HBO Max, now is the right time to catch up with what you might've missed by not watching this amazing adult-animated series set in Gotham city.
[lyte id="TBjgTmkJDyQ"]
---
About DC's "Harley Quinn" TV Series
Unlike TV shows like "Justice League" and "Batman: The Animated Series," the ultra-violent and raunchy "Harley Quinn" is not meant for children. After Quinn's boyfriend, the Joker, escapes a fight with Batman and leaves her behind to fend for herself, she realizes the clown will never see her as an equal. She decides to make a clean break from the Joker and sets out to become a respected criminal overlord.
Her goal is to join the Legion of Doom alongside esteemed villains like Lex Luther, the Penguin, and of course, the Joker. Harley decides to put together a ragtag team of other villains you may recognize from the Batman universe, like King Shark, Sy Borgman, Clayface, Doctor Psycho, and Poison Ivy, to wreak havoc in Gotham City.
Of course, becoming a Gotham City crime overlord isn't the easiest thing, and the adult-animated series follows Harley as she struggles to achieve her goals, often finding herself in hilarious situations.
The first season of the series started airing in 2019 on DC Universe to critical acclaim, with critics praising the show for its humor, animation, dark tone, and voice acting, especially the performance of the leading voice actress – Kaley Cuoco.
The series became an instant success, with the second season premiering a year later in April 2020. The show was officially renewed for the third season in September of the same year, moving to HBO Max due to the restructuring of DC Universe.
Season 3 had its American premiere on July 28, 2022, and is available on HBO Max along with the first two seasons.
Who Are the Executive Producers of DC's "Harley Quinn" Series?
DC's "Harley Quinn" is a Warner Bros. franchise. The show was developed by executive producers Justin Halpern, Patrick Schumacker, and Dean Lorey. The group has a lot of experience writing in the comedy sphere.
Justin Halpern is also a well-known comedy writer. He's the author of the best-selling book "Sh*t My Dad Says" which was turned into a sitcom starring William Shatner (which Halpern also wrote for).
Patrick Schumacker is a producer and writer who has worked on several comedy shows like "Cougar Town," "iZombie," and "Surviving Jack." The latter was also based on a book by Halpern ("I Suck at Girls").
Dean Lorey has written for and produced some hilarious comedy shows like "Arrested Development" and "My Wife and Kids."
This isn't the first time the trio has worked on a DC series together. The team was also behind a short-lived DC sitcom that ran on NBC in 2017 called "Powerless." Like "Harley Quinn," the live-action show was a subversive superhero comedy.
It followed a group of engineers within the DC universe as they tried to make products to protect normal humans from superhero battles. The show starred Vanessa Hudgens, as well as a few actors who would eventually do voices on "Harley Quinn," like Ron Funches and Alan Tudyk. Unfortunately, the comedy was canceled midway through its first season.
Who Are the Main Characters of "Harley Quinn"?
The main characters of "Harley Quinn" include:
Harley Quinn: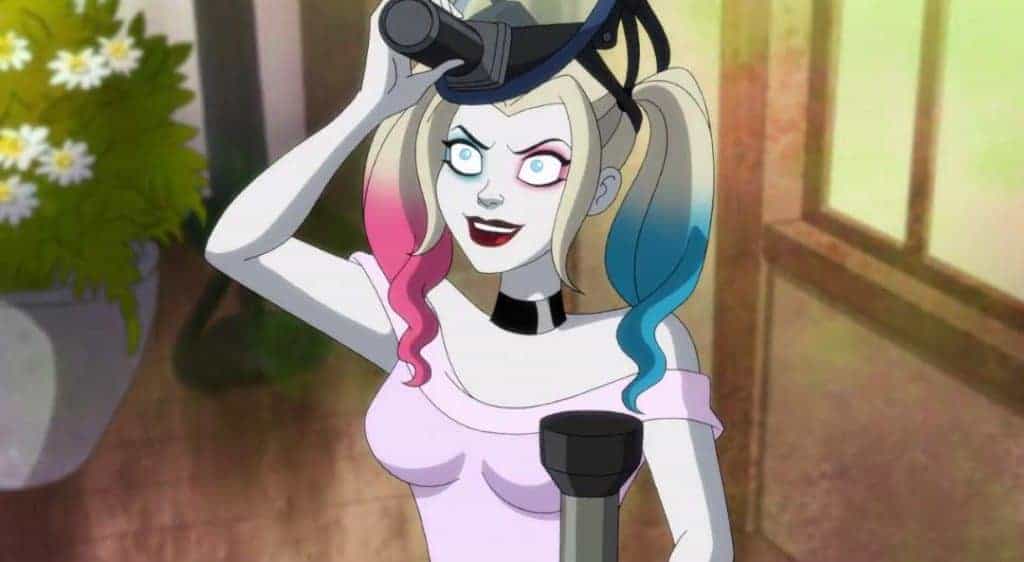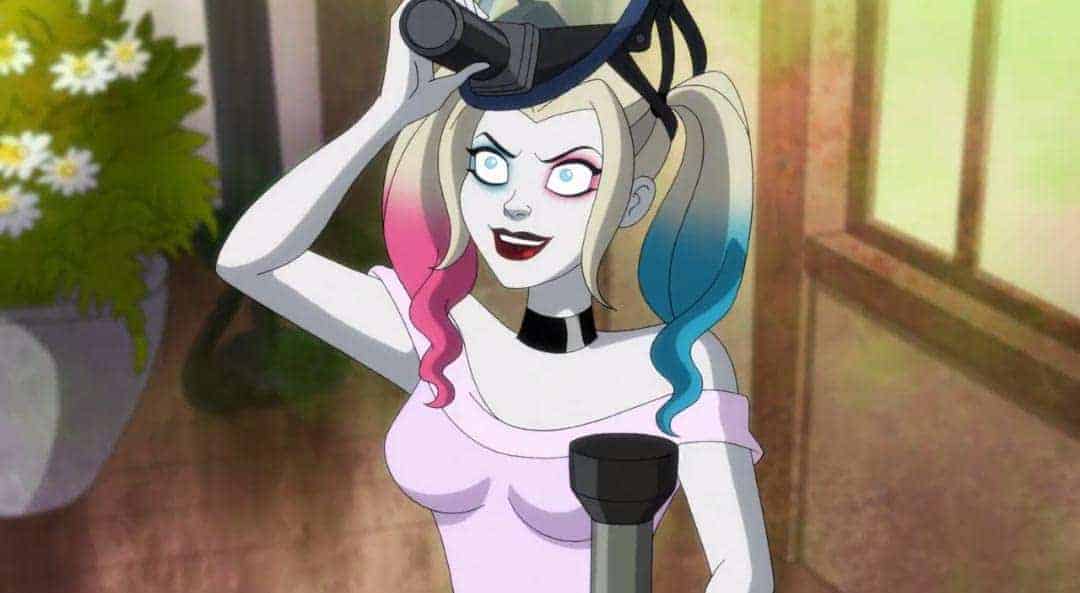 Dr. Harleen Quinzel grew up in an extremely dysfunctional atmosphere. Still, she somehow managed to become a psychiatrist. She first met and fell in love with the Joker when he was her patient at Arkham Asylum. He transformed her into his ideal girlfriend, a bubbly, violent, anarchic psychopath.
Eventually, Harley ends up in Arkham before breaking out. When Harley understands that the Joker is just using her and doesn't really love her, she becomes obsessed with proving to him and everyone else that she's a criminal force to be reckoned with.
The title character is voiced by Kaley Cuoco from "The Big Bang Theory" and "8 Simple Rules." Her outstanding portrayal won her the "Best Voice Actress in an Animated Series" Critic's Choice Super Awards in 2021.
Poison Ivy: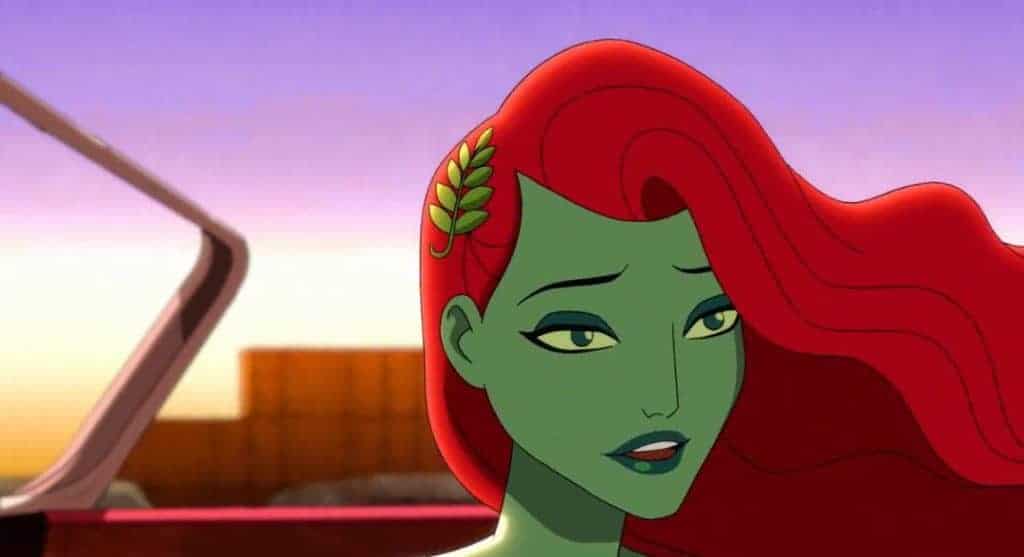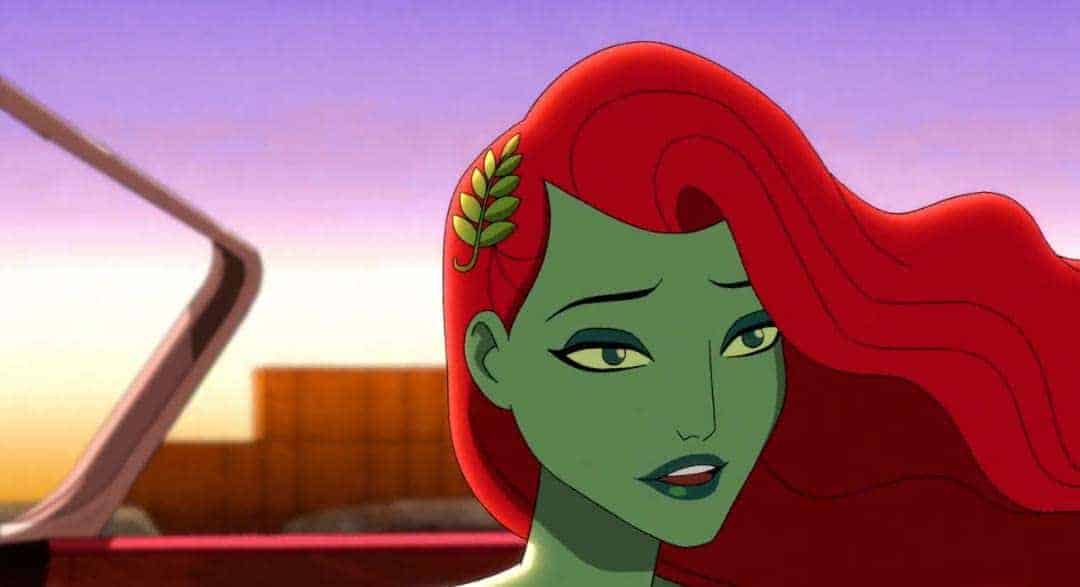 Dr. Pamela Isley was a brilliant botanist who was born with green skin and the ability to control plant growth. She eventually became an ecoterrorist and ended up in Arkham Asylum, where she met Harley, and the pair became best friends.
From the first episodes, the show has established Poison Ivy as more than just Harley's best friend. The two develop strong romantic feelings toward each other, similar to what their relationship looks like in the comics.
The character is voiced by Lake Bell from "In a World…" and "How to Make It in America."
Clayface: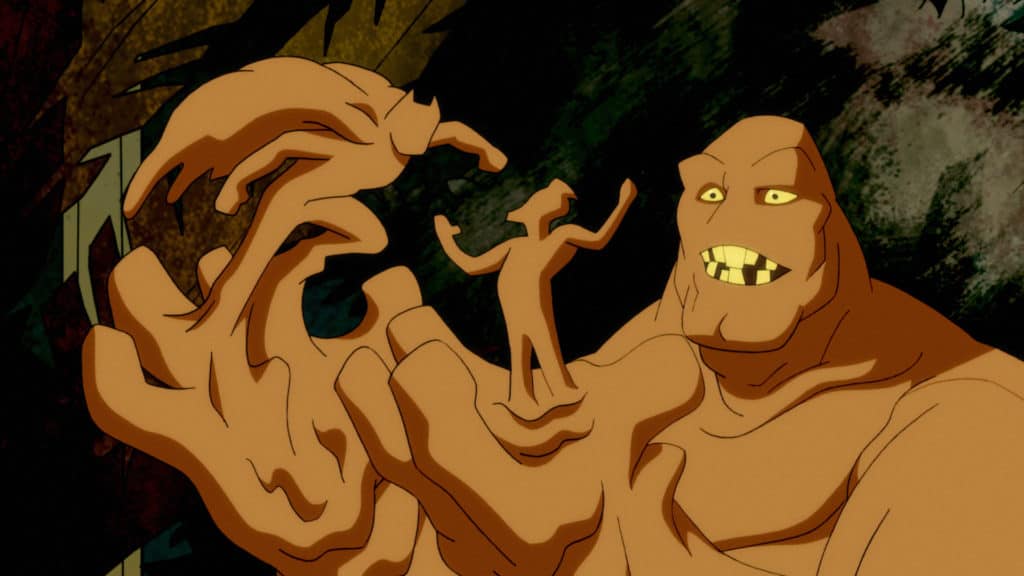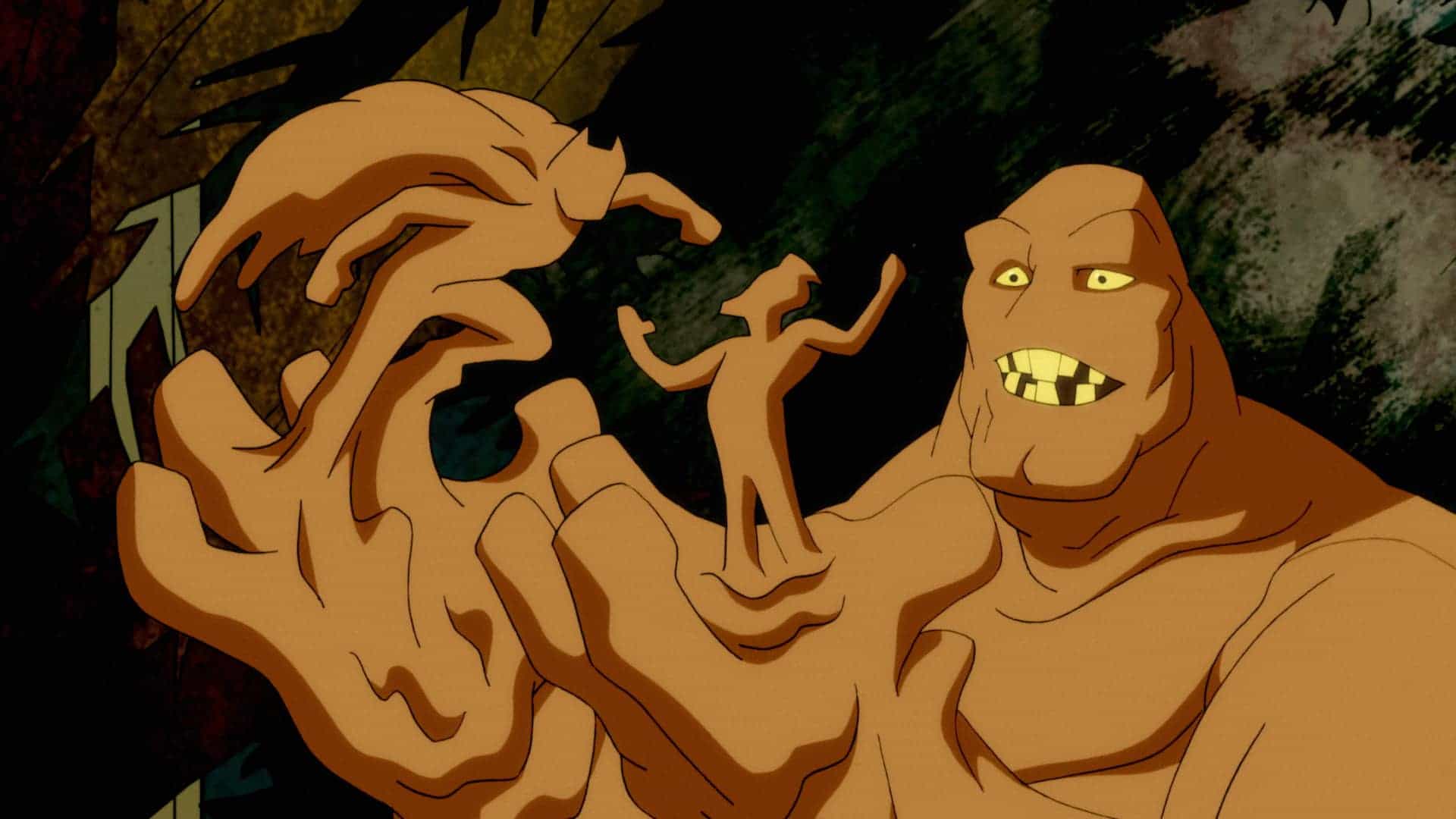 Basil Karlo is a disgruntled former actor who gained the ability to shapeshift after a pottery incident. He uses his abilities whenever the crew needs a spy. As a classically trained actor, he takes his disguises very seriously. While he's very well-spoken and caring, he's also very pretentious. The character is voiced by Alan Tudyk from "Firefly" and "Wreck-It Ralph."
Doctor Psycho: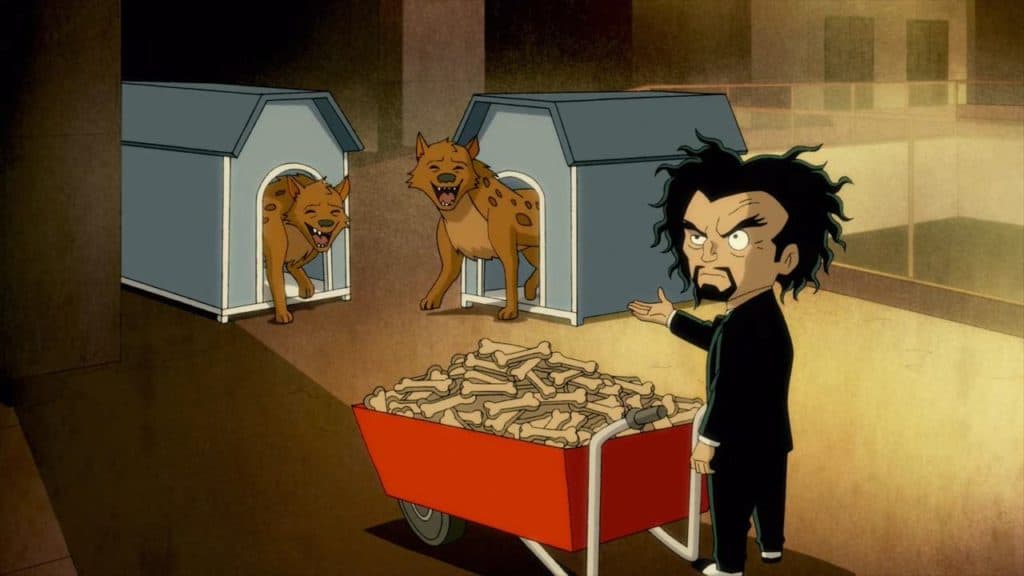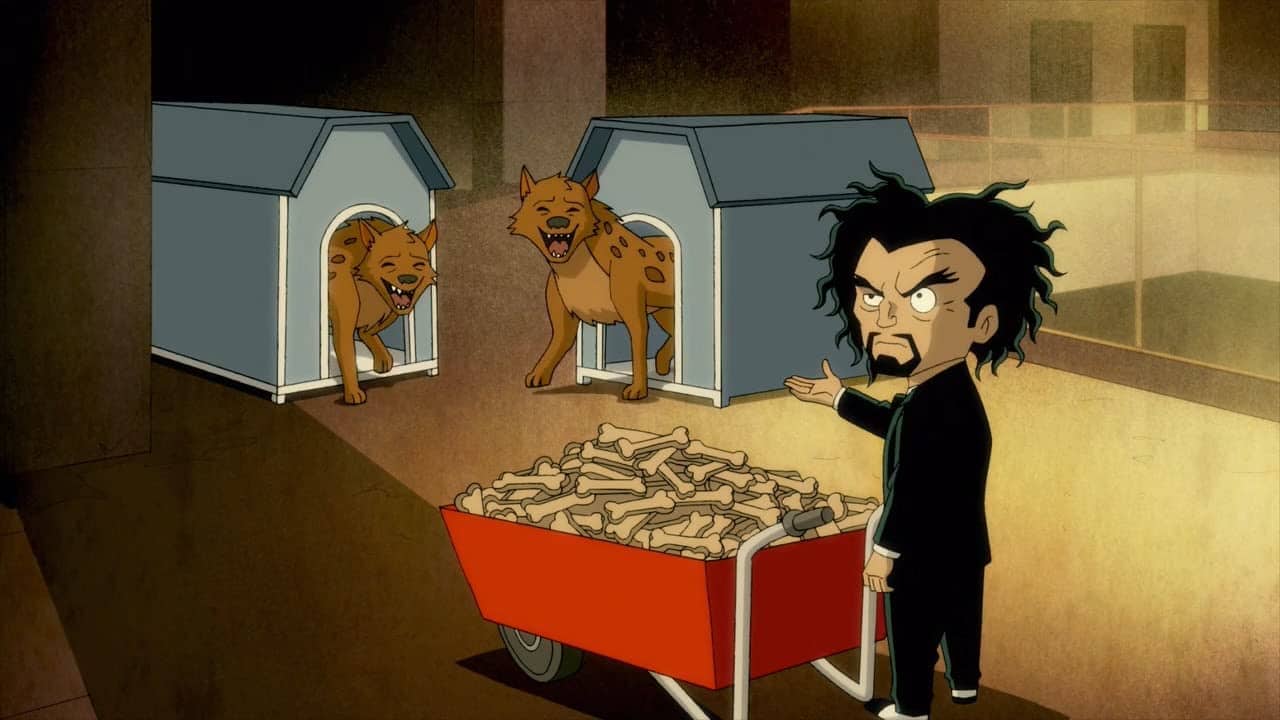 Edgar Cizko is a disgraced former member of the Legion of Doom. He lost his spot in the legion due to politically incorrect comments directed at Wonder Woman. He's a very short villain with a huge head (that houses his telekinetic abilities). The character is voiced by Tony Hale from "Arrested Development" and "Toy Story 4."
King Shark:
Nanaue is an actual giant shark person and serves as the muscle for Harley's crew. He grew up in the ocean, where he was the prince of the Shark Men Kingdom. He left to avoid an arranged marriage. He's very intelligent and kind most of the time, but he can become animalistic and ultra-violent if he smells blood. The character is voiced by the comedian Ron Funches from "BoJack Horseman" and "Adventure Time."
Frank the Plant:
Frank was once an ordinary Venus flytrap before Ivy brought him to life and made him her roommate. He still remembers and is haunted by his time as a simple plant. He's very loud and obnoxious but can also be sensitive. He eats people, drives, and smokes marijuana. The character is voiced by J. B. Smoove from "Curb Your Enthusiasm" and "The Millers."
Sy Borgman:
Sy is a former government agent with robotic limbs. He's now very old and uses a wheelchair to get around. He was a cleaner for the CIA and a war criminal. He got involved with Harley's gang after being Ivy's landlord. The character is voiced by Jason Alexander from "Seinfeld" and "Pretty Woman."
Who Are the Villains in "Harley Quinn"?
Technically, the protagonists of "Harley Quinn" are villains, so some of the show's villains are actually classic DC heroes.
The villains of "Harley Quinn" include:
The Joker:
Gotham's most dangerous criminal, Batman's archnemesis, and Harley's former boyfriend, who constantly betrays Quinn. Even after they're no longer together, he does everything he can to prevent her from becoming a respected villain and gaining a spot on the Legion of Doom. The Joker's voice actor is Alan Tudyk, who also portrays Clayface in the series.
Batman:
Bruce Wayne dedicated his life to fighting crime after his parents were murdered in front of his eyes. The dark knight serves as a foil to many of Harley's schemes. The character is voiced by Diedrich Bader, who reprises his role as Caped Crusader from "Batman: The Brave and the Bold." You may also recognize him from "EuroTrip" and "Office Space."
Commissioner James Gordon: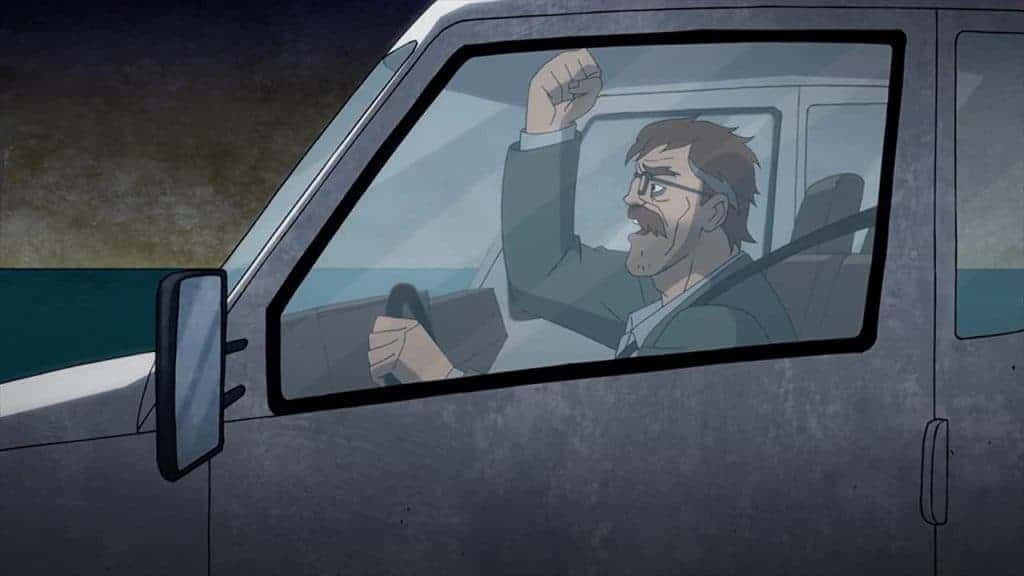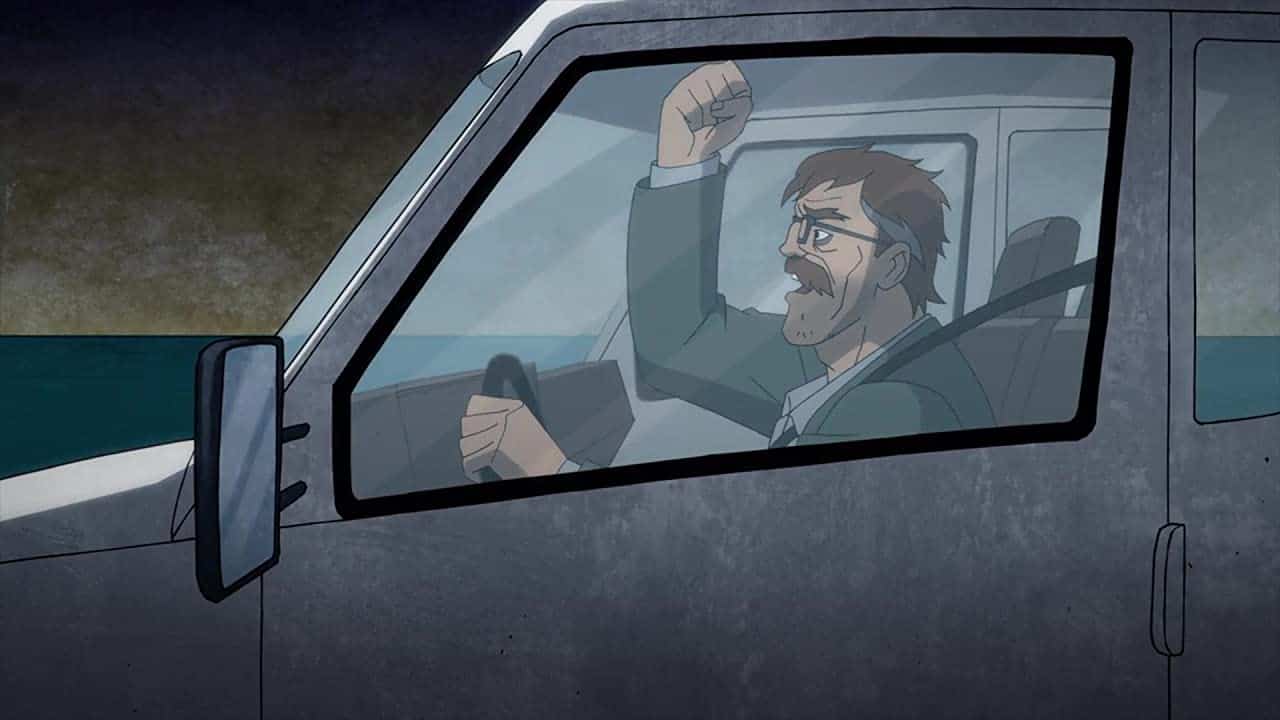 Commissioner Gordon is the head of Gotham City's police department. He's very sensitive and has marital problems with his wife, Barbara. He thinks of Batman as one of his best friends, but Batman doesn't share the sentiment. The character is voiced by Christopher Meloni from "Law & Order: Special Victims Unit" and "Oz."
The Quinzels:
Nick and Sharon Quinzel are Harley's cold and abusive parents. At one point, they even try to kill her to get the reward money. They are voiced by Charlie Adler from Disney's "Aladdin" and Susie Essman from "Broad City."
Two-Face: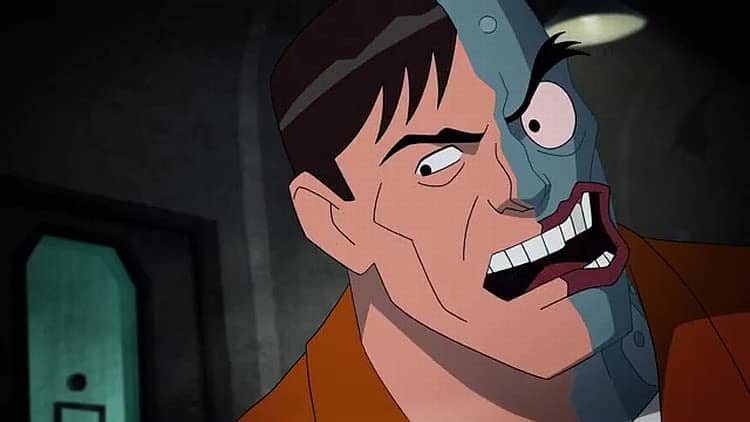 Harvey Dent was Gotham's celebrated district attorney until half his face was severely burned. He's now a heartless killer who flips a coin to decide if someone lives or dies. He later becomes the leader of the Injustice League. The character is voiced by Andy Daly from "Review" and "Eastbound & Down."
The Penguin: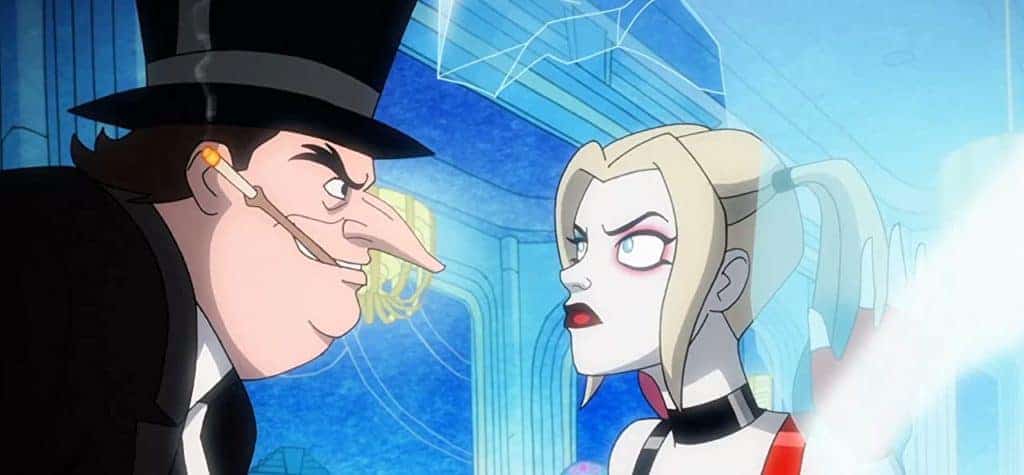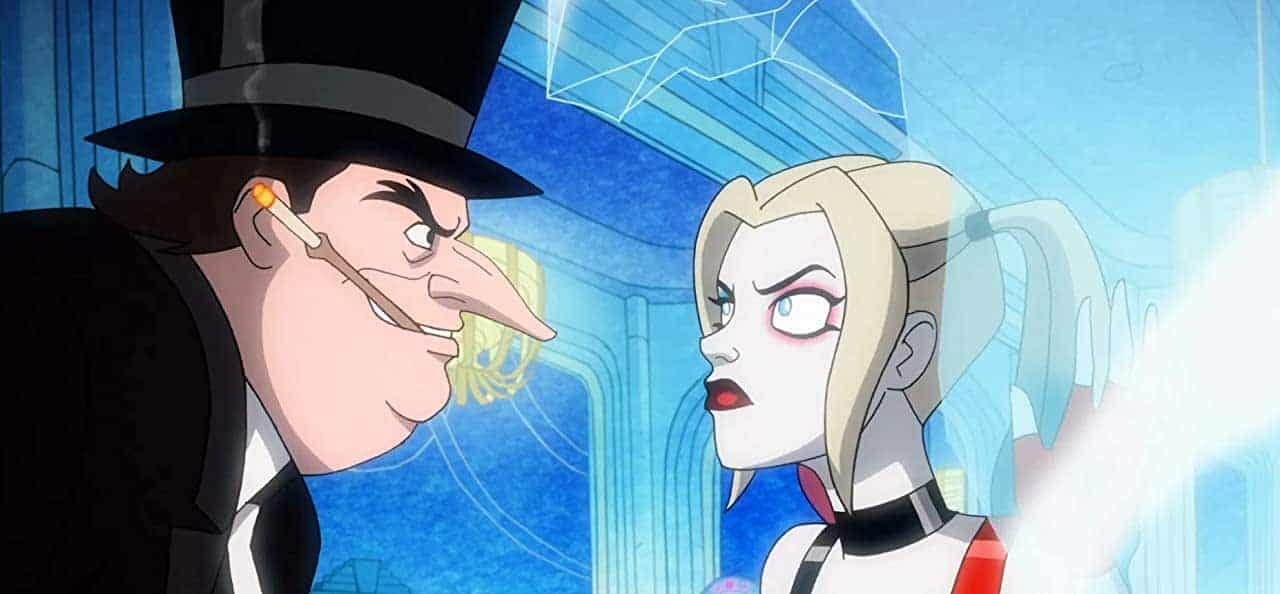 Oswald Cobblepot decided on a career as a criminal at a young age. He's a very short and deformed man who has the features of a penguin. He's very respected among the other members of the Legion of Doom. The character is voiced by Wayne Knight from "Seinfeld" and "Jurassic Park."
Supporting Cast
"Harley Quinn" introduces numerous characters known from DC Comics. Besides the main cast, the show also includes:
Catwoman, voiced by Sanaa Lathan,

Batwoman/Barbara Gordon, voiced by Briana Cuoco,

Alfred Pennyworth, voiced by Tom Hollander,

Amanda Waller, voiced by Tisha Campbell,

Kite Man, voiced by Matt Oberg,

Scarecrow, voiced by Rahul Kohli,

Lex Luthor, voiced by Giancarlo Esposito,

And many, many more.
Where Can You Watch Episodes of DC's "Harley Quinn" Series?
The first and second seasons of "Harley Quinn" can only be streamed on HBO Max. However, you can purchase the series on DVD and Blu-ray on Amazon or in stores. Season 3 had its premiere on July 28, 2022, and you can watch new episodes on HBO Max.
Harley Quinn: Season 1
Amazon Prime Video (Video on Demand)
Kaley Cuoco, Lake Bell, Alan Tudyk (Actors)
Cecilia Aranovich (Director) - Justin Halpern (Producer)
Learn More About the Latest DC Shows and Movies on BuddyTV
"Harley Quinn" is a brutally hilarious adult animation about one of the DCU's most beloved antiheroes that both comedy and action fans are sure to love. Visit BuddyTV to get first looks and up-to-date information about other shows based on Marvel and DC comics like "Doom Patrol," "Young Justice," and "Stargirl" and find out which streaming services, like Netflix and Hulu, offer them.