Welcome back to the ballroom, Dancing with the Stars fans! It's the season 24 premiere, which also marks the 400th episode of the series, and it's time for the 12 new couples to show us what they've got. All of the pre-season buzz is about how stacked the female side of the season is with Olympic athletes, singers, and a professional dancer. But will any of the guys stand out?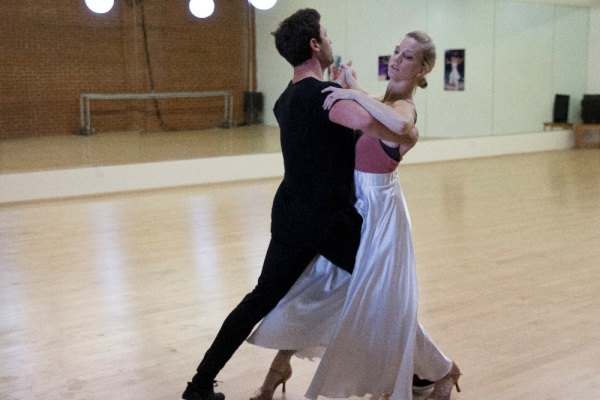 LIVE…from Hollywood…this is Dancing with the Stars!
The show kicks off with a La La Land-inspired opening on a red carpet with stars and pros dancing while getting out of their cars. We also get intros for everyone with one absolutely perfect tracking shot that gives everyone a chance to shine. These season-opening numbers are simply superb. Mandy Moore had better get an Emmy nomination for her routines this year.
Normani Kordei and Val Chmerkovskiy: Quickstep
The Fifth Harmony singer's grandma is a huge fan who even writes down all of the scores in a logbook. She gets things off to a great start with fast moves and high energy. Len Goodman hated the opening which was too long and he needed more body contact. Cranky Len is back! Julianne Hough loved it all and Bruno Tonioli liked that she put her spin on it. Carrie Ann Inaba agrees with Len and needs them to do more partnering.
Judges' Scores: 7+6+7+7=27
FYI, Len is gonna be here all season, every week. Thank God.
Nancy Kerrigan and Artem Chigvintsev: Viennese Waltz
The Olympic figure skater from the '90s is now a mom of three, but she's still a competitor at heart. Artem shows up shirtless riding a zamboni to meet her on the rink. It's sweet, elegant, and classy, a nice simple start to her journey. Her arm extensions are very good for week 1. Julianne thought she was a little bumpy and needs to work on her spotting with her turns. The judges are being extremely helpful with specific details on what the stars need to work on.
Judges' Scores: 7+7+7+7=28
Nancy is really awkward, but in an endearing kind of way, with her interview.
Chris Kattan and Witney Carson: Cha-Cha-Cha
The Saturday Night Live comedian is surprised that his partner has NEVER seen SNL and doesn't know anything about his characters. He had a neck injury a while back, but he has tons of energy. Their Night at the Roxbury routine is a disaster. It's not very funny and Chris is really bad. Bruno claims it was like he had a hangover and Carrie Ann appreciated that it started with "goofy, bad dancing" but he was too tense after that. Len says the best thing about the routine is that he doesn't have to watch it again. OUCH!
Judges' Scores: 5+4+4+4=17
Yikes, the 4 paddle makes an extremely rare appearance.
Bonner Bolton and Sharna Burgess: Cha-Cha-Cha
The professional bull rider and model broke his neck a year ago and was paralyzed, but now he wants to inspire people not to give up. He's got the hip thrusts and sexy moves down, but halfway through he looks like a deer in the headlights. He needs to work a lot on the routine and his footwork, but Carrie Ann and Bruno are more obsessed with how hot he is. The judges love his potential and his sex appeal, but he has a ways to go.
Judges' Scores: 6+5+5+6=22
He knows how to play the game, talking about how Sharna drilled him hard and cracked the whip.
Charo and Keo Motsepe: Salsa
Charo busted out of a giant box to surprise her partner at their first meeting. She's full of insane energy. She's not a bad dancer for an older lady and it's spicy and full of her "cuchi cuchi" flare. Tom Bergeron has the difficult job of trying to wrangle her. The judges love her performance, but she needs to work on the technique. Charo screams after every comment and Keo definitely has his hands full.
Judges' Scores: 6+5+5+5=21
She's not very happy about her scores and Tom barely moves the show along. This woman is a tornado, destroying everything in her path.
Nick Viall and Peta Murgatroyd: Cha-Cha-Cha
The Bachelor doesn't have to worry about finding love and Peta wants to defend her title and get her abs back. Nick talks a lot of smack, which he probably thinks makes him seem funny, but actually makes him seem like kind of a dick to me. He's not bad, by Bachelor standards. He's got some moves and is clearly trying very hard. The judges like his determination, but he needs to work on his hands and feet. Carrie Ann points out that he gets the moves, but there's no fluidity.
Judges' Scores: 6+6+6+6=24
Well, we started with two good routines, but it's dropped off since then.
Heather Morris and Maksim Chmerkovskiy: Viennese Waltz
They know that the expectations are very high because she was Beyonce's back-up dancer. Wait, is the show trying to turn her being a professional dancer into a disadvantage? I'm not buying it because she is exquisite. It's perfect, beautiful and, on top of that, she has the performance element as well because it's very emotional. The judges all love them.
Judges' Scores: 7+7+7+7=28
Julianne also tries to argue that ballroom is very different from the kind of dancing Heather does. Stop trying to make us think she doesn't have a huge advantage over everyone else because she does.
David Ross and Lindsay Arnold: Quickstep
The baseball player talks about his only dance experience being when he was grinding on his future wife. His movements are a little slow, but he does a decent job. The judges are impressed with how light on his feet he is. Julianne predicts that he's going very far in this competition. I did not see this coming. He could be the Bill Engvall of the season?
Judges' Scores: 7+7+7+7=28
Seriously? He's tied with Nancy and Heather for the lead?
Erika Jayne and Gleb Savchenko: Salsa
The Real Housewives star is playing an over-the-top cartoon version of herself, promising to give Gleb a fancy car if they win. She's way too obsessed with winning and being rich and a diva. The routine starts with her sitting on a unicorn. It tries very hard to be sexy, but she seems to think she's some hot young music video chick, which she isn't. It feels desperate or, as the kids would say, "thirsty." Len thought it was too raunchy but Julianne appreciates that she's teaching women to embrace their sexuality.
Judges' Scores: 6+6+6+6=24
The audience acts like that's bad, but seeing as how a 7 is the highest paddle tonight, I'd say it's amazing.
Rashad Jennings and Emma Slater: Cha-Cha-Cha
He's an NFL player and Emma is excited that he has muscles and energy and isn't a total waste of space like most of her guys. He has terrific swagger and it's a fantastic dance. The judges love him and Julianne thinks he can go to the end. Len thinks he was off-time and is more critical of the technique, not the entertainment.
Judges' Scores: 8+7+8+8=31
Wow, he broke the 8 barrier.
I know she's going by her married name now, but she'll always be Kym Johnson to me on this show. Mr. T is all about helping kids and giving back. Wow, I'm not even sure if this qualifies as actual dancing. He just kind of walks around, stands there, punches the air, and seems to forget what he's doing. Is this a joke? There were a whole lot of mistakes and the judges can't ignore them. But they do love his positive attitude and his heart. He seems like a nice guy, but he's so, so bad.
Judges' Scores: 5+5+5+5=20
Do Len and Julianne seriously believe Mr. T was just as good as Bonner?
Simone Biles and Sasha Farber: Tango
Like his fiancee Emma, Sasha is happy to have a great partner. He wants to prove that she's better than Laurie. She's so damn cute and giggly. She has great natural movement, of course, but I think the Tango is a lot of dance for week 1. I wish they had time to work together before they got to this one. However, they've got the skills and technique. Len loved the balance of content and performance.
Judges' Scores: 8+8+8+8=32
No surprise, she's on top of the leaderboard. And more than half of the time, the winner is on top in week 1.
THE LEADERBOARD
32: Simone Biles
31: Rashad Jennings
28: Nancy Kerrigan, Heather Morris, David Ross
27: Normani Kordei
24: Nick Viall, Erika Jayne
22: Bonner Bolton
21: Charo
20: Mr. T
17: Chris Kattan
Dancing with the Stars airs Mondays at 8/7c on ABC.
(Image courtesy of ABC)