Pull out a box of tissues because it's the saddest night of the year. Dancing with the Stars is celebrating the Most Memorable Years of the 10 remaining contestants, which is always a mixture of tragedy and nostalgia.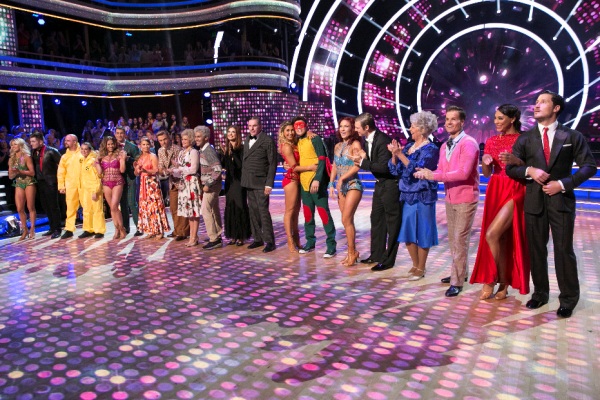 There's Bindi remembering her late father and Nick remembering the early years of the Backstreet Boys. And as if the dancing wasn't enough, host Tom Bergeron is taking the night off due to a family emergency, giving us the opportunity to see how Alfonso Ribeiro does with the job that Bergeron makes look so easy.
LIVE…from Hollywood…this is Dancing with the Stars!
2000: It's when she booked Spy Kids and her family moved to support her, including her sister (aka Grace Florrick from The Good Wife).
It's an adorable routine that plays like a meet-cute from a rom-com. However, she seems lost near the end and very obviously messes up. The judges like her theatricality and how she played a character, but they noticed the mistakes.
Judges' Scores: 7+7+7=21
Disappointing scores, but she deserved them. The scores from tonight AND next week will be combined to decide the next elimination, probably because of the Switch-Up next week.
Gary Busey and Anna Trebunskaya: Jazz
1979: That's when he starred in the Buddy Holly movie that earned him an Oscar nomination. And he talks about how, nine years later, he was in a terrible accident that caused his severe brain injury.
He does a lot of crazy, jittery movements that are entertaining, but completely off and terrible when it comes to actual dancing. Bruno Tonioli points out the need for precision. The judges like him, but they're so over someone so bad at dancing still being in the competition.
Judges' Scores: 5+6+5=16
Julianne Hough was feeling generous.
Tamar Braxton and Val Chmerkovskiy: Rumba
2012: She almost lost her husband to multiple blood clots in his lungs. He was in the hospital for 40 days and she was there every day. It's at that time they decided to have a baby and three months later she was pregnant.
She does a brilliant job with the dance and the connection, but it helps a lot that these kinds of sensual, emotional routines are something Val does so well. Carrie Ann Inaba cries about why Tamar's dance reached into her soul. The judges all rave about how she reached a next level and how it was a proper Rumba.
Judges' Scores: 9+9+9=27
Wow, these judges really don't want to give out 10s. Or they're saving them for Bindi and Derek later tonight.
In a quick interview, Allison Holker reveals that she's pregnant! But she's gonna keep on dancing with Andy this season.
Hayes Grier and Emma Slater: Contemporary
2014: That's when followed in his brother's footsteps on Vine. I still don't know what that is or how you can go on tour doing it.
I still don't like this style for the show, but he does an amazing job. It perfectly fits everything he does so well with the way his body moves, but he also adds a certain emotional component that he hasn't shown at all before. The judges are completely flabbergasted that he's capable of such a great performance.
Judges' Scores: 9+9+9=27
Wow, that's amazing for him.
Alek Skarlatos and Lindsay Arnold: Paso Doble
2015: The current year is his most memorable because of the train incident, but also because of another event from this week. Alek is from Roseburg, Oregon, and has taken classes at Umpqua Community College, where there was a shooting this week. He was having the best year ever, but then felt helpless on Thursday and left rehearsals to go back home where he would've had classes on the campus if not for this show.
Once again, he dances well and it's impossible not to love him since he dedicated the dance to his hometown. But it was a little too fast and light-hearted, lacking the masculine power and strength I look for in the Paso. The judges praise him for being strong and sturdy, but it's kind of clear they're going out of their way to avoid criticism.
Judges' Scores: 8+8+8=24
Honestly, those seem a tad generous.
Nick Carter and Sharna Burgess: Jazz
1992: He was 12 and joined the Backstreet Boys as the baby of the group. The group helped him deal with a dysfunctional family. Most of his childhood friends are apparently dead or in jail, but music got him out of it. It's cute how excited Sharna is to dance with other members of BSB in rehearsals.
They dance to "Everybody (Backstreet's Back)" and it's everything I want it to be and more. They pack the ballroom with a bunch of fans to make it feel like a BSB concert and the moves fit it perfectly. This is all about nostalgia and I'm as in love with it as the judges are.
Judges' Scores: 9+9+9=27
Seriously, where are the freaking 10s? That was epic!
Carlos PenaVega and Witney Carson: Waltz
2012: After the Big Time Rush tour ended, he smoked weed every day and isolated himself. But then he walked into a church and changed his life because he met his wife Alexa in a Bible study.
It's a supremely unusual performance because "Amazing Grace" isn't exactly a good song for this dance. It moves quickly and he dances it well, but there are still a few technical issues for the judges about his shoulders. Carrie loved that he danced from his soul.
Judges' Scores: 9+8+8=25
Even though it's all about memorable years for the stars, Witney Carson got engaged this week to go along with Allison Holker's pregnancy.
Paula Deen and Louis van Amstel: Cha-Cha-Cha
1989: It's when she finally got a divorce after 27 years of a bad marriage and started her business to do something on her own for her kids.
She's not terrible in parts, but the second half gets a little sloppy. She actually has amazing, fast-moving legs that defy her age. The judges get a little frustrated with her when she messes up because she could be better.
Judges' Scores: 6+6+6=18
It seems the scores and votes from tonight will be added to next week for the Switch-Up to decide who gets eliminated the following week, which I guess means no elimination next week.
Andy Grammer and Allison Holker: Cha-Cha-Cha
2009: He found out his mom had breast cancer and only had a few days to say goodbye because they caught it very late. He was inspired by that personal tragedy to write a song that helped give his career momentum.
He's obviously been working on his extensions and I think it's a big improvement over his recent performances. He's a little rusty in moments and it's kind of awkward, but I still like it. Carrie thought it was bad, but Julianne thought it was the most comfortable he's looked since week 1.
Judges' Scores: 7+8+8=23
Good scores for him, especially since his partner is now four months pregnant.
Bindi Irwin and Derek Hough: Contemporary
2006: That's the year her father, Crocodile Hunter Steve Irwin, died. It's overwhelming how emotional and sweet it is to hear Bidni talk about the fun adventures with her dad.
The routine is absolutely beautiful. I could complain about how it's emotionally manipulative or that they got to perform last after the show teased and promoted her tribute to her dad throughout the entire two hours or how Bindi was crying after it was over, but who cares? It was beautiful. But it was also Contemporary and not actual ballroom dancing, it was something else, transcending the show.
Judges' Scores: 9+9+10=28
This feels so scripted, right down to the first two being 9s and ending the night with the first 10.
THE RESULTS
Since Kim withdrew, the results are based on the last two weeks of performances and votes.
The first couple IN JEOPARDY is…Carlos and Witney!
The second couple IN JEOPARDY is…Gary and Anna!
Everyone else is safe.
Gary Busey and Anna Trebunskaya ARE ELIMINATED!
They definitely deserved it. He lasted long enough, but now let's just pray that Paula is next to go so we can be left with the eight best and most deserving couples.
Honestly, I still don't have a clear idea of whether or not someone is going home next week. They mentioned the scores and votes from tonight being combined with next week's Switch-Up, but Alfonso ended the night by saying that the votes and scores from tonight will decide "the next elimination," though he didn't say it would be next week. This show seriously needs to improve how it deals with scores and eliminations ever since they dropped the results shows.
THE LEADERBOARD
28: Bindi Irwin
27: Tamar Braxton, Hayes Grier, Nick Carter
25: Carlos PenaVega
24: Alek Skarlatos
23: Andy Grammer
21: Alexa PenaVega
18: Paula Deen
(Image courtesy of ABC)