It's the quarterfinals of Dancing with the Stars, and after tonight, only five couples will remain. This week the stars take on two individual dances. First will be America's Choice, with styles, songs, and costumes chosen by the viewers. Then the pairs will each be joined by another pro for the Trio Challenge.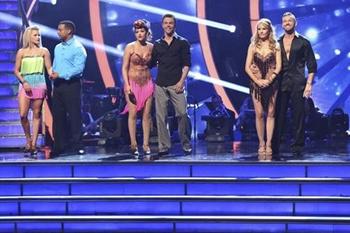 I predict that Lea and Artem will, unfortunately, be eliminated, but it's also possible that Tommy will go, leaving Alfonso against four ladies. However, there has never been a season of DWTS with only one male star in the Final 5, which is good news for Tommy. In fact, with the exception of seasons 3, 4, and 7, every Final 5 has featured either 3 men and 2 women or 3 women and 2 men.
LIVE…from Hollywood…this is Dancing with the Stars!
We're kicking things off with results.
The first couple SAFE is…Tommy and Peta!
Well, that basically ensures Lea's demise. Way to kill the suspense, producers. Either that or we're in for a super crazy shocking result.
Alfonso Ribeiro and Witney Carson: Foxtrot
Are we really going to pretend that America chose everything this week? The producers and stars just chose the opinions of a handful of people on Twitter. The dance is classy, fun, light on its feet, and just plain good. It doesn't have me raving, but it's good. The judges love the elegance and sophistication, but Len Goodman thought some of the footwork was a bit sloppy. Carrie Ann Inaba thought it was too effortless and not pizzazz-y enough.
Judges' Scores: 9+9+9+10=37
This is gonna be a tough battle tonight with a lot of big scores.
Tommy Chong and Peta Murgatroyd: Viennese Waltz
Their fans want black lights and puppies. None of that is included, but it's a nice, sweet dance that looks mostly good, except when he stumbles near the end. The bar is so low for him, so he always manages to creep over it. The judges just like him, and I get it, but let's not be too happy about him making the semifinals until we find out who is going home instead of him.
Judges' Scores: 7+8+7+7=29
That's really the best he can hope for.
Lea Thompson and Artem Chigvintsev: Samba
America wants them to be sexy cats. After the judges' comments last week, Lea seems to doubt Artem's choreography during rehearsals. It's definitely full of intensity and ferocity, but I still find her a tad stiff at times. However, this was freer than usual, with lots of messy hair flips and sexy tiger prowls. Carrie Ann agrees that she's wild at times, then reverts back to the prim and proper ballerina on occasion.
Judges' Scores: 8+9+8+9=34
Wow, somehow Len is the nice one tonight.
Bethany Mota and Derek Hough: Viennese Waltz
Are we really supposed to buy that America chose TWO Viennese Waltzes? Because that's just a super boring dance. Twitter tells them to do a routine about a couple breaking up. They certainly pack a lot of emotion into it, which seems to make it more Contemporary than Waltz. It ends with about 10 full seconds of her crying on his shoulder. The judges thought it was fabulous, but Len wanted more Viennese Waltz. Julianne Hough loves the connection she's having with Bethany.
Judges' Scores: 9+9+9+9=36
I bet Val would've gotten an 8 if he dared to do so little Viennese Waltzing.
Sadie Robertson and Mark Ballas: Jive
Mark has decided to try just doing the dance style. What a crazy concept. It's fine, energetic, and full of Jive. It's OK, but there are still a few issues, and they're all highlighted since there's no concept or character to hide behind. The judges liked it a lot, especially how much content Mark put into it, but Sadie wasn't able to live up to it.
Judges' Scores: 8+9+8+8=33
Seriously, why is Len so generous tonight? He's supposed to be the mean one.
Janel Parrish and Val Chmerkovskiy: Quickstep
She struggles with hold, and this dance is all in hold. Val seems to be taking pages out of Derek's playbook, with the first 15 seconds in chairs. But then it gets quick and fun and so damn entertaining. Janel is really starting to shine at just the right moment. Val said he messed up a bit. The judges all saw one flub, but absolutely loved it and thought it was the best dance of the night.
Judges' Scores: 9+10+10+9=38
Indeed, it's the best of the night.
Alfonso and Witney with Lindsay Arnold: Paso Doble
Witney and Lindsay have been dancing together since they were 6 and Alfonso is older than both of them combined. They're adorable together and Alfonso is like the dad. He's definitely man enough for both ladies and it's an insanely cool Hip-Hop Paso where he is clearly the star. When done correctly, this is a great reminder of why three can be better than two. The judges absolutely LOVE it.
Judges' Scores: 10+10+10+10=40
Well, everyone else just got put on notice for these Trio dances.
Tommy and Peta with Sharna Burgess: Samba
The concept has Tommy as a first-class passenger with the ladies as stewardesses. He loves his Aussie women. I enjoy that he "flies high" with Chong Air. The women are sexy and great, but there's no real dancing here at all. It's just two hot flight attendants giving an old man a lap dance. The judges laugh a lot, mostly because they don't understand what just happened. It was good entertainment, at the very least.
Judges' Scores: 7+7+7+7=28
Seriously? I know it was fun, but that didn't even deserve 6s. If he makes the finale, it's because the judges were too nice for this routine.
Lea and Artem with Henry Byalikov: Paso Doble
The concept has Lea as a powerful woman while Artem and Henry are her hunky sex slaves or something. As always, Lea is really good without being great. I feel like she's one step away from greatness. The judges all loved the dance and especially Lea. Julianne once again makes it all about herself. That's twice with Lea that Julianne has mentioned how she did something first. Why is she being so competitive with a 53-year-old woman?
Judges' Scores: 9+9+9+9=36
Man, what does Lea have to do for a 10?
Bethany and Derek with Tony Dovolani: Argentine Tango
Tony is happy to work with his buddy who he jokes he used to babysit. Tony also takes a lot of tricks and lifts away from Derek, whose back got hurt this week. The dance is intense and crazy, in a good way. I'm not sure if it's a Tango, but it's very compelling to watch. I especially love that, unlike the first three trios, the two pros aren't similar at all. Tony and Derek are so different. Carrie Ann wanted more connection with the partners. Julianne praises Bethany's ferocity, but I couldn't take my eyes off of Tony.
Judges' Scores: 9+10+10+9=38
That score seems fair.
Sadie and Mark with Emma Slater: Foxtrot
Mark wanted Henry, so now he's worried because this is the first time a female star has ever had a female pro for a Trio dance. It's a cute concept with Mark and Emma as a couple, but then Sadie arrives and he picks her over Emma. Sadie admits to messing up at the end, but the judges LOVE it and Len calls it the best of the night, wishing he had an 11 paddle. It was good, but I don't think it was that great. And Bruno Tonioli saying he couldn't tell which lady was the pro just seems like an insult to Emma.
Judges' Scores: 10+10+10+10=40
Meh. It was really good but not as good as Alfonso. This seems like a situation where I actually enjoyed this routine a whole lot, but not as much as the judges, which ironically makes me like it less because I feel like they were too generous.
Janel and Val with Keo Motsepe: Salsa
It's a tribal theme with two men calling on their queen, and they're adding some Cirque du Soleil-style lifts. It's absolutely crazy in the best possible way, even if it feels more like Afro Jazz than Salsa. It's completely different and so energetic. Julianne admits that there wasn't really any Salsa, but she didn't care. Len, however, did.
Judges' Scores: 10+9+10+10=39
I guess if it's really great, it doesn't matter if it's not the right style.
THE RESULTS
It's time for the results.
The next couple SAFE is…Alfonso and Witney!
The next couple SAFE is…Bethany and Derek!
The next couple SAFE is…Janel and Val!
It's down to Lea vs. Sadie.
Lea Thompson and Artem Chigvintsev ARE ELIMINATED!
Yeah, I literally saw this coming within the first minute of the show after Tommy was safe. Yawn.
And next week won't be much better unless Tommy can somehow overcome being 16 points behind the next lowest score. He would have to beat someone in the public vote by about 5 percent to stay.
THE LEADERBOARD
77: Alfonso Ribeiro, Janel Parrish
74: Bethany Mota
73: Sadie Robertson
57: Tommy Chong
(Image courtesy of ABC)