What would a festival celebrating the best of TV be without Bones? Fortunately, Paley Fest 2012 does not make us find out. On Thursday, March 8, the television-celebrating event welcomed the producers (Hart Hanson and Stephen Nathan) and cast (Emily Deschanel, David Boreanaz, John Francis Daley, Michaela Conlin and TJ Thyne) of Bones.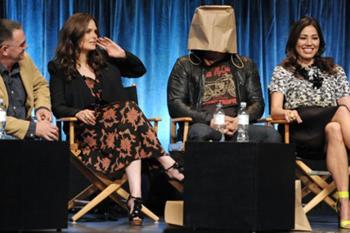 What did they say? Keep reading for all the highlights!
Before the panel began, it would seem that the lucky audience got to see the next Bones episode. Lucky jerks. This may explain why some otherwise spoiler-related things are suddenly known with certainty.
WARNING: Aforementioned Bones spoilers figure prominently in what follows. Proceed with caution.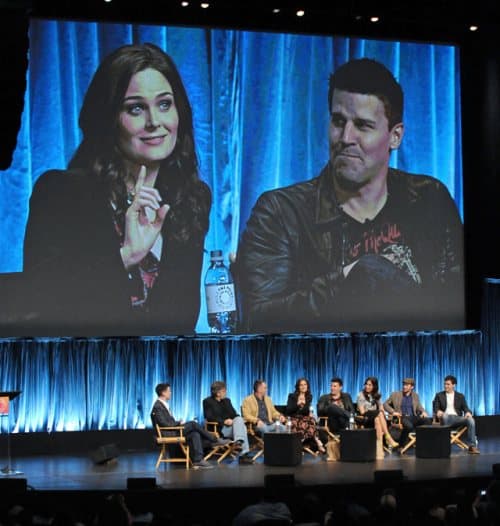 Here are the important things you need to know about the Bones panel at Paley Fest. Major spoilers are in bold font.
Places mentioned for Brennan to give birth: stable with a horse, prison.
Emily Deschanel claims not to have yelled during the birth of her son last fall.
The birth episode will air on April 2.
The daughter of Brennan and Booth will be born in a stable (seriously, there's a horse). They wanted to have the doctor be named Wiseman (to be played by executive producer Stephen Nathan). Then the doctor would bring in two relatives. Thus, the three Wisemans.
While Brennan actually gives birth in a stable, she goes into labor during a prison riot.
The baby used in the birth scene peed on both Emily Deschanel and David Boreanaz.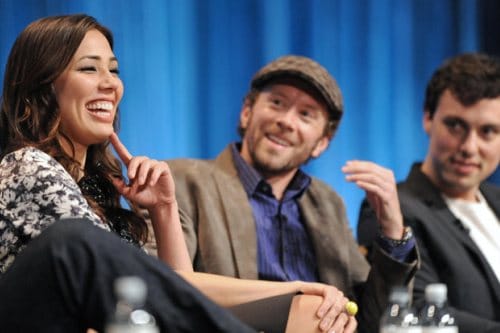 There may be some conflict between Booth and Brennan about whether to baptize the baby or to take her to Africa and drop rock dust on her.
Hart Hanson knew that Booth and Brennan would have sex after the death of Vincent Nigel-Murray.
David Boreanaz wore crazy socks to the panel.
"There's somebody who's going to be dead and revolting…" — Stephen Nathan on how Bones will remain the same.
Moonlighting got mentioned within the first 10 minutes.
"Instead of sex and boys, it's breastfeeding and… boobs…" — Michaela Conlin on Angela and Brennan's future discussions.
The baby's first name will be Christine (after Brennan's mother). The middle name will be Angela. 
The reveal of Angela's real name will be a major story on a future episode of Bones. They're not ruling out another tattoo.
When Sweets used a gun, the bullet was loaded with blanks. In case you didn't realize that…
Sweets will be going out with Booth on some more investigations in the future.
"We're going to get season 8 and possibly 9…" — Hart Hanson… This is, unfortunately, probably not official. Not yet anyway.
David Boreanaz brought donuts.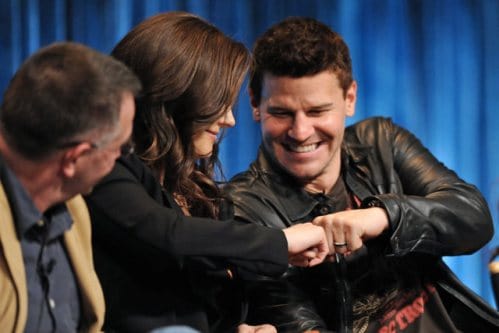 "In many ways, Bones is FOX's most successful hour-long, scripted drama." — Hart Hanson
At one point, Emily Deschanel and David Boreanaz appeared to be comparing wedding rings.
Season 7: "It will change the course of… certainly season 8." — Stephen Nathan
Christopher Pellant (that creepy computer-murderer guy) will be in the season 7 finale.
No one will admit whether or not someone important will die in the end of the season.
The four bonus episodes will air after the cliffhanger but won't have anything to do with the events of the finale.
On the four bonus episodes: "It's like four episodes of Fringe in the middle of Bones." — Stephen Nathan
Response: "That's going to help us, Stephen." — Hart Hanson
Emily Deschanel thinks that Brennan might possibly be more interested in marriage now.
David Boreanaz would like to destroy the Jeffersonian lab with a tank when the series ends.
We will find out the significance of "447" in the end of Bones. And it will appear again this season, in episode 12. Another incidence was cut out (possibly the baby was born at 4:47).
"The Suit on the Set": "We got really jealous of Community and wanted to do a meta show." — Hart Hanson
David Boreanaz wanted an explanation for the word, "adorkable."
Meta winks in "The Suit on the Set" include using the same Bones sets, redecorated. "It's as if you got incredibly drunk and watched Bones." — Stephen Nathan
The belt-buckle of the actor playing Booth in the movie says "Kooky."
One of the "prop" bodies on the movie set is an actual body.
Michaela Conlin likes the idea of a retrospective at the end of Bones.
Hart Hanson wants to make a Bones movie when the series ends. He may have been joking.
Bones will revisit Sweets' "dark" childhood. But not this season.
Plots Hart Hanson wants to explore before Bones ends: Hodgins' brother, Angela's mother, Booth's mother…
David Boreanaz is a very strong proponent of an "old man" episode, whatever that means.
A reappearance by Zack Addy has not been ruled out. They just need an appropriate storyline to bring him in.
There are no plans to have Zooey Deschanel reappear on Bones, although they would like to have her.
John Francis Daley really, really likes The Wire.
David Boreanaz would like to have been on MASH or Cheers.
Michaela Conlin picked Absolutely Fabulous.
"It's National Lady Day, isn't it?" — David Boreanaz
And then he made a joke about American Idol's ratings slipping…
Hart Hanson is happy to be paired with House on Monday nights.
The whole cast pretty much agreed that TJ Thyne was the best at saying all of the technical jargon necessary on Bones. He gave an impressive example of this by saying something scientific that could not possibly be transcribed.
Max Keenan will be back in Bones season 7, but Russ will not be in the current season.
Bones season 7 will return with new episodes on Monday, April 2 at 8pm on FOX.
(Images courtesy of the Paley Center for Media and FOX)
Senior Writer, BuddyTV
Laurel grew up in Mamaroneck, NY, Grosse Pointe, MI and Bellevue WA. She then went on to live in places like Boston, Tucson, Houston, Wales, Tanzania, Prince Edward Island and New York City before heading back to Seattle. Ever since early childhood, when she became addicted to The Muppet Show, Laurel has watched far too much TV. Current favorites include Chuck, Modern Family, Supernatural, Mad Men and Community. Laurel received a BA in Astrophysics (yes, that is possible) from Colgate University and a PhD in Middle Eastern Studies and History of Science from Columbia University before she realized that television is much better than studying.