It's that time again, kids, as the seven remaining contestants on American Idol are set to hit the stage to sing, not once, but twice, for the portion of your votes that don't actually count towards eliminating anyone.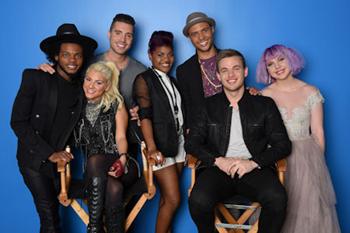 The vague theme de jour this time around is "American Classics," which is about as restrictive as the Billboard Top 100 (so no Beatles, I guess?). There are some questionable choices, wheelhouse songs, and Idol mainstays on tap, with played-out hits like "Superstition" and "Piece of my Heart" returning to competition.
I'm surprised no one is singing "Alone," but maybe that's because Heart had commercial success in Canada before they hit it big in the States.
Who Will Make the Top 6?
I have no idea how the Twitter Insta-Save factors into a double performance, but Simon Cowell forbid we waste any more time discussing the ever-changing format and its impact on Season 14.
I see a bottom two consisting of obvious choice Rayvon Owen along with Quentin Alexander, and depending on the performance structure, it's anyone's guess what happens from there. Q is both rocking out hard and prepping for an intense and dark showstopper, and the save is his to lose. 
Nothing is certain, though, as Rayvon is tackling one song that plays to his ultimate strengths (the other should be a wreck). But he's a singing-for-his-life veteran at this point, and I would never rule out him stealing the vote. 
The only other person I could see in the bottom two is Nick Fradiani, who is bogarting "fun" rock songs and should be able to win enough support that way, barring a horrendous performance.
Who will rise? Who will shine? Who will give God the glory, glory? Let's get to the show.
The Live Blog Starts Now
The lights come up on Ryan Seacrest already holding the results envelope, which I guess means there are no random celebrity postal workers this time. He asks if we're ready for three superstars, but he's just talking about the judges. Jennifer Lopez is rocking a booty-accentuating dress, and is Harry Connick, Jr. wearing a khaki suit?
Apparently, America helped choose the setlist for the show, and we're immediately, oddly and abruptly, jumping right into things.
Tyanna Jones is Safe
Tyanna wasn't very engaged when the radio people came in last week, and Scott Borchetta urges her to be present no matter how overwhelmed she might be at the time. Then he creepily name drops Taylor Swift and Steven Tyler before Tyanna launches into Frankie Lymon & the Teenagers' "Why Do Fools Fall In Love."
Despite being a bit plain (just short of dull), it's a solid, technically flawless, heck of a way to open the show. It's an incredibly old-fashioned song though, like one my parents danced to at their prom, and maybe it's because we started the performances faster than Ryan dropped the catchphrase, but I'm definitely not feeling anything. Yet I don't think I can blame Tyanna for that. 
Keith calls it an interesting song choice, a good song, but not one to show off her vocal skills. It was too "perfect-lovely," and he needs more edge. J-Lo got just a taste of Tyanna with that one, and she wants to feel something. Harry criticizes Tyanna for not watching the original performance on YouTube, and while he praises the rhythmic ease she and Frankie Lymon both share (sadly, he died of a heroin overdose at age 25), he wanted more movement and engagement.
Clark Beckham is Safe
Oh holy effing hell, we're right back to the frantic, frenetic pace that is nearly impossible to keep up with or digest. Clark tells Scott he wants to hit his full potential. Yaay. 
He's singing Stevie Wonder's "Superstition," and it opens with some awkward and distracting fingerpicking. Then he launches into what I guess is supposed to be a slightly unique take, but Clark is completely drowned out by the music. It feels abrasive, and his scatting makes me uncomfortable. 
J-Lo is appreciative that Clark took her advice and tried to appear more star-like, and she thinks it's all coming together. Harry believes it was as good as the song can be done, and he has no critique. Keith loved the fingerpicking and the scatting. Guess it's going to be that kind of night. Can we get a commercial already?
Jax is Safe
Scott's intimate conversation with Jax is about how she describes her music, and he says having a love-me-or-hate-me complex is important. Okay.
She's taking on Janis Joplin's "Piece of My Heart," and she's really bringing out the grit. She sings the chorus like she's got kitty litter in her throat, and while she might get a bit too into it near the end, you could cast her in A Night with Janis Joplin right now, attitude and all.
Harry only knows two versions — Janis Joplin's and Aretha's sister — and this was somewhere in between. But he digs it and felt like she was in the zone. Keith applauds Jax for how well she sings with a band, and he thinks it was great. J-Lo calls it a strong performance, with Jax in her element when she gets to rock out.
Nick Fradiani is Safe
Nick wants to get hot right as the playoffs start, and he thinks that is now. He's been working at this since he was in high school and he's not ready to stop. He's finally comfortable and he's ready to rock and roll.
It's just him out on stage with his acoustic covering Tom Petty's "American Girl." If you're going to do a song like this and not have it sound like karaoke, it really must stand on its own (Think Jeffrey Gaines' "In Your Eyes"). And while this is good, and Nick sounds great, I can't imagine this version being on the radio. The energy is up, up, up, and it's always good to pick a song people really love, but I still think there's more potential.
But of course, the judges are going bonkers. Keith praises everything about it, while Jen was rocking out, calls his voice "radio-friendly" and could imagine it on her stereo right now. For Harry, it was dead on, and this is who Nick is and what he needs to be.
Quentin Alexander is Safe
It means Joey Cook and Rayvon Owen are in danger of going home, which is a bit of a surprise. But I guess Joey's traditional approach to Miley Cyrus didn't resonate. Meanwhile, Quentin is ready to open up a can of whoop-ass.
He's belting out Lenny Kravitz' "Are You Gonna Go My Way," and it might be the perfect song choice considering, I dunno, everything about him. The look, the sound, the style … it couldn't be any more spot-on if it was Halloween or if he worked in Vegas as a Lenny Kravitz impersonator/blackjack dealer. 
The whole entire thing worked for J-Lo, who felt the Lenny vibe like crazy. The pitch was all over the place, but it was a great performance. Harry loves the artistry and individuality, but he was more captivated by the band than he was by Quentin. He needed it to be a little different from the original, and I know what I said for Nick, but I didn't need variation. Keith believes Quentin held his own.
A defiant Quentin calls it "whack" that Joey (and Rayvon, to be nice) are the bottom two, which Harry calls incredibly disrespectful. Quentin storms back to clarify his comment, and everything gets uncomfortable. Thanks for that, Harry. Ahhh the joys of live television.
Joey Cook Sings for the Twitter Save
Both members of the bottom two will perform now and then again at the end, with voting set to start later, which basically means this one doesn't matter. No one expected the novelty of Joey to make it this far, but she's dedicated to continually break the mold and prove that, at her core, she's a musician.
Joey is hoping "My Funny Valentine," from Babes in Arms, will be her ticket to survival. She's the most done-up she's been thus far, which is something we haven't seen. She's also a bit pitchy in a rather sleepy performance, and it's just not as captivating as it needs to be. 
Harry starts off with how lovely she looks, albeit a different version of the normal Joey lovely, which is never a good sign. There are 15 things he'd love to have a discussion about with that performance, but she did a damn good job (even though he just called it adequate). Keith loves that she leaves her comfort zone, but it wasn't all there for him. J-Lo thought this would be a perfect fit, and even though Joey's voice had a nice tone, it didn't move her the way she anticipated.
Rayvon Owen Sings for the Twitter Save
Scott praises Rayvon for getting into fight mode every week when it's all on the line, but now he needs to be beastly from the first note before he gets to that do-or-die moment. 
I don't have high expectations for his "Long Train Runnin'," by The Doobie Brothers, and I was right to be worried. He's got that huge smile on his face and awkward choreographed movements with the backup singers, yet he's asking where you'd be without love? He's almost always great vocally, but unless he picks that classic Rayvon song that lends itself to his tone, he'll never make an emotional connection.
Keith shrugs and says it was good, but he wants more edge and soul. J-Lo praises his vocals and how he keeps fighting while America keeps making him do so, and she somehow calls this expanding his comfort zone. It comes down to the perfect song choice for Harry, which will allow Rayvon to silence the room, but this just wasn't it.
I'll give Joey a slight edge, head to head, but she has her work cut out for her going into the final performances.
Clark Beckham: Take Two
The Between Two Perms with Scott Borchetta intros continue, with Clark getting a bit misty-eyed over all the support he's been given to follow his aspirations. Because he's basically every parent's dream child, seemingly good at everything and also a genuinely nice person.
Clark's second song is "Moon River" from Breakfast at Tiffany's, and it's crazy that 22-year-old "Are You Gonna Go My Way" is the most current pick of the evening. It is pleasing to the ears, and I feel like he's gazing directly at me with those baby blues, but it's just OK. Smooth, but boring, with no real feeling. Another example of not really being able to criticize, but I can't rave about it either. 
J-Lo drops a "smooth and creamy" and says it was well done. Harry dubs him a cocktail piano player and recommends he learn more chords to help separate himself as a musician because he has the potential. Keith calls it warm and fuzzy like an epidural, which I guess means he didn't feel anything either (drop mic).
Tyanna Jones: Take Two
It's hard for Tyanna to be away from her relatives, but it's way more difficult for her mom. And if she wins the whole thing, it would mean everything for her to see the family that happy.
Tyanna can have a moment with Creedence Clearwater Revival's "Proud Mary," but she's really going to have to bring it with some edge. The first half is predictably slow and lets her show off her voice while leaving you wanting more, but it's all to build anticipation for when she opens up and blows it out of the water. And Tyanna delivers, at least vocally. She would have benefited from a bit more attitude, but that's a lot to ask from a sweet teenager.
Before Tyanna started, Harry whispered to Jen that she needed to nail this one, and it was as perfect as it could have been. Keith predicts her progression will now be astronomical, and J-Lo has nothing but love.
Nick Fradiani: Take Two
Nick talks about how much his dad struggled to be successful in music and is now living vicariously through him. 
Then it's a slowed down, totally different version of Billy Joel's "Only the Good Die Young," and it's really the first time we've heard Nick put a truly unique spin on a song. It's without a doubt the most original thing he's arranged this season, and it pays off. Consider it a breakout performance for Mr. Nick Fradiani.
Keith demands to know who came up with the arrangement and gives Nick a 10 out of 10, while J-Lo gushes about how happy she is that he stood up midway through the performance. Grumpy Harry, meanwhile, appreciates the chance Nick took, but he calls it self-involved and didn't feel like Nick was pleading for a girl to sleep with him, as the Piano Man intended. 
Quentin Alexander: Take Two
I can't wait to see how awkward Harry can make things after this performance, because he is hating on nearly everything. Even when he praises someone, as he did with Tyanna, he seemingly does it with a scowl on his face. Then, like the other contestants, Quentin talks about his family.
He's bringing back dark and brooding Quentin with Simon and Garfunkel's "Sound of Silence," and while he's certainly got the tone and artistry down, the vocals are all over the place. The pitchiness is too glaring to ignore, though there are some great notes.
J-Lo calls it dramatic and moody, and she feels that Quentin is feeling sensitive. And even though wearing your heart on your sleeve is OK, he needs to be able to control his emotions. Harry praises him for being tremendous at interpreting lyrics and for holding long notes, but he again urges Quentin to focus on staying in tune. Keith loves what Quentin is going for, whether he's successful or not.
Quentin again takes some time to express that it was not his intention to disrespect anyone with his outburst in defense of Joey, but he was having a genuine emotion that he had to let out. And I, like Ryan, wondered if he was going to hit Harry. But Quentin assures everyone he was raised better than that.
Jax: Take Two
It's family hour, apparently, and Jax opens up about her dad and his vulnerability. Then she launches into a dirty, rocked-out version of Michael Jackson's "Beat It." It's a bizarre song choice, but she delivers it with a bit of a Paramour vibe. She even gives the lead guitarist some solo time, and it's fun and good. Not a showstopper, but a solid addition to her repertoire, and one that fits without feeling inauthentic.
Harry's favorite part was the static electricity in Jax' hair, and it seems like the performance genuinely cheered him up a bit. He's always wanted to see Jax run around the stage like an idiot, and it was just fun. Keith loves that contagious side of her, and J-Lo also enjoyed it.
Harry and Ryan have a football catch with some of J-Lo's hair products, with the latter proving that he is not necessarily an athlete. His springy jump is gif-worthy, and I commend the memes that will surely follow.
Rayvon Owen Sings (Again) for the Twitter Save
Rayvon has been through a lot, with his mom raising him and his sister by herself, and he wants to tell a story and have people feel the struggle. Scott urges him to come at things from a different angle, and after three times at the bottom, he'll need the performance of his life to stick around.
Here's where it gets tricky. Rayvon is singing Willie Nelson's "Always on My Mind," a song that perfectly lends itself to his vocal prowess and allows him to connect without really trying. And it's spot on, vocally flawless, and goosebump-inducing. Look, I am ready for Rayvon to go home more than anyone because he's only good at one thing. But it just happens to be this, and it might be the best of the night.
Keith says beautiful a bunch of times, J-Lo had the goosies, and Harry can't help but laud him as a great ballad singer. You can't sing ballads all the time, but when you're a one-trick pony who needs a trick, what else can you do?
Joey Cook Sings (Again) for the Twitter Save
Joey sits on the edge of mainstream, and her musical influence comes from her mom, who exposed her to a bit of everything. Now, it all comes down to Jefferson Airplane's "Somebody to Love." Scott calls her the person who has taken the most out of this experience, and she has a career no matter what happens.
I've never seen an electric ukulele on the American Idol stage before, but she's got one. It's back to the folksy Mumford and Sons-style arrangement that put her on the radar in the first place, but unfortunately, I think it's going to be too hit or miss with voters to keep her around. It's that Joey quality that makes her great and polarizing at the same time, your cup of tea or not, and even though I dig this one, I just don't see it having the universal appeal that Rayvon's performance did.  
It gave J-Lo all the colors of Joey Cook, and she loved the intensity of the vocals. It's a groove that is difficult for Harry to move to, but she was still able to make it interesting. The vocals were solid, but the originality and creativity is what keeps her around. Keith loves that with both Joey and Jax, he knows he'll be getting something unique if he were to hit up a concert.
It's a body of work and talent (Joey) vs. individual performance, and I won't be surprised either way. But Joey deserves it more.
Rayvon Owen wins the Twitter save / Joey Cook is eliminated
And so the Teflon Rayvon sticks around to sing another day, with Joey Cook is undeservedly sent home early. It's rare for one contestant to turn in both one of the best and one of the worst performances, but hats on to Mr. Owen. 
The guy who can do one thing amazingly well beat out the girl who can do a whole boatload of stuff great. He didn't deserve it, but he earned it. And I won't even speculate as to what he needs to do to improve, because it's clear at this point that if he doesn't sing an emotional ballad, he has no chance. 
And on that sour note, American Classics week comes to an end. Who did you think performed the best, and who let you down? Did you find Quentin's "whack" outburst to be disrespectful or a display of honest (and justified) emotion? Who will be joining Rayvon in the bottom two next week and what "Arena Song" ballad will he sing to oust Quentin or Nick and secure a spot in the Top 5?
American Idol airs Wednesdays at 8pm on FOX.
(Image courtesy of FOX)