Another Wednesday, another BuddyTV Top Ten List. With Major League Baseball giving out its season-ending awards this week, I thought it'd be a good idea to take a look at the MVPs of TV. Of course, MVP stands for "Most Valuable Player", and that's exactly what we're going to look at today, but with TV actors.
This list is fairly self-explanatory, but here are a couple of guidelines:
By valuable, I'm taking into account both how important the actor is to the success of the show and if the show could be the same without the actor playing their character.
There are a lot of great characters on TV, but some are pretty straightforward; any number of actors could play them. The more unique a presence the performer brings to the character and the show, the better.
All right, onto the list.
---
#10 – David Caruso
Character: Horatio Caine
Show: CSI: Miami 
CSI: Miami is mostly ridiculous, and I think any fan of the show would agree. It is over-the-top, in typical Bruckheimer fashion, and will never compete with the quality of the original, Vegas-set CSI. However, CSI: Miami does have one secret weapon and that is David Caruso. Caruso is saturated with weighty gravitas and makes every episode worth watching, if only for his presence.
---
#9 – Patrick Dempsey
Character: Derek Shepard 
Show: Grey's Anatomy 
While Grey's Anatomy is an ensemble show, Dempsey's Derek Shepard is the most important cog, though he may not be the so-called "lead". Without the subtlety and humanity that Dempsey brings, Dr. Shepard could easily come off as an unadulterated jerk.
---
#8 – Adam Brody & Rachel Bilson
Characters: Seth Cohen & Summer Roberts
Show: The OC
These two have kept The OC afloat during rough creative stretches and have generally been the highlight of the show over its first three seasons. Their chemistry is palpable and are the sources of often raucous humor.
---
#7 – Terry O'Quinn
Character: John Locke
Show: Lost
John Locke is my favorite character on Lost, so I'm a little biased, but I can't imagine another actor playing him than Terry O'Quinn. The character of Locke is so complicated, requires so many aspects to feel genuine that, in the wrong hands, Locke could have been a joke.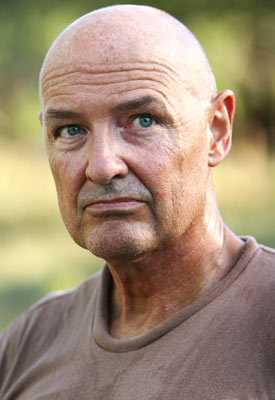 ---
#6 – Simon Cowell
Show: American Idol
Simon Cowell made American Idol. Much of the early buzz surrounding Idol was about him and his judging antics. Cowell is the show's lynch-pin; he brings a healthy dose of reality and, where so many other talent shows suffer from too-kind judges, American Idol, thanks to Simon, doesn't have that problem.
---
Character: Clark Kent
Show: Smallville
There have been a few actors given the honor of portraying Clark Kent, aka Superman, and some would argue that Tom Welling has been the best. It takes a special combination of talent and physicality to play a superhero, and Welling has proved to be the perfect actor for Superman.
---
#4 – Lauren Graham
Character: Lorelai Gilmore
Show: Gilmore Girls

Gilmore Girls wouldn't have made it past its first season without Lauren Graham. Her Lorelai Gilmore is unique and crazy, a creation both of Amy Sherman Palladino and Lauren Graham. Her influence on co-star Alexis Bledel is impossible to miss.
---
#3 – Jeff Probst
Show: Survivor
Jeff Probst is the best host on television. He is poised, thoughtful, seamless, never out of control. Without Probst, who knows what Survivor would've turned into. He never projects himself onto the proceedings. Probst is just a perfect guide for a great reality show.
---
#2 – Hugh Laurie
Character: Dr. Gregory House
Show: House
Hugh Laurie is an enormously talented actor. He is well-versed in both comedy and drama, on both the stage and screen. The character of Dr. Gregory House is undoubtedly a great one, but Laurie brings his own flair and has influenced much of what the character has become.
---
Character: Jack Bauer
Show: 24
Kiefer Sutherland IS Jack Bauer and Jack Bauer may be the single greatest character in the history of television. Really. This is not overzealous hyperbole. Jack Bauer is that good and Kiefer Sutherland has done an amazing job with the character over 24's first five seasons. 24 could not exist without Kiefer Sutherland.