It's no secret that television is lousy with pretty faces. Every show is cast with aesthetically-gifted actresses whose beauty often seems antithetical to the roles they play. Is TV trying to tell us that all female police officers and doctors and medical examiners are that attractive? This glut of beauty makes the competition for the coveted title of sexiest woman of the year fiercer than Miss J's runway walk, but we've done our best here at BuddyTV to winnow the masses down to an elite group of seven.
It was a difficult decision because beautiful women come in all shapes, sizes and ages. All of the Desperate Housewives have proven that beauty doesn't die after age 30. Just look at Rita Moreno who is currently on Cane—she's nearing her eighth decade of life but still going strong.
Among the notables who didn't quite make the list is Kristen Bell, who gets the award for most ubiquitous hottie of 2007. She played Veronica Mars in the now-defunct series of the same name, and then reincarnated as electro-girl Elle on Heroes. She also somehow manages to keep up with all the goings-on on the Upper East Side as the omniscient Gossip Girl. Kristen, when do you sleep?
Another kickass Hero that we liked was newcomer Dana Davis. While her storyline was arguably lacking in relevance to the overall story arc of Heroes season 2, Davis' Monica was certainly kick-ass both in looks and abilities.
Katherine Heigl obviously also deserves mention. She definitely seems to be the hot actress du jour, gracing the small screen every week in her role as Izzie on Grey's Anatomy and she also appeared in the hit summer movie Knocked Up. Somehow, she manages to look stunning no matter where she goes.
Of course, scripted television does not have a monopoly on attractive women. There are entire shows full of models dreaming of the day they can earn a living solely on their looks. And let's not forget Dancing with the Stars, shall we? Edyta Sliwinska and Julianne Hough are not only amazingly talented dancers, they look damn fine in their feathery, sparkly ballroom dresses.
And so, without further ado, we present to you BuddyTV's list of the seven most beautiful women of 2007.
One of the best aspects of Battlestar Galactica is that Grace Park's character Boomer is a Cylon, meaning there are probably hundreds of copies of her roaming throughout space. If you're going to make a robotic replicant, you can't do much better than making her look like Park.
Though she's often buttoned up in a Viper pilot's uniform, Boomer has a natural sexiness to her that has caused more than one man to risk his life and reputation to be with her. It's not hard to see why, as Park possesses a vulnerability and strength that helps to make her all the more attractive. If we're ever stranded in deep space, we know exactly which artificial life form we'd like to run into.
#6 – Tina Fey
For years, women have been the only ones allowed to find older members of the opposite sex attractive. Well, 2007 was the year of the cougars. Whether they're deflowering Barney on How I Met Your Mother, ogling surfer boy Chris Lowell on Private Practice, or pawing at tennis pro Mark Philippoussis, cougars have been in hot demand this year.
There's a certain appeal about a more mature lady, and though sometimes it's a mystery, with 30 Rock star Tina Fey, it's clear why we love her: she's funny as hell. As creator/producer/writer/star of 30 Rock, Fey exhibits a sharp wit that nearly always results in self-deprecation.
What's more, the sexiest thing about Tina Fey isn't the "school librarian" look she pulls off so well, it's the fact that we imagine hanging out with her would be awesome. Tina Fey seems like the kind of woman who would rather watch Star Wars than a chick flick, who would rather stay in and order Chinese food than get dressed up and go to some fancy restaurant. She'll watch a football game and chug a beer.
Young, thin, sexy starlets are a dime a dozen in Hollywood. With Tina Fey, you get someone who's smart, attractive, funny, and relaxed. What more could you ask for in a woman?
#5 – Evangeline Lilly
Lost fans don't need any explanation here. Evangeline Lilly has been a beacon of hotness on Lost for three years. While there has been other, blonde lady eye candy on Lost, Lilly is the unconventional goddess, the dark-haired woman who looks better after a muddy run through the forest than she does cleaned up.
Lilly's incarceration by the Others provided some nice, revealing wardrobes, as did her trysts later in the season with Sawyer. But, that wouldn't mean anything if Lilly's Kate weren't a great character. Complicated, occasionally badass, Kate will always be one of the highlights of Lost, at least for me, and for more reasons than one.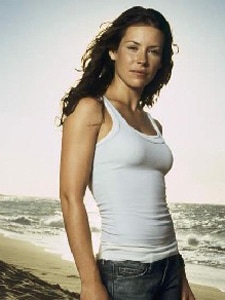 #4 – Blake Lively
According to the book series of the same name upon which Gossip Girl is based, Serena van der Woodsen is tall and slim, has long blonde hair and big blue eyes, and is ethereally beautiful. And 20-year-old Blake Lively is the perfect young actress to play her.
If you recall, BuddyTV Senior Writer Oscar Dahl and I had a face-off about Gossip Girl before the show premiered. During our conversation, Oscar thought that none of the girls on Gossip Girls could hold a candle to Mischa Barton or Rachel Bilson, but I still vehemently disagree. Unlike the prematurely time-ravaged Barton who played Serena's Californian doppelganger on The O.C., Lively actually looks her age. She pouts attractively, which suits her poor little rich girl character, but her smile can brighten up the entire room too. And can we talk about her impossibly long legs? Girlfriend is a gazelle! There's no question that Lively is one hot girl, but probably what I like best about her is that although she has the potential to be the next hot sex kitten, she still dresses and carries herself with the class.
#3 – Yvonne Strahovski
There's a scene in the pilot of Chuck where Yvonne Strahovski's character Sarah Walker is getting ready for a date and she's in her underwear, strategically placing knives and other weapons in her clothing. Yvonne's Sarah Walker, one could see at that moment, was the evolutionary Sydney Bristow.
Yvonne is an Australian import, but her American accent is impeccable, and she shot to the very top of the list of best-looking women on television the second Chuck first aired. The Chuck team knows exactly what they have with Yvonne too, and are not ashamed to dress her up in skimpy outfits or underwear. All in the name of her job, of course.
#2 – Autumn Reeser
The de facto replacement for Mischa Barton on the fourth and final season of The O.C., Autumn Reeser's Taylor Townsend became a fan favorite, a character who was immediately more interesting and fun to watch than Marissa Cooper ever was.
From her early season foreign marriage going forward, Taylor provided everything a loyal viewer of The O.C. could ask for, including excessive hotness. Autumn is what I like to call "sneaky hot." She may not seem gorgeous right away, but after a while you'll realize that "Hey, she is super, super hot. Where did that come from?" It's a damn shame The O.C. couldn't continue, or at least spin-off with Taylor. That's a show I would've watched.
#1 – Minka Kelly
On Friday Night Lights, Lyla Garrity went from a sexy cheerleader sleeping with her boyfriend's best friend to a devout Christian with eyes only for God. Yet no matter what Lyla does, Minka Kelly somehow makes her seem gorgeous and irresistible. Maybe it's the documentary style realism of the series, or perhaps Minka's natural acting style, but she manages to seem attainable even while being unbelievably attractive.
Realistically you know you'd rarely see a beauty like hers outside of the realm of magazines and television, but she seems so down to earth that you can easily imagine living next door to her. We'd move to a small Texas town in a heartbeat for a chance to see her in a cheerleading uniform every Friday night.