Five New York women will bask in the spotlight as Bravo brings forth The Real Housewives of New York City, the hyped spin-off reality series of The Real Housewives of Orange County.  Among the women featured on the series, LuAnn de Lesseps distinctly emerges in the limelight as a real-life Countess.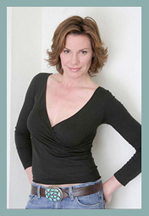 LuAnn de Lesseps, who is currently married to a French aristocrat Alexandre Count de Lesseps, takes great pride in her Countess title given the prestige and history her husband's family have bestowed upon the country.  As part of the noble family whose dynasty is credited for the Suez Canal, she has travel extensively around the world, helps various charities and teaches etiquette on morning television shows. And now that she will be featured on the reality series The Real Housewives of New York City, more people can learn about her life as a Countess.
Initially a model in Milan, de Lesseps reveals that although there are things she had to learn and pick up in preparation to become a Countess, having etiquette and good manners are something innate for her.
"I had learned a lot along the way, having lived in Europe…but I must say, I think, you know, manners and class a lot of people are just kind of born with," she told mosntersandcritics.com.  "I think that you can learn a lot, but I think people that have class are people that make each other feel comfortable.  And I don't think you have to have money to have that.
While viewers can arguably relate more to the lifestyle of other women on the show, de Lesseps explains that her being a Countess doesn't rub out the fact that she's also a regular wife and a mother of two who has to deal with typical family issues like just like anyone else.
"I think you can relate to me because I'm not the high, almighty Countess.  I'm a very personable person and I live like a lot of people do, raising children, you know, managing a household, managing a husband, managing children, managing a social life.  So I think that people from all walks can relate to that," she added.
Fans can catch LuAnn de Lesseps on The Real Housewives of New York City, which premieres on March 4.
-Kris De Leon, BuddyTV Staff Columnist
Source: monstersandcritics.com
(Image courtesy of luanndelesseps.com)