Released in 2010, Nolan's groundbreaking film is widely celebrated for its dazzling visuals and engaging plot. "Inception" follows the life of Dom Cobb (Leonardo Dicaprio) and his team of dream extractors as they undertake a series of heists inside dreams.
It explores issues like memory, manipulation, identity, and loyalty; all blended to create a captivating story that has revolutionized how we think about movies.
Related: 10 Best Sci-Fi Movies of All Time, Ranked by Viewers
Christopher Nolan created this masterpiece that combined great cinematography, fantastic performances, and a unique complex storyline. By separating dreams from reality with his signature style, Nolan introduced us to something special in cinematic history.
The journey through different levels of the subconscious is one of a kind and leaves moviegoers with their complexity to unravel long after the film ends.
In this blog post, we explore some of the best mind-bending movies like "Inception," going deep into similar realms and other mind-boggling sci-fi films for you.
So get ready for the ride of your life and jump in the driver's seat for some mind-bending movies like "Inception."
Top 12 Mind-Bending Movies Like "Inception"
"Shutter Island" (2010)
Martin Scorsese's masterpiece, "Shutter Island," was adapted from Dennis Lehanes' 2003 novel by Laeta Kalogridis.
Starring Academy Award-winning actor Leonardo DiCaprio as Deputy U.S. Marshal Edward "Teddy" Daniels, the film "Shutter Island" follows Teddy's attempts to unravel a mystery behind one of the patients who has vanished from the psychiatric facility he is investigating. Mark Ruffalo plays his partner in crime fighting, and Ben Kingsley stars as its enigmatic lead psychiatrist – Dr. Max von Sydow adds extra gravity to proceedings with his presence as another doctor at the hospital. At the same time, Michelle Williams portrays Teddy's compelling wife.
Praised by critics and chosen as one of the top ten films of 2010, "Shutter Island" debuted on February 19th, 2010, and earned a remarkable $299 million worldwide!
This tale develops a criminally insane and gothic atmosphere, creating a dim and threatening ambiance. As in "Inception," the dream scenes are critical to deciphering why his late wife's recollections plague DiCaprio's character. Instead, he delivers a remarkable performance of somebody walking the thin line between clarity and insanity.
Coupled with impressive visuals and emotional profundity, this movie will leave you speculating until its end.
"The Departed" (2006)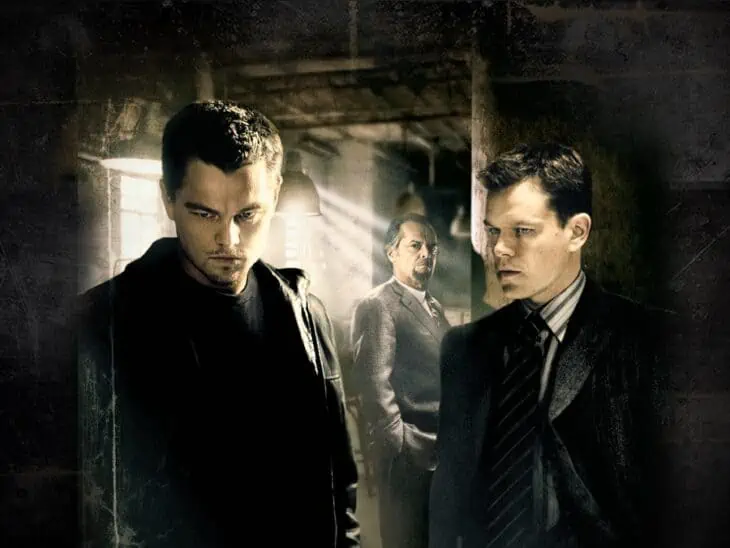 "The Departed" is a thrilling 2006 American crime epic helmed by Martin Scorsese and scripted by William Monahan.
This remake of the Hong Kong classic "Infernal Affairs" draws real-life inspiration from Boston's notorious Winter Hill Gang, with Colin Sullivan representing corrupted FBI Agent John Connolly and Frank Costello resembling Irish-American mobster Whitey Bulger.
An acclaimed cast, including Leonardo DiCaprio, Matt Damon, Jack Nicholson, and Mark Wahlberg, with Martin Sheen, Ray Winstone, Vera Farmiga, Alec Baldwin, and James Badge Dale in supporting roles come together for this star-studded film set in Boston.
The film follows Frank Costello, a powerful Irish mob boss who has planted Colin Sullivan as an undercover spy within the Massachusetts State Police. At the same time, Billy Costigan (DiCaprio) is assigned to infiltrate their crew from within.
Inevitably both sides become aware of each other, leading to a thrilling race between them to figure out who's who before it's too late!
"The Departed" was a massive success both critically and commercially, garnering four Oscars for Best Picture, Best Director, Best Adapted Screenplay, and Best Editing at the 79th Academy Awards.
Not only that, but it was also one of the highest-grossing films of the year, with an impressive take of $291 million against its budget of just $90 million. With this intriguing story as its foundation, you won't want to miss out on watching "The Departed."
"Tenet" (2020)
Written and directed by the world-renowned Christopher Nolan with his wife Emma Thomas as a producer, this 2020 science fiction action thriller brings together an all-star cast featuring Hollywood's finest: John David Washington, Robert Pattinson, Elizabeth Debicki, Dimple Kapadia, Michael Caine, and Kenneth Branagh. Produced between the United Kingdom and the United States – it is an incredible cinematic experience.
This Hollywood film follows a retired CIA agent who discovers how to manipulate time itself to prevent an assault from the future that could potentially destroy our present-day world. The movie grossed $365 million worldwide on its $200 million budget, securing it as the fifth highest-grossing release of 2020 – yet still resulting in box office failure. Despite this, most reviews displayed positive sentiment towards the production.,
"Tenet" is a film that strives to emulate the excellence of "Inception." Both movies make use of time in their respective ways. In contrast, "Inception" manipulates dream states as its characters' primary tool; "Tenet's" protagonists – "The Protagonist" being one among them – utilize technology to control time itself effortlessly.
Although it may not have the same emotional nuance and character relationships as "Inception," this cerebral crime blockbuster will leave you in awe of its visuals, suspenseful story, and intricate plot. Instead, its captivating soundtrack only adds to the experience. We highly recommend "Tenet" as a movie similar to "Inception" if you enjoyed it.
"Memento" (2000)
Above other movies, Christopher Nolan's neo-noir psychological thriller "Memento" continues to be a timeless classic since its release in 2000. This motion picture was written and directed by Nolan, based on Jonathan Nolan's short story "Memento Mori," published one year prior.
Guy Pearce delivers a powerful performance as Leonard Shelby, an individual suffering from short-term memory loss due to anterograde amnesia. In search of the men who raped and murdered his wife, he creates an unparalleled system using Polaroid photographs, handwritten notes, and tattoos to remember what he cannot retain. Carrie-Anne Moss and Joe Pantoliano offer exceptional support throughout this emotionally charged film that will forever move you.
By seamlessly weaving together two distinct forms of narration, this film's captivating story unfurls in chronological black-and-white and a colorful reverse sequence. This innovative approach immerses viewers in the protagonist's mental state and culminates in an unforgettable narrative experience.
The success of "Memento" was unprecedented. It earned $40 million on its mere $9 million budget and received numerous awards and accolades, including nominations for Best Original Screenplay and Best Film Editing at the 74th Academy Awards.
"The Prestige" (2006)
The next on the list is Christopher Nolan's gripping and suspenseful 2006 psychological thriller "The Prestige," an adaptation of Christopher Priest's 1995 novel. Co-written with his brother Jonathan, it will surely thrill viewers as much on the screen as in print.
The film centers around Robert Angier and Alfred Borden, the two Victorian magicians in London vying for mastery over a magnificent teleportation trick. Hugh Jackman as Robert Angier, Christian Bale as Alfred Borden, Scarlett Johansson, Michael Caine, Piper Perabo, Andy Serkis Rebecca Hall, and David Bowie portraying Nikola Tesla create an all-star cast that makes this movie a must-watch!
Nolan rejoins forces with actors Bale and Caine from Batman Begins, cinematographer Wally Pfister, production designer Nathan Crowley, and editor Lee Smith for his film "The Prestige." This movie was released on October 20th of 2006 to great acclaim – it even made $109 million worldwide against a modest budget of just $40 million.
The film was nominated for two Academy Awards, including Best Art Direction and Best Cinematography, affirming its excellent visual storytelling.
"The Truman Show" (1998)
Peter Weir's 1998 comedy-drama "The Truman Show" is an acclaimed masterpiece produced by Scott Rudin, Andrew Niccol, Edward S. Feldman, and Adam Schroeder, with a screenplay written by Niccol.
The superstar Jim Carrey stars as the titular character of Truman Burbank, an ordinary man whose life, unbeknownst to him, is filmed for a television show set in a large constructed world full of actors portraying characters around him.
Related: The Best Movies on the Jim Carrey Movies List
Truman gradually realizes that something is wrong and starts to doubt his reality. "The Truman Show" is a fantastic movie that contemplates simulated truth, oversight, secrecy, metaphysics, pre-determination, and autonomy.
The thought of a perpetual eye watching each second of our lives feels eerily accurate in this time of social media. This film has become more pertinent as time goes on due to its outstanding direction, editing, and performance; it continues to illustrate the issues we are currently facing with technology today.
A masterpiece of exploration, "The Truman Show" delves into simulated reality, surveillance, privacy issues, metaphilosophy, and philosophical concepts such as predestination and free will. A must-see for any film enthusiast!
The film did amazing business at the box office earning $264 million on its $60 million budget.
"Waking Life" (2001)
The next film on our list differs slightly from the other movies discussed in this post. "Waking Life" is Richard Linklater's imaginative and daring animated film, unlike anything you've ever seen. Without linear narrative, the viewer explores numerous philosophical ideologies, including reality, dreams, lucid dreaming, existentialism, and life itself through dream-like sequences.
"Waking Life" presents an imaginative and stimulating exploration of life's most curious questions while maintaining energy and excitement. The interactivity between characters is highlighted through remarkable animation that captures subtle movements and distinct expressions – making for a surprisingly lifelike experience.
By incorporating live-action footage digitally rotoscoped into animation, this film ingeniously creates an atmosphere where viewers are encouraged to question every thought they have ever had about life. The film is all about the philosophical ideas it introduces, with each character having a unique perspective.
The film had a minimal budget of $2 million and only earned $3.2 million at the box office, but it has since gained a cult following for its visually stunning style and thought-provoking subject matter.
This is a must-see movie if you're looking for something unique and stimulating to watch.
"Paprika" (2006)
"Paprika" is a 2006 Japanese animated science fiction psychological thriller directed by Satoshi Kon. The film is based on the 1993 novel of the same name by Japanese author Yasutaka Tsutsui.
Santoshi Kon's captivating masterpiece, "Paprika," could be seen as a precursor to Inception for its exploration of dream manipulation and the consequences it can bring. Chaos ensues when nefarious forces steal this powerful technology in an eerie near-future reality where people can peer into one another's dreams through a unique device, making it a dark city to live in.
Dr. Atsuko Chiba leads a double life, working as an esteemed research psychologist and the heroic dream detective known simply as "Paprika." She and her team have created a revolutionary machine that allows people to explore their dreams together; however, when it falls into the wrong hands, they must act fast to protect everyone from its potentially devastating consequences.
The film has a fantastic story, and on top of this captivatingly suspenseful plotline is Japan's distinctive animation style—a stunning visual treat sure not to disappoint.
"Ghost in the Shell" (1995)
In 1995, the brilliant director, Mamoru Oshii, teamed up with his trusted collaborator Kazunori Itō to bring Masamune Shirow's acclaimed manga of the same name to life on the big screen as "Ghost in the Shell."
This cyberpunk thriller, set in 2029, Japan, follows cyborg federal agent Motoko Kusanagi (voiced initially by Atsuko Tanaka) on her quest to hunt down The Puppet Master. This evildoer hacks into and manipulates unsuspecting cyborgs' identities. This visually stunning film features mind-hacking similar to Inception and explores what it means for humanity when humans share their world with robots.
The movie remarkably handles the philosophical theme of self-recognition in an environment saturated with advanced technology. The movie gets celebrated for its narrative, artwork style, soundtrack, and setting – portrayed as both decrepit and futuristic art style at once – that feels eerily realistic.
"Ghost in the Shell" received glowing reviews upon its release, with critics highlighting its incredible narrative, mesmerizing visuals, and awe-inspiring musical score.
"Fight Club" (1999)
The 1999 classic movie "Fight Club," directed by David Fincher and starring Brad Pitt, Edward Norton, and Helena Bonham Carter is based on the 1996 novel of the same name by Chuck Palahniuk. The narrator, played by Norton, leads an unfulfilled life in his white-collar job until he meets Tyler Durden (Pitt), who sells soap, and together they form a fight club leading to an entanglement with Marla Singer (Bonham Carter).
If you enjoyed the mind-bending narrative of "Inception," then "Fight Club" will be your absolute favorite. The movie begins by introducing its protagonist (Norton) and his struggles with insomnia due to his unsatisfying job in a cubicle.
Despite failing to make an impression at the box office, this movie soon obtained a dedicated following after its DVD debut. Not only does the film bring up mental illness, but it also has riveting plot twists and storylines, remarkable acting, and thought-provoking dialogue.
"Coherence" (2013)
Directed by James Ward Byrkit, "Coherence" is an intriguing tale that follows eight friends gathering for a dinner party experience when the Miller's Comet passes over the Earth. This event results in a tear in their reality. The film then takes on a strange and twisted journey with this mind-bending movie experience.
The movie "Coherence" proves that filmmakers with a limited budget can still create something extraordinary. Written and directed by James Ward Byrkit, the film opens with an ordinary scene: affluent individuals at a dinner party in Northern California, enjoying each other's company before the comet passes nearby Earth. Nevertheless, this seemingly-ordinary setting quickly proves to be anything but – revealing unexpected drama and suspense for viewers everywhere.
Incredibly, the film had a meager budget of only $50k and still raked in an astonishing total of $102,617 from its box office success. So if you like the concept of Inception but are looking for something a little more low-key and grounded, "Coherence" will be the perfect movie for you.
"Being John Malkovich" (1999)
The Surrealist fantasy comedy film "Being John Malkovich" was released in 1999. Spike Jonze and Charlie Kaufman marked their first directorial and writing works, respectively, with a hilariously self-deprecating performance by John Cusack alongside Cameron Diaz, Catherine Keener, and an amusingly exaggerated version of actor John Malkovich himself.
The story follows Craig Schwartz (Cusack), a devoted puppeteer who works clerical to provide for his family. When staying late one day, he stumbles across a secret doorway that leads straight into the mind of actor John Malkovich. You'll have to watch the movie yourself to see what happens next. The film was a resounding success at the box office and earned glowing reviews from critics and viewers alike.
The film had a budget of $13 million and grossed $22.7 million at the box office. "Being John Malkovich" is a dark fantasy comedy-drama that engages the audience and takes them down an unexpected road. The film offers unique visuals, quirky characters, and a narrative that is truly one of a kind. It is sure to leave you with a lasting impression. If you like the originality of "Inception" and crave something unique, then "Being John Malkovich" is the perfect movie for you.
---
The top movies like "Inception" offer strong, engaging storylines with intriguing plot twists, remarkable acting, and thought-provoking dialogue. We invite you to watch each of these movies for a satisfying mind-bending experience.
More BuddyTV Movie Suggestions
Looking for more great movie suggestions from BuddyTV? Check out these movies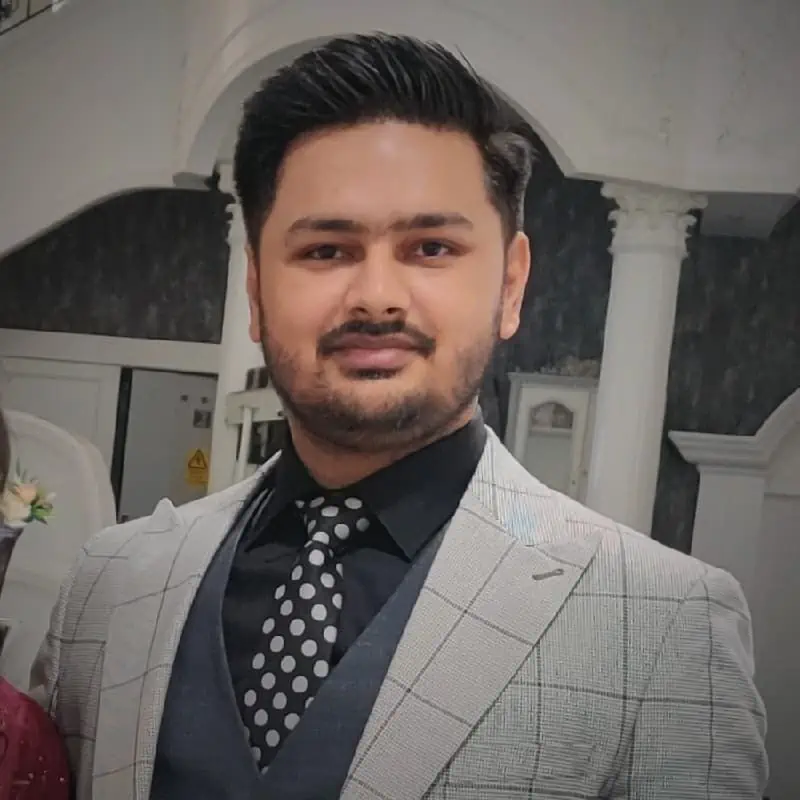 Senior Writer at BuddyTV | Experienced Writer and Graphics Designer