Lucy Lawless has made her fans happy, not only with her surprise appearance to join her fellow castmates at this year's Comic-Con, but also with the news about her return in the upcoming and final season of Battlestar Galactica.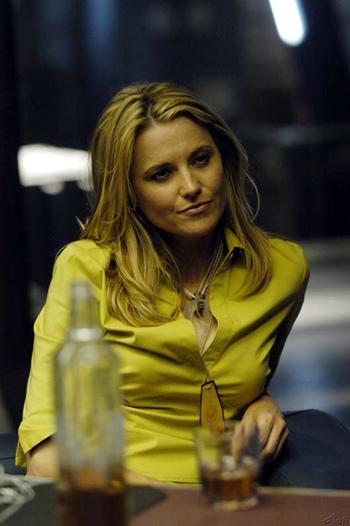 Although details about her return are being kept under wraps, the 39-year-old actress has already confirmed that she would be reprising her role as D'Anna Biers.
"I'm coming back to cause some trouble," Lawless told the fans.
As the Cylon Model D'Anna, Lawless appeared in a handful of season two episodes before returning for an 11-episode stint in season three.  Her quest to unearth what lies between life and death caused her to kill herself and be resurrected in a new Cylon body over and over until she saw a vision of the final five.  Her behavior shocked her fellow Cylons who deemed her entire model as fundamentally flawed.  She was "boxed" by the Brother Cavil model, having an effect that is the closest thing to death that the Cylons experience.  She was last seen on the episode "Rapture."
Given this, many have become curious about why and how she comes back. Show creator Ronald Moore will soon have the answers for prying Battlestar Galactica fans but for now a few details about Lawless' return will have to do. According to Moore, D'Anna's return is slated for two or three episodes, which is expected to set in around episode 10.
"We will unbox her and spring D'Anna forth," Moore revealed to emphasize the idea that Cylons actually do have a plan and that D'Anna is part of it.
The new season of Battlestar Galactica officially starts in early 2008, following this November's 2-hour television movie.
Meanwhile, Lawless is working on two animated film projects. Dragonlance: Dragons of Autumn Twilight, which will hit the theaters in September, and the 2008 movie Justice League: The New Frontier, which features Lawless as the voice of Wonder Woman.

-Kris De Leon, BuddyTV Staff Columnist
Source: Scifistream, TV Squad
(Image courtesy of Scifi.com)