Grey's Anatomy returns from hiatus this week with the first of four new episodes to close out its ninth season. At the center of it all is Dr. Miranda Bailey who finds herself the subject of a CDC investigation following the mysterious deaths of several of her patients. Chandra Wilson recently spoke to BuddyTV to offer her insights into how Miranda is handling the pressure as she battles for her professional life.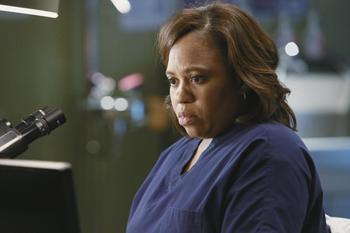 I'm excited because Bailey has such a meaty storyline going on.
Yeah, I'll tell you. She was in a little bit of trouble.
I have to tell you, it takes a lot to surprise me anymore when I'm watching television and I was really shocked at the end of the last episode when it turned out that that common denominator of those sick and dying people was Bailey and not that intern (Leah) as we were led to believe. Obviously, by her response, she was shocked, too. I'm wondering with this new episode coming up, "Sleeping Monster", how is she coping with this? This is a woman who…her whole professional identity is based on being "Bailey". Things like this don't happen to Bailey. How is she managing?
Things like this still don't happen to Bailey as far as she's concerned. So the biggest issue for her is…the Center for Disease Control has to come in and do their due diligence and get to the bottom of what's happened, but that shouldn't have anything to do with her. And her colleagues should be rallying to support the fact that they need to look for whatever they need to look for but not look at Bailey. She didn't do anything wrong. She's having a hard time with the fact that she doesn't feel like they're doing that. They're being hospital board members and they're not being her champions.
Is it being made worse by the fact that these are people who are her colleagues and, in some cases, were even her students, and now they're in this position of authority over her?
Exactly and they are playing the role of the title as opposed to the role of…hey, you were my teacher. You were my mentor. You are my colleague. You're my friend. That's not taking the precedence.
Is there any sort of time jump as we head into the episode or does it pick up right where we left off?
Essentially right where we left off. Of course, they have to give the CDC a chance to get there.
It's looking like this is going to go on for at least a few episodes, this arc. Is it still going on as we approach the season finale or is it going to wrap up in a little bit shorter time than that?
Certainly, the repercussions from the investigation and how Bailey feels about everybody will travel through to the season finale. We will find out the source or the cause of the infections. [But] she's not somebody who's just going to let stuff go.
I find her to be such an interesting character because she really is the heart of the show. I think a lot of people feel that way. What do you think her strengths are and her weaknesses are and how has she evolved over nine seasons?
You know, I think a strength and a weakness for her is her ego. The strength part is great because it really does make her a really good physician. She's really good at her job and she continues to evolve and she continues to look at ways to be 'value added' at the hospital and is incredibly independent. That independence has certainly gotten in the way of her personal relationships. It's gotten in the way of her being a team player on many occasions. Even now it's getting in the way of her being able to understand why her colleagues would need to do their jobs as officials of the hospital and that that doesn't have anything to do with her personally.
So speaking of personal relationships, her husband, Ben, is off at UCLA doing his own surgical internship but it seems like maybe he's going to be coming back into the picture. Can you talk about that at all?
That would be the absolute right thing, for her to lean on her husband. Let her husband know what's going on with her, especially if she's feeling isolated. But, you know, independent Bailey… (would she be able to) actually pick up the phone and call her husband and tell him that she has a need. Right now he's getting ready for his intern exam…all of that stuff takes precedence over the fact that she would actually have a need. Again, that's her ego…not even allow her husband to be her husband.
It's always been sort of assumed that Bailey would be running this hospital and someday she would be Chief. Do you get the sense that this is put in jeopardy because of the CDC investigation or is she going to find a way to overcome it and soldier on?
Well, she certainly feels that way. Any job security that she thought that she had, even with the conclusion of the CDC investigation, it still has left personal scars for her. The fact that she doesn't have a financial stake in the hospital…nothing is guaranteed for her, as far as her job security is concerned. So it would be more of a season ten question, if I'm allowed to say season ten…
I didn't ask but if you're going to say season ten…that would be great!
Let's put it out there in the universe and see what happens. But most definitely it affects her confidence as being an employee at the hospital.
How would you say this storyline ranks in terms of things you've done? Do you have a favorite storyline or a favorite episode or even a favorite line or two of dialogue that you've gotten to say over the years?
A favorite for nostalgic reasons is the whole birth and having O'Malley there and the 'vajayjay' line. Those things really became not only staples for our show but it changed a little bit of American language.
Isn't that amazing how that ended up becoming incorporated into our everyday language? I think that's great.
Yeah! And you have to have reverence for that…the fact that that even happened. I think only on that scale does it make it a favorite story or a favorite moment. I love all my babies. I do! All of the places I've been able to go as an actor have been incredibly challenging and the fact that the audience has come along with her in that journey has been incredibly rewarding and continues to be.
So assuming there's a season ten, do you want to direct again?
Oh, sure! The fact that they keep asking me back is such a compliment. It's been four seasons now for me…two shows a year…that I've been able to lead everybody around.
Grey's Anatomy returns on Thursday, April 25 at 9pm on ABC.
Keep up with all things Grey's!  Check out the Grey's Anatomy official page for more information.
(image courtesy of ABC)