Another couple will leave the ballroom tonight on Dancing with the Stars season 23. After a rapid-fire Face-Off night, six couples face elimination and one will be gone forever. This week is an odd reversal for ABC as the performance show was only a single hour, but the results show is once again two hours long.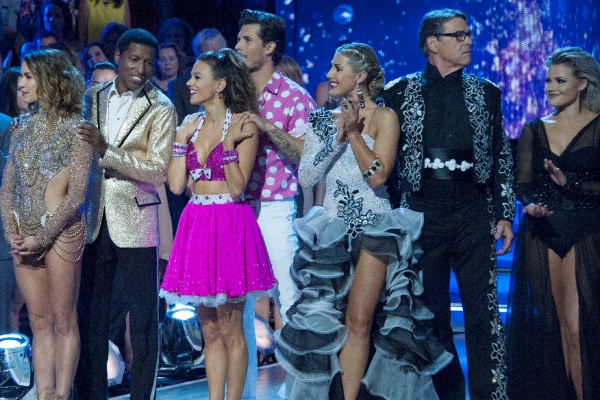 That means the first hour will most likely be more filler recapping last night. The good news is that since we got absolutely no judges' comments from Monday's episode, DWTS will actually let us know what they really thought of each performance. And as an added bonus, Erin Andrews is sidelined and former pro, Kym Johnson-Herjavec, will take her place.
LIVE…from Hollywood…this is Dancing with the Stars!
First up we'll get the judges' comments on last night's dances.
Babyface and Allison: Len Goodman didn't think it was sharp enough.
Jana and Gleb: She messed up big at the start. Len thought she won because of the sharpness of her feet and kicks. As an added bonus, Tom Bergeron gives us another underwear photo with Gleb and Artem.
Rick and Emma: Bruno and Julianne admired that we went for it, but his hands weren't very artistic. Len also appreciates that he gives it his all.
Vanilla Ice and Witney: He had six concerts in six days last week, which really cut into rehearsal time. Bruno found it too angular and Len didn't understand why he wore a backward baseball hat. Len gave him the win because it was more passionate and full-on.
James and Sharna: Bruno loved how he gave it to Sharna, but Len didn't like the heel leads.
Ryan and Cheryl: Ryan's mom is Cuban, which Cheryl hoped would help. It did not. The judges thought he just stood there doing nothing while Cheryl danced around him, and when he finally did some Cha-Cha-Cha, it was on the wrong foot. His 95-year-old grandma, however, is adorable.
Terra and Sasha: Julianne loved her frame, head position, and dynamics. The judges all thought it was simply beautiful.
Calvin and Lindsay: The judges were shocked by how graceful and beautiful he was. Julianne loved his musicality and Len loved his control.
Amber and Maks: Bruno and Julianne thought it was too hip-hoppy and not a Salsa. All of the grinding and the big booty made Julianne uncomfortable. She's particularly disappointed because Maks is usually all about traditional ballroom.
Maureen and Artem: After Amber and Maks, the judges just seemed happy to see an ACTUAL Salsa.
Laurie and Val: Bruno loved the intensity and lines. Carrie Ann was flabbergasted by the lift. For fun, Tom shows us an awkward video of Val when he was 15.
Marilu and Derek: Carrie Ann thought she looked like she was being pulled around. The judges liked it, but she got excited a few times and broke hold or got off on the wrong foot.
FUN FACT: This is the first season EVER where none of the judges gave out a 9 for any routine in the first three weeks.
Now it's time for the second hour with the actual results. But first, the female pros and troupe members get a super sexy group routine to kick things off.
The Results: Part 1
We learn that Marilu felt good about her dance, but Derek knew she messed up a few things.
The first couple SAFE is…Marilu and Derek!
The first couple IN JEOPARDY is…Amber and Maks!
No surprise. Derek ain't going anywhere before November.
The Results: Part 2
The second couple SAFE is…Babyface and Allison!
The second couple IN JEOPARDY is…Rick and Emma!
So much for my bold prediction of Babyface being eliminated.
Maks and Val: We get a special performance from the Chmerkovskiy brothers' stage show. They try to start with some "comedy." They should stick to dancing and leave the comedy for Tom. But it's a fun number with some interactive elements like when they do a little striptease for an older lady on the stage.
Len Goodman is going to be off the show for a few weeks to stay in the U.K. for Strictly Come Dancing. It's understandable since he's 72 and flying back and forth is probably exhausting.
The Results: Part 3
It's time for the final preliminary results, and this is a no-brainer (no offense to Ryan).
The third couple SAFE is…Ryan and Cheryl!
The third couple IN JEOPARDY is…Terra and Sasha!
WTF? That's not what was supposed to happen.
Next week is the first-ever Cirque du Soleil Night, so we'll be getting a lot of huge acrobatic routines. Ooh, that should be amazing, and I'm glad Len won't be around to gripe about the lack of content.
The Final Results
It's down to Rick, Amber, and Terra. Two of them deserve to be here and Terra doesn't.
The next couple SAFE is…Terra and Sasha!
Whew.
Rick Perry and Emma Slater ARE ELIMINATED!
Not much of a shock. He had the lowest score every week and definitely deserves to go home. But he tried his best and surviving one elimination was more than he probably thought he'd do.
The fourth week of Dancing with the Stars competition airs Monday at 8/7c with a regular two-hour performance episode, followed by an one-hour results show on Tuesday at 8/7c on ABC.
(Image courtesy of ABC)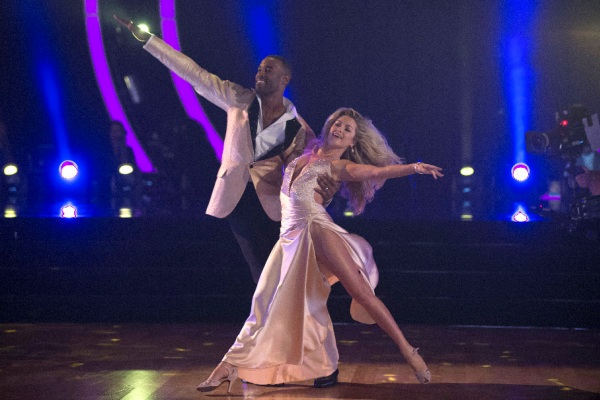 BuddyTV is your source for Dancing With The Stars
On BuddyTV, you'll find Dancing With The Stars updates on performances, performers, judges, and more. See Everything You Need To Know About Dancing With The Stars for a complete guide to the show.