The finale of Dancing with the Stars is just one week away and each of the five couples left wants a shot at that Mirror Ball. But only four will advance to perform their Freestyles and one will go home in fifth place.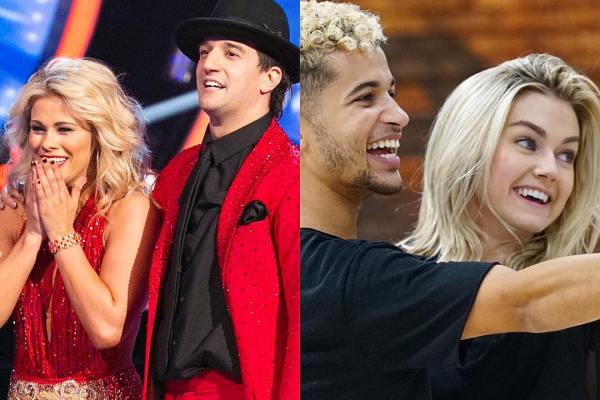 The Semifinals features two full dances for each couple. In the first round, the pros choose the songs to honor their partners. In the second round, the couples will perform routines inspired by iconic routines from past seasons. Adding to the intrigue is a last-minute injury for Lindsay Arnold.
LIVE…from Hollywood…this is my Dancing with the Stars live blog!
Drew Scott and Emma Slater: Tango
Emma chose the Proclaimers to honor Drew's Scottish roots and his perseverance. Drew rocks a kilt, which makes it terrifying every time he spins or kicks. He tries hard and it's kind of entertaining, but it's rough and not very technical. The judges all agree that the entertainment he put into it came at the expense of the style and technique. It's a fun disaster.
Judges' Scores: 8+8+8=24
Those are some generous scores because it deserved 7s at best.
Victoria Arlen and Val Chmerkovskiy: Contemporary
Val wants to tell Victoria's story through her parents' eyes, with Val as her dad and Jenna Johnson as her mom, recreating their living room. I also think it's worth noting that the original ABC press release claimed they would be doing a Waltz, so the change probably means Val just decided to do whatever he wanted. The routine is a beautiful and touching work of art, but I'm not sure it's really a dance. It's basically a trio dance, but there's very little actual movement, especially in the first half. Carrie Ann Inaba admits that it's simple, but it captured the emotion.
Judges' Scores: 9+9+9=27
I'm glad the judges resisted 10s since there wasn't much dancing. And they still haven't received a single 10 all season.
Jordan Fisher and Lindsay Arnold: Argentine Tango
Lindsay wants to dedicate this routine to Jordan's little brother and sister, who he loves, even though he didn't have a great relationship with his older siblings. Lindsay hurt her knee on Sunday, but it's wrapped up. Most Argentine Tangos are sexy, so it's interesting to see something different and this is more inspirational and sweet. As always, Jordan is good, but it doesn't have that something special that he usually has. Carrie Ann and Len say it's not his best, and they're right. Len hated that it wasn't sexy like this style should be. Basically, the style didn't fit the concept and instead of changing the style like Val probably did, they tried to shove the square peg into the round hole.
Judges' Scores: 9+9+10=28
Even when Carrie Ann and Len hate it, they can't give Jordan less than a 9.
Lindsey Stirling and Mark Ballas: Contemporary
Mark chose a song by himself and his wife, BC Jean, to focus on her perseverance, whether it's the death of her father or people telling her she can't succeed playing the violin. This is a more traditional Contemporary routine than what Victoria did, and much better. There's a ton of cool movement and a wind machine. It looks awesome and the judges love her freedom and dynamic moves. Carrie Ann says she's transformed from pastels in the beginning to a "deep blood Earth mama."
Judges' Scores: 10+9+10=29
It's hard to get a 10 from Len for a Contemporary routine (even Jordan didn't).
Frankie Muniz and Witney Carson: Salsa
Witney wants Frankie to embrace his confidence. The routine shows off his swagger and he has some cool hip-hop moves, but there are a few stumbles. And as promised, it ends with her ripping open his shirt to show off his body. He tries hard, but Len thinks it was too much hip-hop and not enough hip action.
Judges' Scores: 8+8+9=25
He's got some work to do if he wants that Mirror Ball.
Drew and Emma: Jazz
For the Iconic Dances round, they're recreating Corbin Bleu's Trio Dance, but for two people. This routine is far from iconic because Drew doesn't have the smooth Jazz moves of Corbin and he looks a little awkward just standing there. There's also a big lift as he spins her around, which is terrifying. Len thought it didn't have finesse and was too crusty in the bottom. Carrie Ann says the lifts were sloppy and made her scared.
Judges' Scores: 8+8+8=24
I really hope he doesn't make it into the Top 3.
Victoria and Val: Charleston
They're recreating a routine by Amber Riley and Derek Hough. This seems fair because Amber, like Victoria, didn't have the best or fastest legs. I'm starting to think this theme is a bad idea. Victoria is fine, but Amber had tons of attitude and personality that Victoria just lacks. I like the changes by setting it on a train. It's not as powerful as Amber's, but it's a little quirky and cute.
Judges' Scores: 9+10+10=29
Wow, she got her first 10s of the season.
Jordan and Lindsay: Jive
They're recreating a dance by Paige VanZant and Mark Ballas which I ranked as my favorite routine from all of season 22. This definitely lives up to the original, with a ton of energy and nonstop action. This really might be one of the hardest routines Mark ever came up with and Jordan did it justice. The judges lose their minds, with Len saying that Jordan's Jive is the yardstick by which all other Jives should be judged. Bruno Tonioli calls Jordan a combo of Mark and Derek.
Judges' Scores: 10+10+10=30
That's their fifth perfect score so far. And now, in just her sixth season, Lindsay has tied Karina Smirnoff for the second-most perfect scores of any female pro (and she's only six behind Cheryl Burke).
Lindsey and Mark: Tango
They're recreating a routine by Meryl Davis and Maksim Chmerkovskiy, possibly the best partnership in the history of the show with one of the best star dancers ever. They do a very literal recreation of the original and the choreography is so fantastic that it helps sell it. Lindsey does a great job with it, but she's not quite on Meryl's level. The judges loved the precision.
Judges' Scores: 9+9+10=28
Why does the show keep pushing all of the sexual chemistry Meryl and Maks had? They know he's married to Peta now, right?
Frankie and Witney: Paso Doble
They're recreating a routine from Apolo Anton Ohno and Julianne Hough from way back in season 4. They want to redo all of the moves and do a great job, complete with strong knee slides and a running split from Witney. The moves were nice and his performance actually worked for this routine, as opposed to his first dance. The judges thought some of the transitions were too small and less-than-stellar. Len didn't think there was enough shaping.
Judges' Scores: 9+8+9=26
Yikes, he could be in some danger.
THE RESULTS
It's time to find out which four couples will perform Freestyles in the finale and get a chance to vie for the Mirror Ball.
The first couple in the FINALS is…Lindsey and Mark!
The second couple in the FINALS is…Drew and Emma!
The third couple in the FINALS is…Jordan and Lindsay!
So it's between Victoria and Frankie.
Victoria Arlen and Val Chmerkovskiy ARE ELIMINATED!
I predicted it, but I also said she'd make it to the Final 3 before the season started. She's clearly very upset to miss out on the finale and it's kind of heartbreaking. At least she got some 10s before she was eliminated, something Drew has yet to do. And hopefully, this means Frankie can make it to the Top 3, which he may not have if Drew went home tonight.
THE LEADERBOARD
58: Jordan Fisher
57: Lindsey Stirling
51: Frankie Muniz
48: Drew Scott
What was your favorite Semifinal dance?
Dancing with the Stars airs Mondays at 8/7c on ABC.
(Image courtesy of ABC)