The finale of Dancing with the Stars season 25 is just two weeks away. The six remaining couples are all fighting for a spot in next week's Semifinals while the scores and votes from this week's episode will decide which pairs get to perform Freestyles in the finale. There's a lot on the line.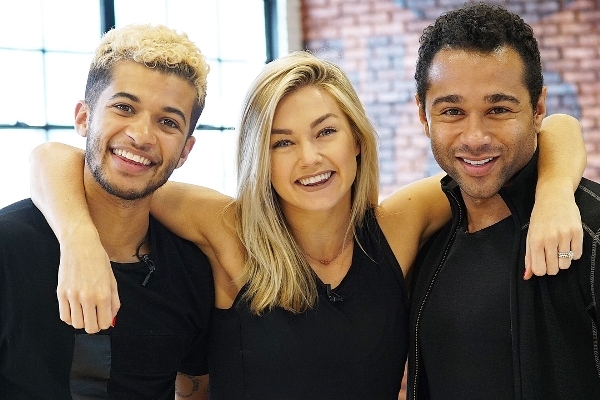 For the Quarterfinals, the Trio Dances are back, but with a big twist. Six former DWTS contestants (five winners and one runner-up) are back, teaming up with this season's couples. It's exciting to get to see some great talent from the past return like Kristi Yamaguchi and Corbin Bleu.
LIVE…from Hollywood…this is my Dancing with the Stars live blog!
Terrell Owens and Cheryl Burke: Charleston
They're dressed in Roaring '20s attire, but that's the highlight of the routine. T.O. looks a little rusty and doesn't move as smoothly as he could. But he brings the energy and entertainment. The judges love the style and concept.
Judges' Scores: 9+9+9=27
I must not be seeing what the judges see in him, because he's good, but far from great.
Drew Scott and Emma Slater: Waltz
This routine is inspired by Drew's fiancee. That emotion is palpable in the routine as it's absolutely beautiful and stunning. This is as graceful as Drew has been all season and he's taking a strong push to get into the finale. The judges nitpick his performance in hold and not staying in tempo.
Judges' Scores: 7+7+8=22
Wow, horrible scores. My tinfoil hat says that the judges are trying to make sure he goes home next week because they want Jordan, Lindsey, Frankie and Victoria in the finals, assuming T.O. is eliminated tonight.
Victoria Arlen and Val Chmerkovskiy: Argentine Tango
She had a spam in rehearsal earlier today, but she's happy to show off her sexy side. The routine is more sleepy than sexy, a pretty dull and tame Argentine Tango that is totally forgettable. Carrie Ann Inaba critiques that she dropped her eyes a lot and Len Goodman wasn't transported to Argentina.
Judges' Scores: 8+8+8=24
Victoria has definitely stalled in this competition while people like T.O. and Drew are actively improving. It says a lot that none of these first three dancers have received a 10 from any of the regular judges all season.
Lindsey Stirling and Mark Ballas: Samba
They're fighting back with a creative concept at a circus with Lindsey as a lion and Mark as the tamer. The choreography is unbelievable, but I think Lindsey may have lost a step after last week's injury. It's cool, but not her best. I think Paige VanZant would've done a better job with this routine. The judges found some parts weak and irksome.
Judges' Scores: 9+8+9=26
Those are some generous scores, but she's slipping and that means the door is open for Jordan to take the Mirror Ball.
Frankie Muniz and Witney Carson: Viennese Waltz
Their dance is beautiful and elegant, sophisticated and refined. It's amazing that he went from a serial killer last week to a romantic lead this week. The judges love his flow and polish, but Len thinks there wasn't enough rise and fall, calling it far from perfection.
Judges' Scores: 9+8+9=26
Erin Andrews shows a clip from early in the season when Frankie promised to take his shirt off if he made it to week 8 or 9. So perhaps that's coming next week.
Jordan Fisher and Lindsay Arnold: Quickstep
Lindsay is the only pro left without a Mirror Ball, and both of them are feeling that pressure. Their dance is fast, flawless, and very trippy. The production and lighting design is surreal with hypnotic circles all over the ballroom floor. Carrie Ann calls it brilliant and sassy while Len gives them a standing ovation.
Judges' Scores: 10+10+10=30
Lindsay is giving Mark a run for his money with the creative choreography this season.
Terrell and Cheryl with Kelly Monaco: Rumba
The season 1 winner and All-Stars finalist is back. Kelly is one of Cheryl's best friends and T.O. hopes the beautiful soap star isn't distracted by has handsomeness. If they get a perfect score, Kelly has to go on a date with him. The dance really plays up the sexiness and T.O. does a good job holding his own in a threesome, but there isn't much dance content. It's a little too Skinemax and it's more smutty than sensual.
Judges' Scores: 8+8+8=24
I guess that means no date for Terrell and Kelly, but Tom Bergeron tries to force the issue anyway.
Drew and Emma with Rashad Jennings: Cha-Cha-Cha
The reigning champion and Emma's last partner is back. In rehearsals, Emma seems way too excited to be back with Rashad and it feels like Drew takes a backseat. The dance is disco-themed and Drew just doesn't have the same swagger as Rashad. There seems to be an underlying theme where Emma would rather dance with Rashad than Drew in the routine. Drew really does feel like an afterthought the whole time.
Judges' Scores: 9+8+8=25
That score is mostly for Rashad.
Victoria and Val with Laurie Hernandez: Jive
It's two Olympic gold medalists and Val. The two girls geek out with each other with Val as their weird but kind of cool uncle. The dance is full of youthful joy and exuberance, which is sweet and fun to watch. Victoria isn't quite as athletic as Laurie and she sometimes looked out of it. Dancing next to someone like Laurie only highlights Victoria's weakness when it comes to fast footwork. The judges don't hold back in pointing out that Victoria's leg problems are understandable, but they have to judge her the same as if she wasn't in a wheelchair a year ago.
Judges' Scores: 8+8+8=24
Once again, none of these first three stars get 10s. I wouldn't be mad if the order the stars are performing tonight is how they finish for the season.
Lindsey and Mark with Kristi Yamaguchi: Jazz
It's been almost a decade since Kristi won season 6, meaning she's been away from the ballroom longer than any of the other returning stars for these trios. The routine has a classic Hollywood feel of glamour and sophistication, with great timing between all three of them. They work extremely well as a trio, moving as one like a well-oiled machine.
Judges' Scores: 10+9+9=28
At least she's back to 10s.
Frankie and Witney with Alfonso Ribeiro: Jive
The man who helped Witney win her Mirror Ball is back, and like Frankie, he's a former child star. Alfonso and Frankie are racing buddies, which makes for a very entertaining trio. Their dance is nonstop fun and these two guys are both great showmen. They even include Alfonso doing the Carlton, but it never takes away from Frankie. Bruno Tonioli loves that neither of the men overshadowed each other and they stayed in sync. Carrie Ann points out that Frankie looked a bit nervous.
Judges' Scores: 9+9+9=27
A strong showing tonight.
Jordan and Lindsay with Corbin Bleu: Salsa
Corbin is the only non-winner who returned for the trio dances, which seems like a fair handicap since Jordan is so much better than the rest of this season's cast. Jordan and Corbin are basically twins and have a real bromance. The dance is on fire and this is the first trio where I feel like the current star is better than the returning favorite. Jordan and Corbin are like mirror images of each other and they blaze through the dance.
Judges' Scores: 10+10+10=30
Double perfection! If it weren't for Len giving them a 9 on A Night at the Movies, this would be five perfect routines in a row for Jordan (not counting the team dance).
THE RESULTS
It's time to see who will move on to the Semifinals.
The first couple in the SEMIFINALS is…Jordan and Lindsay!
The second couple in the SEMIFINALS is…Lindsey and Mark!
The third couple in the SEMIFINALS is…Victoria and Val!
The fourth couple in the SEMIFINALS is…Drew and Emma!
It's down to Frankie and T.O.
Terrell Owens and Cheryl Burke ARE ELIMINATED!
That was obvious and correct. In the first few weeks, I expected him to go home early, so making it this fair is impressive for them.
THE LEADERBOARD
60: Jordan Fisher
54: Lindsey Stirling
53: Frankie Muniz
48: Victoria Arlen
47: Drew Scott
What was your favorite Trio dance?
Dancing with the Stars airs Mondays at 8/7c on ABC.
(Image courtesy of ABC)