It's Spring Break time on Dancing with the Stars! But that doesn't mean the eight remaining couples will get a break. Instead, they'll each perform twice, including two team dances, before one of them is eliminated.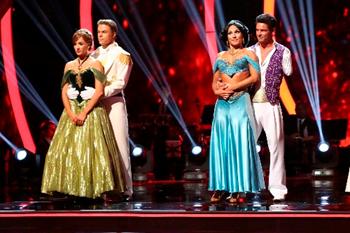 Will Derek Hough emerge victorious in the team dance round as he always does? Who will get eliminated? And will we finally get a 10 from Len, seeing as how the head judge has yet to award anyone with a perfect score?
LIVE…from Hollywood…this is Dancing with the Stars!
No results at the start, we're going right into the dancing. And next week is a double elimination, with the return of the Tuesday results shows. In two weeks it's America's Choice, so viewers can go online to suggest styles and songs for the couples.
Patti LaBelle and Artem Chigvintsev: Quickstep
They're bringing back the hotel theme from week 3, but this time they're at the pool. She's not that quick on her feet and they clutter the stage with a bunch of troupe members. She's a great personality, but she's nowhere near the caliber of the other dancers. One shoe got stuck on her foot, which didn't stop her, and the judges are nice as always without offering any real criticism. They just say it was "fun" about a dozen times.
Judges' Scores: 8+7+7+7=29
These judges are being way too nice with Patti. Even Len Goodman seems shocked by Carrie Ann Inaba's 8.
Nastia Liukin and Derek Hough: Tango
Derek is planning a really aggressive routine that's putting a toll on Nastia's body. The Olympic gymnast can't keep up with him. It's a very cool, fast, rave-like Tango, the kind I love. It's full of severe, strong movements. I like it quite a lot, but Julianne Hough didn't think they connected as a couple and were very disjointed. Huh, I'm usually the one hating on these two, but somehow I enjoyed it a lot more than the judges. They all pile on about how Nastia is too independent so it's more gymnastics than dancing. Len really piles on about how it was too fast. Wow, they really didn't like it at all.
Judges' Scores: 9+8+8+9=34
Those are still good scores despite the heavy criticism.
Willow Shields and Mark Ballas: Salsa
It turns out Willow has extra ribs, which is a medical abnormality she didn't know about. They're playing jazz band kids a la Whiplash. They need to be rushing, but she's dragging in rehearsals. I know she's 14 and we shouldn't judge her based on the age, but there's something weird and unsettling about a G-rated Salsa set to "Tequila." She moves nicely, but it all seems like a sock-hop from the '50s. It wasn't great, but the judges thought it was good, pointing out some problems with her legs.
Judges' Scores: 9+8+8+9=34
That just makes no sense to me. I expected 8s with maybe a 7.
Robert Herjavec and Kym Johnson: Jive
They didn't like their scores last week and Robert is worried that he has the Jive one week after the Quickstep. But the bad scores have made him work harder and brought them closer together. They're back to doing routines that look like their first date. The dance feels extremely awkward like Robert is incredibly gun-shy after last week's debacle. Carrie Ann says that he got all of the correct steps, but the timing was off. The nicest thing Len can say is that it was better than last week.
Judges' Scores: 7+7+7+7=28
So that was worse than Patti? Erin Andrews tries to make things awkward by asking Robert and Kym to kiss on the lips. And those damn dancing crabs are back, meaning they've been in more episodes than Redfoo.
Noah Galloway and Sharna Burgess: Rumba
Sharna is stepping it up to add more content and pushes Noah so they can get better scores. They have a bit of a mini-fight because she's being a little hard on him and he's not taking it well. He's totally shirtless and the routine is nicely sensual and romantic. It's OK, but there's an awkward part where they just stop like they missed a move (which the judges refer to as "the incident"). Noah is just upset that the rehearsal video made her look mean and that upset him because they have a good relationship. The judges are extra nice.
Judges' Scores: 7+7+7+8=29
Noah and Patti are equal.
Rumer Willis and Val Chmerkovskiy: Jazz
Rumer loves Destiny's Child and Val loves booty, so this is a perfect song. But Val isn't feeling very "Bootylicious." Rumer is bringing Beyonce-levels of attitude, which is incredibly fun to watch. I still don't like that Jazz counts as a routine because it doesn't fit with the other styles. Julianne and Carrie Ann thought it had too much walking around without enough technique while Len thought it was too sexy for him. I see their point, because this routine was good, but not for DWTS.
Judges' Scores: 8+8+7+9=32
Val hated the song and even Rumer would rather do ballroom than Jazz. And damn you, Julianne, for ending their streak of not getting a 7. This is now the first time since season 13 that every couple got at least one 7 or lower from the judges.
Chris Soules and Witney Carson: Viennese Waltz
He tries to get more musical this week, but he can't even seem to clap in rhythm. Luckily that doesn't matter much because he has one of those slower, classical, romantic routines that Chris is much better at than those faster, sexier dances. He's joyful and graceful and a pleasant surprise. The judges liked the feeling, but Len thought the footwork was terrible.
Judges' Scores: 8+7+8+8=31
Chris is only three points behind the leader. This is a crazy, crazy week.
Riker Lynch and Allison Holker: Samba
Allison doesn't think "Work It" is an appropriate song for Riker because it's too sexual in nature. But late in the week they were able to change the song. However, the change didn't matter because Riker moves so beautifully and it's another superb routine from them. It's so upbeat and energetic, but Len thought it was too fast and too confusing. He's such an old fuddy-duddy who doesn't get this young, hip style.
Judges' Scores: 10+8+9+10-37
Good for them. On a night filled with weak performances, that was definitely a breath of fresh air. And now it's time for the team dances.
THE RESULTS, PART 1
We're doing some results before the team dances.
Nastia and Derek are…SAFE!
Willow and Mark are…SAFE!
Noah and Sharna are…IN JEOPARDY!
Robert and kym are…IN JEOPARDY!
Rumer and Val are…SAFE!
Chris and Witney are…SAFE!
Riker and Allison are…IN JEOPARDY!
Patti and Artem are…IN JEOPARDY!
Why even bother with Riker? There's no way he goes after that Pirates dance last week.
Team YOLO: Nastia and Derek, Willow and Mark, Noah and Sharna, Robert and Kym
Nastia got to pick first, so she chose Willow, then Robert, then Noah. Chris was picked last. Nastia and Derek, the captains, left before they even settled on a theme and Derek couldn't even come back until Monday. It was a hard rehearsal. The routine has the boys in a surf band and the girls as their bikini babe groupies. It's fine, but nothing too great. The solos from Noah and Robert are pretty weak. The judges love it, but things get weird when Bruno Tonioli calls Willow "hot."
Judges' Scores: 10+9+10+10=39
Seriously? It wasn't that great at all. There's no way Noah or Robert deserve those 10s.
Team Trouble: Rumer and Val, Riker and Allison, Patti and Artem, Chris and Witney
The concept is that it's the last day of school before Spring Break, with Patti as the teacher. They all have specific characters and seem a lot more in sync than the other team. The dance is amazing, with Rumer and Val as greasers, Riker and Allison as nerds, and Chris and Witney as the jock and cheerleader. They work great together and the individual segments are all strong, even Chris and Patti. The judges loved the cleverness and even praise Chris and Patti, who should've been the weak links.
Judges' Scores: 10+9+10+10=39
Damn it, Len, why couldn't you just let Derek lose the team round? Since they tied, this makes the team round completely pointless. And absurd, because there's no way on Earth those two routines were equally good. And now we're done with six weeks of competition and Len has STILL never given a single 10.
THE FINAL RESULTS
Noah and Sharna are…SAFE!
Riker and Allison are…SAFE!
Whew. As always, the eliminated couple had one of the two lowest scores last week.
Patti LaBelle and Artem Chigvintsev ARE ELIMINATED!
Oh well, she was fun but not a great dancer. At least she went out on top, as the bad-ass teacher in that group routine.
Next week is a double elimination with the return of Tuesday night results shows, so anything could happen, especially since only 9 points separate first from last, and that's equal to less than 2 percent of the vote.
THE LEADERBOARD
76: Riker Lynch
73: Nastia Liukin, Willow Shields
71: Rumer Willis
70: Chris Soules
68: Noah Galloway
67: Robert Herjavec
(Image courtesy of ABC)