For nearly a century, the Western genre has been captivating movie-goers with gun-slinging cowboys who traverse the Wild West. As time progressed and societal norms shifted, so too did the western films of each era. They began to act as windows into contemporary culture rather than reflections of past eras. Western movies have become beloved staples in cinema and continue to thrill viewers today with their daring adventures set against grandiose landscapes.
Related: 10 Best Sci-Fi Movies of All Time, Ranked by Viewers
Since its birth, the western genre has retained its liveliness and novelty through many decades of existence. Creative filmmakers have continued to deliver their renditions of this classic Western style, keeping it relevant even today.
10

'The Hateful Eight' (2015)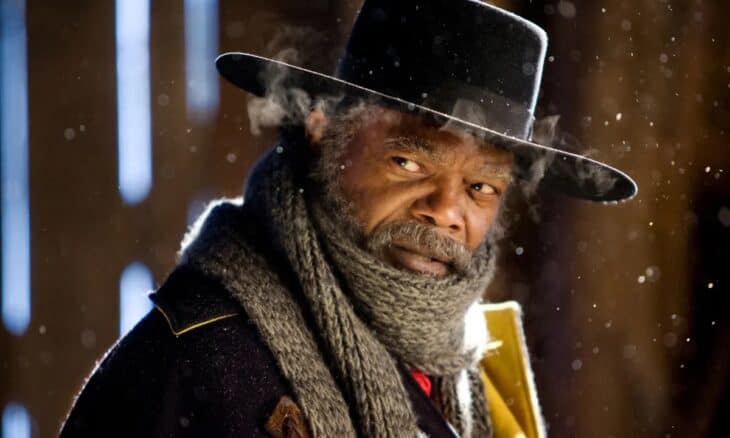 Director: Quentin Tarantino
Cast: Samuel L. Jackson, Kurt Russell, Jennifer Jason Leigh, Walton Goggins
In 'The Hateful Eight', Tarantino presents a revisionist-film-meets-spaghetti-western that honors westerns of the 1960s. Think about all those stories of violence, danger, and chaos usually told by outlaws in those shows – what if these bandits with their plans, ambitions, and guns were stuck together in an isolated cabin during a snowstorm?
At the heart of 'The Hateful Eight' lies a captivating plot encompassing bounty hunters, fugitives, Confederates, and cowboys. This collection of misfits is each more dubious of one another than before, making it hard to determine who the "good guys" are. In typical Tarantino fashion, these lines become blurred as viewers discover what sort of ending everyone deserves.
Related: Samuel L. Jackson Movies Ranked: Best to Worst
Boasting an ensemble of accomplished performers, 'The Hateful Eight' is a masterpiece that pays homage to beloved classic westerns such as 'Bonanza' and 'The Virginian.' It's no wonder this movie makes our list of greatest westerns due to its magnificent writing and acting. However, unlike your paw-paw's television rerun, be sure to prepare yourself for the carnage – yes there will be blood.
9

'A Fistful of Dollars' (1964)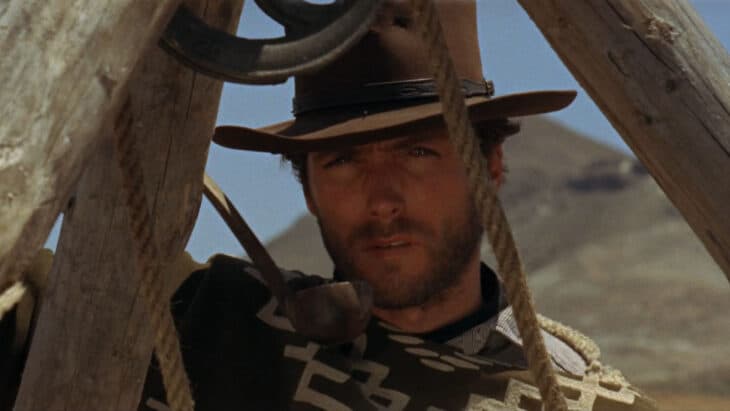 Director: Sergio Leone
Cast: Clint Eastwood, Gian Maria Volontè, Marianne Koch, Wolfgang Lukschy
The Dollars Trilogy by Leone is widely considered one of the best trilogies ever made, and it all began with a little-known spaghetti western entitled 'A Fistful of Dollars.' Despite having a meager budget, non-English speaking actors in the cast, plus an obscure American actor (Clint Eastwood) as its lead character – there was no telling if this seemingly illogical Italian Western would be successful. What could possibly go wrong?
Contrary to the beliefs of many naysayers, 'A Fistful of Dollars' was an unexpected success both in America and internationally. This cinematic masterpiece sparked a wave of spaghetti westerns as well as established its own unique sub-genre that is still celebrated today. The plot revolves around Joe (Clint Eastwood) – a gunslinging outsider who finds himself amidst two feuding factions in town, where he decides to take advantage of the current conflict for his personal gain.
8

'Butch Cassidy and the Sundance Kid' (1969)
Director: George Roy Hill
Cast: Paul Newman, Robert Redford, Katharine Ross, Strother Martin
The Western genre has been renowned for its captivating characters, who are often based on real-life figures such as 'Butch Cassidy and the Sundance Kid.' Portrayed by Paul Newman and Robert Redford respectively, this duo is one of the most iconic pairings in cinematic history. Besides their remarkable acting chops, what truly sets them apart is that these two individuals have become mythicized through time.
On the run from law enforcement after a botched train robbery, Butch and Sundance face their greatest challenge: escaping America if they even want to live to see another day. Amongst all of the nail-biting action sequences – including an iconic finale – are moments that capture who these two friends are, showcasing how their camaraderie has been vital for survival throughout this journey. This is what truly makes 'Butch Cassidy and the Sundance Kid' such an outstanding film experience.
7

'Dances with Wolves' (1990)
Director: Kevin Costner
Cast: Kevin Costner, Mary McDonnell, Graham Greene, Rodney A. Grant
'Yellowstone' famous Kevin Costner shines in his most acclaimed Western, 'Dances With Wolves.' The expansive 1990 film follows Union Army Lieutenant John J. Dunbar (Costner) as he embarks on a journey to traverse and discover uncharted lands of the American frontier.
Newly appointed at a remote outpost, John Dunbar (Kevin Costner) quickly befriends the Lakota tribe and falls for Kicking Bird's adopted daughter Standing with Fist (Marcy McDonnell). With Graham Greene as Kicking Bird, he eventually finds himself welcomed into their community. However, when Union soldiers arrive, danger looms large in their lives and they must prepare for what awaits.
Related: All You Need to Know About "Yellowstone" Season 5
The film won seven Academy Awards and was nominated for twelve in total. The most notable wins were for Best Cinematography, Best Adapted Screenplay, and Best Picture / Best Director (both won by Costner).
Furthermore, Costner was nominated for Best Actor with both Graham Greene and Marcy McDonnell for their stellar performances in the Best Supporting Actor categories.
6

'The Revenant' (2015)
Director: Alejandro G. Iñárritu
Cast: Leonardo DiCaprio, Tom Hardy, Will Poulter, Domhnall Gleeson
The award-winning movie 'The Revenant' captures the adventurous life of Hugh Glass, an 1823 American frontiersman. It is based on both a 2002 novel by Michael Punke and a 1915 poem called 'The Song of Hugh Glass.' Truly, his story was one for the ages.
The experienced outdoorsman Hugh Glass (Leonardo DiCaprio), on a mission to guide a team of men through the Dakotas wilderness, is viciously mauled by an enraged bear. Knowing he can't survive, his companions determine they must complete their journey without him. Only two trusted individuals remain — Glass' son and Fitzgerald (Tom Hardy) — who will pay tribute to his memory once he passes away.
Fitzgerald is so eager to see an end to Hugh Glass that he resorts to violence – a course of action that ultimately proves futile. Nothing in this world can keep the determined and vengeful Glass from pursuing his quarry, be it bears, frosty cold temperatures, or even cruel men. Despite all odds thrown against him, he perseveres in his mission until justice has been served on Fitzgerald.
5

'For a Few Dollars More' (1965)
Director: Sergio Leone
Stars: Clint Eastwood, Lee Van Cleef, Gian Maria Volontè, Mara Krupp
This 1965 spaghetti western classic from the Dollars Trilogy is considered one of the most influential and finest Westerns of all time. In fact, it's one of the top-rated movies, being listed on the IMDb Top 250 Movies list.
Set in the Old West in a time of lawlessness and chaos. Eastwood plays a bounty hunter known only as Monco, who is hired to track down a notorious bandit named El Indio (Gian Maria Volontè). Along the way, he teams up with another gumshoe, Colonel Douglas Mortimer (Van Cleef), who has his own reasons for wanting to capture El Indio. Together they traverse the Wild West and strive to bring justice — or vengeance — however it turns out in the end.
4

'Unforgiven' (1992)
Director: Clint Eastwood
Cast: Clint Eastwood, Gene Hackman, Morgan Freeman, Richard Harris
After his phenomenal success in the Dollars Trilogy, Clint Eastwood went on to cement himself as a staple of the revisionist western genre. He even directed several classics during this time. However, after three decades of galloping across our screens, he was finally ready to ride off into the sunset with one final farewell before taking off his cowboy hat for good.
Consequently, 'Unforgiven' exposes the true nature of life in the Old West. Gunfighters don't remain emotionless assassins. Instead, they experience regret for their past transgressions as they attempt to gain absolution amidst a brutal and sorrowful environment.
3

'Django Unchained' (2012)
Director: Quentin Tarantino
Cast: Jamie Foxx, Christoph Waltz, Leonardo DiCaprio, Kerry Washington
Jamie Foxx stars as Django, a newly liberated slave in Tarantino's audacious spaghetti western 'Django Unchained.' Along with the dashing German bounty hunter Dr. King Schultz (Christoph Waltz), Django embarks on a thrilling expedition to locate some of America's most notorious criminals. During their mission, he acquires an array of gun skills; developing into a deadly assassin.
When Django and Schultz discover where Django's missing wife is being held captive, they set off on a mission to free her. To do so, they must pretend to be slavers interested in mandingo fighting to persuade the infamous Calvin Candie (Leonardo DiCaprio) to sell her.
With its deafening sound effects and gripping fight scenes, 'Django Unchained' stands out as one of Tarantino's greatest works, alongside other classic westerns. After you've watched this movie, you'll easily see why it's on our greatest westerns of all time list.
2

'Once Upon a Time in the West' (1968)
Director: Sergio Leone
Cast: Henry Fonda, Charles Bronson, Claudia Cardinale, Jason Robards
There's no question that Sergio Leone is a master director, and his expertise in creating some of the greatest westerns is beyond compare. After the great success of the Dollars trilogy, he has once again brought us another traditional western classic and masterpiece: 'Once Upon A Time in the West.'
The movie tells a captivating story of a mysterious stranger who plays his harmonica and protects an enchanting widow (Claudia Cardinale) from a determined assassin. The nail-biting movie puts strongman Charles Bronson and attractive Henry Fonda against each other, making for constant suspenseful moments throughout its run time.
1

'The Good, the Bad and the Ugly' (1966)
Director: Sergio Leone
Cast: Clint Eastwood, Eli Wallach, Lee Van Cleef, Aldo Giuffrè
'The Good, the Bad and the Ugly' stands as one of cinema's most impressive masterpieces. It is a landmark western that encapsulates gunfights, wicked outlaws, sharpshooting bounty hunters, and a spectacular civil war battle scene. And the captivating soundtrack transports you to Western's desolate world of bandits and duels.
To outwit a dangerous murderer, Blondie (Clint Eastwood) reluctantly joins forces with Tuco (Eli Wallach), in search of a hidden fortune concealed inside an ancient graveyard. With Angel Eyes (Lee Van Cleef) hot on their heels, they must race against time for their chance at uncovering the mysterious treasure.
Without a doubt, 'The Good, the Bad and the Ugly' is quite literally an epic motion picture. From its illustrious musical score to its remarkable scenery and multifaceted characters all culminating with a timeless finale. It's no wonder that this masterpiece stands atop the best westerns of all time in American cinema history.
Other Notable Best Western Movies
No list of the greatest westerns is complete without mentioning these other highly-rated western genre classics (most dominated by some of the best John Wayne movies). Even though they didn't crack the top 10, they're all still worth watching and each rated 7.7 or higher on IMDb.
'The Treasure of the Sierra Madre' (1948)
'The Treasure of the Sierra Madre' takes viewers back to 1920s Mexico and onto an adventure of a lifetime with its three prospectors. Starring Humphrey Bogart, this film follows the prospectors' determination to uncover the lost gold mine in the Sierra Madre Mountains.
'The Man Who Shot Liberty Valance' (1962)
John Wayne famously stars as Tom Doniphon in John Ford's classic western. It follows the story of Senator Ransom Stoddard (James Stewart), a lawyer seeking justice on behalf of the small town of Shinbone. Stoddard soon realizes that without the help of Doniphon, the unruly Liberty Valance (Lee Marvin) will continue to terrorize and oppress the townspeople.
'Rio Bravo' (1959)
John Wayne stars as Sheriff John T. Chance, a small-town lawman striving against daunting odds to keep, Nathan Burdette (John Russell), behind bars. Unfortunately, they are met with more resistance after longtime friend Pat Wheeler (Ward Bond) is gunned down within twenty minutes of offering his assistance. To help Chance out of this tough scrape, the motley crew of Dude (Dean Martin) – a town drunk but still an able deputy when sober – and Colorado Ryan (Ricky Nelson) join the fight.
'High Noon' (1952)
'High Noon' tells the story of Will Kane (Gary Cooper), a town Marshal struggling with his conscience as he attempts to protect his small town from a relentless gang of outlaws. When the leader of the gang arrives in the town on the train at "high noon," Kane is forced to fight for its survival alone despite the protests of his newlywed bride (Grace Kelly).
'The Wild Bunch' (1969)
The pioneering film 'The Wild Bunch' remains a landmark in the western genre for its depiction of a diverse group of aging outlaws and their attempts to survive amid the rapid changes of the "Wild West." From raging villains to regretful killers, Sam Peckinpah's nuanced characters keep viewers invested in them every step along their journey.
'The Searchers' (1956)
John Wayne and director John Ford joined forces to create this 1956 Western classic. Wayne plays Confederate veteran Ethan Edwards whose return home from his three-year absence is met with tragedy when a Comanche raiding party massacres the rest of his brother's family and kidnaps his niece Debbie. He embarks on a settlement for retribution on a five-year journey to rescue Debbie from her Comanche captors.
'Blazing Saddles' (1974)
Widely considered to be one of the greatest western spoofs of all time, the movie was directed by legend Mel Brooks. Starring Cleavon Little, Gene Wilder, Slim Pickens, and Harvey Korman, this classic western is set in a town named Johnson. It centers around a corrupt politician's attempt to take over the area and his ultimate failure when pitted against an unlikely adversary – the town's first Black sheriff (Little).
Following the death of the original sheriff, Bart (Little) is sent by the government to take his place. He is vastly different than the townsfolk he's protecting and it takes some courage and ingenuity on his part to win them over.
'3:10 to Yuma' (2007)
'3:10 To Yuma' is a story of small-time rancher Dan Evans (Christian Bale), who faces the impending loss of his land and finds an avenue of reprieve by transporting notorious outlaw Ben Wade (Russell Crowe) to a prison in Yuma. Along their perilous voyage, they must brave numerous challenges posed by Wade's vengeful gang members whose sole mission is to thwart their trip.
'The Magnificent Seven' (1960)
Directed by the legendary director John Sturges, this Western 'Seven Samurai' follows the story of seven highly-skilled gunfighters brought together by a humble Mexican village to help them drive away a bandit threat. Steve McQueen, Charles Bronson, and Yul Brynner lead the all-star cast of 'The Magnificent Seven' in a heroic story where these strong men lay down their lives to protect strangers.
More BuddyTV Movie Suggestions
Looking for more great movie suggestions from BuddyTV? Check out the following lists next.