Are you looking for the greatest TV programs ever made? If so, this is exactly where to find them! Did your favorite show make the list of best TV series of all time?
Related: 10 Best Miniseries of All Time, Ranked by Viewers
We have researched and compiled a list of 10 amazing series based on IMDb ratings and viewership data. Ranging from crime dramas to animations – no matter your preference, there's something here for everyone. So grab some popcorn & settle in; it's time for an awesome TV marathon experience.
IMDB utilizes its user rating systems to create seemingly never-ending lists of top shows around all genres. One particular list is termed the "Top 250 TV Shows," thanks again to these scoring methods used by contributors online daily. Below are listed out ten highest-rated TV series according to those stats.
10 Highest-Rated TV Shows of All Time
The Sopranos (1999–2007) – 9.2
Game of Thrones (2011–2019) – 9.2
Cosmos: A Spacetime Odyssey (2014) – 9.3
Avatar: The Last Airbender (2005–2008) – 9.3
The Wire (2002–2008) – 9.3
Planet Earth (2006) – 9.4
Band of Brothers (2001) – 9.4
Chernobyl (2019) – 9.4
Planet Earth II (2016) – 9.5
Breaking Bad (2008–2013) – 9.5
10

'The Sopranos' (1999–2007)
Genre: Crime, Drama
Stars: James Gandolfini, Lorraine Bracco, Edie Falco, Michael Imperioli
IMDb: 9.2/10 416K | Popularity: #45 | Top 250: #9
No one can deny the magnificence that is HBO's legendary crime drama, The Sopranos. With its engaging storylines and sincere emotional depth, it became an instant classic that, even today, remains essential viewing for any television connoisseur. Led by James Gandolfini as Tony Soprano – a New Jersey mob boss confronting his inner demons amidst all of life's struggles.
The Sopranos set itself apart from anything seen before on TV in terms of production quality, character development, and storytelling power – making every Sunday night appointment with your favorite show truly special.
9

'Game of Thrones' (2011–2019)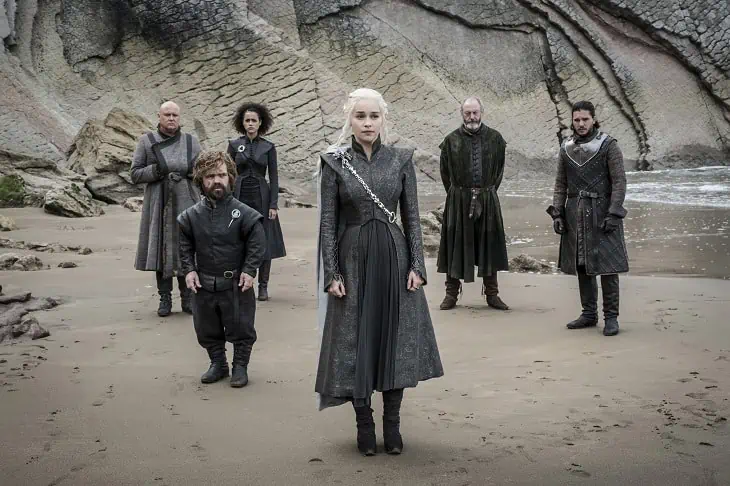 Genre: Action, Adventure, Drama
Stars: Emilia Clarke, Peter Dinklage, Kit Harington, Lena Headey
IMDb: 9.2/10 2.1M | Popularity: #15 | Top 250: #13
From the moment it premiered, Game of Thrones captured hearts and minds everywhere with its gripping storyline taken from George R.R. Martin's famous book series "A Song Of Ice And Fire."
With nine noble families vying for control over Westeros, this show offered us intense battles scattered throughout seven epic seasons that made up one phenomenal journey! Alongside exceptional writing, vast attention to detail brought every character and setting to life – making GoT an absolute masterpiece despite some dissent against the eventual finale.
For many viewers across different demographics, GoT has been more than just a TV Show – it represented a connection between 'friends' all around our connected world as we discussed theories or shared mutual sentiments while watching closely each episode unfold before us. No matter what happened in the end, we will always be thankful we got lost in these amazing storylines created by Benioff & Weiss.
8

'Cosmos: A Spacetime Odyssey' (2014)
Genre: Documentary
Stars: Neil deGrasse Tyson, Christopher Emerson, Keythe Farley, Piotr Michael
IMDb: 9.3/10 123K | Popularity: #1,404 | Top 250: #10
Dive into some awesome new discoveries and fascinating facts about the cosmos as you embark upon an exciting adventure in time and space with Neil deGrasse Tyson in this science documentary.
The show pays homage to its roots in Carl Sagan's original 1980s version while offering updated insights and featuring stunning computer-generated graphics as part of its narrative. With this cosmic journey, you will investigate distant galaxies, trace our existence back to ancient star systems and discover more about the mysterious vastness beyond what we can imagine. Don't miss out – check it out for an incredible voyage through space.
7

'Avatar: The Last Airbender' (2005–2008)
Genre: Animation, Action, Adventure
Stars: Dee Bradley Baker, Zach Tyler Eisen, Mae Whitman, Jack De Sena
IMDb: 9.3/10 326K | Popularity: #311 | Top 250: #7
An excellent example of how cartoons from the United States can successfully blend Eastern and Western sensibilities, Avatar: The Last Airbender has it all. Novel characters, amazing animation quality, and a captivating plotline make this show stand out. Set in a unique world full of fantastic elements, our protagonists bravely fight evil forces to protect their people — it's no wonder why so many fans remain loyal years after concluding.
Did you know each episode reveals bits about Avatar's mythical universe through intriguing opening lyrics? And also, how all four bending techniques are based on iconic martial arts like Tai Chi or Ba Gua? You can thank Michael DiMartino & Bryan Konietzko for such a memorable masterpiece.
6

'The Wire' (2002–2008)
Genre: Crime, Drama, Thriller
Stars: Dominic West, Lance Reddick, Sonja Sohn, Wendell Pierce
IMDb: 9.3/10 348K | Popularity: #47 | Top 250: #6
The Wire is an acclaimed crime thriller series set in the gritty city of Baltimore. The moody and nuanced show offers a unique perspective on drug dealing, law enforcement, politics, mass media, and daily life, as seen through its characters' eyes.
It's considered one of the greatest TV dramas ever made due to its exceptional writing, themes & characterization – not forgetting how it shines technically with excellent cinematography and sound mixing/editing. There's no denying that David Simon has created something truly remarkable here.
5

'Planet Earth' (2006)
Genre: Documentary
Stars: Sigourney Weaver, David Attenborough, Nikolay Drozdov, Thomas Anguti Johnston
IMDb: 9.4/10 212K | Popularity: #1,764 | Top 250: #3
The British miniseries Planet Earth has been widely beloved for its stunning look at the environment and its captivating portrayal of issues such as climate change. David Attenborough returns to narrate this series, taking us on an in-depth journey into expansive deserts worldwide and intimate shows featuring our North Pole region. Following Blue Planet, showrunners decided that a comprehensive exploration of land was needed so people could have a greater understanding of where they live and how it came to form over time – giving audiences real insight into our planet's transformation day by day.
Attenborough doesn't take the center stage alone; he rather takes viewers along through vivid footage as he interacts with many species across multiple climates, which lets you gain full knowledge about not only animals' lives – their different relationships amongst each other —but truly delves deep into exploring what living within these conditions is like too.
4

'Band of Brothers' (2001)
Genre: Drama, History, War
Scott Grimes, Damian Lewis, Ron Livingston, Shane Taylor
IMDb: 9.4/10 479K | Popularity: #200 | Top 250: #4
Based on Stephen E. Ambrose's 1992 non-fiction book, the epic series Band of Brothers is a hit with viewers and critics for its incredible cast and quality production values. It portrays the heroic journeys taken by Easy Company of the U.S. Army 101st Airborne Division in World War II to great effect and has been repeatedly praised for being one of if not the best miniseries ever produced on television.
From gripping action sequences to meaningful character development arcs, this show proves that it stands out from other dramas within its genre through the high craftsmanship put into every episode making sure each moment packs an emotional punch backed up by enthralling visuals. Had this show been a theatrical film instead, it easily would have made our list of best war movies.
3

'Chernobyl' (2019)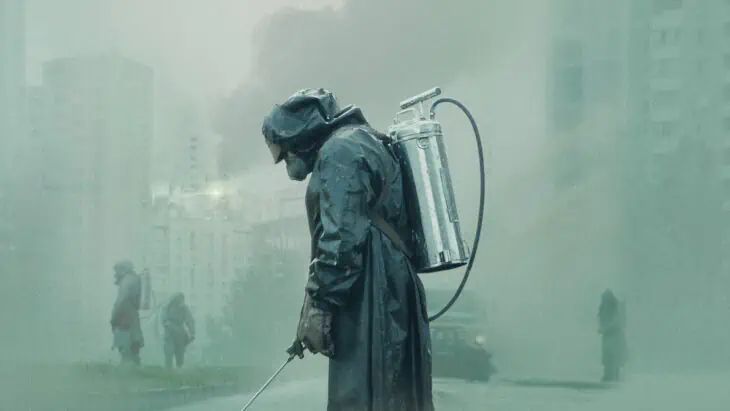 Genre: Drama, History, Thriller
Stars: Jessie Buckley, Jared Harris, Stellan Skarsgård, Adam Nagaitis
IMDb: 9.4/10 785K | Popularity: #159 | Top 250: #5
Craig Mazin's miniseries Chernobyl takes a heartbreaking look at one of the worst real-life disasters in history with catastrophic consequences. However, instead of simply an educational series about facts and figures, it is full emotion that brings home its tragic message; namely how the events have impacted people living near the nuclear reactor site and those sent to help manage its aftermath – both environmentally and politically.
An amazing ensemble cast, including Jared Harris, Stellan Skarsgard, Emily Watson, Jessie Buckley, Adam Nagatis, and Sam Troughton, brings each character vividly to life, making them far more than just historical footnotes or labels cut from a textbook page. This "nuke show" was recognized with multiple awards at the 2019 Emmys due to this effective dramatization, proving the power of an accurate and emotional representation.
2

'Planet Earth II' (2016)
Genre: Documentary
Stars: David Attenborough, Gordon Buchanan, Chadden Hunter, Elizabeth White
IMDb: 9.5/10 148K | Popularity: #709 | Top 250: #1
In this groundbreaking sequel from BBC's Natural History Unit, Planet Earth II provides more high-definition footage of the wild than ever before. Ten years after the award-winning original release, David Attenborough and Hans Zimmer take us on an exciting tour around our planet to bestow upon viewers stories about all kinds of species living in the most stirring climates imaginable – be it cities or mountains.
The documentary dives even deeper into symbiotic relationships between different animals that live side by side while providing a stark contrast showing how humans have forever changed life as they once knew it for many creatures across varied terrain. This narrative gives audiences insight into nature and themselves as we explore complex ecosystems that result in beautiful displays bigger than any creature could make alone, ultimately making connections between humanity's role here. And their place amongst such fascinating wildlife discoveries worldwide.
1

'Breaking Bad' (2008–2013)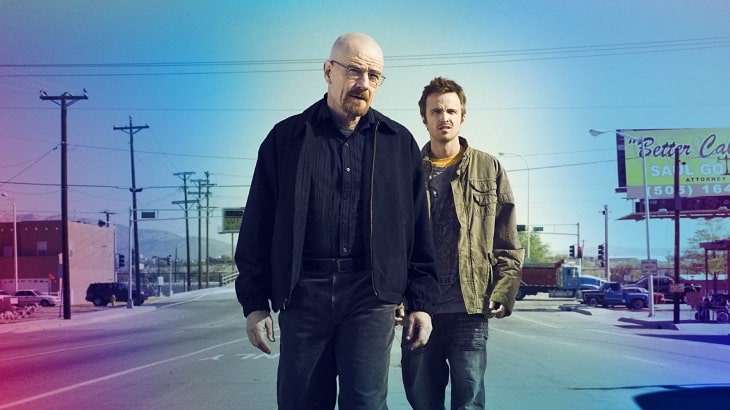 Genre: Crime, Drama, Thriller
Stars: Bryan Cranston, Aaron Paul, Anna Gunn, Betsy Brandt
IMDb: 9.5/10 1.9M | Popularity: #22 | Top 250: #2
Bryan Cranston and Aaron Paul deliver unforgettable performances in Vince Gilligan's Breaking Bad, the critically acclaimed TV series about an overqualified chemistry teacher diagnosed with terminal lung cancer. This by-gone high school instructor turns to manufacturing and selling methamphetamine alongside a former student in a desperate attempt at survival.
It remains one of the best television shows ever made because it boasts captivating acting, riveting scenes that further advance its plotline, and meticulous detail throughout every episode.
More BuddyTV Suggestions
So, did your favorite show make the list of the top 10 best TV series of all time? Check out some of our other top 10 lists next.