War is a living nightmare, wreaking its destruction on innocent lives and civilizations. It casts deep wounds that shape our history, present circumstances, and potential prospects for the future.
War has been a central theme in all of human history since its inception. It inspires both captivation and terror, with stories of bravery, resilience, and courage, as well as violence and death. It is the peak of danger – where any semblance of safety or security ceases to exist for those who fight. All that remains are humanity's yearning for survival against insurmountable odds.
Related: 10 Best Movies of All Time, Ranked by Viewers
Hollywood has no shortage of war films meant to both awe and educate. Some promote the best humanity can offer as people come together for a common cause. Others reveal the horrific truth behind conflict's brutality and man's capacity for harm on an unimaginable scale.
Here is the ultimate fan selection of the top 10 best war movies of all time, with a few honorable mentions. It includes some renowned, expected titles as well as a few unexpected choices.
10

'Das Boot' (1981)
Director: Wolfgang Petersen
Stars: Jürgen Prochnow, Herbert Grönemeyer, Klaus Wennemann
IMDb: 8.4 | Popularity: 2,131 | Metascore: 86
Wolfgang Petersen's classic film, 'Das Boot' (aka 'The Boat'), follows the real-life wartime experiences of Lothar-Günther Buchheim, as highlighted in his 1973 novel. Aboard Germany's U-96 submarine during World War II, the crew embarks on an expedition to find enemy ships. However, they quickly become prey instead of predators and must fight for their lives against unexpected danger.
The war movie forgoes overwhelming viewers with a deluge of frenzied action sequences, instead focusing on the soldiers' connections to each other. As they become reliant on one another to make it out alive, they also gain insight into their own lives and dreams. These moments of introspection build suspenseful anticipation that makes the grand scenes even more thrilling.
9

'Dr. Strangelove' (1964)
Director: Stanley Kubrick
Stars: Peter Sellers, George C. Scott, Sterling Hayden
IMDb: 8.4 | Popularity: 550 | Metascore: 97
An unforgettable classic of the war genre, 'Dr. Strangelove or: How I Learned to Stop Worrying and Love the Bomb' uses wit and dark humor to expose our heightened anxieties about nuclear warfare. Featuring Peter Sellers in three distinct parts, including that of Dr. Strangelove, the film depicts an impulsive general who unleashes a barrage of missiles upon the Soviet Union.
Through its satirical approach and intense examination of the nuclear arms race, this film does not shy away from raising contentious points. The picture conveys how near we are to destruction, urging audiences to snicker, fume, and dread what tomorrow might bring.
8

'Braveheart' (1995)
Director: Mel Gibson
Stars: Mel Gibson, Sophie Marceau, Patrick McGoohan
IMDb: 8.4 | Popularity: 380 | Metascore: 68
Related: 20 Best Mel Gibson Movies of All Time
Mel Gibson directs and stars in the epic war drama 'Braveheart.' The story follows Scottish warrior William Wallace, whose loved ones were taken from him by English invaders. Undaunted, he bravely embarks on a daring mission to take down a platoon of soldiers. His bravery serves as an inspiration for others to join his cause, ultimately leading them all into open rebellion against England and King Edward's oppressive reign.
While 'Braveheart' may not be flawless, it's the humorous and lighthearted moments that make it so beloved by fans. Its legacy is secured in part due to its sweeping action sequences, with Wallace leading his countrymen into perilous battles.
7

'Come and See' (1985)
Director: Elem Klimov
Stars: Aleksey Kravchenko, Olga Mironova, Liubomiras Laucevicius
IMDb: 8.4 | Popularity: 440
Elem Klimov's 'Come and See' is a powerful anti-war film, offering an unflinching look at the darkness and brutality of Nazi German occupation in Eastern European villages. Centered on Flyora (Aleksey Kravchenko), a young Belarusian teenager who joins the resistance movement to fight against them. This war movie gives viewers an immersive experience of what it was like for those living through these times.
As Flyora returns to his home, the audience will be witness to the same outrageous suffering he's experiencing. The movie refuses to pull any punches, showing how war can alter once-harmonious communities and swiftly spin into chaos.
6

'Grave of the Fireflies' (1988)
Director: Isao Takahata
Stars: Tsutomu Tatsumi, Ayano Shiraishi, Akemi Yamaguchi
IMDb: 8.5 | Popularity: 1,321 | Metascore: 94
As World War II draws to a close, two young siblings, Seita and Setsuko, must rely on each other for survival after an American bombing raid leaves them separated from their parents. 'Grave of the Fireflies' follows this heartbreaking tale of resilience as they strive in Japan during these turbulent times.
With stunning animation, 'Grave of the Fireflies' masterfully contrasts war's unforgiving brutality with captivating visuals. It unflinchingly captures the harsh reality and heartbreaking cost of conflict on innocent civilians.
5

'The Pianist' (2002)
Director: Roman Polanski
Stars: Adrien Brody, Thomas Kretschmann, Frank Finlay
IMDb: 8.5 | Popularity: 542 | Metascore: 85
Roman Polanski's award-winning film, 'The Pianist,' highlights the powerful story of Władysław Szpilman (Adrien Brody) – a Holocaust survivor and remarkable pianist. After his family is deported from their home, he is forced to find ways to survive under Nazi occupation in 1942 Warsaw. He is left isolated as he embarks on an emotionally charged journey for survival.
The war movie poignantly conveys the horrors of warfare and its consequences through a firsthand account of a suffering pianist. It not only candidly captures the immense human suffering caused by this conflict but also serves as a reminder of what people are capable of when pushed to their limits in times of crisis.
4

'Apocalypse Now' (1979)
Director: Francis Ford Coppola
Stars: Martin Sheen, Marlon Brando, Robert Duvall
IMDb: 8.5 | Popularity: 306 | Metascore: 94
Francis Ford Coppola's remarkable Vietnam War drama 'Apocalypse Now' is an unforgettable cinematic experience. It immerses viewers in a chaotic and surreal world where morality often seems lost. The darkly thrilling journey follows Captain Willard (Martin Sheen) on his quest to eliminate the renegade Colonel Kurtz (Marlon Brando), who has proclaimed himself a deity. This masterfully crafted movie will stay with you long after it ends – providing haunting reminders of our uncertain reality.
In the iconic war epic 'Apocalypse Now,' audiences are presented with a staggering display of set pieces, imagery, and an exquisite slow-paced narrative. It brings to light the true insanity faced by troops in remote locations. They must grapple between saving what remains of their humanity or succumbing to relentless chaos.
3

'Casablanca' (1942)
Director: Michael Curtiz
Stars: Humphrey Bogart, Ingrid Bergman, Paul Henreid
IMDb: 8.5 | Popularity: 693 | Metascore: 100
In 1942, during the midst of World War II, 'Casablanca' captivated audiences with its story about Rick Blaine (Humphrey Bogart), a man who unexpectedly reunites with his former love interest Ilsa Lund (Ingrid Bergman). These heart-wrenching events force him to confront the neutrality he has maintained in his nightclub and gambling den within Casablanca.
From its captivating characters to the legendary climax, this Academy Award-winning film, including Best Picture, sets a new standard for war movies. Its unique focus on romance lends itself to an emotional investment in both the choices the characters make and their relationships.
2

'Life Is Beautiful' (1997)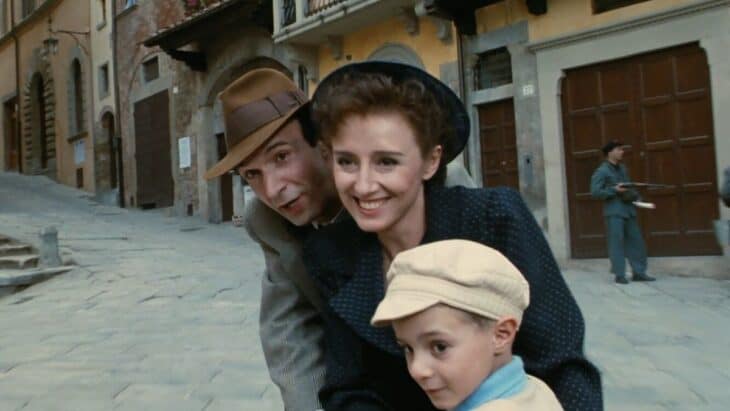 Director: Roberto Benigni
Stars: Roberto Benigni, Nicoletta Braschi, Giorgio Cantarini
IMDb: 8.6 | Popularity: 563 | Metascore: 59
In 'La Vita è Bella' (aka 'Life Is Beautiful'), Guido Orefice (Roberto Benigni) and his son Giosuè (Giorgio Cantarini) are sent to a Nazi concentration camp during World War II. As both a loving father and bookshop owner, the resourceful Guido utilizes wit and creativity to protect Giosue from the harsh truth about their situation by turning it into an imaginary game. He tells his son that if he follows all of the rules set forth for him, then he will receive a great prize in return.
In this acclaimed Italian-language war drama, viewers experience the heart-wrenching effects of warfare on families. It only takes a single viewing to be moved by its touching moments that showcase an unwavering fatherly love. Fans won't soon forget the raw emotions and powerful scenes of hope in even the direst circumstances.
1

'Saving Private Ryan' (1998)
Director: Steven Spielberg
Stars: Tom Hanks, Matt Damon, Tom Sizemore
IMDb: 8.6 | Popularity: 294 | Metascore: 91
Related: 10 Best Matt Damon Movies, Ranked by Viewers
With its profoundly stirring opening scene, 'Saving Private Ryan' transcends cinematic limits by plunging viewers into the agony of D-Day. The film follows a platoon of soldiers led by Captain John Miller (Tom Hanks) as they traverse behind enemy lines in search of one Private Ryan (Matt Damon) – and their mission to bring him back home safely.
If you're a fan of World War II or war movies in general, don't miss out on Steven Spielberg's classic 'Saving Private Ryan.' This film portrays the harsh realities of combat and pays tribute to the bonds formed between soldiers who are willing to make extraordinary sacrifices for their nation and friends.
0

"Schindler's List" (1993)
Director: Steven Spielberg
Stars: Liam Neeson, Ralph Fiennes, Ben Kingsley
IMDb: 9.0 | Popularity: 166 | Metascore: 95
Even though officially classified as a historical drama (by IMDb and Rotten Tomatoes), this Steven Spielberg-directed film covers the absolute ugliest side of war — the death of innocence. So much so, it's impossible not to cry watching it. We just couldn't leave this show off the list. Winning 7 Academy awards and being number #6 on IMDb's Top 250 list doesn't hurt either.
In the film, Liam Neeson plays a Nazi war supplier that owns a weapons factory run by Jewish slave labor. His greed turns to compassion for his workers (all Jews) and ultimately does everything he can to save their lives from the Holocaust. Ralph Fiennes plays a convincing ruthless Nazi officer who starts to have mixed emotions about his captors (one in particular).
"Schindler's List" deserves more than the #1 spot for the best war movie of all time. It's simply a timeless movie that should be obligatory to watch.
10 More Top War Movies Worth a Mention
War movies have the power to take viewers to a different world, offering an immersive and often harrowing account of history. From the terrors of D-Day to tales of heroism in troubling times, these stories showcase the courage and strength of the human spirit. Here is a selection of some of the great war movies that are worth mentioning for their remarkable depictions of war and its effects.
'Paths of Glory' (1957)
Director: Stanley Kubrick
Stars: Kirk Douglas, Ralph Meeker, Adolphe Menjou
IMDb: 8.4 | Popularity: 2,805 | Metascore: 90
Stanley Kubrick's classic war movie 'Paths of Glory' is a powerful examination of the military system. The lead characters, General Mireau (George Macready) and Colonel Dax (Kirk Douglas) are depicted as World War I leaders who unwisely send their troops on a suicide mission to penetrate a German trench. Through this film, Kubrick artfully conveys the devastating consequences that can arise from rash decision-making in wartime.
Kubrick artfully crafts the 'Paths of Glory' scenes and performances to seamlessly fuse entertainment with a powerful anti-war message. We are presented with an unflinching view of the ruthlessness of authority during warfare as its leaders are depicted as heartless careerists willing to do anything for personal advancement.
'The Great Dictator' (1940)
Director: Charles Chaplin
Stars: Charles Chaplin, Paulette Goddard, Jack Oakie
IMDb: 8.4 | Popularity: 2,675
One of Charlie Chaplin's most memorable works, 'The Great Dictator,' is an uproarious film that sees the actor playing both a Jewish Barber and Adenoid Hynkel (the tyrannical ruler of the fictional country Tomania). After Hynkel seizes control of Tomania, life for "The Barber" quickly turns upside down.
Through Chaplin's comedic genius, 'The Great Dictator' fearlessly critiques the fascist regimes of Hitler and Mussolini. His signature slapstick humor invites audiences to laugh at how foolish these tyrannical governments were – a pertinent reminder as World War II was still being fought when it premiered.
'Inglourious Basterds' (2009)
Director: Quentin Tarantino
Stars: Brad Pitt, Diane Kruger, Eli Roth
IMDb: 8.3 | Popularity: 143 | Metascore: 69
Quentin Tarantino's 'Inglourious Basterds' is an unforgettable war film that follows two captivating storylines. The first focuses on a troop of Jewish-American soldiers, who seek revenge against the Nazis by eliminating as many of them as possible. Meanwhile, another narrative depicts a young Jewish theater owner in France taking matters into her own hands to avenge her family, who had been murdered under Nazi rule.
If you haven't seen this masterpiece from Tarantino, it's easy to understand why critics consider it one of his greatest works. The captivating performances of Pitt as Lt. Aldo Raine and Waltz as Col. Hans Landa alone make 'Inglourious Basterds' worth watching. Memorable moments include Lt. Raine's comic struggle with Italian, along with Col. Landa's amusing attempts at wit throughout the movie.
The cinematography and production design in 'Inglourious Basterds' are breathtaking, while the script is witty yet thought-provoking. This bold reimagining of World War II offers a remarkable insight into this era that few can match. Thus, it's no surprise why this war movie ranks so high among critics and fans alike.
'Full Metal Jacket' (1987)
Director: Stanley Kubrick
Stars: Matthew Modine, R. Lee Ermey, Vincent D'Onofrio
IMDb: 8.3 | Popularity: 556 | Metascore: 78
The classic war movie 'Full Metal Jacket' is often regarded as a must-watch for any passionate film buff. Directed by the legendary Stanley Kubrick and featuring some of Hollywood's most iconic actors, this war epic follows Marine Corps recruits from their grueling basic training boot camp to the tumultuous battlefields of the Vietnam War.
Stanley Kubrick's iconic war film is renowned for its frank examination of the psychological effects that warfare has on soldiers. The movie exudes his characteristic flair, with an oppressive atmosphere and a probing investigation into the inner workings of each character.
'Shershaah' (2021)
Director: Vishnuvardhan
Stars: Sidharth Malhotra, Kiara Advani, Shiv Panditt
IMDb: 8.3
In 'Shershaah,' Director Vishnuvardhan takes us into the life of Indian Army Officer Vikram Batra as he serves his country during the Kargil War. The war movie keenly depicts what it's like to enlist in such a profession – from the trials and tribulations before joining to actually being on active duty.
The film pays tribute to Batra yet also takes an unflinching look at the complexities of war. Though it may not always dive deeply into all aspects of a conflict, it is certainly worth watching for anyone intrigued by Batra and his deeds during this battle. By honoring him as both a brave and heroic figure, the movie can educate us on the difficulties that come with waging war in all its forms.
'1917' (2019)
Director: Sam Mendes
Stars: Dean-Charles Chapman, George MacKay, Daniel Mays
IMDb: 8.2 | Popularity: 334 | Metascore: 78
'1917' is an intensely realistic account of the war, as we watch two young British soldiers risk everything to save hundreds of lives during World War I. Director Sam Mendes masterfully crafts a story while making sure you are aware of the danger and sacrifices that these brave men face. You can almost feel the pain and grief of these characters as they try to make it through one of history's bloodiest conflicts.
Take a journey with this 2019 Best Picture nominee and get lost in the story of pacifism during wartime. Vividly crafted to appear as one long take, after watching it, you'll be left gasping for air from its incredible suspense.
"Pan's Labyrinth" (2006)
Director: Guillermo del Toro
Stars: Ivana Baquero, Ariadna Gil, Sergi López
IMDb: 8.2 | Popularity: 851 | Metascore: 98
To conclude our overview of war movies, we have Guillermo del Toro's whimsical masterpiece set against the tumultuous backdrop of the Spanish Civil War. This fantastical take on a war genre provides an enjoyable and refreshing break from traditional depictions of warfare.
The movie follows young Ofelia (Ivana Baquero), who is sent to the country with her pregnant mother and soon finds herself in a strange world of fantasy. The whimsical visuals and gothic tones are unlike anything else seen in war films before, as we watch Ofelia confront inner demons while navigating conflict-ridden Spain.
'The Bridge on the River Kwai' (1957)
Director: David Lean
Stars: William Holden, Alec Guinness, Jack Hawkins
IMDb: 8.2 | Popularity: 2,611 | Metascore: 87
In 1957, 'The Bridge on the River Kwai' revolutionized the war movie genre and went on to receive a breathtaking amount of Oscar nominations—earning seven wins in total. Directed by the illustrious David Lean, it chronicles the incredible story of a group of British soldiers held captive in a Japanese POW camp during WWII.
'Platoon' (1986)
Director: Oliver Stone
Stars: Charlie Sheen, Tom Berenger, Willem Dafoe
IMDb: 8.2 | Popularity: 567 | Metascore: 92
'Platoon' stars Willem Dafoe and Charlie Sheen in one of the rawest and most devastating portrayals of war in film history. Oliver Stone wrote the screenplay based on his own experience during the Vietnam War, and the effects are both moving and disturbing at the same time.
The war film centers on a group of soldiers in the middle of the jungle and captures the full range of emotions that come with war—from fear to courage, from pain to comradeship.
'The Hurt Locker' (2008)
Director: Kathryn Bigelow
Stars: Jeremy Renner, Anthony Mackie, Brian Geraghty
IMDb: 7.5 | Popularity: 930 | Metascore: 95
In Kathryn Bigelow's 'The Hurt Locker,' a recent Sergeant assigned to an army bomb squad is met with disapproval from his peers due to his unconventional approach. This film offers a captivating perspective on modern warfare and the struggles that come with it, ultimately earning Bigelow her historic Academy Award win as the first woman Best Director.
More BuddyTV Movie Suggestions
Check out some of our other movie lists once you're looking for more movie-watching ideas. Here are a few suggestions.