Romantic comedies have been around since the beginning of the film industry, but they've had a bit of an up-and-down run over the years. From their heyday in the 1990s to Netflix's recent efforts to bring them back into mainstream popularity, we thought it was time to take stock and make a list of the ten best romantic comedies ever.
Related: 10 Best Comedies of All Time, Ranked by Viewers
We compiled a top 10 list and crunched numbers until we arrived at our ultimate list. As you'll see below, this is an eclectic mix that includes everything from black-and-white classics to modern blockbusters. Each one fits the American Film Institute's definition—a genre in which "the development of a romance leads to comic situations"—but more importantly, they're all funny movies with romantic happy endings.
10 Highest-Rated Romantic Comedies on IMDb
The Artist (2011) – 7.9
The Shop Around the Corner (1940) – 8.0
Roman Holiday (1953) – 8.0
Annie Hall (1977) – 8.0
The Princess Bride (1987) – 8.0
It Happened One Night (1934) – 8.1
Groundhog Day (1993) – 8.1
The Apartment (1960) – 8.3
Amélie (2001) – 8.3
City Lights (1931) – 8.5
10

'The Artist' (2011)
Director: Michel Hazanavicius
Stars: Jean Dujardin, Bérénice Bejo, John Goodman
IMDb: 7.9/10 | Popularity: 2,760 | Metascore: 89
An enchanting tribute to the golden age of cinema, "The Artist" tells a timeless story without uttering a single word. Directed by Michel Hazanavicius and starring Jean Dujardin as George Valentin and Bérénice Bejo as Peppy Miller, this silent black-and-white film follows their journey through early 20th-century Hollywood as they strive for success amidst the introduction of "talkies."
The Artist (2011) Official Trailer - Jean Dujardin, Bérénice Bejo Movie HD
Featuring brilliant Oscar-winning performances from these two leads, "The Artist" captures all emotions within its frames with stunning cinematography and clever writing combined with subtle visual effects such as smoke rising off cigarettes or light reflecting off tears. As their paths cross multiple times throughout their careers, they must decide between love or ambition until, eventually, fate decides for them.
9

'The Shop Around the Corner' (1940)
Director: Ernst Lubitsch
Stars: Margaret Sullavan, James Stewart, Frank Morgan
IMDb: 8.0/10 | Metascore: 96
Ernst Lubitsch's 1940 classic, "The Shop Around the Corner," is a must-watch for movie buffs. It serves as the inspiration for both Kathleen Kelly's Upper West Side bookstore and the 1998 film "You've Got Mail." This holiday season favorite stars James Stewart and Margaret Sullivan as a pair of squabbling sales clerks in a Budapest department store who don't know they're secret pen pals.
The Shop Around the Corner Official Trailer #1 - James Stewart Movie (1940) HD
Frank Morgan gives a captivating performance as Hugo Matuschek, their boss; plus, there's a running gag about musical cigarette boxes that never gets old. Whether you're looking for festive entertainment or something to fill your time, this timeless romantic comedy should be at the top of your list.
8

'Roman Holiday' (1953)
Director: William Wyler
Stars: Gregory Peck, Audrey Hepburn, Eddie Albert
IMDb: 8.0/10 | Popularity: 3,656 | Metascore: 78
Audrey Hepburn's character of Princess Ann takes a romantic journey through the streets of Rome in this classic film from 1953. When she arrives, her sole purpose is to fulfill her royal duties and responsibilities for the kingdom she hails from. Fortunately, fate intervenes when she meets Joe (Gregory Peck), an American journalist and ex-pat living in Rome.
Roman Holiday (1953) Trailer #1 | Movieclips Classic Trailers
Through their time together exploring the city, Joe seeks to take photos of princess Ann to sell at his job; however, he soon falls in love with her instead. By the end of their grand tour around Rome, they go their separate ways with bittersweet memories of their brief yet memorable romance while away on holiday.
7

'Annie Hall' (1977)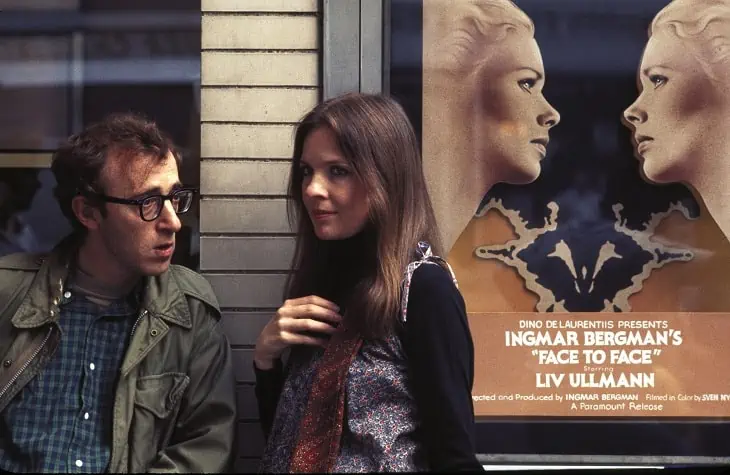 Director: Woody Allen
Stars: Woody Allen, Diane Keaton, Tony Roberts
IMDb: 8.0/10 | Popularity: 2,824 | Metascore: 92
"Annie Hall," released in 1977, is widely regarded as one of the greatest romantic comedies ever made. However, nearly two decades after its release, troubling allegations against its writer/director/star Woody Allen have cast a shadow over the film's legacy. It's impossible to separate art from the artist here; "Annie Hall" is unmistakably Allen's work – featuring his narration and humor familiar to fans and exploring the timeless themes of falling in love and coming-of-age. Diane Keaton delivers her signature performance as both dream girl and nightmare.
Annie Hall Official Trailer #1 - Woody Allen Movie (1977) HD
Yet even with these elements, there's something that sets it apart – a wistful sweetness that gives depth beyond just jokes or punchlines. There's nostalgia for an era when life seemed simpler yet more mysterious all at once; a time before we knew all too much about certain things.
6

'The Princess Bride' (1987)
Director: Rob Reiner
Stars: Cary Elwes, Mandy Patinkin, Robin Wright, Wallace Shawn, Billy Crystal
IMDb: 8.0/10 | Popularity: 319 | Metascore: 77
The phrase "as you wish" is the epitome of why Rob Reiner's adaptation of William Goldman's novel, "The Princess Bride," is one of the best romantic comedies ever. Cary Elwes and Robin Wright display undeniable chemistry as Westley and Buttercup when he whispers it to her. It incites laughter and shock when chanted down a hill by many characters throughout the film. And Peter Falk's delivery in the final moments will give you goosebumps every time.
The Princess Bride Official Trailer #2 - Wallace Shawn Movie (1987) HD
The movie has so many iconic lines that we still remember them today. This classic movie deserves its place among our most beloved films for all these reasons—and more.
5

'It Happened One Night' (1934)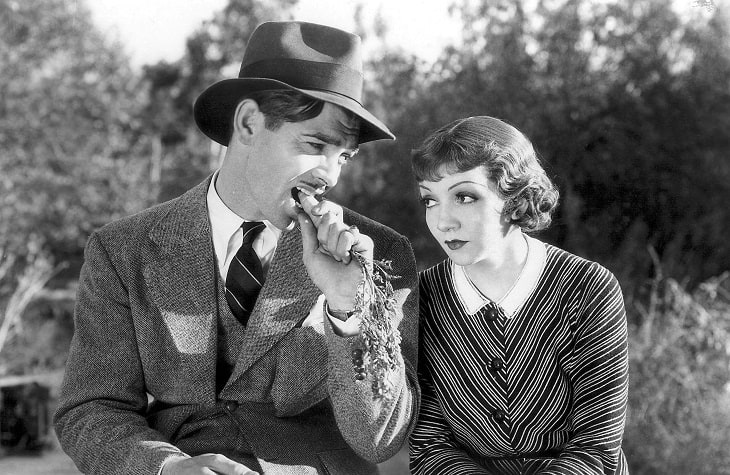 Director: Frank Capra
Stars: Clark Gable, Claudette Colbert, Walter Connolly
IMDb: 8.1/10 | Popularity: 2,963 | Metascore: 87 | Top 250: #243
Frank Capra's 1934 classic romantic comedy, "It Happened One Night," is a timeless film that still holds up remarkably well to this day. Starring Clark Gable and Claudette Colbert as a mismatched pair of opposites who fall in love on their cross-country adventure, the movie exemplifies the screwball comedies of its era thanks to its witty dialogue and wild yet lovable characters.
It Happened One Night (1934) Trailer #1 | Movieclips Classic Trailers
Despite the strict guidelines set by the production code, which prohibited scenes of "excessive passion," Gable and Colbert manage to capture the alluring chemistry between them without resorting to graphic displays. From Gable's iconic shirtless scene to Colbert's subtle leg display, these two characters' story of falling in love truly stands out among other rom-coms released during this time period. As they overcome obstacles such as Ellie running away from her arranged marriage, their relationship eventually turns into an undeniable romance – one that has since been imitated countless times but never quite matched.
4

'Groundhog Day' (1993)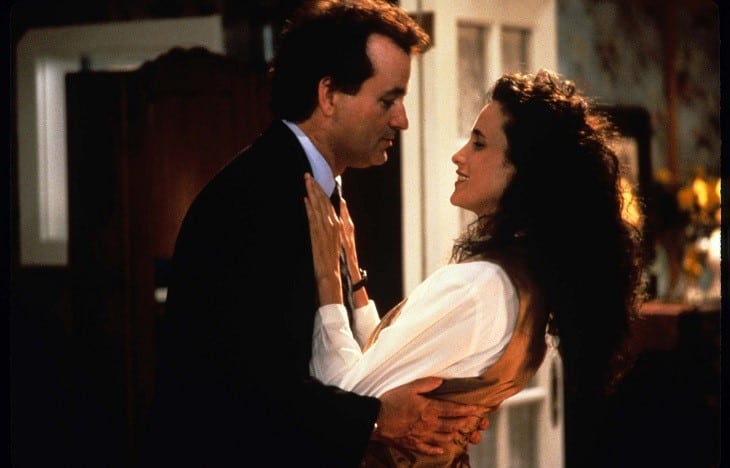 Director: Harold Ramis
Stars: Billy Murray, Andie MacDowell, Chris Elliott
IMDb: 8.1/10 | Popularity: 1,226 | Metascore: 72 | Top 250: #225
"Groundhog Day" is the perfect movie for those who don't usually enjoy romantic comedies because it features a hero who isn't all that happy within himself. Bill Murray stars as Phil Connors, a weatherman sent to Punxsutawney, Pennsylvania, to cover the annual ritual of finding out if the groundhog will see its shadow or not. To his surprise, he finds himself stuck in an endless time loop of living through the same day repeatedly.
Groundhog Day (1993) Trailer #1 | Movieclips Classic Trailers
At first, Phil uses this opportunity to try and manipulate people around him into giving him what he wants – especially when trying to get close to Rita (Andie MacDowell). However, as time goes on, he starts learning how to be kinder and more curious about life, which leads him away from his selfishness and cynicism.
Eventually, Phil realizes that simply enjoying being with Rita is enough for them both – only then does their romance truly begin. Overall, "Groundhog Day" is an amazing emotional journey filled with structure and wit, which I'm sure most would happily watch over and over.
3

'The Apartment' (1960)
Director: Billy Wilder
Stars: Jack Lemmo, Shirley MacLaine, Fred MacMurray
IMDb: 8.3/10 | Popularity: 2,087 | Metascore: 94 | Top 250: #101
"The Apartment" is a unique example of the romantic comedy genre, blending tragedy and humor to create an unforgettable story. It follows the tale of C.C. Baxter (Jack Lemmon), a nebbish pushover who finds himself caught up in his boss' secret sex lives and romances with other women, one being Fran Kubelik (Shirley MacLaine), an elevator girl in Baxter's building.
The Apartment (1960) | Official Trailer | MGM Studios
The movie expertly captures how transactional sex and romance can be both willingly and unwillingly within the workplace setting, even from a 1960s standpoint. It is a funny yet heartbreaking perspective that still resonates today when considering issues such as workplace harassment and bad behavior by those in power. With its unexpected plot twists and brilliant writing, "The Apartment" continues to make it worth watching again with fresh eyes – making it truly worthy of being called one of the great workplace comedies ever made.
2

'Amélie' (2001)
Director: Jean-Pierre Jeunet
Stars: Audrey Tautou, Mathieu Kassovitz, Rufus
IMDb: 8.3/10 | Popularity: 1,007 | Metascore: 69 | Top 250: #102
Amélie Poulain (Audrey Tautou) is a shy young waitress whose life takes an unexpected turn when she makes a remarkable discovery. Guided by her optimism and kindness, we follow Amélie as she traverses the beautiful city of Paris – its culture and architecture becoming almost like another character in itself. As Amélie's journey progresses, it becomes clear that even those who appear to be the friendliest can still feel lost and lonely.
Amélie (2001) Official Trailer 1 - Audrey Tautou Movie
'Amélie' is a romantic French foreign film with plenty of whimsy, making it an ideal choice for anyone who loves romance with a side of comedy. Nearly cracking the Top 100 movies on IMDb and receiving nearly eight-hundred thousand votes (the highest on this list), this rom-com ranks amongst the highest on our list.
1

'City Lights' (1931)
Director: Charles Chaplin
Stars: Charles Chaplin, Virginia Cherrill, Florence Lee
IMDb: 8.5/10 | Metascore: 99 | Top 250: #52
At the top of our list of best rom-coms, we have the master of silent films, mister Charlie Chaplin in a directing and starring role. With an almost perfect Metascore and the highest IMDb ratings, it's easy to see why this Chaplin film has stood the test of time.
City Lights (1931) Trailer #1 | Movieclips Classic Trailers
The classic romantic comedy "City Lights," released in 1931, follows the adventures of a tramp (Charles Chaplin) who has fallen deeply in love with a blind flower girl played by Virginia Cherrill. To help her regain her sight without revealing his true identity, he attempts to collect money from a wealthy but erratic tippler. Along the way, our hero must face numerous obstacles while hilarity ensues as he works hard to overcome them all.
One of the most beloved scenes of this movie comes when the tramp first meets the blind girl at night; even though she can't see him, his presence touches her heart and brings forth a warm smile – one that will remain etched in cinema-goers' memories forever.
15 More Popular Rom-Coms to Watch Next
The Proposal (2009) – 6.7
Clueless (1995) – 6.9
Gentlemen Prefer Blondes (1953) – 7.1
Pretty Woman (1990) – 7.1
Notting Hill (1999) – 7.2
Much Ado About Nothing (1993) – 7.3
10 Things I Hate About You (1999) – 7.3
Me Before You (2016) – 7.4
The Big Sick (2017) – 7.5
When Harry Met Sally… (1989) – 7.7
500 Days of Summer (2009) – 7.7
Silver Linings Playbook (2012) – 7.7
About Time (2013) – 7.8
Harold and Maude (1971) – 7.9
The Philadelphia Story (1940) – 7.9
'The Proposal' (2009)
The Proposal (2009) Trailer #2 | Movieclips Classic Trailers
Director: Anne Fletcher
Stars: Sandra Bullock, Ryan Reynolds, Mary Steenburgen
IMDb: 6.7/10 | Popularity: 1,013 | Metascore: 48
Sandra Bullock and Ryan Reynolds star in this lighthearted romantic comedy. Margaret (Bullock) is a cold, determined career woman who faces deportation to Canada unless she can find a way to stay. Her solution? Marry her kind-hearted assistant Andrew (Reynolds). As they reluctantly go through the motions of their arrangement, the two unexpectedly fall in love. The movie also features a fantastic performance by the late Betty White.
"The Proposal" offers insight into Margaret's transformation from an independent spirit with no room for vulnerability to someone willing to open her heart without losing her ambition. This rom-com will make you laugh and cry, reminding viewers of the power of love.
'Clueless' (1995)
Clueless (1995) Trailer #1 | Movieclips Classic Trailers
Director: Amy Heckerling
Stars: Alicia Silverstone, Stacey Dash, Brittany Murphy
IMDb: 6.9/10 | Popularity: 422 | Metascore: 68
Cher Horowitz (Alicia Silverstone) is an unashamedly stylish high school student who decides to take on a new project: transforming the clueless Tai (Brittany Murphy) into a popular girl like herself. Little does she know that this attempt will be met with unexpected results as Tai quickly becomes more popular than Cher at their local high school. This reality check leads her down a path of self-discovery and eventually falling for her former step-brother, Josh (Paul Rudd).
Related: The Best Teen Drama Movies Like 'After' (What to Watch Next)
Although the romance between ex-step siblings may make it impossible to remake today, this classic teen rom-com still hits all the necessary tropes for success and features unforgettable fashion trends.
'Gentlemen Prefer Blondes' (1953)
Gentlemen Prefer Blondes (1953) Trailer #1
Director: Howard Hawks
Stars: Jane Russell, Marilyn Monroe, Charles Coburn
IMDb: 7.1/10 | Popularity: 4,349
Lorelei Lee (Marilyn Monroe) and Dorothy Shaw (Jane Russell) are two showgirls with wildly different personalities who set off on an unforgettable adventure to Paris. Lorelei is a brazenly ambitious gold-digger, while Dorothy keeps her standards simple, looking for nothing more than good looks in her suitors. The journey brings them into contact with an array of admirers, including the suspicious father of Lorelei's fiancé and a wealthy older man.
The show gave Marilyn Monroe the opportunity to deliver her iconic performance of "Diamonds Are A Girl's Best Friend," which strikingly resembles Madonna's "Material Girl" music video. Released in 1953, 'Gentlemen Prefer Blondes' was instrumental in establishing Marilyn Monroe's status as a leading lady and box office draw.
'Pretty Woman' (1990)
Pretty Woman (1990) Trailer #1 | Movieclips Classic Trailers
Director: Garry Marshall
Stars: Richard Gere, Julia Roberts, Jason Alexander
IMDb: 7.1/10 | Popularity: 481 | Metascore: 51
'Pretty Woman,' starring Julia Roberts and Richard Gere as Vivian and Edward, respectively, is a classic romantic comedy that pushed the boundaries of what was considered an acceptable love story in the 1990s. The film begins with Edward hiring Vivian, a sex worker, to be his pretend girlfriend for the week. Although this situation might seem entirely out of place during its original release period, 'Pretty Woman' portrays it without judgment or prejudice.
The movie follows these two unlikely characters as they fall in love over the course of the week. What makes this movie stand out from other rom-coms is that it acknowledges Vivian's occupation but still gives her character a healthy and well-rounded development through her relationship with Edward – even when he falls short by chastising her lifestyle at certain points throughout the movie. Overall, 'Pretty Woman' provides an enjoyable watch while also tackling taboo topics in a refreshing way for its time period.
'Notting Hill' (1999)
Notting Hill Official Trailer #1 - (1999) HD
Director: Roger Michell
Stars: Hugh Grant, Julia Roberts, Richard McCabe
IMDb: 7.2/10 | Popularity: 1,069 | Metascore: 68
This romantic comedy is full of fun and surprises for viewers. Hollywood star Anna Scott, played by Julia Roberts, leads a luxurious life until she meets humble bookshop owner William Thacker (Hugh Grant). Although Anna proves to be a flawed leading lady when Will discovers her cheating on her current boyfriend with him, he continues to pursue her throughout the story in his lovesick state. Despite being hurt twice by this woman, Will remains devoted to Anna as they strive toward their happy ending.
The film offers an interesting dynamic between these two characters, who are both complex and imperfect in their ways. Not only does it provide entertaining viewing, but also memorable lines like "I'm just a girl, standing in front of a boy, asking him to love her" have become iconic over time.
'Much Ado About Nothing' (1993)
Much Ado About Nothing (1993) | Official Trailer | MGM Studios
Director: Kenneth Branagh
Stars: Kenneth Branagh, Emma Thompson, Keanu Reeves, Michael Keaton, Denzel Washington, Kate Beckinsale
IMDb: 7.3/10 | Popularity: 2,938 | Metascore: 80
With an all-star cast of Kenneth Branagh, Emma Thompson, Keanu Reeves, Michael Keaton, Denzel Washington, and Kate Beckinsale in this beloved adaptation of Shakespeare's "Much Ado About Nothing," it's surprising this movie didn't rank higher. Directed and scripted by Branagh, the film breathes life into Beatrice and Benedick—the archetypal couple whose witty bickering has inspired generations. Thompson and Branagh make an incredible pair, as their characters' sexual tension is only heightened by their sharp-tongued banter. Joss Whedon's 2012 rendition of the classic tale is also worth a watch for rom-com aficionados.
'10 Things I Hate About You' (1999)
10 Things I Hate About You -Official Trailer #1 (1999) Heath Ledger Movie
Director: Gil Junger
Stars: Heath Ledger, Julia Stiles, Joseph Gordon-Levitt
IMDb: 7.3/10 | Popularity: 313 | Metascore: 70
This classic romantic comedy will surely please any audience, as it takes its story from none other than William Shakespeare. '10 Things I Hate About You' follows the Stratford sisters, with popular younger sister Bianca (Larisa Oleynik) forbidden from dating until her antisocial elder sister Kat (Julia Stiles) does so first. To achieve this, Bianca's suitors enlist the help of school bad boy Patrick (Heath Ledger) to win over the hostile Stratford sibling and get Bianca out on dates.
This adaptation of 'The Taming of The Shrew' is a lighthearted and entertaining watch that has earned its place among some of the greatest rom-coms ever made.
'Me Before You' (2016)
Me Before You - Official Trailer [HD]
Director: Thea Sharrock
Stars: Emilia Clarke, Sam Claflin, Janet McTeer
IMDb: 7.4/10 | Popularity: 464 | Metascore: 51
Emilia Clarke and Sam Claflin star as Louisa and Will, the protagonists of this unconventional love story. Their relationship blossoms from an awkward working rapport to a deep and special bond despite Will's physical limitations.
'Me Before You' explores how two people can find solace in each other without any judgment or prejudice towards their various obstacles. The film portrays Louisa as a kind-hearted person who loves unconditionally while still giving Will agency over his own life decisions. Despite the difficulties they face, their connection is true and powerful – proving that love really can conquer all.
'The Big Sick' (2017)
The Big Sick Trailer #1 (2017) | Movieclips Trailers
Director: Michael Showalter
Stars: Kumail Nanjiani, Zoe Kazan, Holly Hunter, Ray Romano
IMDb: 7.5/10 | Popularity: 3,731 | Metascore: 86
Kumail Nanjiani and Emily V. Gordon's real-life courtship inspired one of the most refreshing romantic comedies in recent years. Starring Kumail as himself, Zoe Kazan as his partner Emily, and Holly Hunter and Ray Romano playing her parents, the movie follows their burgeoning relationship that is abruptly stopped when she falls into a coma due to a medical emergency. While she sleeps, Kumail has to find ways to bond with his future in-laws while also contending with the cultural obstacles he faces for not wanting an arranged marriage.
Despite its seemingly serious plotline on paper, this film, produced by Judd Apatow and directed by Michael Showalter, is full of humor – earning Nanjiani and Gordon an Oscar nomination for best original screenplay at the same time reinvigorating the genre.
'When Harry Met Sally…' (1989)
When Harry Met Sally (1989) - Official Trailer (HD)
Director: Rob Reiner
Stars: Billy Crystal, Meg Ryan, Carrie Fisher, Bruno Kirby
IMDb: 7.7/10 | Popularity: 2,052 | Metascore: 76
"When Harry Met Sally" is a beloved classic rom-com that continues to captivate audiences today. Meg Ryan and Billy Crystal deliver stellar performances as the two protagonists whose story of love found in unexpected places feels like it could have happened right next door. This film was ahead of its time, from Nora Ephron's clever dialogue to Rob Reiner's direction and Carrie Fisher and Bruno Kirby's supporting roles.
The movie delves into whether men and women can be just friends without romantic involvement, making it still relevant today despite some outdated gender stereotypes. And while there are plenty of funny moments throughout the movie, what makes this film so special is how real these characters feel onscreen – like they're living out their unique version of happily ever after. The timelessness of this story has made "When Harry Met Sally" one of the most iconic rom-coms ever created, but it also serves as a bittersweet reminder of all we lost with Nora Ephron's passing.
'500 Days of Summer' (2009)
500 DAYS OF SUMMER | Official Trailer | FOX Searchlight
Director: Marc Webb
Stars: Zooey Deschanel, Joseph Gordon-Levitt, Geoffrey Arend
IMDb: 7.7/10 | Popularity: 1,032 | Metascore: 76
Joseph Gordon-Levitt's Tom falls head over heels in love with Zooey Deschanel's Summer, who is not particularly interested in a committed relationship. Despite being aware of their incompatibility from the start, Tom can't help but be drawn to her and gets stuck in an unending cycle of longing.
The movie encourages us to understand and sympathize with Tom even as we recognize the risks of his unhealthy fixations on one person. It prompts viewers to contemplate what it means for two people to find themselves so strongly attracted yet unable to make things work out between them, which makes this flick deserving of its place among the top three films.
'Silver Linings Playbook' (2012)
Silver Linings Playbook Official Trailer #2 (2012) Bradley Cooper, Jennifer Lawrence Movie HD
Director: David O. Russell
Stars: Bradley Cooper, Jennifer Lawrence, Robert De Niro
IMDb: 7.7/10 | Popularity: 998 | Metascore: 81
This 2012 romantic comedy-drama follows the story of Pat Solatano (Bradley Cooper), who has recently been released from a mental institution and is trying to rebuild his life. Along the way, he meets Tiffany Maxwell (Jennifer Lawrence), an enigmatic young woman with her own struggles. Together, they take on the challenge of finding their own 'silver linings' in life.
At its core, this movie delves into some serious topics surrounding the human condition, such as depression, family dynamics, relationships, and self-acceptance. Through Pat and Tiffany's journey, we get to witness how important it is to confront our personal issues head-on if we are ever going to move forward in life – even with all of its humor, this film manages to be genuinely heartwarming when it comes down to two people who are imperfectly perfect for each other falling in love against all odds.
'About Time' (2013)
Director: Richard Curtis
Stars: Domhnall Gleeson, Rachel McAdams, Bill Nighy
IMDb: 7.8/10 | Popularity: 728 | Metascore: 55
In 'About Time,' starring Dohmnall Gleeson and Rachael McAdams as Tim and Mary, viewers are taken on a journey of love, family, and time. This romantic comedy is reminiscent of the classic film 'When Harry Met Sally,' with its focus on ordinary people in extraordinary circumstances. It follows the awkward leading man, Tim, as he learns how to use his incredible ability to travel back in time within his own life for something as basic yet powerful as love.
The story touches our hearts not only through exploring relationships between lovers but also those among families — particularly between father and son. Ultimately it encourages us to find joy in small everyday moments by teaching us about appreciating the beauty of things we may otherwise take for granted.
'Harold and Maude' (1971)
HAROLD AND MAUDE [1971 TRAILER]
Director: Hal Ashby
Stars: Ruth Gordon, Bud Cort, Vivian Pickles
IMDb: 7.9/10 | Popularity: 3,956 | Metascore: 62
Hal Ashby's "Harold and Maude" is an offbeat yet ultimately life-affirming comedy. Bud Cort plays Harold, an angst-ridden young man with a morbid outlook on life. His view of the world takes a dramatic turn when he meets Ruth Gordon's character, Maude, an eccentric septuagenarian who encourages him to appreciate the beauty of living.
The two learn from each other as they embark on adventures together through fields of flowers and have philosophical conversations. Despite their happy moments together, their story has a bittersweet ending that only Ashby could make uplifting.
'The Philadelphia Story' (1940)
The Philadelphia Story (1940) Official Trailer - Cary Grant, Jimmy Stewart Movie HD
Director: George Cukor
Stars: Cary Grant, Katharine Hepburn, James Stewart, John Howard
IMDb: 7.9/10 | Popularity: 3,632 | Metascore: 96
An all-time classic romantic comedy, "The Philadelphia Story" features a star-studded cast of Cary Grant, Katharine Hepburn, and James Stewart. This timeless story follows the journey of Tracy Lord (Hepburn), a wealthy socialite who struggles between her impending marriage to George Kittredge (John Howard) and the pursuit by two other suitors – Mike Connor (Stewart) and C.K. Dexter Haven (Grant). As Tracy navigates these conflicting relationships, she discovers what true love means in the process.
Grant's smooth charm helps bring out Connor, while Hepburn gives us an endearing performance as Tracy Lord; Stewart rounds off this trio with comedic moments that make viewers laugh throughout their journey together. It's no wonder why this movie has become one of Hollywood's most beloved romances ever made. The script is witty and full of charm that still resonates today, making it a must-watch for any fan of classic romance films.
More BuddyTV Movie Suggestions
Looking for more top-10 lists? We've got you covered. Check out these recent articles next.