The concluding episode of a television series can be an arduous task that stirs a wide array of emotions within viewers, leaving them gratified, astonished, or even heartbroken. Oftentimes, fan-favorite shows may have the rug pulled out from under them by networks or streaming services before they get the chance to finish their story arcs.
Related: Top 10 Best TV Series of All Time, Ranked by Viewers
But if a series is given room and opportunity, sometimes it concludes in perfect harmony – bringing everything full circle while satisfying long-time viewers with no sense of artificiality within its final moments.
The most unforgettable TV series finales are those that etch a lasting memory and become integral parts of popular culture. This article will delve into the top 10 most memorable TV series finales that captivate fans long after their initial airings.
From Friends to Breaking Bad — here are ten television series finales that nailed it.
Top 10 Best Series Finales Ever, Ranked on IMDb
Friends: "The Last One" – 9.6
The Americans: "START" – 9.7
Spartacus: "Victory" – 9.7
Hannibal: "The Wrath of the Lamb" – 9.7
Person of Interest: "Return 0" – 9.8
Mr. Robot: "Hello, Elliot" – 9.8
The Office: "Finale" – 9.8
Better Call Saul: "Saul Gone" – 9.8
Six Feet Under: "Everyone's Waiting" – 9.9
Breaking Bad: "Felina" – 9.9
10

Friends: "The Last One"
Genre: Comedy, Romance
IMDb: 9.6/10 16K
The Friends finale, "The Last One," signaled the end of an era for millions of fans across the globe. As the six friends embarked on new journeys, the tearful goodbyes, iconic Central Perk backdrop, and Ross and Rachel's long-awaited reunion made this series ending heartwarming and unforgettable.
After growing ever closer to one another during their time together, Monica (Courteney Cox) and Chandler (Matthew Perry) stepped into the next phase of adulthood after closing the doors of their impossibly large apartment for good. Even though much can be said about Ross' (David Schwimmer) manchild tendencies over the years, his final kiss with Rachel (Jennifer Aniston) was an iconic moment that will forever live on as both fans' favorite endgame couple.
9

The Americans: "START"
Genre: Crime, Drama, Mystery
IMDb: 9.7/10 4K
FX's Cold War spy drama "The Americans" came to a fitting and perfect conclusion in its finale, with Philip (Matthew Rhys) and Elizabeth Jennings (Keri Russell) facing the heartbreaking reality of leaving their children behind when they depart for Russia.
As usual, there were plenty of emotional moments throughout–notably, the tense parking garage scene where Stan (Noah Emmerich) finally exposes them after six seasons–culminating in one final montage as Paige (Holly Taylor) chooses to stay rather than join her parents.
In many ways, it was even more painful than if someone had died; while their marriage survived against all odds, they ultimately faced an irreparable loss. A profoundly bittersweet ending that showcased everything we have come to respect about this series over its run: thoughtfully understated yet powerfully affecting at every turn.
8

Spartacus: "Victory"
Genre: Action, Adventure, Biography
IMDb: 9.7/10 8K
The acclaimed Starz drama Spartacus came to a spectacular close with its finale episode. After enduring hardships throughout production, including the untimely passing of lead actor Andy Whitfield, viewers were finally treated to an action-packed and dramatic ending.
Led by hero Spartacus himself (voiced in this season by Liam McIntyre), we witness his forces face off against Roman general Crassus (Simon Merrells). Showrunner Steven S. DeKnight's script doesn't make it easy for us as he keeps the outcome uncertain even until the very last moment; Rick Jacobson helms what is truly an epic battle on TV-budgeted resources that will shock you despite all expectations.
This powerful conclusion is a testament to its success and confirms why this show has been so underrated during its three-season run – no wonder it gets such rave reviews!
7

Hannibal: "The Wrath of the Lamb"
Genre: Crime, Drama, Horror
IMDb: 9.7/10 14K
The final episode of the acclaimed television show Hannibal, "The Wrath of the Lamb," left fans shocked and delighted. Mads Mikkelsen and Hugh Dancy's performances as Hannibal Lecter and FBI profiler Will Graham, respectively, culminated in a finale that no viewer will soon forget. The dynamic between the two characters and Richard Armitage's chilling portrayal of their mutual enemy Francis Dolarhyde created an unforgettable ending to this memorable story arc.
The conclusion was packed full of tension as the pair faced off against each other in one last rooftop confrontation before they dramatically plunged over a cliff into an uncertain fate.
Fans had eagerly awaited this climax since season 3 began; ratings skyrocketed when it aired due to how beautifully it summed up all that came before – every painful push-and-pull between these two characters was succinctly confirmed by what is arguably Mads' best performance yet. While Anthony Hopkins' original portrayal launched his career in the 1991 film adaptation of Silence Of The Lambs, it seemed like he could have added another world-class interpretation if given more time on screen alongside Hugh Dancy–who certainly gave him a run for his money here.
The richness of the finale was felt outside its characters, too, with a fit-for-dessert scene featuring Hannibal's longtime friend and mentor Cordelia Du Maurier (Gillian Anderson) having her leg severed – glistening golden from roasting. It seemed clear who else might be joining in on that macabre supper.
After everything was said and done, fans awarded this episode an almost perfect rating due to how flawlessly it balanced humor and dread into one seamless piece of artistry, proving once again why we need more quality crime dramas like these depicted on our TV screens today.
6

Person of Interest: "Return 0"
Genre: Action, Crime, Drama
IMDb: 9.8/10 11K
In its shortened final season, CBS's Person of Interest sci-fi drama series provided a satisfying yet heartbreaking ending. John Reese (Jim Caviezel) sacrificed himself to destroy the machine known as Samaritan through an explosive missile launch.
Harold Finch (Michael Emerson) reunited with Grace (Carrie Preston) in Paris thanks to his selfless act. At the same time, Shaw (Sarah Shahi) and Fusco (Kevin Chapman) decided against leaving New York City for good, resulting in her taking out Root's murderer before answering a call from an unknown public phone.
The series finale of Person of Interest was a masterful display. It brought together the conflict between civilian safety and personal privacy rights and matters such as love, friendship, sacrifice, and life vs. death in an emotionally charged way that evokes meaningful reflections on humanity's relationship with technology.
With its intense action sequences mixed with thought-provoking moments to consider what ultimately holds value within our lives—the show concludes by emphasizing how those connections can never truly be severed from one another regardless if it is human or machine at stake, for balance will always remain integral.
5

Mr. Robot – "Hello, Elliot"
Genre: Crime, Drama, Thriller
IMDb: 9.8/10 19K
Mr. Robot tells the story of Elliot Alderson (Rami Malek), a cybersecurity engineer and hacker recruited by an anarchist known as Mr. Robot to take down the company he works for. In one thrilling climax of this crime drama series, Elliot makes his way to Coney Island, where he discovers that all is not what it seems when Mr. Robot reveals shocking truths about himself and those around him.
The last episode, "Hello, Elliot," presents viewers with emotionally satisfying payoffs broken up into various storylines while still including some unexpected surprises – no doubt contributing to its high rating on IMDb.
It's clear why this show has been so critically acclaimed worldwide – because it truly delivers in terms of great dialogue, acting performances, cinematic visuals, etc. No wonder there have been few, if any, shows that can replicate such gracefulness since then.
4

The Office – "Finale"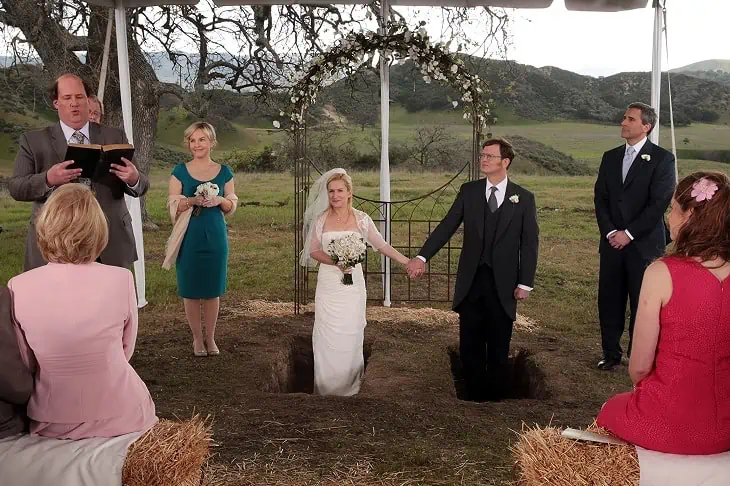 Genre: Comedy
IMDb: 9.8/10 20K
The Office bid farewell with a heartfelt and satisfying finale, even after Steve Carell's departure in Season 7. Despite some creative hiccups during its last two seasons, the NBC comedy made happy endings for many Dunder Mifflin characters. Plus, Michael Scott made an unexpected return providing viewers with an incredibly poignant "that's what she said" joke – making it all more memorable.
The series finale reunited beloved characters and provided the closure fans desired. Blending humor and heartfelt moments seamlessly, this television finale captured the show's essence and left viewers smiling.
In the episode, the Dunder Mifflin employees gather to attend the wedding of Dwight Schrute (Rainn Wilson) and Angela Martin (Angela Kinsey), with Jim partaking as "bestest mensch" – best man.
As Dwight and Angela tied the knot, all of their coworkers were present to witness this special day. As they celebrated, everyone remembered how far they had come since first starting at Dunder Mifflin years ago. They reflected upon how their relationships with one another had grown even stronger over time working for the same company.
After saying goodbye to everyone as wedding festivities ended, Jim (John Krasinski) and Pam (Jenna Fischer) made plans to move away from Scranton – heading off towards Austin so that Jim could take up an exciting job opportunity in sports marketing – but not before Dwight could part them with a gift of severance via firing.
3

Better Call Saul: "Saul Gone"
Genre: Crime, Drama
IMDb: 9.8/10 50K
For the acclaimed series Better Call Saul's Season 6 finale "Saul Gone," showrunner Peter Gould faced a monumental challenge: how to conclude Jimmy McGill's epic transformation into Breaking Bad's infamous Saul Goodman (Bob Odenkirk) in an emotionally satisfying manner.
The episode did so with consummate artistry and finery, painting a wistful narrative of reckoning one's past misdeeds as well as discovering chances for redemption. Eventually, after years of immoral legal maneuverings, Jimmy reclaims his birth name.
Related: "Better Call Saul" Season 6 Finale Recap and What's Next?
Sadly, he will still bear it while serving time at federal lockup accompanied by Kim Wexler, who loves him dearly. They share their last moment together, smoking cigarettes romantically before parting ways forever because they both know that nothing can ever be quite the same again.
Overall, AMC nailed this agonizingly difficult task presented better than expected, which was no small feat following on from its groundbreaking predecessor Breaking Bad, ultimately delighting fans worldwide.
2

Six Feet Under: "Everyone's Waiting"
Genre: Comedy, Drama
IMDb: 9.9/10 11K
The award-winning HBO series Six Feet Under finale left fans with a tearful goodbye and a fantastic montage. "Everyone's Waiting" featured each character at different life stages, from young adults to old age.
Each scene was devastating or breathtaking depending on which person it portrayed – but none so profoundly as Claire's (Lauren Ambrose) final sequence synced with Sia's moving song "Breathe Me," playing in stark contrast for an outstanding finale for a show about mortality itself.
It's safe to say the nation had never before encountered a family such as this. The Fishers were morticians, and their story formed one of the most passionate — yet cleverly constructed — dramas from the 2000s. This frequently overlooked series concluded with much more success than its counterpart, The Sopranos, showing through flash-forwards how each character would eventually die.
The soul-stirring conclusion comforted viewers that despite death being inevitable for all beings, our protagonists could live whole and joyful lives before saying farewell. Alan Ball did more than make death beautiful – he made it celebratory through this perfect ending sequence which tugged on everyone's heartstrings one last time.
1

Breaking Bad: "Felina"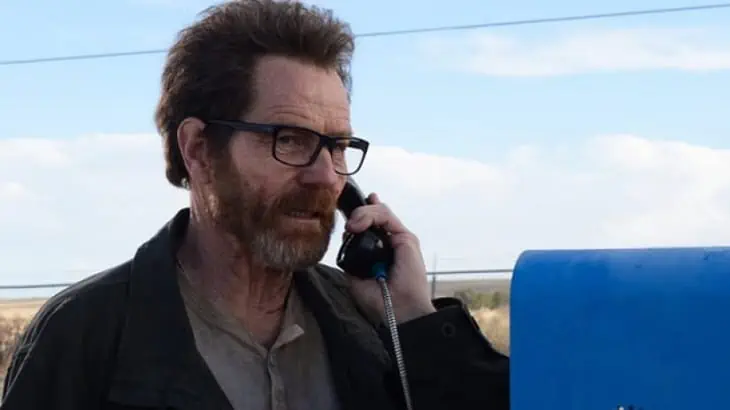 Genre: Crime, Drama, Thriller
IMDb: 9.9/10 127K
The exciting final episode of Breaking Bad, titled "Felina," earned accolades for resolving loose ends and delivering a fitting conclusion to Walter White's saga. The finale depicted Walter settling scores and exacting vengeance before meeting his ultimate fate. Fans and critics alike lauded this top final episode for its expert storytelling and gratifying resolution.
Breaking Bad took us on a complex and thrilling journey as it explored the depths people will go when facing financial strain, illness, or other life-altering events. Through Bryan Cranston's intense performance of Walter White's transformation from a high school science teacher to a drug lord, we witnessed firsthand how someone can descend into darkness seemingly out of nowhere.
Walter White (Bryan Cranston) was finally forced to admit that his ambition, not his family, drove him to lead the life he chose. After five intense years filled with disease, drug dealing, and violence in all its forms, he had finally lost all morality that once made him a protagonist worthy of admiration.
In the iconic finale scene, Walt faced his mortality with courage and strength before succumbing to an ultimate bullet-filled blaze of glory. Though there may have been death everywhere around him, he appeared almost peaceful at last – with what looked eerily similar to something akin to contentment spread across his still face.
This tragic conclusion may have been the last time viewers saw Walt on their screens before Jesse's (Aaron Paul) story continued in "El Camino: A Breaking Bad Movie" two years later; however, this bittersweet climax gave us closure as we watched our antihero go out on terms ultimately decided by himself.