Biographical films are beloved by viewers, the Academy Awards, and Hollywood alike. Their dominance in the cinematic landscape is evidenced by the plethora of Best Picture winners. Numerous actors have been honored for bringing these historical figures to life on screen.
Biopics have been a mainstay in the movie-making industry for years, never failing to deliver both critically acclaimed success and box office hits. Although the genre has seen a surge in popularity over the past few years, its power remains undiminished. Recent additions to the biography genre from 2022 like 'Thirteen Lives' directed by Ron Howard and 'Elvis' starring Tom Hanks and Austin Butler are proof of this.
Hollywood biopics, from stories of celebrated musicians like Mozart to infamous mobsters like Henry Hill, stand as some of the most acclaimed films. Many directors and actors have seen their careers skyrocket after appearing in a successful biopic – taking it as an invaluable opportunity for success within the industry.
Here are the top 10 best biopics ever made, ranked by viewers. We've also listed additional biographical honorable mentions below as well as a link to the metrics gathered, so keep reading.
10

'The Wolf of Wall Street' (2013)
Director: Martin Scorsese
Stars: Leonardo DiCaprio, Jonah Hill, Margot Robbie, Matthew McConaughey
IMDb: 8.2/10 | Metascore: 75 | Popularity: 116 | Top 250: 132
Despite being the number 10 ranking on this list, 'The Wolf of Wall Street' by Martin Scorsese just happens to be the most popular biopic at the moment and has the most IMDb votes (over 1.4 million).
Jordan Belfort dubbed 'The Wolf of Wallstreet,' played by Leonardo DiCaprio, was a multimillionaire stock-broker that could sell ice cubes (even pens) to Eskimos. However, he went to prison for money laundering and securities fraud due to his questionable business practices that included pump-and-dump schemes and penny-stock scams.
The movie easily resonates with viewers because everyone dreams of becoming filthy rich beyond measure. The story itself is very captivating but the excellent acting made this movie a massive hit. In fact, both DiCaprio and Jonah Hill were nominated for Best Performance by the Academy Awards, which highlights some of the best work in their careers.
9

'Dangal' (2016)
Director: Nitesh Tiwari
Stars: Aamir Khan, Sakshi Tanwar, Fatima Sana Shaikh, Sanya Malhotra
IMDb: 8.3/10 | Popularity: 4959 | Top 250: 125
'Dangal' is a Bollywood biographical sports drama film from Disney that's based on the Phogat wrestling family in India. It stars Aamir Khan as Mahavir Singh Phogat, a former wrestler who trains his daughters Geeta (Fatima Sana Shaikh) and Babita (Sanya Malhotra) to become international-level wrestlers. The film follows the struggles of Mahavir and his daughters as they fight against societal norms to achieve their dreams.
The biographical elements of the movie 'Dangal' make it a timeless sports classic, illustrating how tenacity and determination can help one overcome even the greatest of obstacles. The power of family bonds is showcased in a unique way, as well as the strength of the human spirit in the face of adversity. The movie also sheds light on the issues of gender inequality and the courage to strive for greatness, regardless of the odds.
Had 'Dangal' been an American movie, it would have topped our list of best sports movies on Disney Plus; even beating out 'Remember the Titans' (starring Denzel Washington).
8

'Lawrence of Arabia' (1962)
Director: David Lean
Stars: Peter O'Toole, Alec Guinness, Anthony Quinn, Jack Hawkins
IMDb: 8.3/10 | Metascore: 100 | Popularity: 895 | Top 250: 97
T.E. Lawrence's inspiring story of courage and resilience is brought to life in the 1962 classic epic adventure film, 'Lawrence of Arabia.' Directed by David Lean, this seven-time Academy Award winner stars Peter O'Toole in a powerful narrative about Lawrence's remarkable journey during World War I as he leads various Arab tribes against oppression from Turkish forces ruling over them at the time.
The movie follows Lawrence (Peter O'Toole) on an incredible mission that tests him both physically and mentally as he navigates dangerous terrain while also having to build trust amongst those who follow him into battle despite their doubts and suspicions towards him due to his inexperience with leading people into battle. Along the way, Lawrence faces many difficult decisions as well as personal battles within himself questioning whether or not it was worth it for these people to risk everything they had just for freedom from tyranny.
7

'Amadeus' (1984)
Director: Miloš Forman
Stars: F. Murray Abraham, Tom Hulce, Elizabeth Berridge, Roy Dotrice
IMDb: 8.4/10 | Metascore: 88 | Popularity: 658 | Top 250: 72
'Amadeus' is a beloved film from 1984 that tells the story of Wolfgang Amadeus Mozart, one of the greatest composers in history. Directed by Miloš Forman, this award-winning movie stars Tom Hulce and F. Murray Abraham in leading roles with other notable actors such as Elizabeth Berridge and Jeffrey Jones also making appearances throughout the narrative.
The plot begins at a performance of Don Giovanni where Antonio Salieri (played by F. Murray Abraham) first hears Mozart's genius music composed by Mozart (Tom Hulce). We get to glimpse how Antonio was once known for being an amazing musician himself but has since become frustrated with God's unfairness when comparing him to Mozart's divine talent. Nonetheless, he still respects and admires Mozart deeply even so. As their lives progress we are presented with some truly remarkable moments including clashes between them due to jealousy or musically related disagreements – all while taking part in mesmerizing musical performances featuring pieces like "Requiem" or "Le Nozze di Figaro" along the way.
At its heart, 'Amadeus' is a movie that celebrates not only Mozart's life but also serves as an ode to the power of music to move people. The film captures in a masterful fashion the beauty of classical music while simultaneously providing an inspiring account of two extraordinary musicians who must learn to come to terms with their individual talents and abilities. It has since won numerous awards including Academy Awards for Best Picture, Best Actor (F. Murray Abraham), and Best Director (Miloš Forman) – making it an unforgettable classic that stands the test of time.
6

'Hamilton' (2020)
Director: Thomas Kail
Stars: Lin-Manuel Miranda, Phillipa Soo, Leslie Odom Jr., Renée Elise Goldsberry
IMDb: 8.4/10 | Metascore: 89 | Popularity: 627 | Top 250: 107
The Broadway musical adapted movie, 'Hamilton,' is a cinematic masterpiece that follows the incredible journey of Alexander Hamilton – one of America's "Founding Fathers." From his humble beginnings as an immigrant from the Caribbean to becoming one of the most influential figures in American history, this film captures Hamilton's life and legacy with stunning realism and emotion.
The movie is praised for its nuanced portrayal of Alexander Hamilton (Lin-Manuel Miranda); it humanizes him while still highlighting his political genius and unwavering commitment to justice and democracy. With stunning visuals and an iconic soundtrack that blends hip-hop with traditional Broadway songs, this adaptation captures both the grandeur and struggles that defined Hamilton's life.
5

'Braveheart' (1995)
Director: Mel Gibson
Stars: Mel Gibson, Sophie Marceau, Patrick McGoohan, Angus Macfadyen
IMDb: 8.4/10 | Metascore: 68 | Popularity: 330 | Top 250: 76
Set during the late 13th century in Scotland, 'Braveheart' tells the story of Scotsman William Wallace (Mel Gibson) – a freedom fighter (war paint and all) who leads a revolt against King Edward I (Patrick McGoohan) and England's oppressive rule. This movie highlights themes of courage, resilience, and determination as Wallace rallies together a group of Scotsmen to fight for their independence from English occupation.
The film begins with William's childhood memories before fast forwarding to him as an adult taking up arms against Edward I's most trusted military leader – and his forces. As tensions mount between Scotland and England, Wallace forms unlikely alliances while attempting to free his homeland from oppression. He faces several harrowing battles but ultimately emerges victorious despite sacrificing much along the way – securing independence for all its citizens alike.
4

'The Intouchables' (2011)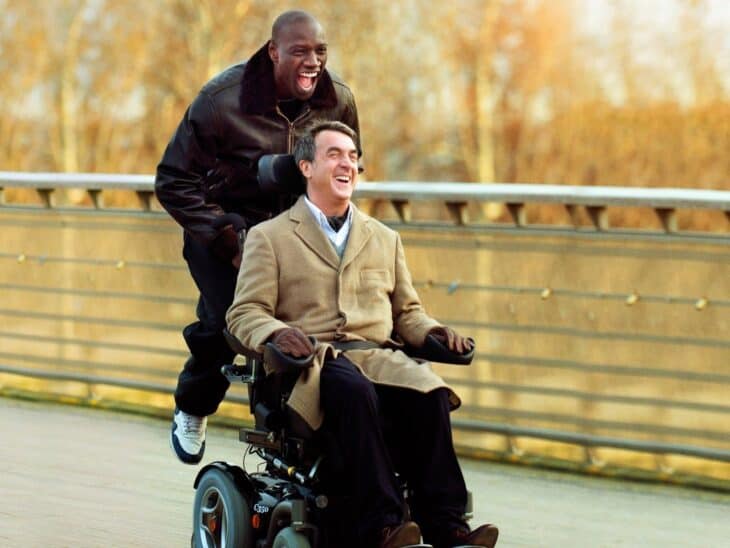 Directors: Olivier Nakache, Éric Toledano
Stars: François Cluzet, Omar Sy, Anne Le Ny, Audrey Fleurot
IMDb: 8.5/10 | Metascore: 57 | Popularity: 46 | Top 250: 664
'The Intouchables' is a French biographical drama that tells the story of Philippe (François Cluzet), an aristocrat who is left quadriplegic after a paragliding accident, and his caregiver Driss (Omar Sy), from the projects. From their first meeting when Philippe was desperately searching for someone to manage his disability and Driss offering an unconventional approach, we watch as these two men grow closer over time.
Philippe and Driss hail from completely different worlds—one is privileged, the other working class. But despite their differences, they soon form a bond of mutual respect and genuine affection that helps them to overcome any obstacle as a team.
Despite its low critics' Metascore, this biopic has been praised for its heartfelt story and strong performances that handle sensitive topics with grace and humor.
3

'The Pianist' (2002)
Director: Roman Polanski
Stars: Adrien Brody, Thomas Kretschmann, Frank Finlay, Emilia Fox
IMDb: 8.5/10 | Metascore: 85 | Popularity: 519 | Top 250: 32
'The Pianist' is a 2002 historical drama directed by Roman Polanski, telling the incredible story of Władysław Szpilman (Adrien Brody), a Polish-Jewish pianist who managed to survive World War II and The Holocaust in Warsaw. Even amidst such tragedy and despair, Szpilman's story highlights incredible acts of courage and resilience – particularly when he was saved from certain death by German officer Wilm Hosenfeld (Thomas Kretschmann).
The movie features an incredibly powerful moment between these two men which showcases their newfound bond. After discovering an abandoned piano amid the ruins of war-torn Warsaw, Hosenfeld gives it to Szpilman so that he can play Chopin – a brief but emotionally charged scene that captures the unique connection between these two strangers despite all they had experienced.
2

'Goodfellas' (1990)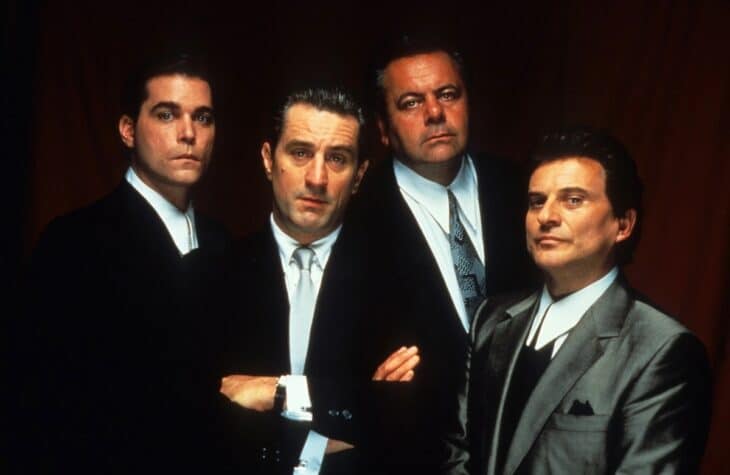 Director: Martin Scorsese
Stars: Robert De Niro, Ray Liotta, Joe Pesci, Lorraine Bracco
IMDb: 8.7/10 | Metascore: 91 | Popularity: 146 | Top 250: 17
Martin Scorsese's crime biographical 'Goodfellas' is a classic in every sense of the word – an all-out mafia "Hunger Games" where nobody's safe. This gritty and engaging film follows Henry Hill (Ray Liotta) as he comes of age within the Italian-American mafia. Alongside him are his partners Jimmy Conway (Robert De Niro) and Tommy DeVito (Joe Pesci), whose loyalty and friendship will be tested in this intense drama.
From start to finish, 'Goodfellas' keeps viewers on the edge of their seats with its captivating story arc that takes us through Henry Hill's rise to power and eventual downfall. Scorsese directs with an eye for detail, emphasizing each moment so that no emotion or nuance gets lost along the way. The performances by all three leads are remarkable, bringing out every ounce of humanity even when dealing with such a dark subject matter.
1

"Schindler's List" (1993)
Director: Steven Spielberg
Stars: Liam Neeson, Ralph Fiennes, Ben Kingsley, Caroline Goodall
IMDb: 9/10 | Metascore: 95 | Popularity: 164 | Top 250: 6
Oskar Schindler's story of heroism and courage is one that can never be over-acknowledged. In Steven Spielberg's 1993 film, "Schindler's List," we are taken back to World War II where a German armaments factory owner risks his own life in order to save over 1,200 Jews from certain death in Nazi concentration camps.
Schindler (Liam Neeson) initially has no concern for his Jewish workforce, but as he witnesses their persecution by the Nazis, he gradually develops deep compassion and empathy for them (even risking everything to save their lives). Throughout the course of three years, he employs cunning tactics such as bribery and personal connections in order to outwit Nazi officials while risking his own life in the process. His greatest triumph comes when he manages to convince SS Lieutenant Amon Goeth (Ralph Fiennes) not to execute an entire group of innocent people sentenced by firing squad – an act which would have been impossible without him there that day.
The historical biopic is widely regarded as one of the greatest movies ever made. "Schindler's List" is widely acclaimed for its biographical accuracy and emotional impact. The taglines "whoever saves one life, saves the world entire" and "the list is life" are evidence of how compelling the movie is. It won numerous awards including seven Academy Awards and was nominated for twelve in total.
Biographical Movie Honorable Mentions
These noteworthy biography genre movies include several more greats from directors Ron Howard, Martin Scorsese, Steven Speilberg, and Mel Gibson. Surprisingly, the highest-grossing biographical movie on IMDb's Top 250 movies list didn't make the top 10 ranked but is included below.
'Green Book (2018)
Director: Peter Farrelly
Stars: Viggo Mortensen, Mahershala Ali, Linda Cardellini, Sebastian Maniscalco
IMDb: 8.2/10 | Metascore: 69 | Popularity: 176 | Top 250: 133
'Green Book' is a 2018 American biographical comedy-drama that tells the uplifting story of an unlikely friendship between two men with contrasting backgrounds – African-American classical and jazz pianist Don Shirley, and Italian-American bouncer Tony Vallelonga. Set in 1962 during a tour of the Deep South, this movie highlights how empathy can bridge the gap between people with vastly different experiences and beliefs.
The amazing performances from Viggo Mortensen (Tony) and Mahershala Ali (Don), along with the wonderful script featuring hilarious moments as well as heartwarming scenes will have you laughing out loud one moment and then wiping away tears shortly after. 'Green Book' deals with important topics such as racism, understanding one another, trust building, and finding commonalities despite our differences.
'A Beautiful Mind' (2001)
Director: Ron Howard
Stars: Russell Crowe, Ed Harris, Jennifer Connelly, Christopher Plummer
IMDb: 8.2/10 | Metascore: 72 | Popularity: 607 | Top 250: 143
John Nash (Russell Crowe) was a Nobel Laureate in Economics and the subject of Ron Howard's 2001 biographical drama film 'A Beautiful Mind.' The movie follows the trajectory of John's life from Princeton University to becoming one of the most influential mathematicians in history, but it also follows his journey as he begins to suffer from paranoid schizophrenia. We witness how much strength and resilience it takes him just to survive day-to-day life with this condition – something only made possible through his wife Alicia's (Jennifer Connelly) unwavering love and support.
This movie serves as an important reminder that those who suffer from serious mental illnesses like Schizophrenia often require more than medication; they need strong relationships that not only provide emotional support but also help them navigate through their daily lives. Furthermore, 'A Beautiful Mind' demonstrates how even amidst despair courage can be found when facing insurmountable odds – ultimately reminding us of our potential for greatness if we have determination and compassion supported by loved ones around us.
'Raging Bull' (1980)
Director: Martin Scorsese
Stars: Robert De Niro, Cathy Moriarty, Joe Pesci, Frank Vincent
IMDb: 8.2/10 | Metascore: 89 | Popularity: 1030 | Top 250: 157
Martin Scorsese directed one of the most iconic boxing movies in the biopics genre with his 1980 release 'Raging Bull' – telling a powerful story of redemption and inner turmoil. At its heart is the character Jake LaMotta, played by Robert De Niro, a middleweight boxer whose personal struggles cast an ever-present shadow over his professional accomplishments in the ring. Alongside him throughout his journey are his brother Joey (Joe Pesci) and wife Vickie (Cathy Moriarty), both loyal friends through thick and thin.
The film follows Jake as he strives to achieve success against all odds; while he wins multiple titles within his weight class, it is not enough to satisfy him or alleviate his inner turmoil. We watch with bated breath as he faces off against Sugar Ray Robinson (Johnny Barnes) for the world championship title – an event that proves too much for him due to everything that has come before it both in life and in boxing culture at large.
'Downfall' (2004)
Director: Oliver Hirschbiegel
Stars: Bruno Ganz, Alexandra Maria Lara, Ulrich Matthes, Juliane Köhler
IMDb: 8.2/10 | Metascore: 82 | Popularity: 1197 | Top 250: 124
Set during the last ten days of Adolf Hitler's (Bruno Ganz) rule in Nazi Germany, 'Downfall' (aka Der Untergang) is a German evocative historical drama directed by Oliver Hirschbiegel. Through the eyes of Traudl Junge (Alexandria Maria Lara) – Hitler's secretary – we witness as plans to defend Berlin against the advancing Russian army are made and morale quickly deteriorates with each passing day.
The movie conveys both sides of this tragic period with a remarkable level of realism: not only do we see Hitler's increasingly erratic behavior but also those around him who remain loyal or fearful out of necessity or inertia. One scene, in particular, stands out for its emotional power and has been used in numerous memes and skits. Just in case you're wondering which scene, the German word for no is "nein" (pronounced like the number nine).
'The Elephant Man' (1980)
Director: David Lynch
Stars: Anthony Hopkins, John Hurt, Anne Bancroft, John Gielgud
IMDb: 8.2/10 | Metascore: 78 | Popularity: 1240 | Top 250: 155
A remarkable story of courage, compassion, and acceptance is brought to life in the 1980 British-American historical drama film directed by David Lynch. Based on the true story of John Merrick (aka The Elephant Man) played by John Hurt, it recounts how even with physical deformities that leave him ostracized from society due to his appearance and disability – he finds solace in those who accept him for who he is.
Dr. Frederick Treves (Anthony Hopkins) takes Merrick under his care; Carr Gomm (John Gielgud) provides him with shelter; and Mrs. Kendal (Anne Bancroft) befriends him at a theater. Through these characters' interactions with one another – each bringing different perspectives – we witness how compassion can prevail over prejudice as they strive to help Merrick not just survive but also lead an enriched life despite his misfortunes.
Ranking the Best Biographical Movies of All Time
A total of 28 biographical movies passed our criteria when looking for the best biopics of all time.
Our simple criteria included the following:
Top Biopics Sheet Legend
Green: ranked best in that category
Red: ranked worst in that category
Directors with background color: more than one biopic on the list
Best Biopics Key Takeaways:
'A Beautiful Mind' (2001) generated the highest US box office gross but only ranked #12
'The Wolf of Wall Street' (2013) is currently the most popular biopic and has the highest number of voters, but ranked #10
"Schindler's List" (1993) ranked #1 in voting and was the highest on IMDb's Top 250 list at #6
'The Intouchables' had the lowest Metascore on the list of best biographical films
'Laurance of Arabia' (1962) had the only perfect Metascore of 100
'Gandhi' (1982) ranked last on our list of best biopics and is #250 on IMDb's Top 250
Martin Scorsese had the most directed biopics on our list – all three movies were ranked in the top 15
Four directors had more than one film on our best biographical of all time list
Leonardo DiCaprio and Robert DeNiro tied for most appearances in biopics on our list with two a piece.
The top 10 biography movies are listed in reverse order by the IMDb voter ranking. We also listed each movie's IMDb Top 250 ranking and its popularity on IMDb (based on current search volume, not votes).
You can download the complete metrics here.
More BuddyTV Movie Suggestions
Ready for your next "best-of" movies list? Check out these if you haven't read them yet.