Sometimes, double standards are set for contestants on singing competition shows. That seemed to be the case this season on American Idol when the judges threw Jessica Meuse under the bus while letting average performances by some of the other singers slide. But that's not the only thing she's been through during her Idol journey.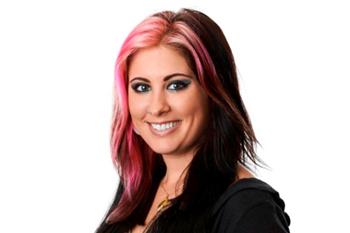 Jessica talked with reporters, including BuddyTV, about the drama surrounding her group in Hollywood Week, if she felt the judges were harsher on her than the other singers, performing original songs, a last-minute song switch, and much more. Also, could a Supernatural appearances be in her future? Read on to find out.
Hollywood Week Drama
Let's start off with the tumultuous round known as Hollywood Week. Some groups get along well and perform with ease. Then there are others who clash with each other and end up ruining their chances for success. It's great that Jessica was able to come through it and make it all the way to fourth place — no thanks to a certain singer's mother who kept arguing with her. 
When I asked her about the drama, she said, "Just to be blunt, I really don't care about that lady. I feel bad that she was so mean like that. I'm a strong believer in just being kind to people, treat people the way you want to be treated." She acknowledges that "The edit they did made me look kind of snide and I felt kind of bad about it because I'm really not that way. I didn't know how to handle it, so I just walked away. What do you do when somebody won't even let you talk? And I was like, whoah, where'd this come from?"
But fortunately, she continues to take the high road and doesn't stoop down to that mother's level. "I've relived [that moment] about a billion times now and it's all good. It all happened for a reason, like I keep saying about everything. But i just hope that she's happy and I hope her daughter is doing well because her daughter is a very sweet girl. I just wish the best for them."
Were the Judges Tougher on Jessica?
To Idol viewers, the answer is yes. And Jessica felt it was that way as well, but again, she's choosing to remain positive about the experience. "At times [they were harder on me], definitely, but I know it's part of the game and I have bigger things ahead of me. I'm very sure that I'm going to make it happen."
Regardless of the double standards, Jessica still is able to take away some valuable advice from the judges. Harry Connick, Jr. turned out to be her favorite of the three. "I like to compare him to somebody up in the stands while you're playing a football game. You don't necessary see what's about to happen or the things you're doing wrong out there on the field because you're down there and that's your perspective."
"But he's up there and he can see everything," she went on to say, "and he knows what he's talking about and he's like, oh, you're doing this, you need to do this. And he has the correct terminology and he understands it and he can pinpoint things and ultimately help you grow." 
"Blue Eyed Lie" and Other Original Songs
One of the things that Jessica is most known for during her time on Idol is her original song "Blue Eyed Lie," which she performed three times (for her audition, during Top 8 week and following her elimination).
She received very positive reactions but wasn't able to perform any more originals. "I was going to, but then I couldn't," Jessica revealed. "It's kind of out of my power at that point because — trust me — I would have done originals every week if I could have."
She went on to say, "[The show wants] cover song that a lot of people want to hear that they know. … So it's hard for a singer/songwriter who does a lot of their own materials the majority of the time to kind of adjust to that."
As for the positive reception to her original songs, "It's so surreal. I can't even think of words to describe it," she said. "['Blue Eyed Lie'] is so real to me and it happened to me, I lived it. That's word for word, it's so honest and it's so bare. It's my soul and it's like taking my diary and just reading it on national television. To hear that it has national exposure, to be on that stage and singing it, is such a huge blessing for me. And for people to actually like it is just absolutely amazing and I couldn't put it all into words if I tried."
Jessica also talked further about the meaning of "Blue Eyed Lie," which is about a former boyfriend and has helped her deal with tough situations. "It teaches me to let go and just not worry about things that you can't control anymore."
Covering Lady Gaga
When Caleb Johnson covered Lady Gaga's "The Edge of Glory," it seemed like an unexpected choice for him. And when Jessica also took on Gaga, on paper it didn't seem like a right fit, but ended up being her strongest performance of the night.
She is a fan of Lady Gaga, it turns out. "I have a very wide range of music that I love and listen to all the time, and hers is definitely included in that. And I believe that if you don't listen to the beat and the techno part of her music and you [just] listen to her voice, she really has such a soulful voice. and she's so creative and good at what she does."
When deciding to perform "You and I," she listened to the song "and I heard that potential to turn it into my own style, which is like that southern rock vibe that I did and I just had fun with it. I really did. And I loved it and I loved the vocal part of it. So I just ran with it." 
Switching Out Songs
During Top 4 week, fans were led to believe that the contestants were only singing two songs and at the last minute we found out there were actually going to be three performances each. While Jessica doesn't know why that was kept a secret for a while, she did reveal that they were originally supposed to perform original songs "because we're all songwriters in the Top 4."
They had even practiced the material and were ready. But for her, "So What" was "a last-minute switcheroo and I had to learn it in like a day. … The day of rehearsal, we made the cut for that third song. … It's definitely a little bit stressful to have to cram that in your mind last minute."
Unfortunately, the producers never explained to the singers why the switch occurred. "They were just like, oh, there's a change, you have to do this." It's still unclear what happened; maybe the producers decided it wasn't a good idea to have an entire round consist of songs nobody knows. But regardless, the singers were left in a tough position. "We were sort of just like, oh crap, we have to learn another song now," Jessica said.
What Does the Future Hold for Jessica? Supernatural, Perhaps?
Of course, there's the tour to look forward to this summer. But after that, "I want to collaborate with people. I want to write. I want to start putting together a CD. I want to do the graphic work for it or at least have some part in making it in the artwork." Aside from music, she also wants to "get in a little bit of acting. I want to produce. I want to engineer. I want to have a studio and be a touring artist. I want to do absolutely everything." That's quite the list of goals she has.
As far as the acting goes, Jessica would love to guest star in an episode of The CW's Supernatural. "I would love to even be just the creepy person in the background looking around for 10 seconds, that would be okay, I'd be down with that. It would just be amazing. I love that show, it's unhealthy. It's an obsession."
At the start of the Top 5 performance show, all of the contestants named off their celebrity crushes. And Jessica said Supernatural's Jensen Ackles. With that show being on a different network, the actor wasn't invited on. "I don't know what I would have done [if he had shown up], honestly. I probably would have been like, oh my gosh, and I would have fan-girled really hard." 
American Idol airs Wednesdays at 8pm and Thursdays at 9pm on FOX.
(Image courtesy of FOX)