It's nearly the holiday season. Are you ready for all of the holiday specials? New episodes of "Holiday Baking Championship" will be streaming this month and we can hardly wait to see all the holiday treats.
If you're feeling impatient, you can catch previous episodes of the cooking competition on FuboTV or Discovery+. You can also stream the show when you buy or rent it on Amazon Instant Video, Apple iTunes, or Vudu.
Wondering what's special about the "Holiday Baking Championship?" Stick with us in this article while we run you through what the show is all about — tell you more about the judges, hosts, season 9 contestants, and some of the past winners.
How Does "Holiday Baking Championship" Work?
"Holiday Baking Championship" shares a lot of similarities with some of the popular cooking shows you'll find around, like "Master Chef" or "Next Level Chef." Just like the others, there is prize money to win and there are competing chefs from across the country who jostle for the prize money — in the end, the best chef wins the day as decided by the expert judges.
The show begins with a set of contestants — the number of contestants has varied in different seasons — and in each episode, there are two rounds. In the "Preliminary Heat" which is the first round, the bakers create simple pastries or confections — like ice cream, marshmallows, cookies, white chocolate, and toffee — around a holiday theme.
Usually, all the contestants move to the second round — "Main Heat" — but the winner of the pre-heat round goes into the second round, where the bakers create a larger confection, with an advantage. At the end of the second round, the baker judged to have made the worst dish is eliminated from the championship. This process continues until there are three bakers left to challenge for the prize money in a final "Main Heat" episode where the winner is decided by the judges.
Being a seasonal show just like its spinoff series "Spring Baking Championship" and "Halloween Baking Championship," "Holiday Baking Championship" only streams at a particular time of the year — from early November until late December, covering the annual American Thanksgiving and Christmas seasons.
What is the Grand Prize if You Win the "Holiday Baking Championship?"
Contestants in the "Holiday Baking Championship" play for a sweet prize of $25,000. While some may argue that this isn't too much money, especially when compared to what the winners of some other cooking competitions get, one must also admit what a great deal of boost and help the prize money and publicity gives to the career of the holiday baking champion.
How Many Seasons and Episodes are There of "Holiday Baking Championship?"
"Holiday Baking Championship" made its debut on November 9, 2014, on Food Network and there's been no stopping the show since then. The show runs annually, which means so far there have been eight seasons and around 60 episodes. The finale of season eight aired on December 20, 2021. It's 2022 and we are looking forward to "Holiday Baking Championship" season nine which kicks off the holiday season on November 6th with its premiere. Season nine will include eight episodes in total and will run through December 19, 2022.
About the "Holiday Baking Championship" Season 9 Competitors
Aaron Davis — Surprise, AZ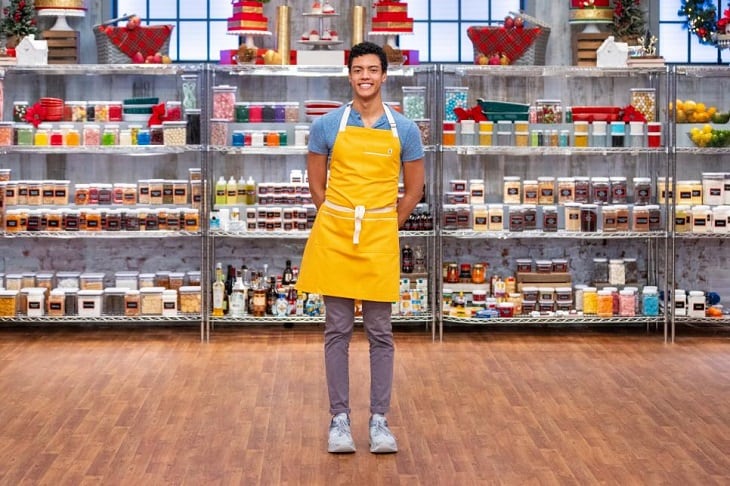 Aaron, a cake decorator from Arizona, is no stranger to the kitchen. He started baking when he was just four years old and went on to attend The Culinary Institute of America after high school. Now, six years into his professional career, Aaron wants to win this competition not only for the boost in confidence it would provide but also to make his younger self proud.
Christine Herelle-Lewis — New York, NY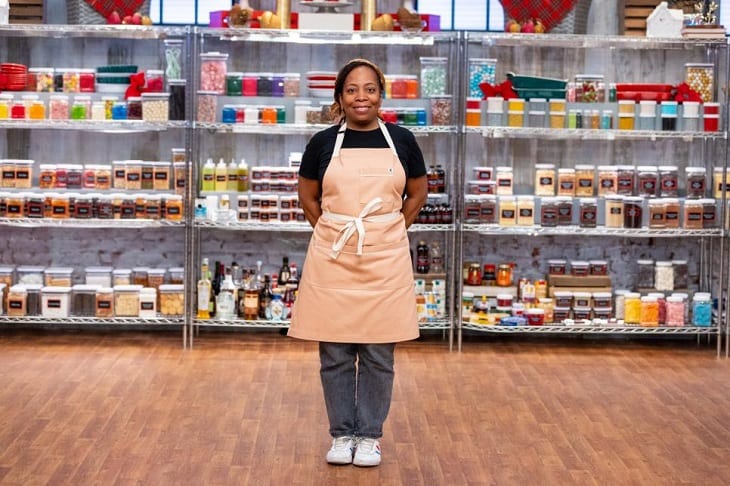 Christine is a French pastry chef originally from the suburbs of Paris. She decided to follow her passion and attended a pastry school in Paris when she was 40 years old. Now, she has worked as a professional pastry chef for 10 years and resides in New York. Christine wants to use the prize money from this competition to help build her own professional kitchen – both for herself and her family's sake.
Antoine Hopkins — Philadelphia, PA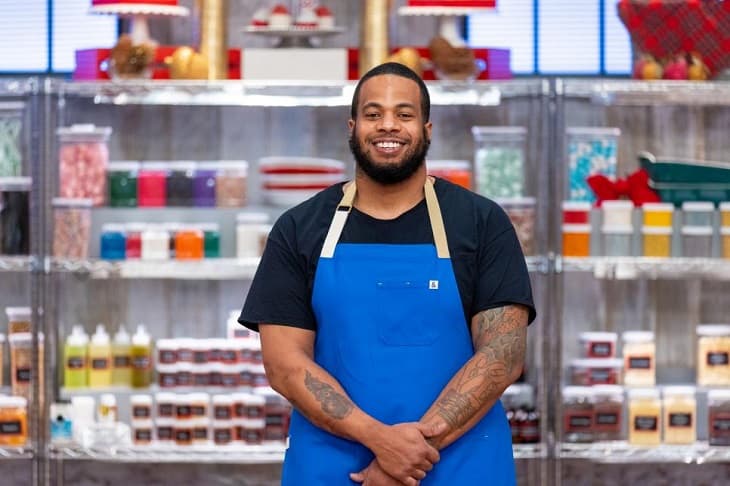 Antoine, a pastry chef from Pennsylvania and a single father, looks forward to the holidays every year. His kids have watched him progress through his baking career; from attending culinary school to now being a part of the Holiday Baking Championship. He wants to win not only for himself but also for his children–to show them that they can achieve anything they set their minds too.
RaChelle Hubsmith — Salt Lake City, UT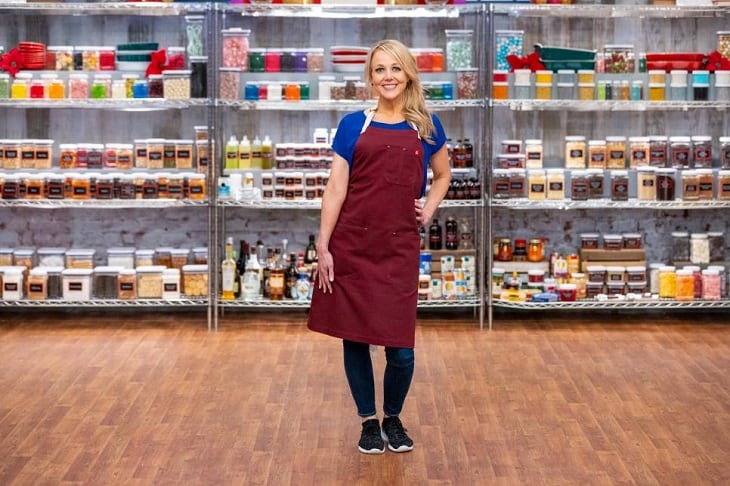 Meet RaChelle: a Utah-based home baker, real estate appraiser, wife, and mother of three. She is self-taught in baking but has won awards across the country for both her recipes and intricate designs. The next award on her list? The title of Holiday Baking Champion!
Bill Makin — Brooklyn, NY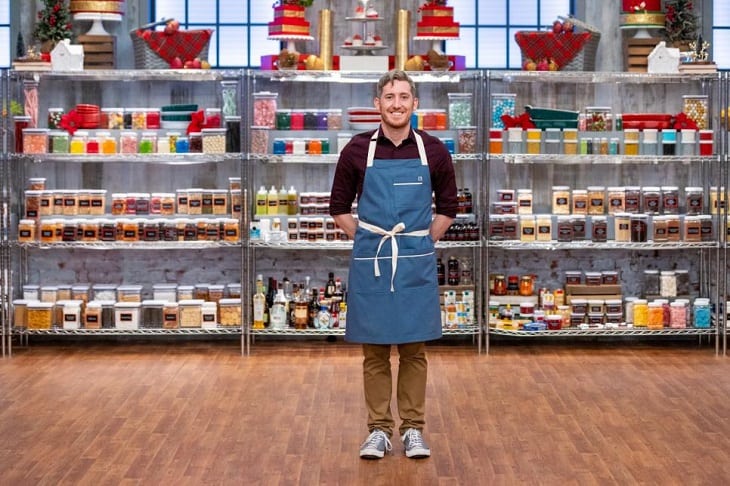 Bill, a New Yorker, picked up baking while he was in college and now enjoys cake decoration. He's not only a baker–Bill is also classically trained on the violin and has played with several orchestras. The holiday season means a lot to Bill since it's when he gets to make gifts for people out of his baked goods.
Aishia Martinez — Hoboken, NJ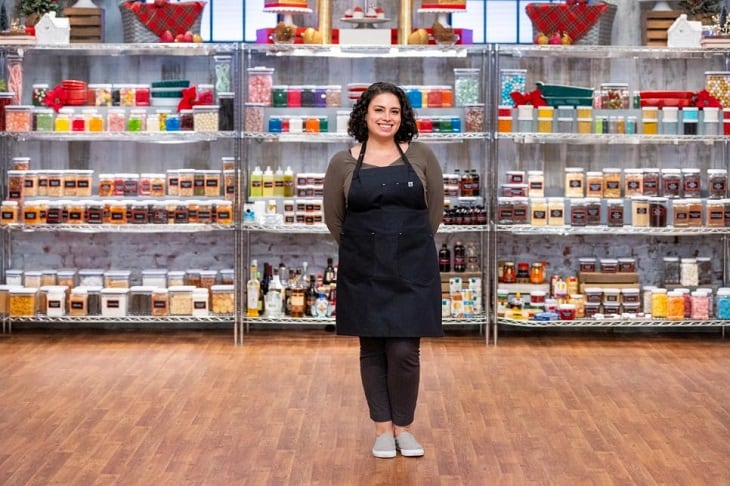 Aishia, a passionate pastry cook from New Jersey (originally Puerto Rico), loves to fuse traditional Puerto Rican flavors into her baking. If she wins the prize, she plans on using the money to open up a Latin-style bakery that celebrates the delicious recipes and flavors of her culture.
Harshal Naik — Bedford, PA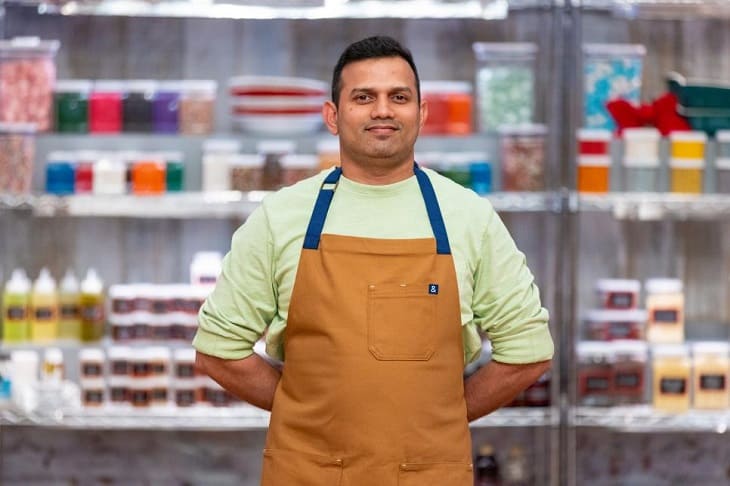 Harshal is a pastry chef originally from India. He settled in Pennsylvania after working on a cruise line for twelve years, during which time he also met his wife. Working on the ship exposed Harshal to all sorts of desserts from various cultures- an experience that has been invaluable as he prepares to compete in the Holiday Baking Championship.
Zakiya Newton — Gotha, FL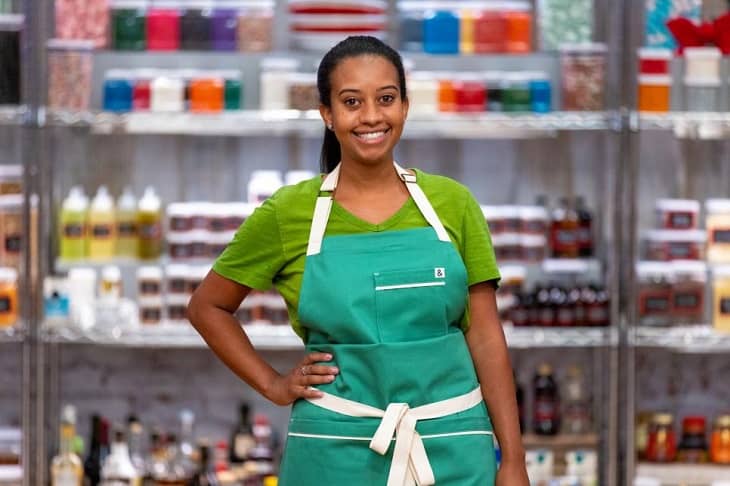 Zakiya, a home bakery owner from Florida and mother of two boys, wants to win the competition so that she can help her business grow. She loves how happy the holidays make people and hopes to bring some extra joy this year.
Sumera Syed — Dallas, TX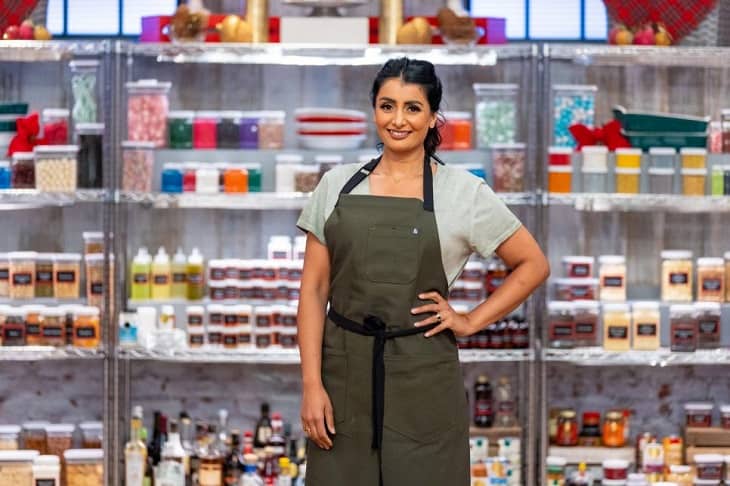 Sumera, a home baker and entrepreneur from London now living in Texas, is excited to compete in this year's holiday baking competition. A jack of all trades, Sumera has had careers as a singer in a heavy metal band, owning a private investigator license, and being an ordained minister; but her favorite pastime has always been holiday baking.
Dru Tevis — Rehoboth Beach, DE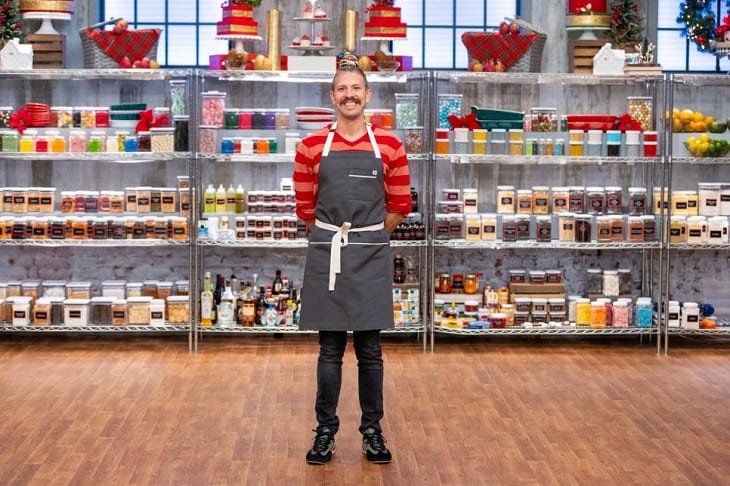 Dru is a corporate pastry chef from Delaware who oversees the dessert programs for 16 restaurants. He wants to win this competition not only to prove his talent but also to show he has what it takes to handle any and everything. Dru's husband and two dogs await him back at home; together they enjoy spending holidays making memories.
Jessica Wang — Los Angeles, CA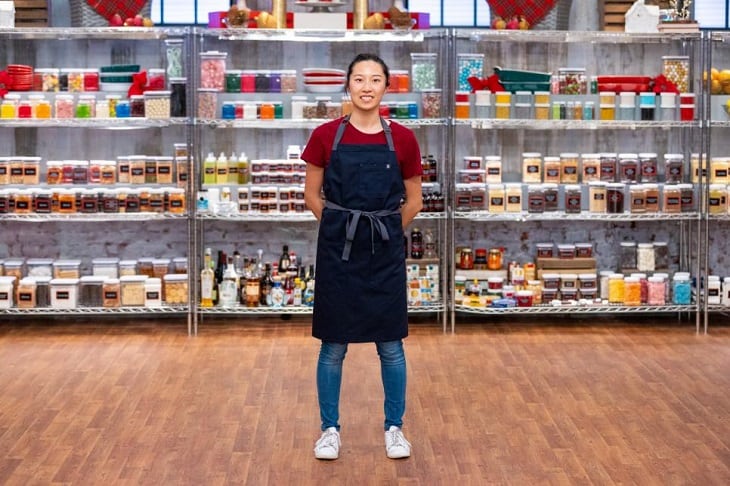 Jessica, a pastry food stylist from California, is fresh out of college with degrees in food business and management as well as baking and pastry. As a stylist, Jessica designs the foods that go on camera–but what she enjoys most is the decorating part of desserts. Even though she's the youngest competitor, don't underestimate her; Jessica is highly competitive and ready to win!
Kristen Weidlein — Staten Island, NY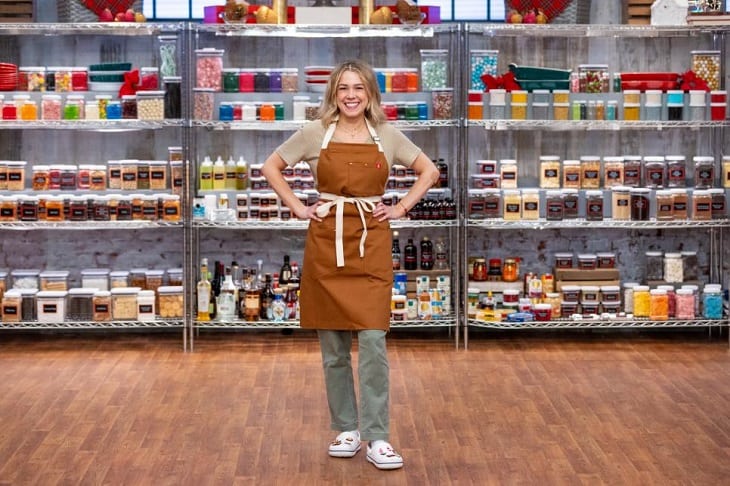 Kristen, an executive pastry chef from New York, is passionate about the holiday season for its cheerfulness. She has worked in a 2-star Michelin restaurant and various chocolate shops and bakeries – extensive experience she believes will give her an edge over other competitors.
About the "Holiday Baking Championship" Hosts and Judges
So far "Holiday Baking Championship" has had two hosts — Bobby Deen and Jesse Palmer — and four judges — Nancy Fuller, Duff Goldman, Lorraine Pascale, and Carla Hall.
Here's a little info about the hosts and judges of the show.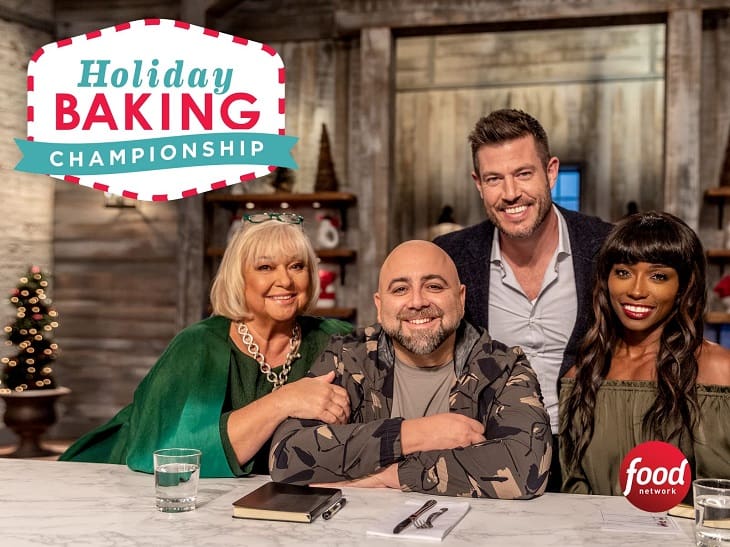 Bobby Deen:
American TV personality Bobby Earl Deen was a host on the show from 2014 to 2016. Deen has enjoyed a successful career as a television chef, previously serving as a host on "Spring Baking Championship" and co-host on the series, "Junk Food Flip." Prior to hosting the "Holiday Baking Championship," Deen and his brother, Jamie, had a TV show, "Road Tasted" as well as jointly published a couple of cookbooks. In 2012 Deen launched his own cooking show "Not My Mama's Meals."
Jesse Palmer:
Jesse Palmer took the baton from Bobby Deen in 2017 and has been the show's host since then. The television personality, sports commentator, and actor was a professional football player in the NFL in the early 2000s before pivoting into the media space. His TV career has been quite successful. Palmer was a contributor on ABC's "Good Morning America," host of the kickoff season of ABC's "The Proposal," host of "The Bachelor," and more recently, "The Bachelorette."
Nancy Fuller:
Nancy Fuller has been a judge on the "Holiday Baking Championship" since its inception. She is also a judge in other cooking competitions like "Clash of the Grandmas" and "Spring Baking Championship." She is a co-owner of a food service distribution company, Ginsberg's Foods.
Duff Goldman:
Cookbook author and television personality, Jeffery Adam "Duff" Goldman is another judge who has been featured in every season of the show. Goldman's work has been featured on several shows like "Food Network Challenge," "The Tonight Show with Jay Leno," "Oprah" and "Iron Chef America."
Lorraine Pascale:
"Holiday Baking Championship" is just one out of the many cooking shows Lorraine Pascale has featured on. She has also been featured on shows like "Baking Made Easy," "Donut Showdown," and "Home Cooking Made Easy," among others. She was a judge on the "Holiday Baking Championship" for the first six seasons, missing out on the seventh due to the COVID-19 pandemic.
Carla Hall:
Carla Hall replaced Lorraine Pascale in season seven. She is renowned for her appearance in Bravo's "Top Chef" and for being a co-host on "The Chew."
About Past Winners of the "Holiday Baking Championship"
Every season, the contestants bring their A-game, displaying their culinary skills and awesome dishes — bundt cakes, cranberry meringue pie, bread pudding, etc. — but in the end, there is always one winner.
Here's a quick introduction to the past winners of the show from seasons one to eight.
Season one:
California-based baker Erin Campbell beat runners-up Naylet Larochelle and Bill Lipscomb in a gingerbread challenge in the finale to claim the prize money.
Season two:
The final showdown for season two saw Meave Schulz compete against Steve Konopelski and Adalberto Diaz. The bakers were required to bake and decorate a sugar cookie tree portraying a holiday tradition. Schulz's artistic creativity with her isomalt sleigh won her the prize money. Schulz is a bakery owner based in San Diego, California.
Season three:
A self-taught chef and home baker, Jason Smith was the winner of season three — the first home baker to do so. During the main heat, the three finalists, Jason Smith, Shawne Bryan, and Cheryl Storms each used a wintery theme to create North Pole-inspired cakes. Smith's "Elves in the Workshop" had the judges' vote and he went home with the prize money. The Kentucky-based Cook also won season 13 of the "Food Network Star" competition.
Season four:
In the fourth season, it was Wisconsin native, Jennifer Barney, who won the competition. During the final challenge, the three finalists — Jennifer Barney, Joshua Livsey, and Stephany Buswell — were to make a holiday dessert inspired by any line from "Twelve Days of Christmas." Barney stole the day with her favorite cake recipe — gingerbread cake — decorated with eggnog buttercream to delict "six geese a-laying" in the Christmas tune.
Season five:
Mid-Ohio Valley native, Douglas Phillips beat eight other competitors to win the prize money with his masterful wine box-shaped chocolate cake.
Season six:
Melissa Yancs's blue and green holiday plaid cake ranked best when she went up against Sarah Wallace and Jennifer Clifford in the final round. The California-based bakery owner went home with the $25,000 prize money.
Season seven:
In the final episode, Julianna Jung competed against Megan Roundtree and Lorenzo Delgado — the winner of the peanut butter cookies versus chocolate chip cookies face-off with Eva Roberts. The bakers had five hours to make cakes portraying past, present, or future Christmas celebrations — Jung won the contest.
Season eight:
In the final episode, Sabrina Coombs and Jose Marchan were the bottom two after the pre-heat and had to face off. Both were allowed to have finalists O'Sullivan and Monette as sous chefs for the challenge. In the end, it was Coombs' ornament dessert that got the judges' nod as against O'Sullivan's cheesecake. In the final round, the three finalists were to make stunning cakes using a particular party theme — O'Sullivan picked tree trimming, Monette's theme was gift wrapping, while Coombs worked with New Year's Eve. Adam Monette's cake impressed the judges, and he was declared the winner.
Discover More About Your Favorite Movies and Shows on BuddyTV
BuddyTV is your first stop for the latest information about hot and interesting movies and shows. We will keep you informed whenever there's an update on "Holiday Baking Championship" season nine, so keep checking. Also, if you're curious to know what's happening with your favorite movies or shows, do check us out.