"Dollface" is a comedy series about female solidarity with Jules Wiley (Kat Dennings) playing the protagonist role. Produced by ABC Signature, this show has something surreal about it. It reveals what life is like for Jules, who suffers heartbreak after getting dumped by her longtime boyfriend. The character deals with the challenges of rejoining female social circles and rekindling lost friendships.
The plot takes unusual twists and turns to tell the story of female friendships in the modern world. Unlike most romantic comedies, the protagonist doesn't seek comfort in a new love interest but aims to mend broken friendships. As a result, the storyline has a fresh take on girl power and sisterhood spiced with a bit of humor.
Film pundits and viewers showered mostly positive reviews upon the show. Some reviewers praised the main cast's role in making the show a joy to watch. Others felt it had all the right ingredients for a hit comedy series: an enticing premise, a talented cast, and lots of quirky intrigues. The first and second seasons got more than 50% in approval ratings.
This guide talks about why Hulu canceled "Dollface," where you can still watch the show, the main cast, and the possibility of a season three return. You'll also find out what kind of entertainment content BuddyTV has.
Has "Dollface" Been Canceled?
Just three months after "Dollface" premiered its second season, Hulu pulled the plug on the show. A popular entertainment website was the first to break the news.
Among the stars of the series were Kat Dennings, Shay Mitchell, Brenda Song, and Esther Povitsky. The first season, which premiered in 2019, was renewed in January 2020, but filming couldn't start due to circumstances beyond the producers' control. Created by Jordan Weiss, the show's two seasons aired 10 episodes each. Michelle Nader played a prominent role in its production as the executive producer and showrunner.
Why Was "Dollface" Canceled?
Hulu's cancellation after two seasons came as a shock for many fans. The news came right after filming delays during season two, owing to the global pandemic in 2020. The video streaming platform didn't say why it decided to pull the plug.
As a result, many "Dollface" cast members looked elsewhere for filming gigs and other types of work. Lilly Singh, who joined the cast in "Dollface" season two will be part of the upcoming Disney+ series "The Muppets Mayhem." In the meantime, Brenda Song landed a voice acting role in the Netflix animated series "Blue Eye Samurai."
Here are some recurring and guest characters you should know about.
Let's look at the recurring cast and characters first.
Beth Grant as Cat Lady
Santina Muha as Sky
Connor Hines as Jeremy (Jules Wiley's boyfriend)
Jayson Blair as Liam (Izzy's new love interest)
Lilly Singh as Liv (Stella's new love interest)
Now, check out the guest cast and characters.
Este Haim as Lemon (Stella's friend)
Camilla Belle as Melyssa (Jeremy's date)
Tia Carrere as Teresa (Stella's mother)
Shelley Hennig as Ramona (Jeremy's sister)
In the next sections, you'll learn more about the main cast and characters.
About the "Dollface" Cast
It's no secret that "Dollface" has a talented cast of seasoned professionals who play main, recurring, and guest roles. These cast members have helped make the show a hit. On November 2, 2018, the show's producers announced that Kat Dennings would play the leading role, alongside Brenda Song and Lex Scott Davis.
As the announcements rolled in throughout 2019, producers added new names to the talented cast members list. These names included Esther Povitsky, Shay Mitchell, and Goran Visnjic. Meanwhile, Jayson Blair, Chelsea Frei, Corinne Foxx, and Luke Cook joined the cast for recurring roles in 2021.
About Jules Wiley (Kat Dennings)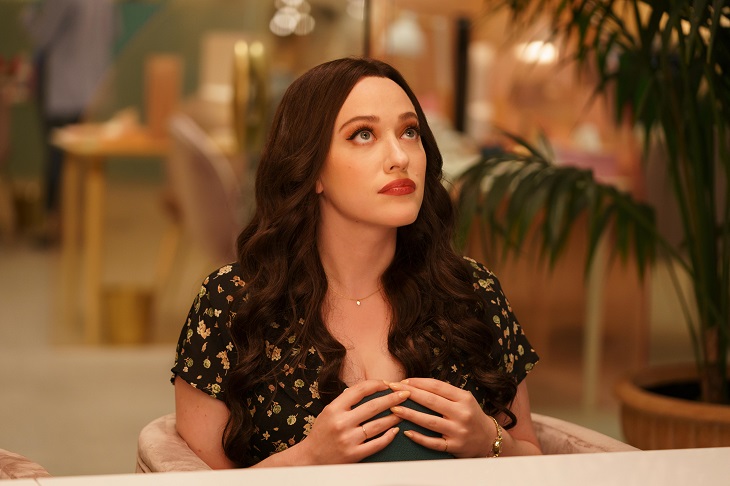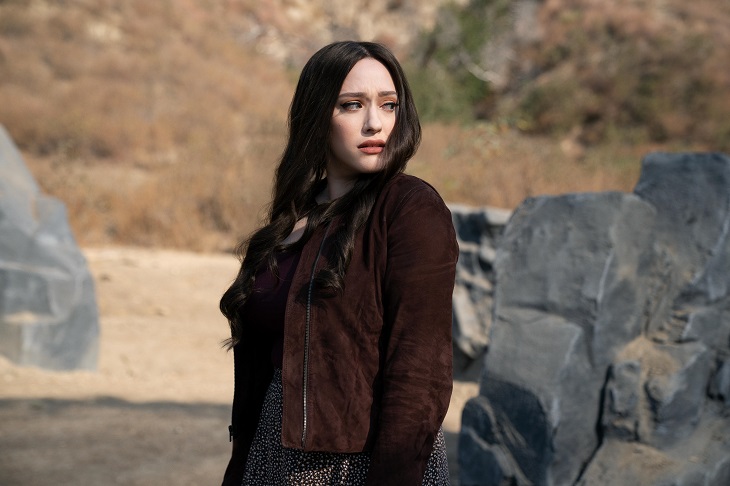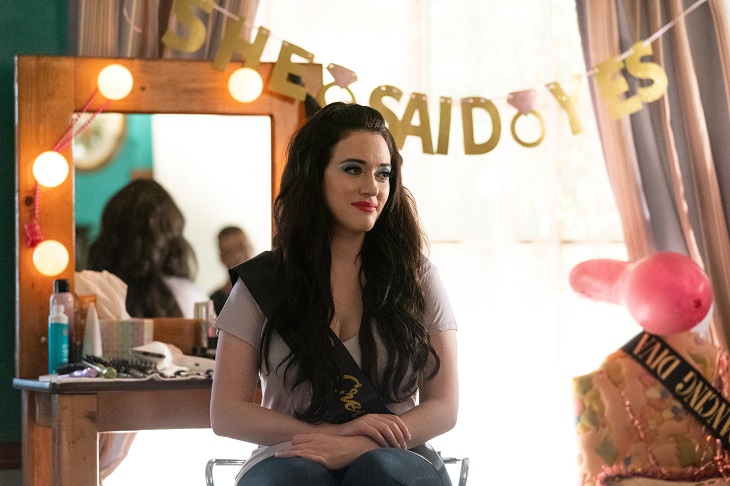 Kat Dennings plays Jules Wiley, a young woman who grapples with emotional challenges after breaking up with her longtime boyfriend, Jeremy. The character struggles to find her feet as she re-enters the social circles she had left behind.
In season two, Jules started to feel more assertive and outgoing as she dealt with the disappointment of the breakup. During this phase, her imagination ran wild, thanks to the advice she received from a bus driver known as Cat Lady. Dennings did a good job portraying Jules' challenges as she reconnected with other women. With time, Wiley's best friends help her come to terms with the emotional turmoil triggered by the breakup.
Katherine Victoria Litwack (Kat Dennings) is an actress who appeared in the superhero film "Thor: The Dark World" and the sitcom "2 Broke Girls." Born June 13, 1986, she started acting in 2000 and has since appeared in more than 40 movies and television shows.
About Madison Maxwell (Brenda Song)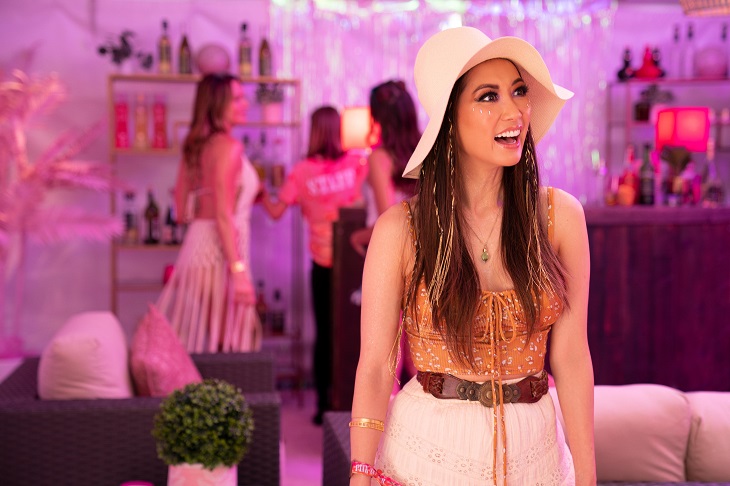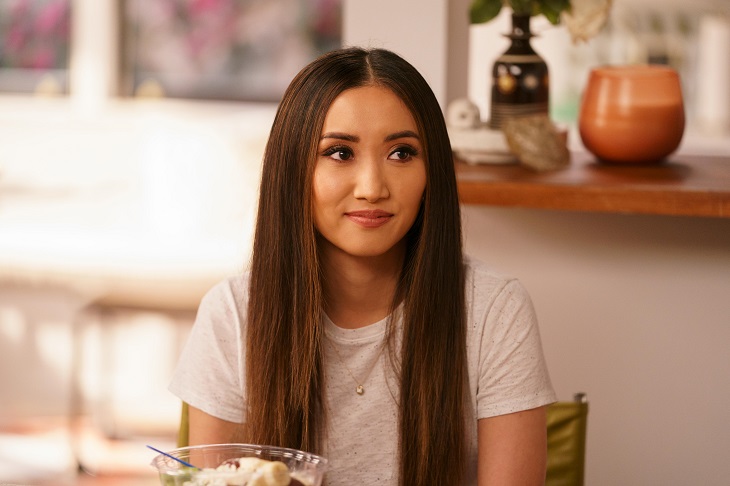 Madison Maxwell is a vibrant and assertive character who's Jules' best friend. It's no surprise that she quarrels with Jules a lot. Portrayed by Brenda Song, she's a public relations professional with a distinctly feminine way of doing things. She plays an important role in helping Jules get over the heartbreak.
In season two, Maxwell pushed Jules to become more outgoing and adventurous. It took persistence and charisma to convince a friend to get back out into the world.
Brenda Song does an impressive job of portraying the strong-willed character, thanks to her many years of acting experience. The actress has appeared in many roles on the Disney Channel, including as Tia in "Phil of the Future."
Some of her other film and television appearances include:
"Requiem" as Young Fong
"Wendy Wu: Homecoming Warrior" as Wendy Wu
"Secret Obsession" as Jennifer Allen Williams
"100 Deeds for Eddie McDowd" as Sariffa Chung
"The Ultimate Christmas Present" as Samantha Kwan
"Macy's Presents Little Spirit: Christmas in New York" as Paige
Born March 27, 1988, this talented star began her career at the tender age of six, working as a child model before making guest appearances on the comedy TV series "Thunder Alley" (1995). Between 1995 and 2022, she appeared in more than 70 movies and television shows. Brenda Song is so talented, it's no wonder she has attracted recognition several times. Her role in the film "The Ultimate Christmas Present" (2000) earned her the Young Artist Award.
About Stella Cole (Shay Mitchell)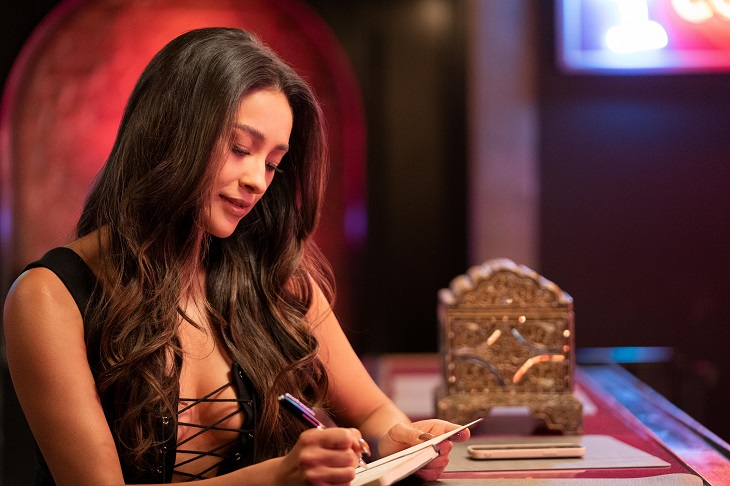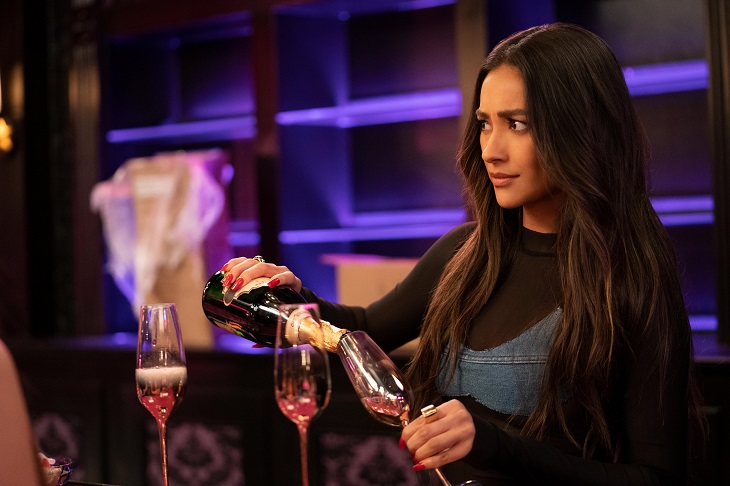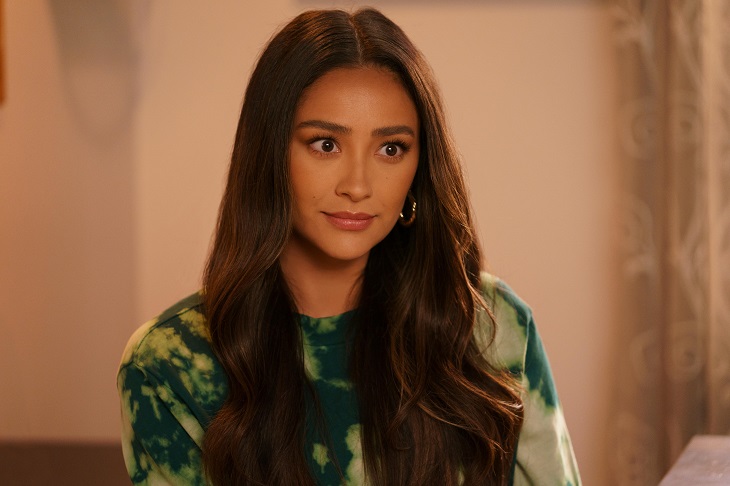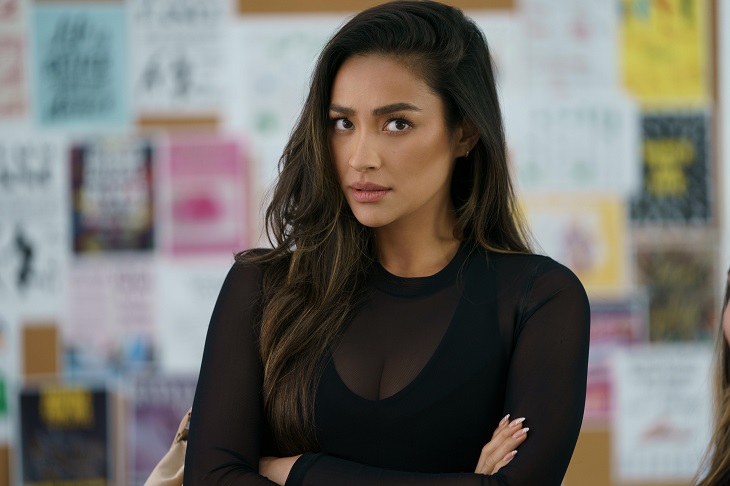 Portrayed by Shay Mitchell, Stella Cole is one of Madison's closest friends. The duo's relationship goes all the way back to their college days. Stella is a charming and free-spirit hedonist who's also helping Madison get over Jeremy. Although the character is full of life, outgoing, and fun-loving, she grapples with her uncertain future.
In season one, Cole got accepted to a business school and decided to relocate to Philadelphia. Later on, in season two, she joined hands with her new friend Liv to start a new business venture. The major changes in her life, particularly the new women-centric bar she opened, became a focal point for the storyline in season two.
Shay Mitchell is a Canadian author, model, and actress who became famous for her part as Emily Fields in the drama series "Pretty Little Liars." Portraying Emily in this television series wasn't like her part in "Dollface" since the two characters, Emily and Stella, share nothing in common. While Emily is a bit frumpy, Stella is a fun-loving and outgoing character. Michelle's appearance in "Dollface" was a watershed moment for her, given that it was her first comedy role.
Born April 10, 1987, Shannon Ashley Garcia Mitchell attracted wider recognition for her acting performance in several roles. Nominations include one for a People's Choice Award and six Teen Choice Awards. Her most notable roles include starring as Peach Salinger in the TV series "You" (2018), "Pretty Little Liars" (2010–2017), and "Dollface." In 2016, the talented actress made her feature film debut when she appeared in the musical drama film "Dreamland" as Nicole.
About Izzy Levine (Esther Povitsky)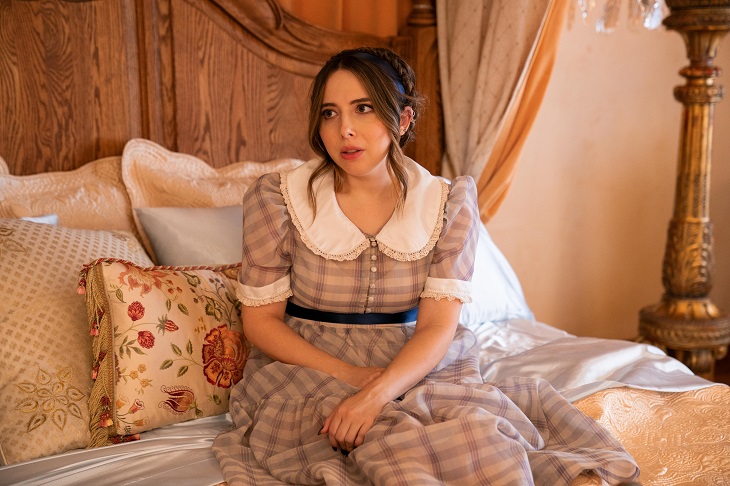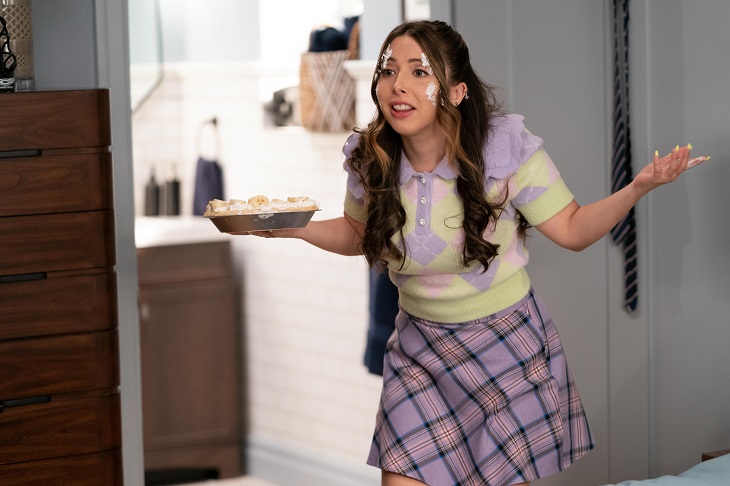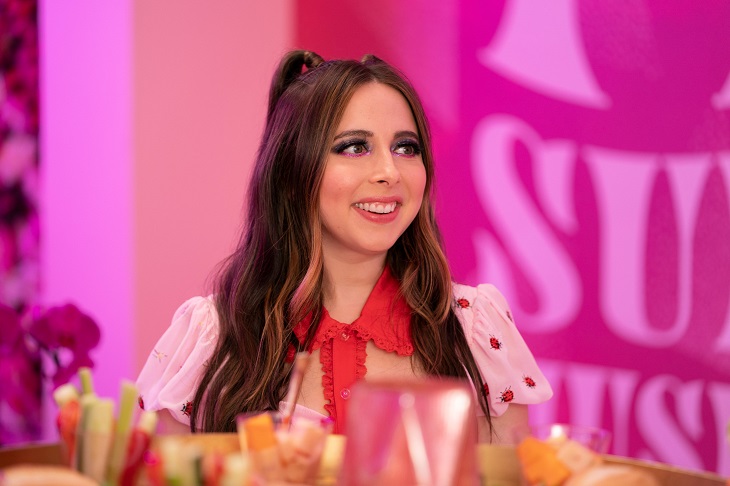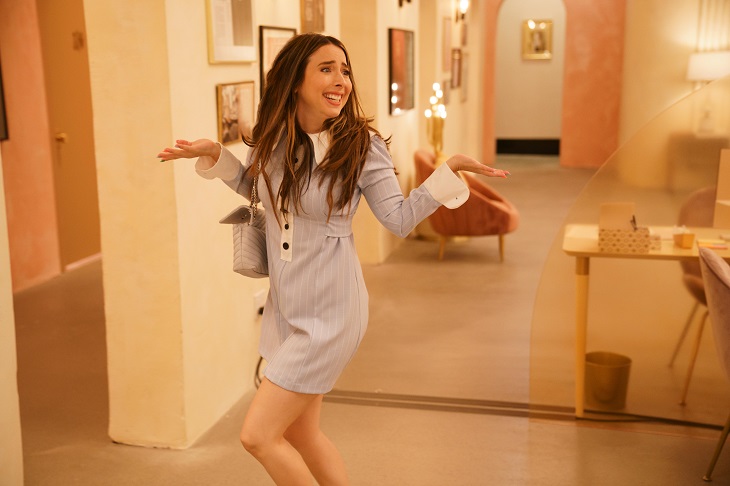 Izzy Levine is undoubtedly the least outgoing and fashionable character among Jules' friends. She's also grappling with her sense of identity and working tirelessly to fit in the social circles. In season one, Levine tried to portray herself as the crazy and adventurous one. Later on, she struggled with more severe emotional challenges while trying her hand or new romantic interests. Esther Povitsky portrays this character impressively.
Born March 2, 1988, Povitsky is a comedian and actress who helped create the 2018 comedy series "Alone Together." She also stars in the show. The talented star showcased her comedy talent in a stand-up special, "Hot for My Name," which premiered on Comedy Central in 2020.
Before relocating to Los Angeles, Esther studied comedy at iO Chicago and The Second City in Chicago. While in the city, she became a regular performer at various comedy joints, including The Improv, The Comedy Store, and The Ice House. Between 2008 and 2021, she appeared in more than 40 television shows and movies. She's also an avid podcaster and has worked with deathsquad.tv.
Will "Dollface" Return for Season 3?
If you're wondering whether Hulu may still renew "Dollface" for the third season, the truth is that the streaming platform hasn't commented on the issue. If the comedy series were to return, you're more likely to see familiar faces in the cast.
Where Can You Still Watch "Dollface?"
Although the hit show remains canceled, seasons one and two are still available via several video streaming platforms. You can watch "Dollface" episodes on Hulu Plus, HBO Max, Amazon Instant Video, Vudu, and Disney Plus.
Discover More About Your Favorite Movies and Shows on BuddyTV
Every day, new cool stuff happens in the movie and TV entertainment scene that you should know about. It'd help if you relied on the best entertainment news website. That way, you won't miss out. BuddyTV is your best bet for up-to-date celebrity news, fan forums, movie reviews, and other entertainment stuff.
Discover what's going on in showbiz by checking out BuddyTV today.