A look at some of our favorite supporting characters and the great spin-offs they could star in.
---
#10 Chloe O'Brian, 24
Show Title: O'Brian
Premise: Thanks to her countless moments of brilliance under pressure, Chloe is put in charge of a new government think tank designed to come up with scenarios for any and all possible threatening situations. From terrorists attacks to natural disasters to alien invasions, Chloe and her team are prepared for anything.
---
#9 Zack Addy, Bones
Show Title: Mad Addy
Premise: Locked in a mental institution, Zack Addy uses his immense intellect to solve various mysteries and crimes, proving that the patients really do run the asylum.
---
#8 Shauna Roberts, Entourage
Show Title: Shauna Rules
Premise: With Entourage ending it makes sense to continue with this great, underused character. Shauna is a superstar publicist, but what is it really like trying to manage celebrities' lives while dealing with your own personal problems as well?
---
#7 Astrid Farnsworth, Fringe
Show Title: Astrid
Premise: She may experience crazy things in her line of work, but at home, Astrid is just like any other girl with friends, family and plenty of relationship drama. I imagine this as an almost Felicity-esque series about a girl's romantic troubles, only with the possibility of alternate universes and other sci-fi weirdness.
---
#6 Lucas Douglas, House
Show Title: Private Lucas
Premise: There was originally talk of giving a spin-off to Michael Weston's wily private investigator, but sadly it never panned out. Now that he and Cuddy are done since she's moved on to House, maybe he could finally get his own show, an off-beat private detective series worthy of this great perennial guest star.
---
#5 Dylan, Modern Family
Show Title: Do Me
Premise: Dylan's band hits it big thanks to their viral Internet music video for "In the Moonlight," leading to a move to New York City where Dylan and his friends struggle to navigate the music scene.
---
#4 Darryl Philbin, The Office
Show Title: The Warehouse
Premise: Due to his excellent job performance, Darryl gets moved to a new city to take control of the warehouse operations with occasional interruptions from the desk jockeys upstairs.
---
#3 Oliver Queen, Smallville
Show Title: Green Arrow
Premise: With Smallville finally ending, it's time to dump Clark and focus entirely on the Green Arrow, giving the pleather-clad marksman his own superhero show.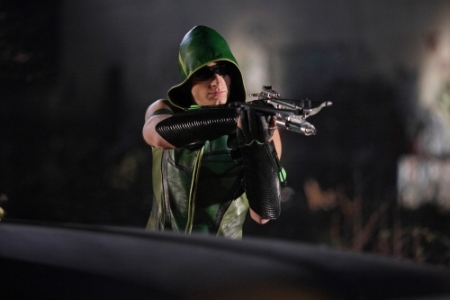 ---
#2 Castiel, Supernatural
Show Title: Heaven's Keeper
Premise: A daring new fantasy series set entirely in Heaven, the angel Castiel has to clean up a shattered Heaven and bring order back to the afterlife. The show could include numerous guest appearances by any dead Supernatural characters.
---
#1 Heylia and Conrad, Weeds
Show Title: The Grass is Greener
Premise: What have drug dealers Heylia and Conrad been up to since they finally got Nancy Botwin out of their lives? They've started over and created lucrative new business, but nothing ever goes smoothly in the wonderful world of weed.