The Office is getting more and more difficult to write about. It's really funny. Consistently funny. Great episodes, week after week, breed little in the way of discussion. But, alas, we must go over some aspect of The Office and the one that interests me the most, right now, is the character of Andy. Andy, played by Daily Show alum Ed Helms, has turned into one of the most devastatingly annoying characters on television.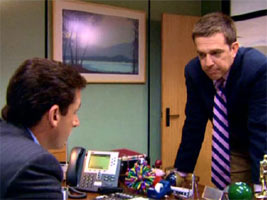 In fact, of all the people who are regularly on TV, here is how I rank the most annoying people, real or fictional:
Rosie O'Donnell
Dr. Phil
Sean Hannity
Stephen A. Smith
Andy from The Office
Pretty elite company, if I may say so myself.
Andy's character is a Michael sycophant, a man whose entire existence is predicated on sucking up to the boss. In last night's episode, he turned into a borderline stalker of Michael and, as a result, made Michael nostalgic for the Dwight Schrute era. The writers certainly ratcheted up Andy's level of annoyance as a device to get Dwight back into the office, but it wasn't like Andy was genial in previous episodes. His behavior last week was almost painful to watch, him carefully orchestrating the sabotage of Dwight. The most unbelievable aspect of this is that Andy made the other characters miss Dwight. Jim summed it up best last night: "I miss Dwight. Congratulations, universe. You win."Early in the episode, the annoyance bar was set high when Andy showed off his new ring tone to Jim: a self-recorded, a capella version of "Rockin' Robin". This would be the basis of a prank later on in the episode, but that ring tone is hilarious on its own. I hadn't heard that song in probably ten years. I'm guessing this episode will be the last that prominently features Andy; he's likely on his way out of Dunder-Mifflin. Here are some other notable moments from the episode:
Oscar returns from his 3-month vacation. Michael plans a ridiculous Mexican party (with chimichangas and a plethora of pinatas) that gets overshadowed by Dwight's return.
Jim and Pam have some nice moments pulling a prank on Andy (hiding his cell phone in the ceiling). Karen picks up on this, then asks Jim, straight up, if he still has feelings for Pam. He says, "yes".
Dwight's scenes working at Staples are classic. You could put Dwight anywhere, in any social situation, and you would have comedy gold.
Kevin might have the highest lines-to-laughs ratio of anyone on TV. He doesn't even have to say anything; give a lurid look or giggle inappropriately.
We have to appreciate greatness while it's here. The Office is in the midst of a historic run of consistently great episodes. Bask in it.-Oscar Dahl, BuddyTV Senior Writer