Before the episode aired, I'd read reports saying that last night's one-hour Office season 7 finale, "Search Committee," would not resolve the question we've been posing for what feels like two years now: Who will replace Michael Scott?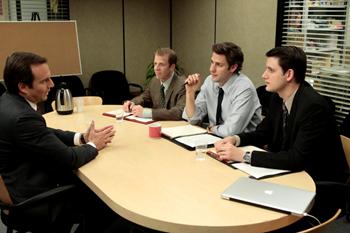 To the disappointment of my waning curiosity, those reports proved true, as Jim and his committee interviewed several, err, interesting candidates, but at the end of the hour are still nowhere near a decision about who will be the manager of the branch when we return to Scranton in the fall. I'm not typically so impatient, but seeing that we've been seriously analyzing this impending decision since September, I was hoping for at least a little movement on the matter, even if it meant finally, decisively, knocking a few candidates' hats out of the ring.
Still, the two-part episode had plenty of laughs with and at the expense of its many guest stars. Without question, the most memorable and impressive guest of the hour was James Spader, the charismatic, creepy "steamroller" whose theories ("Everything is sex") and confidence wooed, then frightened, Toby, Jim, and Dwight. The workers' concerns about the character could just as easily be applied to my thoughts on Spader's potential as boss: His charms are irresistible, and I've missed seeing him on TV, but it's not hard to see how he might end up steamrolling the rest of the ensemble cast, especially in such an enigmatic role.
Warren Buffett and Ricky Gervais, once again as UK Office chief David Brent, made cameos that ended up being more about quick laughs than serious candidacy. Not to discount the quality of those laughs: David Brent's video resume was just the right blend of earnest enthusiasm and complete blowhard nonsense. It was like having Michael back, if only for a moment.
Will Arnett and Ray Romano took differing approaches that surely placed them both on the reject pile: Arnett as the clueless candidate who pretended to have a three-part plan to double profits — we know he was lying, not just because his parts two and three were nonsense, but he also couldn't recall the name of the company immediately after his interview. Romano's sad hound shtick felt both fresh and familiar: So easily influenced by Spader's words that Dunder-Mifflin was a "prison," he self-sabotaged in the interview and came off as depressive, bored and rude. I don't think either of them will be getting a second interview, especially since Men of a Certain Age got renewed and Arnett's newest pilot got picked up for the fall. They were funny without overwhelming the episode, though — the sign of a great celebrity cameo.
The reveal that "the Finger Lakes guy" was, in fact, Jim Carrey, was a fun reveal, though I wish the promos hadn't completely ruined the surprise. It would be a real surprise — more like a complete shock — if that brief cameo turned into anything more next season, but Carrey's quirky accent and bizarre nervous energy in those ten seconds made the appearance worthwhile, but probably not sustainable in the regional manager gig.
The guest who seems most likely to return is Catherine Tate, who showed up as Jo's old friend Nellie, whose confidence didn't quite overshadow her completely idiotic, flip-flopping ideas about how to restructure the office. If Tate were to get the gig, as rumors say she may, I hope they'd flesh out the character in a different way. I've seen Tate be LOL-worthy on her UK series innumerable times, but something about her interview didn't feel right. Still, Nellie just might have the right combination of self-assurance and stupidity, if reworked a little, to replace the great Michael Scott.
Maybe it's because I fear change, but I'd rather see a candidate from inside the company take the position, though it's hard to say who, of those who threw in their hats, could actually handle the gig: Not Kelly, that's obvious. Everyone seems to like him for the job, but Darryl came in completely unprepared and might not actually be ready for corporate life. Gabe handicapped Andy's interview with his own bias, but as much as I love him, I can't see the Nard-dog in the job, anyway. Andy's a follower, and even he seems to know it. That leaves Dwight, who figuratively (and almost literally) shot himself in the foot last week as Acting Manager. He worked hard to show that he'd learned from his mistakes, and while Rainn Wilson once again brought so much humanity and (if misplaced) dignity to Dwight, it's antics like this that make me think he was never a serious contender, and never will be:
The "Search Committee" still seems clueless as to who will replace the replacement (Dwight) for Michael's replacement (Deangelo), and so am I. But at least we still have a big question to ponder over the summer months, which, if you're not sick of it already, I encourage you to take up in the comments: Of all the potential candidates, who do you like for the Regional Manager position?
And, if you are tired of talking interviews, I didn't even get to the other stuff that transpired in the hour, so let's talk about that: Erin and Phylis aren't related! Andy rejected Erin! Angela is engaged to the gay Senator! Gabe is gone! Lots of changes: What do you think of them?
(Image courtesy of NBC)
Senior Writer, BuddyTV
Meghan hails from Walla Walla, WA, the proud home of the world's best sweet onions and Adam West, the original Batman. An avid grammarian and over-analyzer, you can usually find her thinking too hard about plot devices in favorites like The Office, It's Always Sunny in Philadelphia, and How I Met Your Mother. In her spare time, Meghan enjoys drawing, shopping, trying to be funny (and often failing), and not understanding the whole Twilight thing. She's got a BA in English and Studio Art from Whitman College, which makes her a professional arguer, daydreamer, and doodler.