"The people that you work with, when you get down to it, are your very best friends. They say on your death bed you never wish you spent more time at the office, but I will. Gotta be better than a death bed. I never understood death beds. Who would buy that?"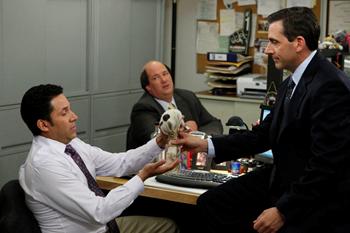 He made us laugh. He made us cringe. He even made us cry (or come close) at times. And now, after much-deserved ado, he said goodbye. Catch you on the flippity flip, Mike.
It was a little difficult to remember that last night's Office episode, "Goodbye, Michael Scott," wasn't the final episode of the season. As we've been saying for more than a year now, in many ways The Office is Michael Scott. But the hour-long episode made sure, alongside as much deft and genuine care it took to give Michael a fitting farewell, to also remind us that the series, and the other characters, will go on without him.
Too much of a softy to handle a protracted goodbye (even to the point of missing his own send-off party — normally that amount of attention would send him over the moon), Michael told everyone he'd be leaving for Colorado the next day, but in truth, he was flying off to meet Holly that evening. And so he spent his last day at the office saying his individual farewells to each of the workers, who (mostly) didn't know that they were saying farewell. It was an hour full of sweet moments and touching call-backs to everything that they, and we along with them, have been through together. Each goodbye hit a chord, calling to mind just how deep and dimensional the relationships between these characters have grown over the years, but here are the five final Michael moments that really tugged at my Office-loving heartstrings:
1. Oscar's scarecrow:
"He has the lowest opinion of me of anybody!" As a way of saying thank you to his favorite know-it-all, Michael presented Oscar with a tiny demented "scarecrow" doll ("Because you gave me a brain."), and Oscar was forced to pretend he appreciated it. It was a sort of homage to all Michael's past grand, terribly misguided gestures, but with a twist: It was also his final prank. Back at his desk, Michael couldn't catch his breath as he cracked up over it: "It looks like it was made by a two-year-old monkey! And he just accepted it, that I put all this effort into it! He has the lowest opinion of me of anybody!" Not only did the moment illustrate the shred of self-awareness and sense of humor that Michael has developed, but it was a delightful break from the sad tone throughout the episode. It really felt like Steve Carell was the one cracking up in that moment, and called to mind all the brilliant, deadpan interview quips he's given at that desk over the years.
2. Dwight's letter of recommendation:
"Supreme." Their private paintball game was the perfect send-off for Dwight and Michael's friendship, but the moment that really got to me was when Dwight, still resentful that Michael hadn't put him up for the manager position, read Michael's parting letter of recommendation and tried to keep it together as he read the glowing words within. For all his loyalty, Dwight finally received what he always wanted: Michael's "superlative" approval. "I define it as Dwight Schrute. He is of the highest order. Supreme." Seeing Dwight almost cry after these words is what finally sent my own tears over the edge.
3. Jim's lunch date:
"T-shirt idea. Goodbyes stink." The dynamic between Michael and Jim has always been the most in flux. But there's always been an underlying fondness between them — from season 2, when Michael crashed Jim's house party and they sang a duet together, to the last few years, as Jim ascended to co-manager and learned that Michael had skills as a leader that surpassed his own. Not one for big displays of emotion, Jim caught on to Michael's fake goodbyes but let the facade continue, making a lunch date for the next day, at which Jim told Michael he'd make sure to tell him just how much affection and respect he'd developed over the years. When Jim thanked him for being the "best boss I ever had," it was not only a well-earned compliment but a subtle wink to their time together as co-managers, as well as a testament to how large a role Michael has played in Jim's life. It was Michael, after all, who told Jim to go for Pam, who informed Pam of Jim's feelings, who essentially got the two of them together. Those little words said it all, and John Krasinski imbued them with just the right sense of respect and gratitude they deserved. 
4. The Warehouse:
"Catch you guys on the flippity flip!" Michael's final trip down to the warehouse called all the way back to one of the first times we went to the warehouse with him, for the basketball game in episode four of the series. It was all too appropriate that Michael would repeatedly attempt a "cool guy" goodbye with a basketball shot over the shoulder, and that they would go about their business and ignore him as he tried. The missed shots and "flippity flip" line was classic Michael, just like his dangerous obsession with the baler which, sadly, he never got to use, even on his last day. But it's probably a good thing he didn't leave the office armless.
5. Pam's airport goodbye:
"Hey, will you guys let me know if this ever airs?" Somehow it just felt right that Pam would get the last goodbye. As soon as Michael took off his mic, I was pretty much a mess, knowing that was really his final moment as a part of the show. So it was both a clever nod to the documentary conceit of the series and a fittingly private, honest moment between Michael and Pam, who has arguably been the most emotionally stable, almost maternally supportive, figure in Michael's life over the past several years. As she said how excited Michael was to see Holly, you could see and feel the bittersweet emotion, almost like she was a proud mother seeing her child grow up and go off to make his own way. Which, in a sense, she was.
What did you think of Michael Scott/Steve Carell's final Office episode? Have your own favorite moments? Share!
Here's a behind the scenes look at Carell's final week, and it's also pretty emotional, so get those tissues back out:
(Image courtesy of NBC)