---
#15 Genevieve Cortese
Genevieve was born January 8, 1981 and was raised in Sun Valley, Idaho.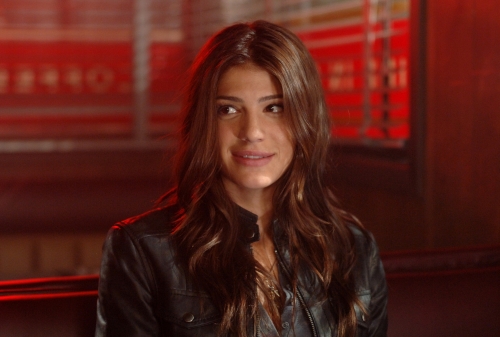 ---
#14 Family
She has three younger siblings, brothers Ben and John and sister Sarah.
---
#13 Education
She earned bachelors degrees in Drama and English from New York University's Tisch School of the Arts.
---
#12 Genevieve on Stage
Before moving on to film and television, Genevieve honed her craft on stage in productions of shows like A Midsummer Night's Dream.
---
#11 Film Roles
Genevieve has only appeared in a handful of small, independent movies, including 2005's Kids in America with Nicole Richie.
---
#10 Wildfire
Genevieve caught her big break in 2005, winning the lead in ABC Family's horse racing drama Wildfire, which ran for four seasons.
---
#9 Kris Furillo
On Wildfire, Genevieve played Kris, a juvenile delinquent who got a job as a stablehand at a horse ranch, eventually becoming a competitive jockey.
---
#8 Supernatural
Genevieve joined the cast of Supernatural in season 4 as the new Ruby, a demon with strong ties to the Winchester brothers.
---
#7 Ruby and Sam
In season 4, Ruby and Sam became very close, and she spent most of the season teaching him to use his powers to defeat demons.
---
#6 Ruby's Blood
One of the more disturbing storylines on Supernatural saw Ruby and Sam engage in steamy love scenes where he would drink her demonic blood to help fuel his special powers.
---
#5 Ruby's True Plan
Ruby turned Sam against Dean, and while it seemed as though she was helping him defeat Lilith, her real plan, revealed in the season 4 finale "Lucifer Rising," was to get Sam to kill Lilith and open the final Seal to free Lucifer.
---
#4 Ruby's Death
After revealing her plan to Sam and Dean as Lucifer rose, Ruby was finally killed with her own demon-killing knife.
---
#3 FlashForward
Genevieve now has a recurring role on ABC's sci-fi drama FlashForward.
---
#2 Tracy Stark
On FlashForward, Genevieve plays Tracy Stark, a soldier presumed dead, but who actually faked her own death to avoid being assassinated by a private military contractor.
---
#1 Genevieve and Jared
In January 2010, it was officially announced that Genevieve and her former Supernatural co-star Jared Padalecki are engaged.