So we meet again. It's been roughly a week since the CSI season finales, and there've been a lot of things, I know. While it wasn't that spectacular in Las Vegas (although I thought otherwise since that's what they usually do anyway), there was a missing cop in Miami, and there was a dead cop in New York–and maybe more. Now, there's this five-month wait before new episodes return in the fall, and that means the news tap would run a little dry, but right now, we still have a few things to deal with: what just happened. In this edition of the case file, Emmanuelle Vaugier discusses her death in CSI: NY, and possible plans for the tenth season–tenth!–of the mother show, CSI.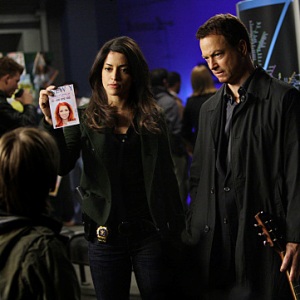 Item one: They hurt Flack to save some money? Well, that's the hypothetically cynical way of putting it, but budget cuts were really the reason why Jessica Angell was killed off in the CSI: NY finale that aired last week. At least, according to Vaugier herself, the producers were open to those reasons. "Also, it makes sense for ratings to kill off a character that people have grown to like," she added in an interview with TV Guide Magazine. "It wasn't personal. They wouldn't have kept me for three years if they didn't like me. I just told them to if they're going to kill me off they better give me a really cool death. And they did. They wrote a really sad, heartfelt episode. Reading it was awful."
So how did she know? "One of the executive producers called me at home several weeks before we were going to shoot," she said. "She said, 'I just wanted you to know first so you didn't hear it from someone else … We hate to do this. We're going to get so much crap from the crew and everybody. Gary [Sinise] doesn't know yet and he's not going to be happy.' It was really sweet."
"Word spread like a wildfire the next day," she added. "Everybody was really sweet and complimentary. There were tears–mostly mine." What about that scene, when Flack (Eddie Cahill) was looking at her dead body before Sid (Robert Joy) did the autopsy? "It was awful," she admitted. "He was emotional. I was emotional. It was the last scene of the day at 4 in the morning and everyone was tired. I was a mess. I'm not a very good dead person. Eddie said, 'I could see your eyes were tearing.'" (To be honest, I did think she was crying.)
Any regrets? "I think it would have been nice for my relationship with Eddie to have developed a little more," she said. "We were just starting to have a lot of fun with it. I think they did as much as they could on a procedural show."
Item two: What surprises for CSI? The last season of the original show was, as I said, a pretty different one. Of course, it's about Grissom (William Petersen) leaving and Langston (Laurence Fishburne) coming in. There's a bigger challenge for the next season, even: it's been battling Grey's Anatomy in ratings for a while, and starting this fall, it gets Fringe for company, too. So how's CBS dealing with it?
"[Show runners] Carol [Mendelsohn] and Naren [Shankar] are very aggressive smart producers," the network's entertainment president, Nina Tassler, said. "And when we get back [to Los Angeles] we'll be hearing their creative strategy for next season."
Well, of course, she doesn't have any idea about those plans just yet. "They are very excited and have got lots of surprises in store for next season," she can only say. New cast members, again? "I'll have to wait and hear what they're planning." Oh, man…
Item three: Yeah, just a question from me. It's a simple question, really: what was your favorite of all three seasons? CSI, with the staff changes that you very well know already? CSI: Miami, with the Russian mob, the drug addiction, the Kyle story, and the new romance? Or CSI: NY, with the Greek coins, the other new romance, and the new baby? What about the season finales? Well, I'm just pretty curious, so the floor is yours, folks.
-Henrik Batallones, BuddyTV Staff Columnist
Sources: TV Guide Magazine (via CSI Files), TVGuide.com
(Image courtesy of CBS)