Another actor on the long-running daytime soap opera The Young and the Restless has reportedly walked off the set during filming.  The issue doesn't revolve around money though, because this time it's about sex.  Chris Engen, who plays the "straight" Adam Newman on the show, refused to kiss co-star Yani Gellman in a scene.  Gellman plays the only out gay character on the show, Rafe Torres.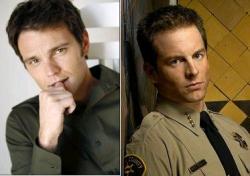 Since Engen was unhappy with the "dark direction" that his character is headed for, he stormed away while working on the show.  He was far from pleased about the recent developments that Adam has undergone, particularly kissing another man.  He may still be under contract with the soap, but they've already found a replacement for him: Veronica Mars' Michael Muhney.
The role of Adam has gotten fans intrigued, and it's a loss for Engen's career to just give that up.  However, Michael Muhney may just be the answer to resolve the same-sex storylines that the character has to experience.  He will be taking over the part on The Young and the Restless starting Thursday, June 25.
One reason Engen might have for leaving is his Catholic school background.  He graduated from Bishop Montgomery High School in Torrance, California, and found that the soap's upcoming storyline conflicted with his beliefs.  The series was on its way to focus on an intimate relationship between Rafe and Adam, and Chris Engen just wouldn't have it.
Despite that, we have Michael Muhney to thank.  Now that he's stepping in as a replacement, it's fairly certain that he'll do a good job with it.  Considering his performance as Sheriff Don Lamb on Veronica Mars, can he really pull off the Adam Newman character?
While Michael Muhney is best known for his work on the Kristen Bell starrer, he has also gained fame for his appearances on Charmed, Numb3rs, and the USA Network series The Huntress.  This June, catch the actor as he takes on the role of Adam on The Young and the Restless.
-Maria Gonzalez, BuddyTV Staff Columnist
Source: Daytime Confidential, TV Guide
(Image Courtesy of CBS/The CW)