Creation Entertainment, a company that produces conventions for fans of genre film and television, is holding a tribute convention in November. Among the shows that the company is saluting is the CW's Supernatural, and according to their website, series stars Jared Padalecki  and Jensen Ackles will be attending the event.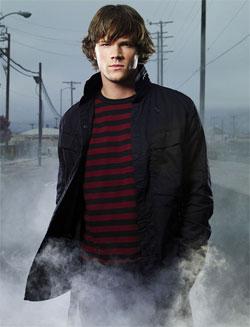 On the paranormal drama, Padalecki and Ackles portray brothers Sam and Dean Winchester, respectively.  Sam is known to be rational and sensitive, qualities that distinguish him from Dean.  Sam and Dean are demon hunters, a profession they inherited from their father.  Towards the end of the previous season, Dean makes a deal with a demon in order to bring back Sam from the dead.
Also attending the convention as special guests are Fredric Lehne and Samantha Ferris.  Both actors also appear in Supernatural, with Lehne playing the Yellow-Eyed Demon and Ferris playing Ellen Harvelle.
Joining Padalecki, Ackles, Lehne and Ferris at the convention are Nicholas Brendon and Steve Carlson.  Brendon is most known for his portrayal of Xander Harris in Buffy the Vampire Slayer, while Carlson has been heard in soundtracks of various films and television series, including Supernatural.
Many of the guest celebrities are expected to entertain questions from the audience while they are on stage.
Additionally, the company is also hosting a video contest that will have fans submitting their own music videos of the featured shows.  Entries will be judged according to the quality of the video, audio and editing, inventiveness, song selection and originality.  Winners will be announced during the convention and will be given $100 gift checks courtesy of Creation Entertainment.
The convention will be held at the Hyatt Regency Woodfield in Chicago, from November 10-11.  The company has reserved a block of rooms at the hotel for attendees.
For more information about the convention, log on to http://www.creationent.com/cal/supernatural.htm.  Meanwhile, the third season of Supernatural will begin airing on October 4.

-Lisa Claustro, BuddyTV Staff Columnist
Source: Creation Entertainment
(Image Courtesy of the CW)