Dylan and Cole Sprouse, stars of The Suite Life of Zack and Cody and its spin-off series Suite Life on Deck, is headed to Central Illinois today to meet and greet fans at the Bloomington PrairieThunder hockey game.  The twins are expected to sign autographs at the U.S. Cellular Coliseum outer concourse from 6 pm until 9pm.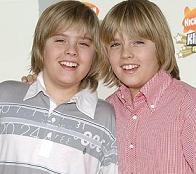 The Sprouse Brothers catapulted to fame in 2005 when The Suite Life of Zack and Cody premiered on Disney, with 4 million viewers, making it the most successful premiere for the network that year.  The show, which follows the adventures of trouble-making twins who live at the Tipton Hotel, was nominated for three Emmys, as well as three Nickelodeon Kids Choice Awards.
Due to the success of the series, Disney ordered a spin-off show called The Suite Life on Deck, with the brothers continuing their lead roles.  This time, the show is set on a cruise ship and follows Zack and Cody Martin and hotel heiress London Tipton moving to a new home, the S.S. Tipton, where they attend classes, make new friends and get into mischief.
If you're a fan of the Sprouse Brothers, today's your chance to meet them so be sure to come early. Doors to the Coliseum open at 6pm and you must have a paid ticket to the 7:05pm PrairieThunder hockey game versus Kalamazoo to gain access to the autograph line.
Due to time restrictions, the Suite Life stars will only accommodate one free autograph per person on a customer's supplied item.  Additionally, a game ticket does not guarantee an autograph and no photographs will be allowed in order to accommodate as many people as possible through the line.  If you don't have any merchandise for the actors to sign on, there are colored autographed pictures that are available for purchase for $5 at the autograph table area.
-Kris De Leon, BuddyTV Staff Columnist
Source: oursportscentral.com
(Image courtesy of Disney)