Don't shoot the messenger here. Eric Kripke, the man behind Supernatural, is sticking by his word that The CW thriller will conclude next May after five seasons.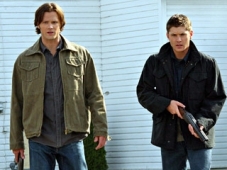 "I did set out [to] tell a five-season storyline," the executive producer told Entertainment Weekly's Michael Ausiello. "Quite frankly, I never expected [the show] to make it to five years. But now that we're in our fifth year, I have every intention of ending the story with a bang and not drawing it out or watering it down."
But before you unleash your fury, read on because there's a catch.
"That having been said," Kripke continued, "I'm looking at this season as the last chapter in this particular story. That doesn't mean there can't be a new story. Buffy did it. The X-Files did it. You close a chapter on a big mythology storyline and then you begin a new one."
I was one of those disappointed fans when I learned last year that season 5 may be the show's last. And as much as I hate to say goodbye to the Winchester boys, I always thought that Supernatural deserves to end on a high, leaving viewers wanting more. But now that there will be a new story on the horizon, not only am I intrigued, but I'm glad that Kripke has thought of a way to extend the show beyond its intended five-season life span, without diluting its storylines.
"One of the things I like about this show is we don't draw out mysteries endlessly," Kripke added. "We'll answer a bunch of questions this season and then pose some new ones next season."
Obviously, that's assuming that Kripke is still involved if and when The CW picks up Supernatural for season 6. While the show is likely to be renewed, the man behind the thriller still does not have a deal in place beyond the fifth season. And like some of you, I'm not so keen on the idea of a Supernatural life after Kripke.
-Kris De Leon, BuddyTV Staff Columnist
(Image courtesy of The CW)