Clone Club, rejoice! Orphan Black has begun production on season 3 in Toronto, and the series will be back with even more clones in Spring 2015. But who will be back? Is Rachel dead? Well, there are a couple of clues that suggest she didn't survive the finale.
The season 2 finale saw Sarah stab a pencil through Rachel's eye as she rescued Kira, but there's always the chance she survived and could just have an eye patch, right? Maybe not, given what the press release says about season 3's characters and a photo from the first table read.
Orphan Black: 31 Burning Questions for Season 3>>>
The show's official Twitter tweeted, "One seat, four characters. It's the first official table read of #OrphanBlack Season 3! #CloneClub," with a photo (below) of Tatiana Maslany's seat. The only characters she's listed as playing are Sarah, Alison, Cosima and Helena. Now, that could mean that Rachel's just not in the first episode, or it could mean that she's dead.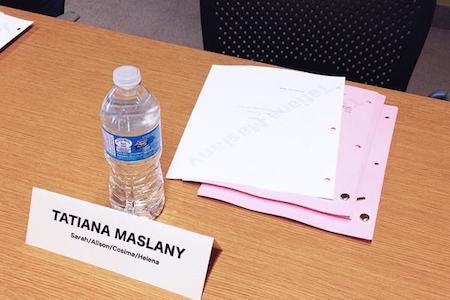 Furthermore, the press release only mentions those four clones in the synopsis, but that could just mean that they're keeping Rachel's role in season 3 under wraps: Here's the synopsis:
"Season three plunges the clone sisterhood into unexpected territory with the realization that they're not alone. Just when they thought they knew their enemies and allies, season three reveals our clones are more vulnerable than ever before. Highly trained, identical male-soldiers raise more questions than answers. Who are these new clones? Who created them? And more importantly, why do they exist? Sarah, Cosima, Alison and Helena are stronger together than they are apart, but this season will put that bond to the test. Will they forge towards their truth, or fall at the feet of those who seek to control them?"
Ari Millen returns in a lead role as the newly discovered male clones, specifically Mark, the Prolethean cult follower, and Rudy, a prisoner of war. Also returning are Jordan Gavaris (Felix), Dylan Bruce (Paul), Maria Doyle Kennedy (Mrs. S), Kristian Bruun (Donnie), Evelyne Brochu (Delphine), Kevin Hanchard (Art), Michiel Huisman (Cal), Skyler Wexler (Kira) and Zoé De Grand Maison (Gracie).
BBC Renews Orphan Black, Broadchurch and Orders New Series>>>
"Season two of Orphan Black not only doubled its audience, it also treated fans to double the number of clones," Perry Simon, BBC America's General Manager has said in a statement. "Our network's commitment to creating long-lasting original programming that hooks viewers and never lets them go is perfectly illustrated through this buzz-worthy series."
"We are incredibly proud and delighted to be commencing production on season three of Orphan Black," David Fortier and Ivan Schneeberg, executive producers of Orphan Black and Co-Presidents of Temple Street Productions, have said.  "We've been fortunate to work with one of the best cast and crews in the business for the last two seasons. We could not be happier about the success of the show and how it continues to be embraced by audiences around the world."
"We are thrilled to be underway on another season of the gripping original series Orphan Black with our wonderful partners Temple Street Productions and BBC America," Corrie Coe, Senior Vice-President, Independent Production, Bell Media, has said. "After the shocking finale of Season 2, we are excited to share with our viewers the next dramatic twists and turns in the clone conspiracy, as conceived by series creators Graeme Manson and John Fawcett."
Orphan Black Season 2 Finale Recap: It's Raining (Clone) Men>>>
Orphan Black is shooting in Toronto through March 2015 and season 3 will premiere on BBC America in Spring 2015.
(Images courtesy of BBC America)