Fans who enjoyed the Supernatural: Origins comic book series published by WildStorm last year will definitely want to check out Supernatural: Rising Son, a six-issue miniseries that will tell another story about the young Sam (Jared Padalecki) and Dean (Jensen Ackles) Winchester.  The first issue is set to hit stores on April 23 and will pick up a few years after Origins, following a 7-year-old Sam and 11-year-old Dean as they travel with their father, John.  "Whereas the first series was more about John and his becoming a hunter, this one's much more of a dysfunctional family story," explains writer Peter Johnson, who's also a co-executive producer on the TV show.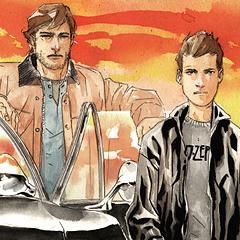 "We're really going to explore the differences between Sam and Dean in this one," Johnson continues. "Dean is becoming aware of what his dad's up to and we'll see him training and hunting a little bit, while John will start to key in on something different about Sam."
The bad news about the series is that show creator Eric Kripke, who had a lot of input on Origins, couldn't have any involvement due to the writers' strike.  While the strike doesn't preclude people from writing comic books, Kripke bowed out due to the thin line between writing for a TV series and writing a comic based on a TV series.
Despite that, Johnson promises that the Rising Son story will fit in nicely with the show, and even feature some familiar faces such as Bobby, a fellow demon hunter.  He also says that readers should expect "freakier monsters," including "some badass female villains and a big bad villain that may have something to do with the TV show."
For those who missed Origins in its single issue format, a trade paperback collecting the entire series will be published in April.  Johnson also mentions that he made an editorial change in the collected edition regarding the Winchester's signature Chevy Impala.  In the original comic the Impala was something John found on the road, but due to the protests of fans it will now be something that was in the Winchester family prior to the beginning of the comic series.
There's already talk of a third miniseries being planned that would bring the story right up to the pilot of the television series.  Even with Supernatural being sidelined due to the writers' strike, fans of the Winchester boys should have plenty of demon slaying fun to indulge in for months to come.
– Don Williams, BuddyTV Staff Columnist
Source: TVGuide.com
(Image courtesy of TVGuide.com)