NBC just announced its 2013-2014 schedule, and while premiere dates will be coming later, fans of The Voice can already mark their calendars for the next two seasons. In addition, the network scheduled its two-week reality show The Million Second Quiz as well as a live performance of The Sound of Music and the premiere of The Tonight Show with Jimmy Fallon and Late Night with Seth Meyers.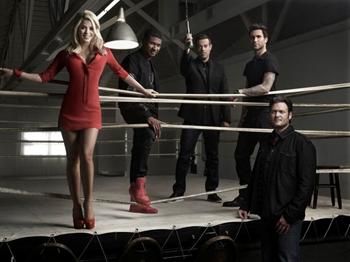 The Voice season 5 will kick off Monday, September 23 at 8 pm. Coaches Cee Lo Green and Christina Aguilera will be back, though it's unclear if original coaches Adam Levine and Blake Shelton will join them or if it will be some other amalgamation of the current crop.
Meanwhile, The Voice season 6 will debut Monday, February 24, the day after the Closing Ceremonies of the 2014 Winter Olympics on NBC. Obviously, the network has high hopes that big ratings for the Winter Games will carry over into the rest of the season.
The day after the Winter Olympics come to an end will also mark the start of NBC's new late-night lineup. Jimmy Fallon will take over The Tonight Show on February 24, followed by the debut of Saturday Night Live's Seth Meyers as the host of Late Night.
NBC is also going to have plenty of specialty programming coming in the next year. On Thursday, December 5, American Idol's Carrie Underwood will star as Maria von Trapp in a live performance of The Sound of Music.
Finally, the epic trivia contest Million Second Quiz will start the fall off on Monday, September 9, with a new episode every single weeknight for two weeks. The contest involves four people in a giant hourglass taking shifts answering trivia questions against opponents for one million seconds, which is a little longer than a week and a half.
All of these are in addition to NBC's fall and mid-season line-ups of new and returning favorites.
(Image courtesy of NBC)