Rumors have been circulating that LA Ink star and renowned tattoo artist Kat Von D is romantically involved with daredevil and television personality Steve-O, who appeared on the second episode of the reality series. However, Von D has insisted that she and the Jackass star are just good friends, saying that with their hectic schedules, neither one of them has enough time to spend with each other.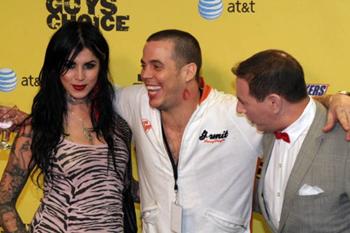 "Considering his schedule and my busy schedule filming LA Ink, we have decided not to hang out and be as professional as possible, so that we in no way hinder our professionalism," Kat Von D posted in a forum on her official fan club website. "Basically, I think the both of us are far too busy trying to make all of our projects a success to have any extra time to devote to partying and hangin' out."
She also said that despite her separation from husband Oliver Peck, she is in no hurry to go back to the dating scene.
"My husband and I are officially separated, and getting a divorce; and NO, I am not seeing anyone, and probably wont be for a long while. Lone wolf club!" Von D posted on the fan forum.
The rumors about her involvement with Steve-O began with an entry he posted on his MySpace site, wherein he dropped hints about who his "new babe" is without specifically pointing to Kat Von D.
"I was jumping into a limo with my new babe [first turbulence last night, and again this morning…], and, since I know that you will bother… me until I tell you about the 'turbulence,' I'll just tell you– she's going through a divorce, her old television series was Miami Ink, which has now been… replaced with a series called LA Ink [NO!!!!], she's the only one who made the leap from series to series," Steve-O said on his MySpace page.
Steve-O went on to compliment the LA Ink star, but ultimately admitted that she had rejected him.
"I've never felt this way before, and this sucks, she dumped me already! She's got to sort through her issues, and I'm not allowed in her life, and that makes me really sad," he said.
-Lisa Claustro, BuddyTV Staff Columnist
Source: Reality Ink, The Official Kat Von D Fan Club Website
(Image Courtesy of About.com)